Handy Links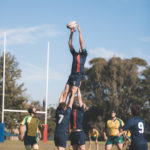 Brighton Grammar has a rich and proud rugby history, having competed in the 1st Division of the Victorian Schools' Rugby Union for over 50 years. The rugby programme is one of the main winter sports elected by the boys, where teams are fielded from Year 7 – Year 12.
Since the arrival of the Melbourne Rebels, Rugby at Brighton Grammar (and across Victoria) has benefitted from an influx of players and coaches which has significantly improved the level of rugby, as well as its exposure. Brighton Grammar has had numerous state representatives, as well as age-group international representatives over the years, with the number of players being recognised at interschool and interstate level steadily increasing.
Tradition and ritual plays a huge role within Rugby at the school, with a 1st XV cap being one of the most sought after pieces of regalia – boys are awarded their cap for their "run-on" start in the 1st XV.
The last couple of years have been particularly successful for the school: In 2017, the 1st XV were VSRU grand-finalists, and in 2018, the 1st and 2nd XV were both VSRU semi-finalists. Further to the team success, in 2017 Oliver Barden was selected for the Victorian Schoolboys' side, and went on to earn higher honours for the Australian Schools' Barbarians side. 
For more information, or any inquiries, about Rugby at Brighton Grammar, please contact the Director of Sport Jack Joslin.
BGS Rugby promo video

BGS Rugby Parents Group
The BGS Rugby Parents Group is a supporter group for all current rugby players and their families, as well as Old Boys, Past Parents, Staff, and others interested in rugby at BGS. It has particularly strong support from the Old Boys and is one of our longest standing parent support groups.
Rugby parents are very active, assisting with coordination of the annual Rugby pre-season ritual, Boot Camps, as well as hosting legendary Saturday morning BBQs.
Parents can get involved by joining the committee, becoming a year level representative, or by simply being a member and meeting every Saturday to support their son.