Here you will find information and guidance about Brighton Grammar's plans for a safe return of ELC students to school in Term 3.

Please be assured we are taking a measured and considered approach to learning at school, as the health and wellbeing of our boys, staff and families is paramount.
Please visit this page regularly for updates.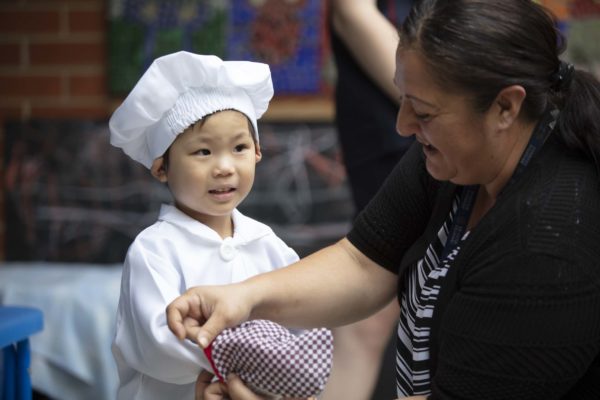 ELC Hours of Operation
Long Day Care:                  7.30am – 6.00pm
ELC3 Program Only:         9.00am – 2.30pm
ELC4 Program Only:         8.45am – 2.45pm
Monday 13 July will be for Holiday Program boys only with Term 3 commencing on Tuesday 14 July.
We ask that only one adult attends the Centre with their son and recognises the social distancing restrictions.
Boys will have their temperature checked on arrival and will be signed in/out by an ELC staff member. If a boy has a temperature of 37.5 degrees and above and/or is showing cold or flu symptoms, he will not be allowed to enter the Centre.
In this circumstance, any siblings will also need to be taken home.
Boys will be accompanied to their locker by an ELC staff member to unpack their belongings before they enter their classroom. Parents will not be allowed to enter the ELC building.
Long Day Care
For our Long Day Care families, breakfast will not be offered, however afternoon tea will be provided to the boys from 3.30pm – 4.30pm.
We ask that you ring the Early Learning Centre mobile on 0409 400 198 upon arrival to collect your son in the afternoon, as the foyer door will not attended from 3.30pm.
Food Handling
Strict food handling hygiene precautions will be observed.
Morning tea and lunch are to be provided in separate named containers, with a drink bottle which will be kept in your son's locker.
During morning tea and lunch times, the boys will sit separately to adhere to 1.5m social distancing guidelines.
There will be no cooking or shared eating experiences in Term 3.
A reminder that the ELC has boys and staff who are anaphylactic to sesame seeds and nuts. Please ensure you do not send your son with any products containing sesame seeds or nuts (this includes hummus).
Please note: no tuck orders are available.
Hygiene Protocols
Boys will be reminded repeatedly thought the day to wash their hands with warm water and soap and hand sanitiser.
The health of all boys and staff members will be closely monitored throughout the day.
Staff will support additional hand washing and bathroom needs, restricting the number of boys in attendance.
Additional temperature checks will occur at 11.30am and 2.30pm – if a boy has a temperature of 37.5 degrees and above and/or is showing cold or flu symptoms, his parents will be contacted immediately to collect him.
Mattresses will be placed at least 1.5m apart during rest time, and cleaned regularly
Bed sheets will be washed weekly by ELC Staff
Rest toys from home will be required to be washed by parents weekly.
General Information
Learning experiences will be limited to two boys per activity
Weather permitting, we will provide an indoor/outdoor program throughout the day.
Additional cleaning and sanitizing will occur throughout the day (both indoors and outdoors).
Boys are to wear their school uniform and bring a coat, gumboots and named spare clothes (2 pairs of underpants, 2 tracksuit pants and 1 long-sleeved top) that will be kept in the Centre for Term 3.
ELC3 and ELC4 monthly programs will be emailed out to all families
Parents can contact their son's teacher by emailing them and copying in Amelia Barrow as Director of the Early Learning Centre.