Breakfast with Dr Lior Rauchberger
From Doctor to Entrepreneur
Dr Lior Rauchberger practised medicine for nine years before taking the plunge into entrepreneurship. Equally passionate about technology and innovation, Lior has found a way to merge the two and make a living. He invests in companies that apply new technologies in new ways in health, business and education.
These companies include his rapidly expanding consumer genetics business myDNA, and educational technology business Vivi, which is making an impact in classrooms around the world – including at BGS.
As Triple M's technology commentator, Lior speaks regularly about the impact of technology in our lives now and into the future.
Join us for breakfast and hear Lior speak about his entrepreneurial journey to date, what he loves about being an entrepreneur, how he chooses his business ventures and what's next. (PS You can also ask him about salsa dancing!) Book now.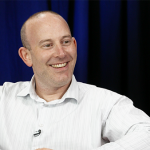 Bookings 
Phone: BGS Development Office (Monique Darkin) on 8591 2271
Email: Monique Darkin at mdarkin@brightongrammar.vic.edu.au
Online: Book here 
MasterCard, Visa or AMEX accepted.

Tell me more! 
The BGS Breakfast Bios program is a quick, fun way for members of the wider BGS community (parents, past parents, sponsors and Old Boys) to connect with each other while being inspired by amazing stories of success of those connected with the School. The breakfasts are held quarterly and finish before 9am.
Date: Thursday 22 March
Time: 7am for a 7:30am start
Location: The International, 81 Bay Street, Brighton