Harry Potter wins pretigious 'Weary' Dunlop Award
Year 12 student Harry Potter  was overwhelmed to learn he won the 2015 University of Melbourne Rugby Young Achiever Award.
Congratulations to rugby rising star Harry Potter (Year 12, 2015) who was awarded the 2015 University of Melbourne Young Achiever Award at  'Weary' Dunlop Rugby Luncheon at Crown Palladium in October. The award provides a $14,000 education and sporting scholarship. Harry was overwhelmed by his win.   "At the end of the day, I just love the sport and I think that's why the award meant a lot to me. I love playing rugby, and it's undoubtedly going to help me play as much of it as I possibly can, so it's just awesome for me," Harry said. Harry received the award at the Melbourne Rebels Weary Dunlop Club luncheon, as part of The University of Melbourne and the Melbourne Rebels' partnership. It honours the spirit of University alumnus Sir Edward 'Weary' Dunlop by identifying a student rugby player who exemplifies leadership, academic endeavour and sporting excellence. Harry, who is in Year 12, plays fly half and has represented the Vic Schools Under 18 team. He recently qualified for the Melbourne Rebels Under 20 squad, and will be training intensely during the summer. "Hopefully I'll be able to be training in the off season over the next few months at a higher level than I have before with five training sessions a week," he said. The 17-year-old, who is aiming to study Science or Environments at The University of Melbourne in 2016, said the award would enable him to pursue his goals in rugby while simultaneously receiving a good education. The Young Achiever Award runners up were prop/hooker Declan Cox (Xavier College) and hooker/number eight Thomas Porritt (Melbourne Grammar).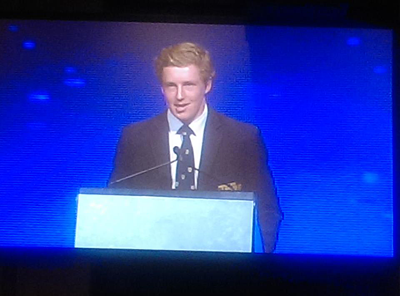 Harry Potter