Nothing denotes 'belonging' as much as wearing the uniform of the School.
Our uniform symbolises the tradition, respect, and achievement of past and current staff and boys of BGS.
It is important that the uniform is always neat and clean, never shabby or sloppy. You are judged by the way the uniform is worn, so boys are expected to wear it correctly with a sense of pride.
Term 4 Summer sport
Boys currently in years 7-11 are reminded ahead of Term 4 Summer Sport that they will be required to be in the new sports uniform at this time.
All students are expected to be wearing the new HPE uniform by the beginning of the 2022 school year.
All uniform items can be purchased through Noone Imagewear, the official uniform supplier to Brighton Grammar. 
The Uniform Shop is located in the Rosstrevor building complex adjacent to the Rosstrevor Hall, as indicated by the (W) here and below. Enter via Allee Street.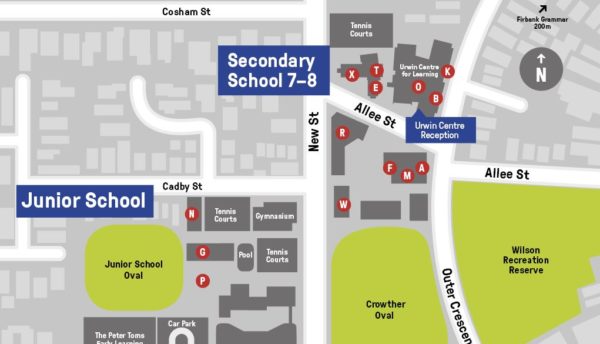 Important note: 
On-site Uniform shops, both for new items and secondhand items, will be closed until further notice. 
New uniform items are also available from:   
Noone Hampton
Shop 1/345 Hampton Street
Hampton Vic 3188
Ph: 9070 3910
hampton@noone.com.au
Monday – Friday 9.00am – 5.30pm,
Saturday 9.00am – 1.00pm 
Online orders
Our online uniform shop is accessible through our website www.noone.com.au or by clicking on the following hyperlink, which is displayed on the Brighton Grammar School website:
Online shop: https://www.noone.com.au/
If you require any further information or assistance, please contact:
Campus Store Manager, 
Gabrielle Hall, telephone 8591 2289
Email: bgs@noone.com.au
New sports uniform

   Specialist – Sporting, New (PDF)
Current sports uniform

   Specialist – Sporting, Current (PDF)
The Second-hand Uniform Shop is run by the Brighton Grammar School Parents' Group. See it on the map here (S).
NB: Due to the change to the academic uniform we are only accepting the deleted uniform as a donation to the school, not as a consignment sale.
Important note:
The Second-hand shop is currently closed until further notice. 
New uniform items will still be available from:   
Noone Hampton
Shop 1/345 Hampton Street
Hampton Vic 3188
Ph: 9070 3910
hampton@noone.com.au
Monday – Friday 9.00am – 5.30pm,
Saturday 9.00am – 1.00pm