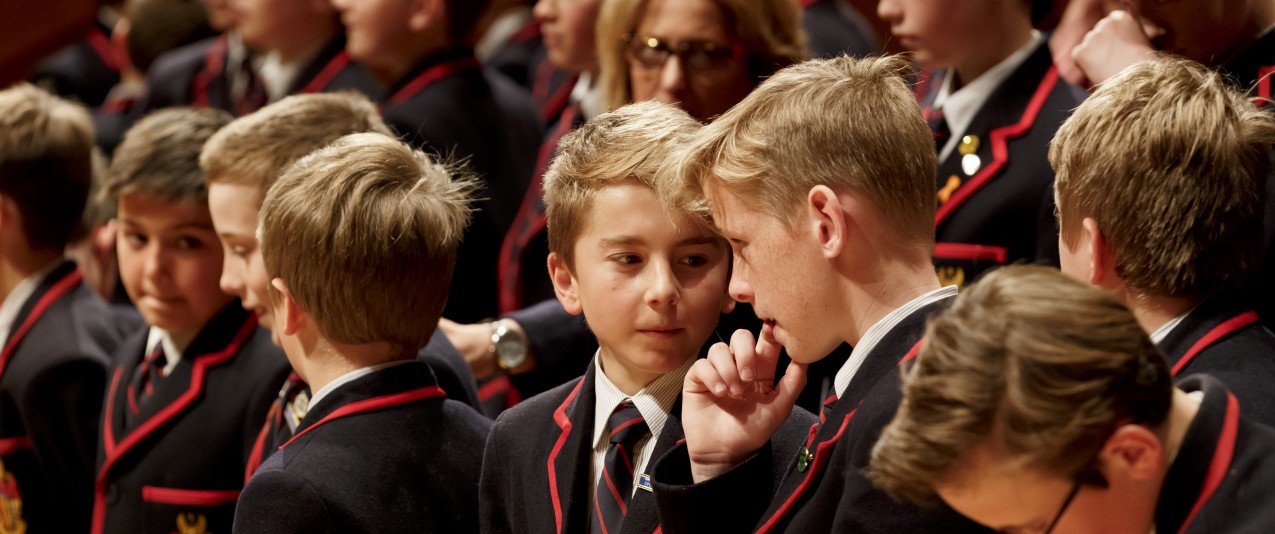 The School Day
The School Day
Pastoral Care
We pride ourselves on the care of our boys and we make a commitment to provide a safe and secure environment for them. A sense of belonging is a vital key for transition.
During the Transition Program, boys will be allocated into a House. There are six Houses at Brighton Grammar School: Armstrong, Crowther, Dixon, Hancock, Rofe and School.
Your sons House Tutor will also teach him some classes. House Tutors attend camp in Term 1 and may coach boys in interschool sport during the year. As such, the House Tutor is the primary pastoral care provider for boys in the Middle School.
In 2017 each Head of House will have responsibility for a Learning Common consisting of three Houses.
Boys from BGS Junior School will remain in their previously allocated Houses. During the year, boys will compete in a range of sporting, academic and cultural activities for their House.
In order to assist boys integrate into the school, and to form new friendships Year 7 camps are held early in Term 1. Attendance at camp is compulsory.
The Middle School Deputy Head, Mr Travis Hopgood, Middle School Chaplain, Fr Tony Poole and Middle School Student Counsellor, Ms Danielle Wolff, offer another layer of pastoral care for all Middle School boys.
border
Teaching and Learning
Boys in Year 7 undertake the following subjects: Creative Design & Technology (CDT), Drama, English, Humanities (Geography & History), Mathematics, Music (Choral and Classroom Music), Personal Development (PROSPER), Health & Physical Education, Philosophy Ethics & Beliefs and Science. Year 7 boys will experience four LOTES throughout the year: Chinese, French, Japanese and Latin.
There is an opportunity for students new to English to study EAL (English as Another Language) or have additional literacy support. However, this support is subject to discussion and approval by the School.
Learning Differentiation
We know everyone learns at a different pace. Our Learning Strategies teachers work closely with subject teachers to provide curriculum support that ensures effective learning strategies are implemented to facilitate successful academic outcomes and maximises learning potential.
A variety of learning strategies are used in mainstream classes and in small groups to facilitate differentiated curriculum. Specialist assessments are arranged for any boy who requires in-depth assessment. The information gained is disseminated to staff with recommendations about adapting instruction in Learning Commons.
Study Club
Under the supervision of the Learning Strategies Coordinator, Ms Christine McIntosh, the Middle School Study Club runs three mornings before school, and one afternoon after school, each week. This provides students with the opportunity to undertake private revision, meet with peers for group work or work closely with Ms McIntosh on areas of the curriculum they find challenging.
Student Leadership
In the Middle School we recognise the importance of providing leadership opportunities and actively encourage all boys to consider taking on positions of responsibility. In Year 8, our main leadership positions include Captain and Vice-Captain of Middle School, House Leaders and School Leaders.
Boys appointed to these positions have specific roles and responsibilities (or portfolios) and meet as a team on a regular basis and develop their leadership skills to ensure they leave a positive legacy for the Middle School. Further leadership opportunities for boys in Year 7 and Year 8 include Library Committee, Charity Committee, Student Voice and Environment Committee.
We firmly believe that leadership is something that can be learnt and through these positions and our training programs, we hope to develop leadership skills and capabilities in all our boys.
The Middle School Library
The Middle School Library provides a current and vibrant collection of recreational reading materials of fiction, true stories and biographies, graphic novels and picture books. The Library also subscribes to a collection of e-audio and e-books to support students that prefer reading in different formats, or need audio support with their reading.
Resources in print and electronic format are made available to students via the School Hub, and the use of authoritative and quality resources is facilitated by subscriptions to online databases and encyclopaedias.
The Library hosts lunchtime chess training and play, a hands-on MakerSpace Centre, a coeducational book club with Firbank Grammar girls and a Library Committee for students who wish to contribute to Middle School Library operations.
Growth and Wellbeing
All boys participate in PROSPER classes which are delivered by their House Tutors in the Wellbeing Centre. This is a core component of our Growth and Wellbeing Program. The intention of these classes is to ensure that our boys are equipped with social and emotional tools that enable them to flourish, live purposeful lives and manage adversity. PROSPER is an acronym for Positive Emotions, Relationships, Outcomes, Strengths, Purpose, Engagement and Resilience and the boys explore each of these domains during their time in the Middle School. The PROSPER classes also include elements of mindfulness, goal setting and peer coaching.
All Middle School boys also study Philosophy, Ethics & Beliefs. In Year 7 we focus on an awareness of the Christian tradition and the nature of religion as a human attribute and a framework for the construction of a values system. The focus is on the understanding of the Christian ethos based on the use of the Bible as text, the life of Jesus Christ and the way the first Christians adapted and responded in the first century of the common era.
In Year 7, meditation is introduced and reflective process is used as part of the weekly Chapel Service held at St Andrew's Church.
eLearning
Harnessing the power and potential of technology in learning is core at BGS. Specifications regarding the compulsory personal device to be purchased for 2017 will soon be sent home to parents.
The Hub
The Hub is our electronic learning management and communication system that supports the boys' daily routine at school and home. The Hub enables staff to post messages directly to the students and is the main vehicle of communication between home, school and the boy himself. Academic results are also posted on the Hub. Parents will be issued personalised log-in details and are encouraged to attend parent training sessions. Please see the video below for further information.
Stay connected!
Parent participation is a key pillar in the School's Strategic Plan. There are many ways you can stay connected at home and work including
Website www.brightongrammar.vic.edu.au
School Stream App (how to download)
Weekly eNews (click here)
Follow us (click on icons at bottom of page)
Getting started vimeo – Getting started in the Hub.
border
Assessment, Reports & Homework
The current assessment and School Report arrangements are as follows:
 
Ongoing
Assessment
Interim Online Progress Report
Detailed
Semester
Report
Examinations
Parent Teacher Discussions
Term 1
♦
♦
 
 
♦
Term 2
♦
 
♦
 
♦
Term 3
♦
♦
 
 
♦
Term 4
 
♦
 
♦
♦
 
Ongoing Assessments
Assessment varies according to the subject and includes such things as topic tests, assignments, essays, spelling tests, oral tests, practical tasks and model building. All marks are available on The Hub for both parents and boys.
Reports
Reports are prepared at the conclusion of each term, offering parents a summary as to how their son has performed. Parents can access results from The Hub at any time for more detailed feedback and monitoring.
During the year, Year 7 boys all undertake the compulsory NAPLAN tests. The boys also participate in a variety of Mathematics, Science and English competitions. Other standardised testing is conducted during the year to assist in mapping progress.
Homework
Reports are prepared at the conclusion of each term, offering parents a summary as to how tAs a general rule, boys can expect between 60 and 90 minutes of homework per night during the week. Homework tasks will range from subject to subject, and weekly expectations will be communicated via a homework schedule. During Term 1 boys will be provided with guidance in study skills and time management. Additional, and on going support, is provided at Study Club and through individual appointments.