From the Head of the Crowther Centre – Dr Ray Swann 
Loving Kindness
Our Junior School boys practise mindfulness each day as part of the still cloud. Many people who practise daily mindfulness would be aware of the concept of 'loving kindness' (also known as 'Mettā'). The idea of this form of mindfulness practice is, in a simple sense, to cultivate a sense of benevolence (well meaning) towards others. By 'paying attention' and focusing on someone, by wishing them happiness, wellness and a life free from pain, one may start to make connections in compassion and also self-care.
It was with interest this weekend, I watched Neale Daniher's message about fight MND (motor-neuron disease). Since being diagnosed with MND in 2014, Daniher has been committed to raising funds, awareness and hopefully creating a cure for the disease. In the video, Daniher starts with the question: If you had one wish for someone you cared for, what would that be? It's compelling viewing; it's a call for character development, for strength but also a call for care and compassion. Please contact me if you're interested in receiving the link to this interview.
As we head towards the end of the term, it is important to talk with your son about self-care, to check in with him and how he is going and for yourself, to take a short time out of your day, to reflect and simply 'be'.
BGS Crowther Centre Position Paper
Screen time
Is it all bad?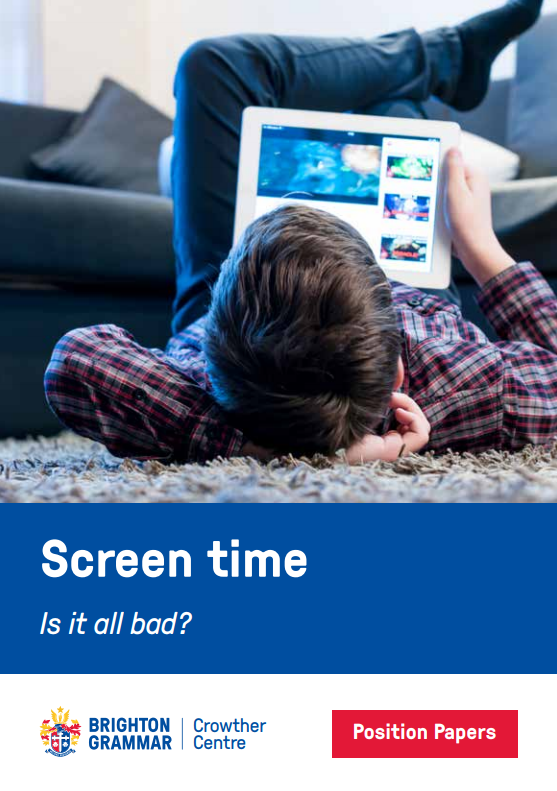 New technologies have become integral  to the lives of children and young people in today's society, both at School and their lives outside School.
At BGS, technology plays a vital role in the effective education of our boys, encompassing powerful tools that can stimulate awareness in the context of effective learning.
Interaction with devices and technology is part of a teenager's life and we can't prevent it – nor do we want to. Read the full position paper on what the experts are saying and gain some practical strategies that you can employ at home to help set boundaries and support your son's wellbeing in the long-term.