From the Head of Crowther Centre – Dr Ray Swann
About failure
In his work, Tony Wagner (Co-Director of the Change Leadership Group at the Harvard Graduate School of Education) talks about how schools must provide the right contexts for the development of new skills and entrepreneurial thinking. One of Wagner's central challenges relates to how schools deal with the notion of failure. As Wagner points out, it's only through receiving feedback (part of our Effective Learner model) that we can start to understand whether or not we are progressing or seeing any changes. Few (if any) innovations occur without repeated failure.
So how do we enable the boys to fail (and fail 'well' or 'safely') and learn? Part of the answer lies in resilience. When you look at the Effective Learner model (pictured below) you will see that the wheel behind it (the PROSPER model – our approach to wellbeing in the context of being able to learn) contains the word 'resilience'. This is key to working with failure.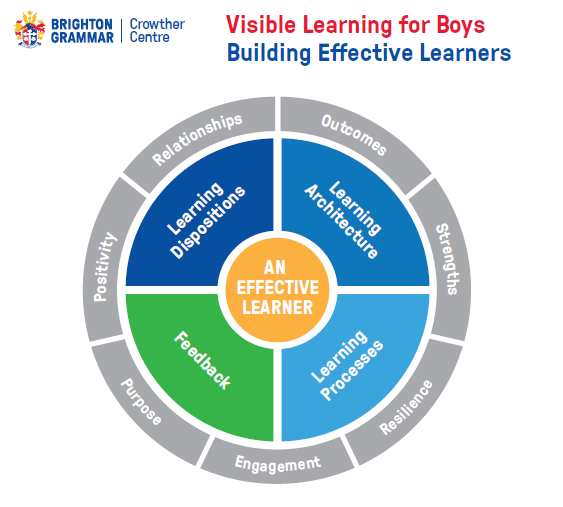 The question then becomes: can you teach resilience, and if so – how? According to McGrath and Noble (2011), you can. In fact, there are discrete resilience skills that can be taught to our boys. They are:
Optimistic thinking (where we teach the boys about the value of hope)
Helpful thinking (where we teach the boys that how they think affects how they feel)
Adaptive distancing (where we teach the boys about detaching from negative influences)
Recently, Pauline Anthony (Junior School e-Learning Coordinator) sent me an interesting article about a new research centre at Colombia University which has been given the task of studying the purpose of failure in education. The article provided the example of a study where it was found that students' science results improved once the students had learned about the 'personal and intellectual struggles' of a number of famous scientists like Einstein and Marie Curie.  
What the centre is already finding is that for failure (through feedback) to be something that works, we need time to look at what happened and 'went wrong'. You can read the whole piece here.
At BGS, part of Crowther Thinking for our boys is that through improved resilience, along with time for reflection, they will continue to develop the capacity to learn in different ways, including learning through failure.
---
Crowther Events
Parent engagement
Last week we hosted two focus groups looking at the role of community service for boys and also the continuing engagement of boys with their mums. We were so grateful that a range of parents gave of their time to come in and participate in the sessions. We are currently finalising a paper with our findings and hope to present this more broadly shortly.
---
Looking ahead
The Crowther Centre we will be running two further workshops this term (details below). We hope to see parents from ELC–VCE coming along to learn and share.
Effective Learner Workshop
When – Thursday 7 June, 6–7pm
What – A workshop event to explore the Effective Learner model and look at how you can build routines into your home
Where – Wellbeing Centre
How – Please book here
Engaging Adolescents Workshop
When – Thursday 14 June, 4–5pm
What – This workshop is for parents of boys who are heading into adolescence (or already in it) and will have a focus on building and establishing communication with your son as well as managing technology
Where – Wellbeing Centre
How – Please book here