A Word from the Headmaster – Ross Featherston
Hitting the ground running
Welcome back to the final term of 2019. I hope all in the BGS community enjoyed the break. 
As I mentioned to staff on Monday, it is incredible to think that we have only 42 days left with the boys this year. However, the school term has started at a rapid pace, with the Year 9s experiencing their B2M River Journey Expeditions, the Preps learning about forks and doubling numbers, the Junior School House Athletics Carnival taking place tomorrow, APS summer sport about to commence and the Year 12s busily preparing for their VCE examinations.
Farewelling the Class of 2019 is a key point of focus over these next two weeks. It can be a challenging time for students, balancing the emotion of finishing school with the need to narrow the focus on examination preparation. The Year 12s have led the community particularly well this year and very recently have delivered another powerful piece of cultural leadership for the Secondary School with the 'unlocking of the dance'.
Student creativity is also on show this term. I commend the staff and students on last night's Creative Arts Show. Yet again, the quality of work and the passion and dedication that goes into each boy's work is first class.
A 'heads-up' for Year 8 iDesign next week; come along and witness the innovation and flair the Year 8 boys (and their mentors) bring to these projects. The Creative Arts Show and iDesign are both indicators of the School's commitment to equip our boys to be future ready.
Have a great week and all the very best for the term ahead.
From the Deputy Headmaster, Head of Junior School – Peter Tellefson
Welcome back to the final term of the 2019 school year, which is hard to believe as the year continues to fly by at a rapid pace. I hope this newsletter finds you well-rested from the weekly routine. I am sure the next nine weeks will be most productive and will see great consolidation in your son's learning. Special welcome to Osborn Wang (ELC4) and Nicholas Shumsky (Prep K) and their families who commence this term.
I was fortunate to travel to China in the last week of Term 3 with our second group of primary-aged international travellers. Eight boys from Year 6: Cooper Ballantine, Lucas Barwood, Harry Bowerman, Jacob Everett, Hamish Featherston, Josh Fletcher, Carter Russell and Andrew Zhang represented our Junior School on an international tour.  The boys visited four cities: Shanghai, Hangzhou, Xian and Beijing.  They visited various museums, exhibitions, the Terracotta Warriors, the Great Wall and the Silk Market.  As you could imagine, they loved the local cuisine and the Bullet train trip; travelling at a maximum speed of 380km/hr from Shanghai to Hangzhou was a thrill for them.  The boys had a wonderful experience, and they have shared many stories and recounted their adventures.  The highlight of the trip was to spend time visiting our friendship school in Hangzhou. All students loved their time attending various classes: PE, Art, traditional Chinese woodcarving, calligraphy workshop, Chinese and English.  The trip was a huge success, our touring party did us proud and I look forward to seeking potential interest from our current Year 5 families who may be interested in their son travelling to China in September 2020.
There are many advantages for boys who attend an ELC–Year 12 school. The most significant one that I believe we do well is transition, particularly from ELC4–Prep, and Year 6–7. The Year 6 boys have participated in a variety of  classes in the Middle years during Terms 2 and 3 with staff from both Year 6 and Year 7.  Next Tuesday 15 October, the Year 6 boys will spend the day at the Rosstrevor end of  Secondary School, followed by the Year 7 2020 Parent Information Evening at 6.30pm. With the Year 6 boys 'across the road', we look forward to welcoming the 2020 Year 3–6 boys who will spend the day at Wilson House.
Tomorrow is the Prep–Year 6 House Athletics Carnival on the Crowther Oval, from 10.00am–3.00pm. There will be a break in the carnival at 12.30pm for parents to sit and join their son for lunch. Boys are to wear their Sport uniform and House polo shirt to School for the day, and have their BGS broad-brimmed hat and sunscreen as warm weather is forecast.  Tuckshop orders will not be available; boys will need to bring lunch from home. Boys will return to Wilson House at the end of the carnival and will be dismissed from their classrooms at 3pm. See Program details 
Junior School happenings and reminders
Thank you to the JPG and to Dr Eva Aschman, Alex Dever, Nada Denning, Fiona Cozens, Jo Saadie, Melissa Cowan, Wendy Negoro, Carolina Nunn, Michelle Xu, Catherine Yue, Christie Neatnica and Jennifer Kerherve for their organisation and assistance of our JPG End-of-Term lunch.
All boys are now wearing the summer uniform. The wearing of the broad-brimmed hat during recess and lunch will be compulsory from Week 2 – Monday 14 October 2019. Boys should be locating their hat for the re-introduction of our 'No Hat No Play' Policy. Our Year 5–6 boys may wear their BGS cap on Wednesdays.
Our Year 5–6 APS Sport training commences next Monday 14 October from 3.20pm. Competition commences on Wednesday 16 October.
Best wishes to our Year 6 boys and staff participating in Relay for Life on Saturday 26 October to support the Cancer Council. All boys from ELC to Year 6 can wear casual clothes, with a touch of white/purple/yellow on Thursday 24 October to assist with fundraising. A gold coin donation would be appreciated.
From the Director of the Early Learning Centre – Amelia Barrow
A great start to Term 4 
What a wonderful beginning to our favourite term of the school year. The boys bounded excitedly into the centre on Tuesday morning, full of stories of their holiday adventures.  Some classes enjoyed sharing holiday photos with their class group on the big TV screen, assisting the boys' sense of belonging and their language development. Thank you to those families who emailed in photos.
The Long Day Care Holiday program was a great success, with the boys enjoying fun activities each day, especially the Footy incursion. Well done to Kirstie McCormick and her team.
The 2020 ELC Transition Program begins next week, with current ELC3 boys experiencing the ELC4 classrooms for three sessions on Tuesday mornings, and the 2020 ELC3 boys attending on Friday mornings. The ELC4 boys will travel across the carpark to Prep over the next three Thursday mornings and we welcomed our Prep teachers into the ELC4 classrooms this week. 
A reminder that Term 4 is a Sun Smart term and all boys should now be wearing their summer uniform. It is a requirement that your son starts his day at School with his sunscreen already applied. Staff will then support the boys with reapplication after lunch. If your son requires his own sunscreen, please advise his teacher.
A Term 4 calendar, showing school events, will be sent to parents next week, however please continue to check School Stream and eNews for information.
We look forward to a wonderful last term together.
This week's parenting tip 
Please view this week's Parenting Tip entitled Secrets of managing boys' behaviour
New BGS Bus Route 
Have you spotted our new bus? The new bus route is now running to and from the School in suburbs including: Carnegie, Caulfield, Malvern, McKinnon, Murrumbeena, Ormond and Toorak.
Boys can trial this service free of charge* for the duration of Term 4. Register your expression of interest today.
*Normal charges will apply in 2020 if bus run has sufficient interest to continue.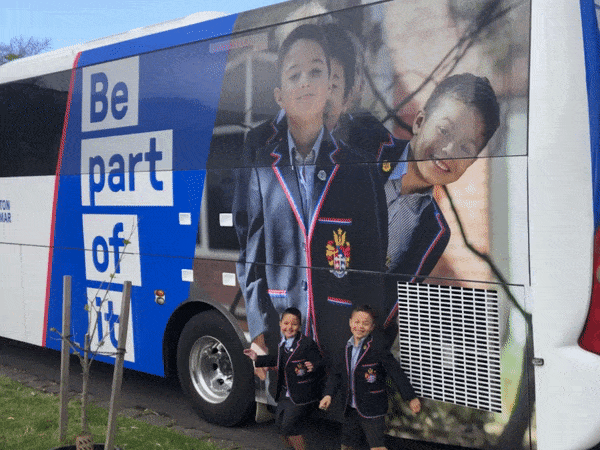 JPG News
Save the Date – Family Fun night – Friday 22 November