A Word from the Headmaster – Ross Featherston
Our Birthday
Today (14 February) is our Founder's Day. It was on this day in 1882 that Dr Crowther welcomed eight boys to his newly established school at 163 New Street, Brighton. Now, 137 years on, we have just welcomed 1361 boys through the gates for the 2019 school year.
Our rich history is important to us. Our current students move through the School with a strong sense of who and what has gone before them. The creed developed by the 2018 School Prefects states that 'the actions I take, fair and just, will be steeped in a history bigger than any one of us'.
There is no doubt that this history inspires our boys in many ways. On a daily basis, they walk through the Hall of Fame at the St Andrew's End of the Secondary School. They see the many activities of the Old Brighton Grammarians' Society, of which they will soon be members. (Thirty Old Boys from the Pendennis Chapter – who left BGS at least 60 years ago – attended our Founder's Day Chapel Service yesterday.) With great enthusiasm, they support their Houses, named after important figures in BGS history. In Year 12 in particular, they think deeply about the legacy they will leave for future generations of BGS boys.
There is no greater example of the current BGS boys benefitting from our history than the Oak Tree in the Quad, planted in 1931 (see photo). Our magnificent tree exemplifies the proverb that implores all of us to 'plant trees under whose shade you do not expect to sit'.
Have a great week – and let's all be grateful for what's gone before us.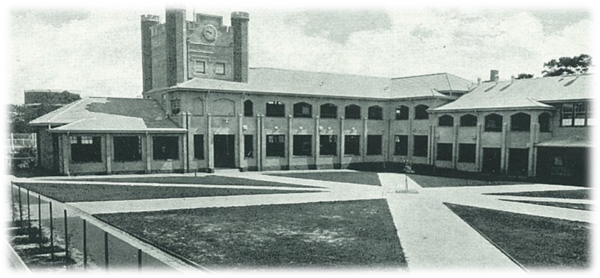 From the Deputy Headmaster, Head of Junior School – Peter Tellefson
The commencement of the School Year can be daunting and bring about some anxiety.  I appreciate the time, effort and care of our Junior School staff as they assist our boys in transition.
Imagine 'walking in the shoes' of our Prep boys as they experience so many firsts at school.  Our Preps left on Day 1 with a 'goodie' bag with an eraser, stickers, a puzzle, bookmark and packet of Smarties and the following message:
Welcome to Prep, I'm so glad you are here.  Here's a little goodie bag to help kick off the year.  The eraser is to remind you that it's ok to make mistakes, we'll work and learn together whatever that may take!  The stickers mean we'll stick together and work hard as a team.  The puzzle shows we fit together, working toward a common theme.  The bookmark is to show you, that you always have a place.  If you ever feel lost, we will help you find your space.  The Smarties are to remind you just how smart I think you are.  Work hard, do you best and you'll always go far!
This is one of the examples of the creative talents and the time, effort and care our staff demonstrate.
At last week's Prep to Year 3 Parent Information evening, our Headmaster, Mr Ross Featherston reinforced key elements of our Strategy, highlighted our academic progress and emphasised the need for us as a learning community to continue to aspire for excellence.  We were also fortunate to hear from Dr Ray Swann, Deputy Headmaster, Head of Crowther.  Ray gave us an overview of our approach to Teaching and Learning and a number of initiatives we are participating in across the School.  I encourage parents to read the Crowther Centre eNews on a weekly basis to ensure you are aware of what is happening with Teaching & Learning across the School. Thank you to all parents for your support, we look forward to your ongoing engagement and commitment and to our Prep to Year 3 teachers for their various presentations. I enjoyed the opportunity to chat with parents and listen to the feedback. I have a sense that, on the whole, we have had a positive start to the school year. Thank you to Dr Eva Aschman and the Junior Parents' Group for their organisation of the social component of the evening. Our Year 4 – 6 Information Evening tonight will commence in the G. B. Robertson Hall, please ensure you are seated for a 7.00pm start.
Junior School Happenings and Reminders
Our Outdoor Education Program involves all Prep to Year 6 boys and is a compulsory component of our School's curriculum. The diversity, skill development and range of opportunities our boys experience is excellent. In Term 1, our Year 5s will attend camp from 12–15 March. Year 5 parents are invited to attend an Information Session to be presented by the Outdoor Education Team in the Junior School Drama room (Room 12) on Tuesday 26 February at 8.45am.
Prep to Year 6 Parent/Teacher Discussions next Wednesday 20 and Thursday 21 February provide another opportunity to further develop relationships. Online bookings and instructions have been emailed to parents.
Our Prep to Year 6 Swimming Carnival will be held on Friday 22 February. All boys are expected to compete in BGS bathers which can be purchased from the Uniform Shop.
The Hub is updated fortnightly. A reminder to please log in for the latest curriculum information.  This includes homework tasks, information about what boys will be learning in the next two weeks and questions to ask your son to assist with learning in the classroom.
BGS has a policy which requires parents who wish to assist or participate in any class activities or programs to have a current 'Working with Children Check'.  Online application forms are available on the WWC website. 
Parents are encouraged to access the 2019 Junior School Handbook which will answer many questions, and assist with your son's transition. 
When entering and exiting the Grosvenor Street car park, the safety of our boys is paramount. The drop-off/pick-up zone is on the left-hand side of the driveway. Parents who use the drop-off/pick-up zone will need to approach this area via the northern (Oval) side of the tree at the far end of the car park. The exit lane is on the right-hand side; these areas are clearly marked. To assist with the flow of traffic in the car park we ask all boys from the ELC and Junior School not to play on the Adventure Playground after school. I would ask all parents to support this request.
Due to the cancellation of the 2018 Family Fun Night in November, our Welcome Picnic on Friday 1 March will include rides and food vendors, see the JPG News section for booking details.
From the Director of the Early Learning Centre – Amelia Barrow
Getting into the groove in the Early Learning Centre
This week the ELC boys have enjoyed starting their Specialist Classes such as Wellbeing, Literacy & Sport with Mrs Clarke. In Term 1 and 2, the boys will attend Wellbeing classes where our ELC4 classes will have a lesson a week in the School's Wellbeing Centre with Mrs Clarke. As the ELC3 boys are still settling into their groups, we will implement wellbeing in the classroom. However once the boys feel more confident in their surroundings, we will then walk them over to the beautiful Wellbeing Centre for their class. Literacy classes also began this week introducing the boys to rhyme and nursery tales. Mrs Clarke will teach these classes on Tuesday mornings for ELC3 boys and Wednesday mornings for ELC4. Mrs Clarke also began Physical Education classes, which will be held every Thursday morning for all classes. What a Jack-of-all-trades she is!
Valentine's Day was filled with love and laughter today as the boys made special art pieces to remind us all to tell our loved ones how special they are.
Our Buddy classes will also begin shortly where each ELC boy is matched up with an older Buddy for the year (Grade 4 or 5). This is often one of the boys' favourite experiences during their program, and having an older mentor who is like a "big brother" is very precious in their life.
A quick drop off always helps the boys settle into their school day. Please ask staff if you need help supporting this transition. We have noticed that the boys are settling quickly once the busy arrival period has quietened down. A reminder that Before School Care drop off and pick up is through Room 1 (the Bilby Room). We ask that if you are 5 minutes before Program time, please wait and enter through your son's classroom (ELC4 at 8.45am and ELC3 at 9am).
Thank you to all families who have supported our food allergy alert. A reminder to avoid packing seafood, shellfish and all nut products in your son's lunch. Also grapes are to be cut in half please. The boys have been wonderful coming to the teachers to alert them if they notice any foods that need checking.
This week the boys have loved sharing their learning with Mr Tellefson, Deputy Headmaster, Head of Junior School on Tuesday. It is lovely to see how proud the boys are to share their news and chat with him.
Our Long Day Care Program will be emailed out shortly with our exciting afternoon activities for the coming month. A reminder if you need to contact Long Day Care the number is 0409 400 198.
Help keep the boys safe by not allowing them to open the gates or doors to the Centre. Although climbing up the fence is quite fun, we want to ensure the boys understand that there are safety rules to protect them. Also the Qikkids sign in system is for adults to access only – the boys and/or siblings are not to use this as it is a regulation that users need to be 18 years or older. It also ensures that attendance is recorded accurately. Many thanks for your support with this.
What a wonderful week we have had in the ELC thus far.
From the Head of the Crowther Centre – Dr Ray Swann 
The Power of Voice
When students feel that they have a voice, they are five times more likely to be academically motivated. How are you hearing your son's voice as he learns? Go to Crowther Centre eNews to read more.
Teaching & Learning
3 Wills' Classroom Life
The start of the school year is full of anticipation and excitement for both the boys and their teachers. There is always so much that needs to be done and so many wonderful social and academic experiences to immerse one's self in. This is also the time when the foundation is laid for the entire year.
In 3 Wills, the boys have made a most positive start. We have been fortunate enough to have had the pleasure of welcoming three fine new boys into our classroom. As one of a number of strategies to ensure that each of these boys made a happy transition, each was given several 'buddies' for the first fortnight. One of the buddies' key roles was to not only acclimatise each new boy with the Junior School's facilities, but to also be with them throughout recesses and lunchtimes.  
This process was directly linked to one of 3 Wills' Key Learning Intentions for the first fortnight. As a class, we decided that a key goal in laying our foundation was to settle into 3 Wills in a positive way and to feel happy each day. Our Success Criteria for this was broken up into three parts:
1. I can understand our new routines
2. I have some really nice friends in the classroom
3. I appreciate that all of us are a team.
As a class, we revisited the displayed Learning Intention and Success Criteria each day to reflect on our progress and share observed behaviours that reinforced our goal.
Another key element of laying the foundation for the boys' time in Year 3 was to not only establish clear routines but also to quickly develop effective work habits and strategies. In the first week, this was done in part, by reinforcing to each student the importance and value of planning one's written work in an efficient manner. Based on the theme, 'My Perfect World,' a model of a Mind Map was created on the interactive whiteboard by the boys. Each individual then produced his own based on his brainstormed ideas for describing the key features of such a world. This provided a visual road map for the boys as they enthusiastically wrote a detailed description of their feelings, behaviours and observations in their ideal world. The use of such graphic organisers is common in our School's classrooms.
A boy being happy, a class working together as a team and the establishment and implementation of effective routines are crucial in any individual's journey through school.
3 Wills have certainly made a fine start in these areas.   
Brendan Rahn
3 Wills Classroom teacher
Murrundindi visits Year 4
The boys experienced Indigenous culture through artefacts, music and some skilful throwing technique.
SchoolTV – Perfectionism
Perfectionism is a modern curse in families and schools. Fear of making mistakes holds children back and is a great impediment to children reaching their full potential. Watch a short video on 'Overcoming the curse of perfectionism'.
JPG News
Year Level Representatives and Volunteers
The JPG are looking for Year Level Representatives, and a general pool of volunteers to assist on any level. It is preferable we have one Year Level Representative volunteer from each class, but 2 – 4 people per year level is great. Representatives work as a team to co-ordinate social events within their level and arrange volunteers for one event per year within their Year Level (i.e. mustering 4 volunteers for delivering food to classrooms for the end of term lunches). Tasks and neither onerous nor time consuming and it is an opportunity to facilitate communication, connection and contribution within the school community. Please email the JPG if you are interested in being involved, either representing your Year Level or any form of volunteering. The more the merrier.
BGS Junior School Welcome/Family Fun Night: 1 March 4.30pm-8pm
Red Square, BGS Junior School
As the 2018 Family Fun Night was cancelled due to inclement weather, this year the Welcome Picnic will also incorporate Family Fun Night. This is a great opportunity for families to get together and enjoy a fun evening. There will be a variety of food trucks on the night. BYO drinks. 
Please note that if you previously purchased tickets for the 2018 event and did not request a refund, new wristbands will be issued at no extra cost. Additional ride tickets can be purchased for $35 per child (unlimited rides) and adults are free.
If you have any queries, please contact Sarah Fearn (0431 372 166)
'BGS Generations' photograph
Are you a BGS Old Boy and the father or grandfather of a current student? Please join us at 8am next Tuesday 19 February, with your son/grandson, for a group photograph of the 'Generations' of Brighton Grammar School, followed by light refreshments in the Atrium.
RSVP by Friday 15 February to Kate Birrell, letting us know which family members will be attending.
Please arrive promptly in the Quad at 8.00am with your son(s) for the group photograph. Our photographer will also be available to take individual family photographs if desired.
And if you have not already done so, please fill out a BGS Generations form and email it to Peter Toms so that we can update our records and ensure that your son/grandson receives his generations pin!
Attention, BGS community members!
Did you know that you're entitled to join the state-of-the-art Annandale Gym?
You qualify as a BGS community member if you are:
a parent, guardian, grandparent or sibling (over 18 years) of a current BGS student
a prospective parent or guardian (you must have a paid registration)
a past parent or guardian
an Old Boy (over 18 years, or not yet 18 but having completed Year 12)
a BGS donor or spouse of a donor (over 18 years)
a BGS staff member (full-time, part-time or casual) or spouse.
Our highly qualified trainers run classes at a range of times and offer personalised service to help you meet your goals, whatever your fitness level. Try HIIT, Cycle Fit, Strength for Life, Fighting Fit or Yoga.
Check out the Gym website for more information or email Megan.