A Word from the Headmaster – Ross Featherston
Engaging parents
Parents being engaged with their son's learning, in and outside the classroom, is a key element of a BGS education. Our Parent Workshop series and Positioning Papers produced by the Crowther Centre are two prime examples of this, as is the Understanding Boys website.
This commitment to engaging parents goes into overdrive in November with a wide range of parent and son activities occurring across the School. Two weeks ago, Year 6 boys and their dads experienced white water rafting on the Mitchell River for a weekend. Last week, we held our Young Warriors night with Year 4 boys and mum-dad (slightly impacted by the weather!), the High Tea for mothers and their Year 8 sons, and the annual Year 8 father-son camp at Portsea. This weekend, we host parenting expert Megan De Beyer who will again offer her expertise in the Strong Mothers, Strong Sons workshop, and our Year 10 boys head off with their significant adult on the First Horizon experience, the capstone in our B2M program.
It really does take a village to raise a child.
Have a great week.
From the Deputy Headmaster, Head of Junior School – Peter Tellefson
It was unfortunate Friday's thunderstorms cancelled the 'sleep out' component of last week's Year 4 Young Warriors Program.  We were able to relocate to the Urwin Centre allowing 120 Junior School boys, parents and staff to participate in the various activities facilitated by James Hilditch. These provided an opportunity for one-on-one connection time for the boys and their dad, mum or mentor and focused on the importance of relationships. The night was a great success, many highlights for young and old, but it was most rewarding to hear the quality of conversations, love and 'honouring' between the boys and adults.  Thank you to James Hilditch, Alison Main, Matt Barker, Paul Gurry, Joanne Davies, Dean Bryan, Monica Le Couteur, Ray Swann, Brent Brickhill, Bill Gibney, David Eggleston, Chester Lord, Glenn Garland and Stuart Thompson for giving of their time and braving the elements on a cold and wet night, and to our boys and parents for supporting the night.
Next Friday night is our final fundraiser for the year. I am most appreciative to the various families and businesses sponsoring this year's event.  At this stage, 240 wristbands have been sold, we anticipate another 200 to be purchased! All you are required to do before next Friday is buy a wristband for your children. If you haven't already contributed a Scratchie card for the Family Fun Night raffle, then there is still time. Cards can be left at the JS Office. Thank you to Nick Bulfin, Dr Eva Aschman and the JPG for their excellent planning and preparation for event. See details 
Junior School happenings and reminders
Our final Prep to Year 6 Parent Teacher Discussions are listed on the Date Card for Monday 18 November, 3.30–8.30pm and Tuesday 19 November, 3.30–6.00pm. Bookings are now available via Synportal and will remain open until 9.00am Monday, 18 November. 
Next week is our final round of Year 5/6 APS Sport, training will be cancelled on Monday due to Parent Teacher Discussions, and there will be no training for the rest of the term due to the season end.
Student Achievements
Congratulations to the following boys from Years 3–6 who will be presented with Semester Two Effort Cards for Drama, Design and Technology, Class Music, Instrumental and APS Sport Awards at tomorrow's Assembly in St Andrew's Church at 9.20am.
Drama –Billy Burgess, Daniel Cameron, Isaac Pels, Luke Sexton, Alex Woolfe, Ieuan Hill
Design and Technology – Robbie McNaughton, Seb Naccarella, Harvey Newstead, Aidan Hearne, Charles Wettenhall, Jack Zhu, Christian Field, Harvey Schutz, Sid Bartlett, Lachlan Strahan, Liam Raftis, Ethan Marks, Thomas Zhuang
Class Music – Trent Vincent, Harry Heaselgrave, Isaac Pels, Harry Young, Evan Raglin, Joshua Torr, Sam Lorback, Will Saadie, Eddie Jin, Zebi Graham, Kevin Li, Sacha Rose, Thomas Zhuang
Borwick House Choir – Jarvis Rowe, Harry Denning, Fletcher Brougham, Cooper Chilcott, Kenneth Yeung
Wilson House Concert Band – Luke Connolly, Zac Murphy, Angus Beaton, Jack Carson
String Orchestra – Sebastian Liddle, Anthony Tian, Danny Du, Declan McCormack
Wilson House Guitar Ensemble – Charles Wettenhall, Aashvik Sareen
APS Sport Awards
| | | |
| --- | --- | --- |
| | Most Outstanding Player/Athlete | Best Team Player/Athlete |
| 6A Touch Football | Carter Russell | Luke Sexton |
| 6B Touch Football | Daniel Cameron | Rishi Mahendranathan |
| 5A Touch Football | Caelan Mackay | Will Saadie |
| 5B Touch Football | Mara Lovett-Murray | Leo Reeve |
| 6 Red Badminton | Jared Thomas | Alan Ji |
| 6 Blue Badminton | Charlie Sabin | Josh Fletcher |
| 5 Red Badminton | Danny Du | Bolin Chen |
| 5 Blue Badminton | Lucas Lin | John Hall |
| 6 Athletics | Jake Ring | Jake Charlton |
| 5 Athletics | Oliver Chernikeeff | Henry Thomas |
|   | Encouragement Award | Most Improved Player |
| 5/6 Golf | Jackson Zhao | Will Church |
|   | Encouragement Award | Most Improved Player |
| 5/6 Lawn Bowls | Charles Williams | Cooper Chilcott |
From the Director of the Early Learning Centre – Amelia Barrow
Christmas has begun in the Early Learning Centre
With only 6 weeks until Christmas we thought it was time to 'deck the halls' and begin our celebrations in the ELC. The classrooms have all started their Christmas experiences (some undercover) and the boys are enjoying integrating their learning with a Christmas theme. Our Christmas Pageant Invitations were sent home this week inviting family and friends to our performance on Thursday 5 December at 10.00am. All boys are expected to attend and more information will be sent shortly regarding costumes and Christmas Party celebrations following the pageant. A reminder that if you will be away during this final week, please let you classroom teacher know as soon as possible.
Our Term 4 Parent Teacher Discussions have now been completed. Thank you to all parents for taking the time to come and meet with your son's teacher. It was also wonderful to host the ELC4 Parent Teacher Discussions in our exciting Prep classrooms – what amazing learning environments!
The ELC staff would like to thank the Class Representatives for organising the ELC 3 and 4 Christmas Party for parents and staff on Thursday 21 November at 7.00pm. We look forward to seeing all of our families at this lovely event and encourage you to join if you haven't already RSVP. It always is a lovely opportunity for families and staff to connect.
The countdown is sadly on for the end of the term, so we look forward to enjoying the last few weeks together!
Teaching & Learning
The Magic of Science for the ELC 
The Wombats were lucky enough to visit the Secondary School Science Lab where Laboratory Manager Jane Nurton helped the boys to do some real science experiments. We explored scientific concepts such air, water, temperature, gravity, magnetic pull, chemical reactions and static electricity.  The Wombats sat in awe of the 'magic' that unfolded. 
Jane showed the boys experiments such as the 'elephant toothpaste' chemical reaction, when yeast and hydrogen peroxide are mixed  and react with the oxygen, creating bubbles.  Jane also pushed pencils through a zip lock bag filled with water and to our surprise, not a drop of water spilled out.
Jane used scientific language as she did her demonstration, such as molecules, atoms and polymers. The boys also met two frogs, an axolotl and a water dragon called Gerald who ate his lunch consisting of live jumping crickets! These experiences have already stimulated the boys' curiosity in science, which has overflowed into our classroom program. 
Jess Kenny
ELC3 Teacher
Year 3 Camp
Students of 3 Burke and 3 Wills recently journeyed to Candlebark Farm in Healesville. There, the boys engaged in an array of activities designed to provide them with healthy challenges as part of the School's wonderful Outdoor Education program.
Short hikes, the ropes course, challenging fast-paced ball games and the highly anticipated zip line all called upon the boys to display many important qualities such as team work, persistence and resilience.
The zip line, affectionately known as the Super Swooper, pushed the Years 3s the most significantly. With the expertise and encouragement of the Outdoor Education staff, many boys overcame their initial hesitancy and conquered the challenge presented to them. It was wonderful not only to observe individual moments of pride but also the genuine admiration and joy exhibited by the boys' class mates when a boy completed the course.
A visit to Healesville Sanctuary, the night hike, the campfire, bush art and the natural surroundings all provided a superb platform for a richer appreciation of our unique flora and fauna. 
The Year 3s also took on their  camp responsibilities with great enthusiasm. Although challenged at times, the persistence, team work and developing ability to listen attentively and learn, were wonderful to note.
Undoubtedly, the boys had many stories to share with their families upon their return.
Brendan Rahn and David Turner
Year 3 Teachers
Young Warriors
On Friday 8 November, our Year 4 boys, together with a parent/mentor, took part in the Young Warriors program. The night brought together a community of parents, mentors and sons, provided them with a meaningful bonding experience and allowed parents the time to check‐in with regards to their parenting
The boys and adults were involved in a series of discussion circles and activities where they were invited to share their thoughts about childhood, parenting, being a ten year old boy in 2019, and hopes for the future. Each boy also spent some private moments with their parent and mentor to reflect on their relationship.
We thank our boys, parents and mentors for giving of themselves and sharing their thoughts, experiences and feelings with each other.
Paul Gurry
Year 4 Classroom teacher
This week's parenting tip 
Internet Addiction
For children and teenagers, there is no doubt that the Internet can be an excellent resource for information, communication and entertainment, but more and more Australian parents are concerned about excessive time online. Unfortunately, many parents feel as though they are shut out of this cyber world, often not knowing, nor understanding, what happens in this online environment. It is up to parents to monitor, not just what their children do online, but also the length of time they spend online. Many of the online games children play have parental controls. However, parents do not always choose to use them. Banning is not the answer. A better strategy is to give kids access, but be informed, set some rules, monitor and supervise. To ignore this responsibility could create significant psychological and social problems for their children in years to come. Please visit SchoolTV for  more information.
JPG News
Family Fun Night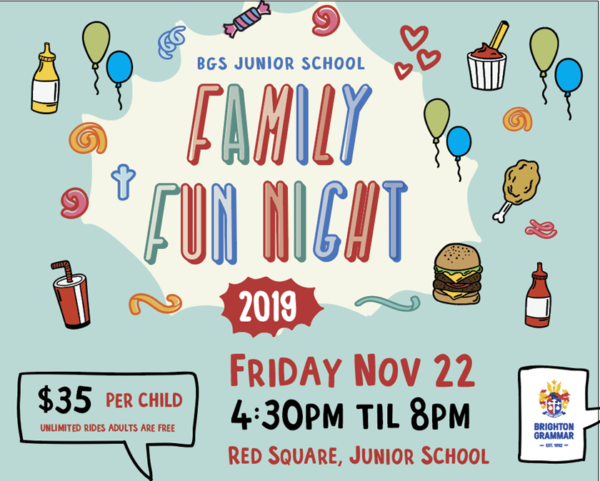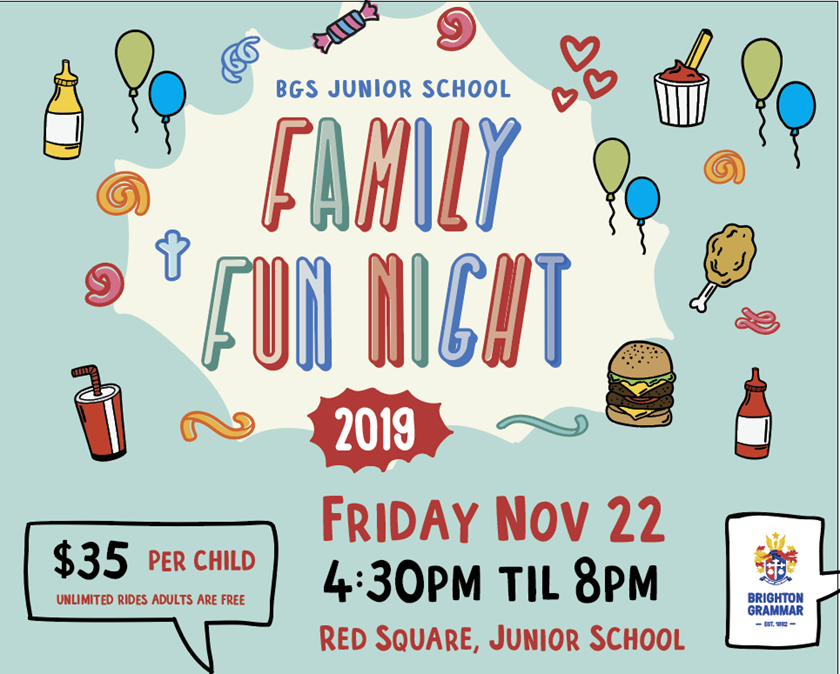 Book your tickets to receive one of the exciting showbags, together with the admission wristband.
Wristbands will also be available for purchase at the entrance on the day.
Family Fun Night Scratchie Tree Raffle Donations
If you haven't already contributed a Scratchie card for the Family Fun Night, there is still time! Don't forget to buy your raffle tickets for a chance to win a fantastic a Scratchie card Christmas tree! Raffle tickets will also be available to purchase at Family Fun Night. The raffle will be drawn on Monday 25 November and the winner will be notified.