A Word from the Headmaster – Ross Featherston
Some changes to BGS Sport
As you know, last term, I commissioned a review of our Year 7–12 co-curricular sports program. Thanks to the 480 Secondary School parents and the 240 Secondary School boys who completed the Sports Review Survey and to the parents, staff and boys who took part in more in-depth meetings and interviews with our external consultant.
Broadly, the review revealed a couple of interesting elements. First, our community understands that sport is a key part of a BGS education and plays an important role in 'teaching' our boys lessons around teamwork, dealing with both success and failure, resilience, being physically healthy and the like. Second, the review indicated that BGS Sport is in reasonable shape; at the same time, we can take advantage of a number of opportunities to enhance the experience of all boys through BGS Sport.
Therefore, I am pleased to let you know that there will be some changes to BGS Sport for 2019. Among others, a key change will be the introduction of a Director of Coaching role. The Director of Coaching will train our sports coaches (particularly our young Old Boys) to coach in line with the principles that are used in the classroom, in the outdoors and in all aspects of a BGS education. Further, we will increase the administrative support we provide to BGS Sport to ensure that sports administration runs smoothly and that communications are clear.
While these changes might not result in more BGS match wins (this was not the aim of the review), it is envisaged that they will improve the sporting experience for all boys at BGS and ensure that this aspect of the curriculum aligns closely with the rest of their education here.
Have a great week – and if you are free on Saturday, drop in to Annandale and have a look at this great new facility while our 1st XVIII take on Xavier on the Crowther. All welcome!
---
From the Deputy Headmaster, Head of Junior School – Peter Tellefson
Our Year 6 boys enjoyed their trip to Canberra and there were certainly many highlights. Canberra offers such a variety of educational programs focusing on Australia's history, culture, science, sport, heritage and democracy.
The staff received many compliments regarding the boys' presentation, knowledge and behaviour as they visited various sites. I was also impressed by the boys' depth of knowledge and excellent responses to questions they were asked throughout the trip. 
I appreciate the overall coordination and leadership from Hamish Leahy and Cathy Box, and the great support from Monica Le Couteur, Luke Fensling, Joanne Davies, Sarah Straford, Stuart Thompson, Pauline Anthony, Jane Lowe and Fr Chester Lord. Thank you to the Year 6 parents who gave of their time: Nic Prassopoulos, Andrew Kollmorgan, Greg Gibbins and Tim Hall.
The Australian Government recognises the importance of all young Australians being able to visit the national capital as part of their Civics and Citizenship education. To assist families in meeting the cost of the excursion, we are fortunate that the Government contributes funding under the Parliament and Civics Education Rebate program.
I am a strong believer that 'the little things count'. So often I remind the boys of the importance of their manners, and to make good eye contact when speaking to an adult. These two examples are 'little things' that make a difference and build confidence in boys. We have a responsibility to assist our boys to develop a sense of pride in themselves, their family and their School. I love 'meeting and greeting' the boys at the start of each day and continue to be impressed by how they present themselves and engage appropriately with their peers and adults at school.
It is always the intention of the School to provide a safe and supportive learning environment for the boys. I remind all parents that we endeavour to remain a nut-free zone at all times. We have an Anaphylaxis Policy and it is important we continue to raise awareness of anaphylaxis in the BGS community. Please ensure that your son's lunchbox does not contain nuts or sandwich spreads that contain nuts, and be particularly aware when boys are celebrating birthdays. I encourage you to access the informative Allergy & Anaphylaxis Australia website (www.allergyfacts.org.au).
---
Junior School Happenings and Reminders
A reminder to families that have not yet updated their son's personal and medical details via Consent2Go. To assist with the implementation of our new integrated system, please ensure all details are up-to-date as requested.
Tickets are selling fast for the JPG Gala Ball – Bright Lights, Big City! on Friday 7 September at Maia, Central Pier, Docklands. Many thanks to our sponsors: Atlantic Group, Lexus of Brighton, Ivy & Eve Flowers, Shaw and Partners, StarRez, Green & Sternfeld, Brighton Travelworld and Noone.  To book tickets, see the JPG News section.
Come and hear our singers and choristers at the biennial Choral Concert featuring Years 4–12 students – next Tuesday 7 August, 4–5.15pm at St Andrew's Church.
As part of our Book Week celebrations, the annual Junior School Book Fair will be held from Monday 6 to Friday 10 August in the Junior School Library. Boys will preview the Fair during their library sessions on Monday and Tuesday, and it will be open for sales from Wednesday to Friday.
The Year 3–6 Father/Son Activities Evening will be held on Thursday 16 August. Activities will commence in classrooms at 5.45pm and conclude at 7.00pm. Prep–Year 2 boys will welcome their dads into the classroom for activities and to celebrate Fathers' Day from 8.30am until 9.15am as below:
Prep – Wednesday 29 August
Year 1 – Thursday 30 August
Year 2 – Friday 31 August
All Prep–Year 6 boys are invited to dress up for the Book Week Parade on Friday 24 August. Boys can come to School or bring a costume based on a book character.  They will parade their costumes in their year levels at a special assembly in the G. B. Robertson Hall.
---
Celebrating Friendship in the Early Learning Centre
This week started off with a wonderful ELC community gathering for National Friendship Day in the Wellbeing Centre. We buddied up ELC3 boys with ELC4 boys to walk over to the beautiful space and enjoyed the chatter amongst them. Claire Clarke and I discussed the importance and value of having good friends in our lives, and what we can do to ensure we are a good friend to have as well.
The boys were divided into groups of eight with friends from each of the four classes. A teacher lead activities with their individual small group that focused on friendship. We had friendship bracelet making, friendship tree painting, name games, group games and friendship stick weaving. 
We then regathered in a large circle and sang 'A Circle of Friends' to give thanks for our wonderful ELC friends. The boys were certainly buzzing as they left the Wellbeing Centre and headed back to the ELC together.
Thank you for your prompt return of your son's Individual Portfolio. We have enjoyed reading through your collaborative reflections. We know how valuable it is to have the time to read through this documentation and we value your feedback.
The Hub is up and running for ELC families to access Fortnightly Programs and Reflective Journals. From next week, we will no longer be emailing this information to families, as we are now utilising this system to be in line with the rest of the School. If you have any questions, please don't hesitate to ask.
A reminder that if your son has food that needs to be refrigerated in his lunch, it should be labelled and placed in the cooler bags outside his classroom. These are then placed in the fridge at 9.15am in line with food-safety regulations.
Thank you for your support in ensuring that the boys' behaviour is appropriate as they arrive at and depart from the ELC. The boys can push the boundaries when waiting for the classroom doors to open and need close parental supervision. This situation also occurs in the front garden of the ELC at the end of the day. Please note that this area is not a licensed area, so parents can find it challenging to manage behaviour in the open space.
Many thanks to everyone who returned spare clothes last week. It's amazing how quickly we go through our supplies!
We look forward to another busy time next week leading up to National Aboriginal and Torres Strait Islander Children's Day.
Amelia Barrow
Director of the Early Learning Centre
---
Teaching and Learning
5 Argyle – Chess Competition
One of the features of the 5 Argyle program is the Chess competition. Each term, all boys in the class compete for the glory of winning the championship. Each morning, two boys play off, with the winner going through to the next round. This competition is a wonderful and integral part of our class program. Chess develops a boy's ability to think logically and strategically – it is imperative that you are able to think two or three moves ahead of your opponent.
Going on to represent both their House and their School in other chess tournaments further enhances the boys' enthusiasm for chess.
Another important part of our weekly class program is the class novel. Each day for approximately 10 minutes the boys listen to me reading a novel. This is a great way to introduce the boys to new books and bring those stories to life.
Listening to literature on a regular basis promotes reading not only as a vital skill but also as something boys can do for pleasure. The class novels we have shared so far this year have been: Super Fudge (Judy Blume), Moby Dick (Herman Melville) and I am David (Annie Holm).
David Turner
Year 5 Teacher
For more on Teaching & Learning at BGS, visit Crowther Thinking
---
BGS Bods
This week we hear from Raelene Plozza, Literacy Coach (Prep–Year 8) and Middle Years Debating Coordinator.
What gets you out of bed in the morning?
My Golden Retriever, Rufus. Once he hears the alarm, he thinks it's Rufus time. I imagine he waits patiently for that alarm to go off each morning, watching me in deep concentration. It is a little disconcerting.  
Where did you go to school?
Gippsland Grammar School.
Given a day to yourself, what would you do?
Read, run, walk on the beach and cook.
What is on your wish list for your time at BGS?
Most of all I'd like to encourage teachers because the influence of a great teacher is powerful.
I'd like to motivate more boys to love reading.
I'd like to learn more from boys about their learning.
I eagerly anticipate seeing my first BGS Prep class graduate in 2020.
What's the most recent app you downloaded and have you used it?
Babbel, to help me with learning a bit of Italian before I go to Italy at the end of the term. Hmm, I haven't used it enough yet!
---
Parenting Tip
Click here to view this week's Parenting Tip: Let consequences do the talking
---
JPG News
Junior School Gala Ball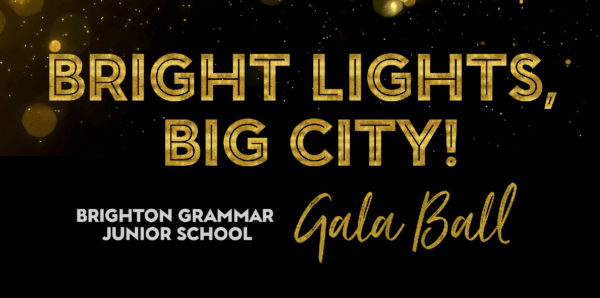 Tickets for the 2018 Junior School Gala Ball are now available and selling fast! The date is Friday 7 September and we are very excited to be hosting this event at a stylish city venue – MAIA, Central Pier, Docklands. It promises to be a fantastic evening with great entertainment! Book your tickets here.
After Party
The Ball finishes at midnight but the party will continue thereafter at The Den @ Crown Entertainment Complex. A bus has been arranged to ensure that getting to the after party is easy. Book your seat on the bus when booking your Ball ticket!
Raffle
Three amazing prizes are on offer through the 2018 Gala Ball Raffle.  Tickets are open to everyone so even if you are unable to attend the Ball, purchasing a raffle ticket is a great way to show your support. Winners will be notified by telephone on Monday 10 September.
See the raffle flyer below or click here to purchase your tickets.
Social media
Please follow our event on Facebook to receive exciting offers and details https://www.facebook.com/events/528836844180391/
---
BGS Business Breakfasts
Breakfast with the Hunter Family
Along with his sons James (OB1999), Luke (OB2002) and Tim (OB2003), and daughters Natalie and Madeline, entrepreneur Jeff Hunter has developed Hunter Products into one of Australia's leading importers of toys and sporting goods. But it hasn't all been smooth sailing!
Join us for the next BGS Business Breakfast to discover Jeff's keys to success and to hear more about the Hunters' fascinating journey combining family and business.
Thursday 16 August, 7–9am, The International, Brighton