A Word from the Headmaster – Ross Featherston
Every Sunday morning, my iPhone reminds me how much screen time I have had that previous week. To be honest, I sometimes find the numbers on that reminder a little surprising!
My view is well known that we (as parents and as a school) have an obligation to do what we can to ensure the online world our children and students inhabit is a safe one. 
In the Crowther Centre Position Paper on screen time, parents can find practical strategies to help you set guidelines for your son's online habits at home and support his wellbeing (hard copies are available at the various reception desks around the School).
I also recommend the Australian Government's eSafety site which this month features tips on setting up young children (and their parents) to start their online adventure together safely. I encourage you to consider signing up to this wonderful resource to receive regular updates on online safety.
Have a great week.

From the Deputy Headmaster, Head of Junior School – Peter Tellefson
From time to time we have accidents on the playground. While I can assure you the playground is supervised at all times, it is important parents realise accidents will happen. Our responsibility is to ensure the playground is as safe as possible, is supervised, the boys are aware of School rules, and our boys learn to respect each other.
In the event of an accident occurring, your son will be cared for to the best of our ability. Parents will be contacted and, if necessary, medical attention will be sought. It is a reality things will go wrong on the playground or in the classroom at some stage.
It is essential parents allow the School to sort through issues or problems that occur at School. I would ask parents refrain from making telephone calls to other parents. Please make immediate contact with your son's Homeroom teacher or Year Level Coordinator, and then appropriate follow-up and action will take place.
I am most appreciative to the following parents who have made the commitment to support the JPG directly by assisting as Year Level Representatives:
Prep – Alison Currie, Alexandra Dever, Ross Stewart, James Meldrum, Kristy West, Kate Croft
Year 1 – Narelle Vaughan, Darleen Corcoris
Year 3 – Carrie Collett, Blair Keenan
Year 4 – Billie-Jo Macfarlane, Megan French-Wright, Guy French-Wright, Sharon Bates, Lisa Schnepf, Katrina Pels, Leanne Jiang
Year 5 – Amanda Bramich, Lisa Raftis, Emma Buckingham, Sanchia Hovey, Jessica Greenwell, Helen Haralambakis, Carina Louw 
Year 6 – Basia Quill
This is not an onerous task; the main role of a Year Level Representative is to assist the JPG with the organisation of functions throughout the year and to seek support from parents at various year levels.
Support is still required from 1 Banksia, 2 Acacia, 2 Waratah, 5 Scott, 6 Endeavour, 6 Investigator and 6 Resolution.  The Junior School, Staff and JPG need your support, the greater parent involvement we have, the richer the school experience is for your son.
Junior School Happenings and Reminders
Our Year 4–6 Parent Information Evening was most successful last Thursday. I thank all parents from Prep to Year 6 and classroom teachers for their commitment to our Parent/Teacher Discussions on Wednesday and Thursday of this week.
Our final Parent Information Evening for our ELC parents will be held 27 February from 7.00pm. It is important we continue to build strong and open relationships between School and home.
From the Director of the Early Learning Centre – Amelia Barrow
Busy little bees in the Early Learning Centre
This week has been busy with Specialist classes in full swing and most of our boys settled and experiencing full days in the ELC.  We welcomed Bri and Meisze from Bayley Housem, a local day centre for intellectually or physically handicapped adults.
Bri and Meisze work closely with me to support the boys' program and assist with the daily running of the centre on Monday and Thursday mornings. This is an important program for the boys and promotes inclusion and celebrates differences.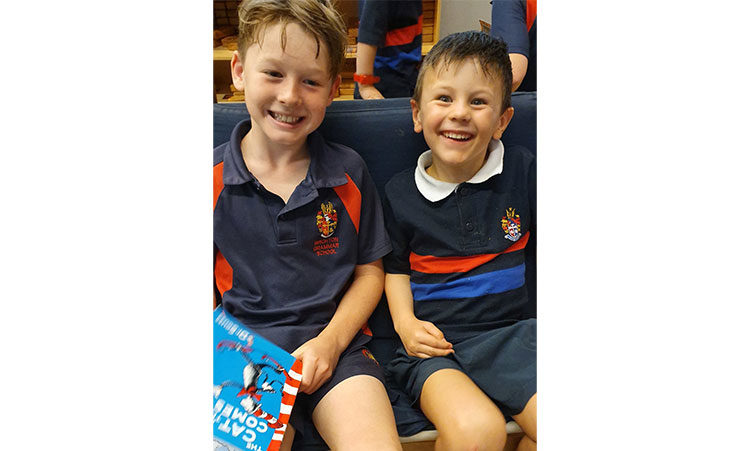 The ELC Parent Information Evening will be held on Thursday 27 February from 7.00–8.30pm. There will be an opportunity to meet other parents and ELC staff, and learn about our Program and Learning Intentions for the boys. ELC4 parents are asked to arrive at 6.50pm.
A few reminders for ELC this week:
Parent Teacher Discussion bookings will be available via the Synportal next week
ELC3 Parent Teacher Discussions will be held Monday 2 March and Tuesday 3 March 3.30–6.30pm
ELC4 Parent Teacher Interviews will be on Wednesday 4 March and Thursday 5 March 
We look forward to sharing your son's Learning Intentions across our 5 Early Years Learning Frameworks – Identity, Community, Wellbeing, Learning and Communication. If you have any questions, please feel free to contact your classroom teacher or myself.
Teaching & Learning
In Year 5 Zachariah the boys have been involved in a range of activities to settle into the new year.
One activity, the spider's web, involved using a piece of string to connect each boy in the class and their teachers.
The boys were instructed to pull on the string to demonstrate how poor choices might impact upon others.  Conversely, gently tensioning the string helped demonstrate how we can work positively together as a team.
Storytelling has been another activity we've used to help get to know each other. First modelled by the teacher, boys took turns to hear each other tell a unique story from their life.
The boys are enjoying their time together at this early stage and look forward to the many positive learning experiences that lay ahead.  
Michael Stephens
5  Zachariah Teacher
This week's parenting tip
Eco-anxiety
Eco-anxiety is anxiety related to ecological disasters or threats to the natural environment and is afflicting an increasing number of young people, and in recent times, even pre-schoolers.
The media coverage of climate change leaves some children around the world feeling overwhelmed. Although this is raising awareness, it is also instilling fear. Adults and care-givers have a responsibility to instill hope and give children a clear vision for a positive future.
Discussing the known facts, and engaging your child in conversation about how they feel, can often diffuse anxiety. SchoolTV has key strategies that parents can use to support children who may be experiencing anxiety about the present and future state of the environment.
JPG News
Year Level Representatives and Volunteers
The JPG is looking for year level representatives (at least one volunteer from each class, with two to four per class ideal), and a general pool of volunteers to assist on any level. Thanks to those who have already volunteered, Representatives work as a team to coordinate social events within their year level and arrange volunteers for one event annually. Contact the JPG if you are interested in assisting. 
Save the Date
3 March – The JPG Meeting will be held in the Drama Room, 8.45–9.30am