A Word from the Headmaster – Ross Featherston
Yesterday afternoon, our final Year 12 examinations were completed as boys who studied Chinese Language and Chinese Language – Advanced put their pens down on their papers. At the same time, and at the other end of the scale, our ELC boys continued to rehearse for their Christmas Pageant. Such is the rhythm of life at BGS in the final weeks of Term 4.
The end of the school year is always filled with events that celebrate and mark the year that was, and I am sure you have these key events (in particular the Junior School and Secondary School Speech Nights) in your calendars.
However, a particular event of note is our Community Carols Service, held every year in St Andrew's. Our musicians and choristers have been rehearsing intensely for this service and I am absolutely confident it will be another tremendous and moving event. Please mark Monday 2 December at 7.00pm in your calendars and come along to enjoy a memorable night of song.
From the Deputy Headmaster, Head of Junior School – Peter Tellefson
Our overall focus in all of our Teaching and Learning programs is to improve our boys' understandings, achievement and to ultimately see growth from an academic perspective.  Beyond the day to day classroom experiences, boys have participated in a variety of extension activities, which include the Australian Maths Competition, Australian Problem Solving Maths Olympiad (APSMO), ICAS Science, Spelling, English and Maths, Year 4 and Year 5 Maths Games Days, Debating, Chess, Microstory Writing competition and the ABC Convict Journal Writing competition. In previous newsletters, we have published excellent results from all year levels.  We have been recently informed that Thomas Dunne (6E) received perfect scores in ICAS and Australian Problem Solving Maths Olympiad and a High Distinction in the Australian Maths Competition.  This is an outstanding achievement from Thomas as he has maintained perfect scores for consecutive years.  Thank you to Jane Lowe who provides these additional opportunities for our boys.
All is in readiness for tomorrow's Family Fun Night, 4.30 – 8.00pm on Red Square, and with a bit of luck the weather will be good to us. The organising Committee, Nick Bulfin, Eva Aschman and the JPG, have planned tirelessly to ensure the success of the night, all that is required is your presence. Please support the JPG's endeavours as this is their major fundraising event for the year. Parents are invited to BYO drinks/snacks, there will be Matrix Ice Cream, South Melbourne Hot Jam Donuts, Hot Coals Pizza and a Souvlaki truck (food trucks do not always have Eftpos available, please ensure you have some cash on hand in case).  Online ticket sales have now closed; wristbands will be available at the gate for $35.00 per child on Friday evening.  If you haven't already contributed a Scratchie card for the Family Fun Night raffle then there is still time, cards can be left at the JS Office.  See details.
At the end of the year we say farewell and extend our best wishes to staff who are departing Wilson House, both David Turner and Christine Marks are retiring.  We thank David and Christine for their continued commitment to the boys in their care over a combined 40 years at Brighton Grammar School and wish them well for the future.
Junior School happenings and reminders
All Year 3 to 6 boys are expected to attend Speech Night which is to be held on Friday, 29 November at 7.00pm in the Robert Sanderson Centenary Hall in Secondary School. Boys will be sitting together in the seats allocated to them downstairs. They need to arrive by 6.30pm in the Atrium, which is adjacent to the hall, and are to wear summer uniform with their pin-striped shirt, shorts and blazer. Speech Night will commence promptly at 7.00pm. Information was emailed regarding ticketing for parents, book seats here (limit of two seats per family).
On Friday 29 November, the Junior Parents' Group will be organising a Christmas tree in the main Reception area so that families can leave a gift for underprivileged children. These gifts will be donated to the Mary MacKillop Family Services which I am sure will bring pleasure to many children in need. Mary MacKillop Family Services have asked that gifts not be wrapped please.
Semester 2 Reports will be available on Synportal from next Tuesday. Further information will available via SchoolStream.
Student Achievements
Congratulations to the following boys from Prep – Year 6 who will be presented with Class Effort Cards at tomorrow's Assembly in St Andrew's Church at 9.20am, please note the earlier start time.
Prep – Year 6 Class Effort Cards
Prep Fivedale – Max Adem, Christian Ferdinands, Hudson Vaughan
Prep Kurrajong – Tristan Deicke, Cooper Johnston, Edward Wittenberg
1 Banksia – Mason Grollo, Keaton Harte, Eric Shao
1 Heath – Andreas Ktori, Brandon Marks, Neo Wang
2 Acacia – Daniel Arnold, Liam Krastich, Dante Salvo
2 Waratah – Thomas Everett, Shya Harvey, Jack Stretch
3 Burke – Oliver Chen, Lachlan Dever, Benjamin Zhao
3 Wills – Rudy Schnepf, Jack Tregear Simon Yao
4 Bass – Sid Bartlett, Oliver Jorgensen, Austin Saleh
4 Cook – Paddy MacSweeney, Sam Richardson, Aashvik Sareen
4 Flinders – Des McDonald, Luca Savill, Ronnie Xu
5 Argyle – Luca Cleret, Fred Digney, Max Zhou
5 Melville – Eli Botha, Ed Hutchison, Fraser Stani
5 Scott – Christian Field, Sam Lorback, Riley Luong
5 Zachariah – Hugo Giles, Domenic Todarello, Oscar Whitelegg
6 Discovery – Billy Burgess, Jarvis Rowe, Noah Walton
6 Endeavour – Daniel Cameron, Jake Charlton, Donald Li
6 Investigator – Corey Gendala, Zach Mighton, Huw Thomas
6 Resolution – Hamish Featherston, Luke Sexton, Kylan Thompson
From the Director of the Early Learning Centre – Amelia Barrow
This week we began our rehearsals for the ELC Christmas Pageant at the Rosstrevor Hall, and the boys have been allocated their costumes. We suggest the boys practise wearing their costumes at home to make them feel special; however some boys may be unsettled on the day of the pageant, so it is extremely helpful if boys arrive at 8.45am (all four classrooms will be open) and a quick drop-off will assist us with the settling process. 
We leave the ELC at 9.15am daily to walk to the Rosstrevor Hall for rehearsals. If you are a little late, please bring your son to the Hall in Allee Street after you have dropped his bag at the Centre. The boys' portfolios will be sent home at the end of next week and my thanks to the ELC staff, especially the classroom teachers, for their dedication and hard work throughout the year in documenting each boy's development. 
With the hot weather, a friendly reminder that all boys are to arrive with sunscreen applied prior to their session. We will apply sunscreen after lunch for the afternoon session. We look forward to seeing our ELC families this Friday night at the Junior School Family Fun Night. At the Christmas Pageant,  we will be farewelling Jess Collins and Kate Davy. We thank Jess for her 16 years and Kate for her 18 months at BGS ELC and wish them all the best for the future.
Teaching & Learning
Year 1 Outdoor Education Experience – Merricks Lodge
There was a lot of excitement and energy as the Year 1 boys arrived early at School last Wednesday ready for their Outdoor Education experience. Having had a taste of the BGS Outdoor Education program in Prep, everyone was very eager to get to the beautiful surrounds of Merricks Lodge on the Mornington Peninsula.
The Year 1 boys have been learning about the importance of having a growth mindset and using the 'You Can Do It' keys at School, and they were soon aware of how important these are when it comes to Outdoor Education too. Everyone worked in teams while canoeing and embarking on a photo find, and it was fantastic to see so many of the boys support and help each other overcome challenges to achieve success. It was a great day enjoyed by all and the Year 1 boys can't wait for next year's overnight stay!
Sam Kuring
Year 1 Teacher
Year 6 Debating
The Year 6 boys enjoyed participating in a friendly debate against Firbank Grammar, Turner House last week. Declan McCormack, Joshua Hills-Jones and Charlie Sabin argued against the contention 'that the voting age should be lowered'. Alex Gao, Kylan Thompson and Rishi Mahendranathan argued 'that the Australian Flag should be updated'.
All the debaters overcame nerves to present their well prepared speeches and convincing rebuttals to the girls' arguments. Addison Amor did a great job in the role as Chairperson. Well done to Kylan and Charlie who were awarded best speakers.
Jane Lowe 
Junior School Enrichment Teacher

This week's parenting tip 
Brave parenting in a culture riddled with worry
Children and teenagers are capable of so much more than they are often given credit for, yet many parents don't let their kids do half the stuff they did growing up! In a free webinar on 27 November at 8pm, Lenore Skenazy, President of 'Let Grow', will share ideas about: why treating our kids as physically and emotionally fragile is bad for their future; how independence impacts children; and how to raise nimble problem solvers.
Register for the webinar here . Enter the voucher code BRAVE and click 'apply coupon'. Your discount of $37 will be applied to the order. This voucher is valid until 27 December 2019. If you are unable to keep the scheduled time, you can simply register and access the recording later. 
JPG News
Family Fun Night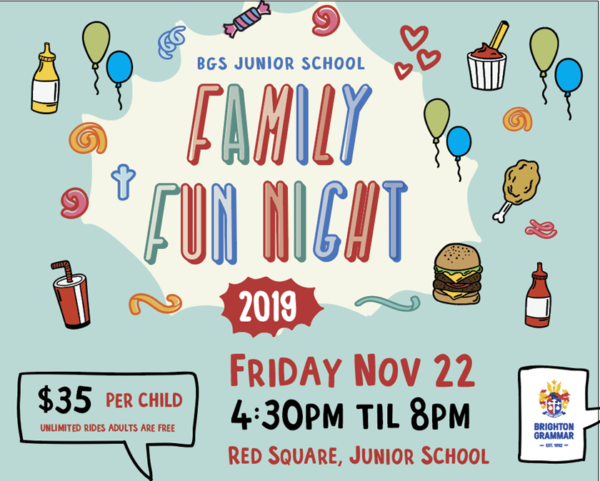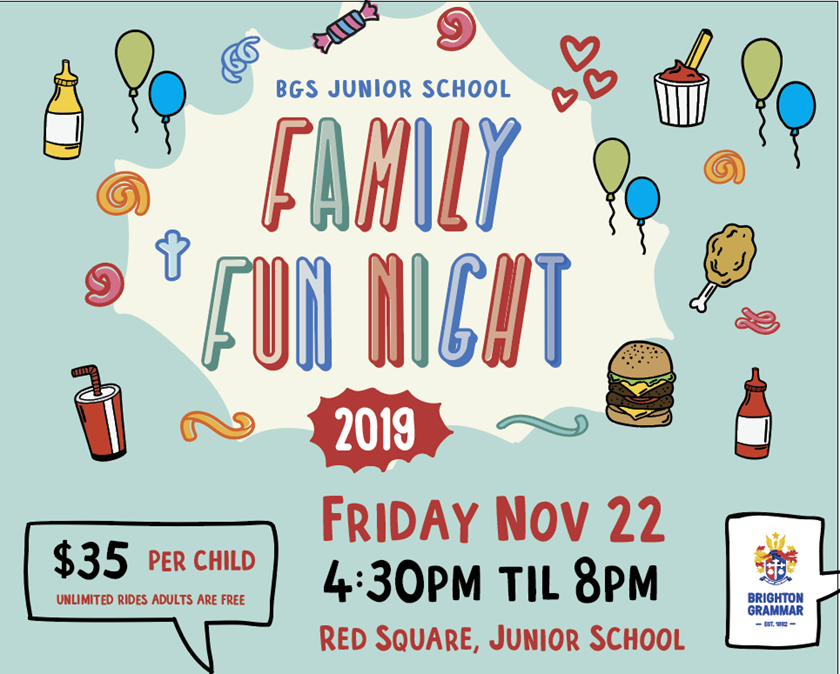 A reminder that it is Family Fun Night is tomorrow, tickets can be purchased on the night.  If you haven't already contributed a Scratchie card for the Family Fun Night raffle, then there is still time. Don't forget to buy your raffle tickets for a chance to win a fantastic Scratchie card Christmas tree!
Upcoming JPG dates  
What: Final 2019 JPG Meeting and Morning Tea – all welcome
When: Tuesday, 26 November   
Where: Drama Room