A Word from the Headmaster – Ross Featherston
Beginnings and endings
Yesterday (Wednesday afternoon), our final Year 12 examination was completed as boys who studied Chinese language put down their pens. At the same time, at the other end of the journey, our ELC boys continue to rehearse for their Christmas Pageant. Such is the rhythm of life at BGS, with only two weeks of school left for 2018 (hard to believe, I know).
The end of the school year is always filled with events that celebrate and mark the year that was – and it is excellent that the Secondary School Speech Night is making a comeback this year. An event of particular note that I'd love more of our community members to experience is our Community Carols Service, held in St Andrew's Church. Our musicians and choristers have been rehearsing intensely for this service and I am absolutely confident it will be another tremendous and moving event. Please mark your calendars for Monday 3 December (7.30pm) and come along.
The New Year will be here before we know it and we are excited that two more boys from MITS (the Melbourne Indigenous Transition School) will be joining us in Year 8. We have one host family awaiting their arrival but we need one more family prepared to welcome a student into their home for a minimum of two years. Your own children do not need to be the same age as the student – you just need to be willing to include an extra child in your everyday family life. Having seen first-hand the opportunities offered to both the MITS student and the host family, I can assure you that the rewards of opening your home and your heart are immeasurable. If you are interested in the program, please email me by Tuesday 27 November so that I can discuss this opportunity with you in more detail.
Have a great week.
From the Deputy Headmaster, Head of Junior School – Peter Tellefson
All is in readiness for tomorrow's Family Fun Night (4.30–8.00pm on Red Square). With a bit of luck, the weather will be good to us – cool but hopefully not wet. Our organising committee, Nick Bulfin, Brigitte McGregor and the JPG, have worked tirelessly to ensure the success of the night – all that is required is your presence. Please support the JPG's endeavours as this is their major fundraising event for the year. Parents are invited to BYO drinks/snacks. Twisted Fish n Chips, South Melbourne Market Hot Jam Donut/Hot Dog, Hot Coals (wood-fired pizza) and Mr Whippy (ice cream) will be there to keep you going. Online ticket sales have now closed; wristbands will be available at the gate ($35 per child). If you haven't already contributed a scratchie card for the Family Fun Night Raffle, there is still time; cards can be left at the Junior School Reception.
Junior School Happenings and Reminders
All Year 3 to 6 boys are expected to attend Speech Night, which is to be held on Friday 30 November at 7.30pm in the Robert Sanderson Centenary Hall. Boys will be sitting together in the seats allocated to them downstairs. They need to arrive by 7pm in the Atrium, which is adjacent to the Hall, and are to wear summer uniform with their pin-striped shirt, shorts and blazer. Speech Night will commence at 7.30pm. Information was emailed regarding ticketing for parents. Please click here to book seats (noting that there is a limit of two per family).
The Junior Parents' Group is organising a Christmas tree in the main Reception so that families can leave a gift for underprivileged children. These gifts will be donated to Mary MacKillop Family Services and will bring pleasure to many children in need. Please bring your gifts from Monday 26 November. Mary MacKillop Family Services has asked that gifts not be wrapped.
Due to the Year 6 Farewell Lunch on Wednesday 28 November please note that there will be NO tuck orders available for boys from ELC to Year 6.
Please note that this week's Junior School Assembly will be held at 11.15am to assist with the Family Fun Night setup.
Student Achievements
 Year 6 Debating
Congratulations to our debating team, who travelled to Trinity Grammar in Kew to argue the affirmative 'That technology is taking over the world' and the negative 'That Science has a greater impact on society than The Arts'. The Year 11 adjudicators from Trinity commended the boys on their poise, structure and confidence in speaking in front of a full lecture theatre. Well done to Lachie Roberts, who was awarded best overall speaker.
Prep–Year 6 Class Effort Cards
Congratulations to the following boys from Prep to Year 6, who will be presented with Class Effort Cards and Wilson House Awards at tomorrow's Assembly in the GB Robertson Hall at 11.15am (note earlier time).
Prep Fivedale – Charlie Beynon, Rupert Clancy, Keaton Harte
Prep Kurrajong – Jack Cunnington, Chris Han, Lenny Lui
1 Banksia – Nathan Jones, Adriaan van Jaarsveld
1 Heath – Alex Rekusz, Sam Sabin
2 Acacia – Fletcher Cowan, Jaska Maher, Ethan Yang
2 Waratah – Jack Bulfin, Henry Dai, Jesse Pratt
3 Burke – Sid Bartlett, Henry Fearn, Max Henley
3 Wills – Paddy MacSweeney, Aashvik Sareen, Hugo Faulkner-Aschman
4 Bass – Christian Field, Sebastian Liddle, Ned Overend-Stevens
4 Cook – Luca Cleret, Curtis Fyfe, Evan Raglin
4 Flinders – Lachlan Ballantine, Stefan Bandura, Jordan Rose
5 Argyle – Robbie McNaughton, Jared Thomas, Charles Zhao
5 Melville – Thomas McMullen, Lewis Porteous, Benjamin Ride
5 Scott – Cooper Chilcott, Jerry Mei, Will Rattray
5 Zachariah – Daniel Cameron, Trent Vincent, Kevin Zhao
6 Discovery – Dane Lombard, Jack Pan, Lochie Silva
6 Endeavour – Cooper Broun, Harrison Gibbins, Jerry Zheng
6 Investigator – Fletcher Hall, Will Kissane, Samuel Walters
6 Resolution – Marnix Ferwerda, Luca Robinson, James Tan
Wilson House Awards – Hugo Fyfe
From the Director of the Early Learning Centre

– 

Amelia Barrow
Splish Splash in the ELC
This week, as we were greeted by a hot Monday morning, the ELC4 boys excitedly began their intensive week of swimming lessons in the Junior School pool. The Wallaby and Bandicoot boys have made swift progress via the small-group coaching and back-to-back lessons. A big thank you to the ELC4 parents who have been able to assist the boys to get changed after their class; it certainly has helped all involved.
Throughout the week, we have been allocating the boys their costumes for the ELC Christmas Pageant and taking a memorable photo, which will go in their portfolio as a keepsake. This has also allowed us the opportunity to chat with each boy as they try on their special costume about how they might feel about performing on a stage and also about the fact that many of the costumes look like dresses – but they are "so much cooler" than a dress.
I have attached a note to every boy's costume to help with the preparation for performance day and some tips on what to say leading up to it. When you receive the costume next Monday, it would be a great idea to get your son to try it on a few times at home and make him feel special about the actual day. If history is anything to go by, we will have a few boys upset, a few boys refusing to wear the costume, and a lot of boys so excited they can hardly control their energy on the day. As explained in the letter, it is extremely helpful if boys arrive at 8.45am (all four classrooms will be open) for a quick drop-off to assist with the settling process.
Next week, we have rehearsals every day and will be leaving the ELC at 9.10am to walk to Rosstrevor Hall (corner of Allee and New Streets). If you are a little late, please bring your son over after you have dropped his bag off at the Centre. It will be a busy week for the boys and we have planned activities to help reduce any anxiety about the changes in our normal routines.
The boys' portfolios will be sent home at the end of next week for families to keep. I would like to thank all of the ELC staff for their incredible dedication and hard work throughout the year in documenting each boy's development and experience while in their care. I'm sure all parents would agree that these portfolios are a precious reminder of the growth and development of their son. We hope you enjoy reading through them with your son and keep them in an accessible place for the boys to view in the future.
Please remember that at this time of year, all boys need to arrive with sunscreen applied prior to their session. We will apply sunscreen after lunch for the afternoon session. We look forward to seeing our ELC families this Friday night at the Junior School Family Fun night and on Saturday, we are hosting our 2019 ELC Welcome Morning – ELC4 (9–10am) and ELC3 (10.30–11.30am).
Teaching & Learning
Year 1 Outdoor Education Experience – Iluka Retreat
There was a lot of excitement and energy in the Year 1 classrooms as the boys arrived early last Tuesday ready for the Year 1 Outdoor Education experience. Having been to Iluka already in Prep, most boys knew what to expect and were very eager to get back to the beautiful surrounds of Shoreham on the Mornington Peninsula. On the bus, there were many excited conversations about the day's activities and what the boys were looking forward to most. 
The Year 1 boys have been learning a lot about Growth Mindset and how important it is at school. After arriving at Iluka, they quickly became aware of its importance when it comes to Outdoor Education, too. It was fantastic to see so many boys demonstrate the key aspects of a Growth Mindset throughout the day, including:
approaching the day with a positive attitude and being willing to give everything a go
listening to and acting on the feedback from Outdoor Ed staff when canoeing 
embracing the challenge of manoeuvring their canoe to different destinations on the lake with two or three others
developing a better understanding of their environment and how things are connected and dependent on each other
bouncing back from minor setbacks and using them as a learning opportunity
reflecting on the day and thinking about how they could do things better next time
It was a very successful day overall and, having seen the onsite accommodation, the boys are already looking forward to their two-day visit to Iluka Retreat next year.
Sam Kuring and Emily Beaton
Year 1 teachers 
Preps Explore Nature's Classroom
Last week, the Prep boys relished the opportunity to spend the day at Iluka Retreat. The boys enjoyed learning how to paddle a canoe and work within teams to ensure they moved speedily and gracefully through the water. Many boys decided to abandon their canoe to explore 'The Island'. They discovered it was uninhabited by humans but managed to locate lots of wildlife.
After a mindfulness activity, which helped ensure the boys were ready to learn, they enjoyed a walk around the wetlands. They identified animal tracks and droppings, and investigated the many plants native to the area.
All the boys enjoyed themselves and are looking forward to their extended visit in Year 1. Although many parents mentioned that they would be happy for their sons to stay the night, the boys were ready to jump on the bus for the journey back to BGS.
Paul Strain
Prep teacher
Discussing our Values
When Captain Nicholas Waugh visited Year 1 Circle Time last week, his Army uniform made the boys sit up straight. The boys had enjoyed Skyping with Nicholas (who is Year 1 Teacher Emily Beaton's brother) on Anzac Day, but to meet him in person was something else. He talked to the boys about the Australian Army's values and provided some historical context to Remembrance Day. There was some wonderful discussion around the alignment of the BGS values and the Army's values. Thanks for joining us, Captain!
BGS Hall of Fame Gala Dinner
Last Wednesday night's BGS Hall of Fame Gala Dinner went off in spectacular style. Read the story and view the gallery.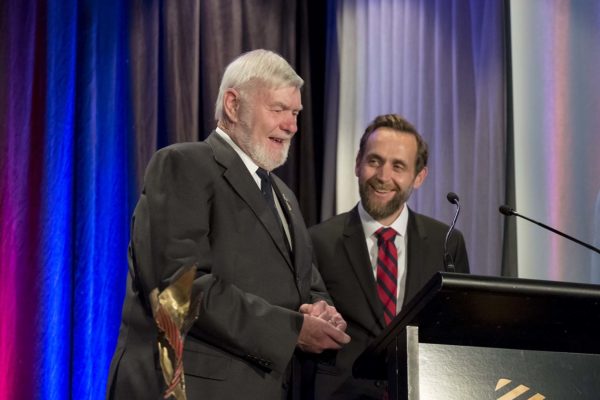 Parenting Tip: Understanding Children's Behaviour 
Parents are often confused about their children's behaviour. One way of reflecting on misbehaviour is to look for the purpose or payoff that a child receives by misbehaving. This is particularly important if misbehaviour is continuous or a child persists with certain behaviour. The key is not to ask 'why?' but 'what is the purpose?' of misbehaviour. Download an e-book for tips on recognising the goal of children's misbehaviour and strategies for how to best respond when these behaviours occur.
Annandale for Everyone
The view through the Annandale Gym's floor-to-ceiling windows across the Crowther oval early on a spring morning is worth the early wake-up. Plovers pick at the grass. The School is still, as through resting before the onslaught.
Boys have been training on this patch of ground since the original Annandale Pavilion was opened in 1956. The design was ahead of its time and a great boon for the 600 boys then at BGS. It was named in honour of Walter Annandale Jack, who attended BGS from 1885 until 1892, along with his four brothers.
Walter's father, Andrew Jack, migrated to Melbourne from Scotland in 1862. There, he had worked at the Annandale & Son Ltd Polton Paper Works – hence Walter's middle name.
When BGS Headmaster Dr Crowther died suddenly in 1918, Walter, by then a company director, joined lawyer William Frederick Weigall and Dr Crowther's widow, Alice, to ensure that the School continued. Walter became one of the founders and benefactors of the School in 1923, joining with Canon William Hancock to guarantee BGS as an independent entity under the aegis of the Church of England. He was a member of the School's first Council (1924–44) and then Chairman (1934–65). In 1960, he was awarded an MBE for social service to young people. He was a gentle, self-effacing man with strong values, who gave generously to the School and the local community.
By the late 1970s, BGS had grown to more than 1000 boys. The original pavilion was replaced by a larger facility, also called Annandale. Completed in 1982, it served the community well until 2017.
Back in the stunning 'new' Annandale, completed mid-2018, Ian Miller, Head Strength and Conditioning Coach, is running an interval training class for the BGS community. The School is keen to share this facility and the Annandale Gym is now open to members. (If you're reading this, you probably qualify as a community member, but you can check on the Annandale Gym website – look for the FAQs.)
Unlike many other gyms, all the trainers at the Annandale Gym are university-qualified. So, whatever your fitness level and your training goals, they know exactly how to help you obtain the results you want. Classes are small and each member receives individual attention.
"People hear the word 'elite' and they assume this gym is not for them," says Ian. "But it's for everyone. Everyone's 'elite' is different. For one of the School's PE staff, it might be training to run a marathon. A Junior School mum might want to be able to run around after her kids. For a retiree, it might be enough fitness to improve their golf game."
BGS staff member Julie Ellwood has been attending classes regularly since the Gym opened.
"I hadn't been to a gym for a while before joining Annandale. I found the early-morning interval training classes great. These classes are set so you can personally challenge yourself, and the coaches are encouraging and supportive."
Claire Clarke, who teaches in the ELC, is another regular.
"The trainers offer an excellent range of classes to suit all abilities. The sessions are fun and varied, including both challenge and clear guidance on technique. I would recommend them to anyone wanting to improve their overall strength and conditioning."
Classes, which run at various times outside school hours, currently include indoor cycling, interval training, circuits, boxing and yoga – but we're open to feedback and suggestions. We want this Gym to fulfil our community's needs and increase your wellbeing.
To find out more, visit the Annandale Gym website. Our trainers are currently offering free fitness assessments to Foundation Members to help you work out which classes would suit you best, email Megan Hall for more details.
Now, the School is beginning to shake itself awake. Boys shout to each other across the Crowther. Staff walk past the Gym, juggling coffees and laptops. In the Music School, someone is doing their saxophone practice. It will be another busy day at BGS. Walter Annandale Jack would be pleased.
Visit us at the Annandale Gym Open Afternoon
Friday 30 November, 3–5pm
Homestays Required
Local families have an opportunity to share an international experience.  Two Year 12 2019 BGS students, who come from China, are seeking accommodation for next year. The fees paid for full board are set by the Australian Homestays Network.
Further information, contact Maggie Lynch, International Coordinator (0425 786 683).
JPG News
Family Fun Night Tomorrow 4.30–8.00pm
Family Fun Night is tomorrow! Tickets can be purchased at the gate.  If you haven't already contributed a scratchie card for the Family Fun Night Raffle, there is still time. Don't forget to buy your raffle tickets for a chance to win a fantastic scratchie card Christmas tree – tickets available on the night!
Second Hand Uniform Shop – We Need You!
Our Second Hand Uniform Shop is run entirely by volunteers and our core group is leaving after years of great work. We need more volunteers for the remainder of 2018 and for 2019.
The money raised by the Shop is donated to the Parent Group and used to fund projects for the boys. Volunteering a great way to give back to our wonderful School – and we have fun, too!
If you can help or would like to find out more, please contact Tracey Oliver.
The final day for donations/sales in 2018 is Tuesday 27 November, 2–4pm.
RCD Christmas Market
This year's RCD Foundation Christmas Market is the perfect opportunity to tick items off your Christmas list.
BGS & FGS Supporting Cystic Fibrosis
BGS and Firbank Grammar are supporting the Monash Cystic Fibrosis community as event partners in a charity golf event at Australasia's leading indoor golf simulator.
Both schools have strong connections with the CF community. Only a few booths remain for the charity event on 29 March 2019. We encourage you to come along and support the Monash CF Foundation.
Please contact Felicity Stretch (BGS Year 8/9 parent) for more information.