A Word from the Headmaster – Ross Featherston
As you know, a great deal of thought and effort has gone into refreshing our academic uniform over the past couple of years.
Our Uniform Review Steering Committee, led by designer Jonathan Ward, has looked into every aspect of the uniform to ensure that we obtained the best possible outcome.
The revised design brings a new level of consistency across the School, greater comfort and durability for the boys, and increased visibility in the community.
I am very excited to be sharing the final designs with you now. Click here to see the range.
Thank you for your support throughout the process.
---
From the Deputy Headmaster, Head of Junior School – Peter Tellefson
It was great to welcome our Year 3–6 dads and special friends into the classrooms last Thursday evening. The boys loved having the opportunity to welcome their visitors into the classrooms and share in a variety of activities: maths investigations and games, poem recitals, paper plane designs, Circle Time and trivia competitions. Thank you to all staff, boys, dads and special friends for your support; we hope you enjoyed it.
This week, Brighton Grammar and Firbank Grammar hosted visitors from Milikapiti. The boys and girls have been billeted with Henry Abbott, Hugh Langdon, James Lineham, Nicky Robertson, Diesel Saleh, Lucy Featherston, Sarah James and Eleanor Whitehouse and their families. Our visitors and hosts have been busy participating in classroom activities as well as visiting the MCG, the National Sports Museum, the Melbourne Indigenous Transition School and the North Melbourne Football Club. This weekend, they will attend the Melbourne vs GWS game and spend time with their host families. Our exchange program is now in its ninth year. It enables our boys to foster and develop friendships, communication and understanding, and develop greater respect for each other's way of life.
The boys' participation in House Swimming, Cross Country, Athletics, Tabloid Sports, Chess, Spelling, Mathematics, Public Speaking, Debating, Trivia and Poetry generates a great sense of connectedness and belonging. The House point system affirms the boys' positive actions and tallies are recognised at our weekly Assembly.  I look forward to adjudicating the House Public Speaking competition later this term.
We have sold 220 tickets for the JPG Gala Ball on Friday 7 September at Maia, Central Pier, Docklands – only three tables of 10 remain for purchase and the JPG is hoping for a sellout. This is our major fundraiser for 2018 and all dollars raised will assist with the refurbishment of the Drama space, including new AV/PA equipment, tiered seating and learning spaces. The Ball has always been a highlight on the social calendar for parents and a great night for all involved. If you are not able to attend, please support the event by clicking here to purchase raffle tickets. Raffle tickets need to be purchased prior to the Ball as they will not be sold on the night.
---
Junior School Happenings and Reminders
All Prep–Year 6 boys are invited to dress up as a book character for the Book Week Parade on Friday 24 August. Boys can either come to School wearing their costume or bring a costume with them to change into at School. They will parade their costumes in their year levels at a special assembly in the G. B. Robertson Hall.
Our next Ute Full of Food is tomorrow. Items particularly requested are breakfast cereals, sugar, jams and spreads, pasta and pasta sauce, rice, noodles, biscuits, tins (of vegetables, fruit or fish), meals-in-a-can, toilet paper and bathroom supplies.
---
Another Brother for the Rest of Their Lives (re-post)
At the beginning of 2017, two graduates of MITS (the Melbourne Indigenous Transition School) came to live with BGS families and attend our School. In 2018, we welcomed two more MITS graduates, Harry DeSantis in Year 8 and Calvin Cook in Year 7.
Harry and Calvin are living with the Glassel family – Ashley, Maggie, Charlotte (Kilvington Year 9) and Seb (BGS Year 6). When asked what it's like having Harry and Calvin living with them, Ashley and Maggie said:
In a number of ways, it is no different, and in a number of others, it is a world of difference.
The sense of family and community is important to these boys; they are happiest when at our family gatherings or amongst their friends from MITS. This sense of belonging is something that we have all learnt after we welcomed Harry then Calvin into our family.
In 2019, we need two more families to host new boys entering Year 8 at BGS. We are looking for a family prepared to host a student for a minimum of two years. Your own children do not need to be the same age as the homestay student – you just need to be willing to include an extra child in your everyday family life. BGS and MITS will offer you strong support throughout the homestay period.
Ashley and Maggie again:
It is amazing to hear their stories about fishing and hunting on the Tiwi Islands.
Harry and Calvin are unique. They currently love playing rugby, a game that they had never seen at home, where everything is about Aussie Rules. Even when Damien Hardwick [Richmond Football Club coach and MITS supporter] introduces himself to us, they act like it means nothing because they aren't really into watching sport and the adulations; they just want to play it. 
The Aboriginal culture is rich through Australian life; it's just that you may not have noticed it. So if you have kids and want to learn about Aboriginal culture, consider opening your house to an Aboriginal boy – you'll learn more than you think. And your children will have another brother for the rest of their lives.
Having seen first-hand the opportunities offered to both the MITS student and the host family, I can assure you that, despite inevitable challenges, the rewards of opening your home and your heart are immeasurable.
If you are interested in the program, please contact me at headmaster@brightongrammar.vic.edu.au by Friday 24 August 2018 so that I can discuss this opportunity with you in more detail. Further information about MITS can be found at www.mitschool.org.au.
Ross Featherston
Headmaster
---
Student Achievements
Year 6 Debating
Congratulations to the outstanding Year 6 debaters  who competed against Christchurch Grammar School, South Yarra. The boys demonstrated self confidence, teamwork and critical listening skills, as well as being organised and prepared for the roles assigned to them. Felix Wolfe, Tom Jorgensen and Gus Calder argued for the affirmative on the topic 'That Science has a greater impact on society than the Arts', and  Lenny Hofmann, Harry George and Andrew McGregor argued for the negative on the topic 'That all schools should be co-educational'. Felix and Andrew were awarded best speakers.
ICAS Spelling
Congratulations to our super spellers who took part in the ICAS Spelling competition. This is an independent assessment that measures and reports students' skills at spelling words in four different contexts: dictation, proofreading, error correction, and applying rules and conventions. Well done to all participants and, in particular, to Ethan Davis, Kenneth Yeung, Angus Beaton and Huw Thomas, who were awarded Distinctions.
---
Celebrating Book Week in the ELC
Although it has been a short week, it certainly has not lacked in action and learning. To recognise Book Week, the boys enjoyed an adaptation of one of the books nominated for the Children's Book Council of Australia's Book of the Year. Boy (Phil Cummings) is a thoughtful story about how a deaf boy helps end a war between the king and a dragon by simply questioning why they are fighting. As Boy is a happy person who speaks with dancing hands and draws pictures for people in the sand, he helps everyone understand each other and communicate better. Our boys were mesmerised by the play and enjoyed following Boy's adventures.
You certainly haven't let us down with your creativity for Book Week dress-up day. The boys arrived dressed as a variety of people, animals and mysterious creatures, ready to create their own adventures. The staff also enjoyed participating by dressing up from their favourite books. We do love a dress-up in the ELC! Thank you again for your support of this favourite yearly event.
This week, we welcomed two Melbourne University students for their final placement in their Masters of Teaching. Lynn has joined the 4 Bandicoot room and Stacey has joined the 4 Wallaby room. Both ladies will be joining us on Tuesdays and Wednesday until the end of the term, then complete a two-week block placement in Term 4. Please feel free to introduce yourself if you see them in your son's classroom.
Tomorrow, the ELC4 classes head off to Reverse Art to collect recycled art supplies for their Fathers' Night event on Thursday 30 August (5.30–6.30pm). The boys will participate in group games and activities at the local park while small groups go into the centre to select their recycled treasures. We look forward to seeing what they collect to make with their dads.
The JPG Ball is approaching fast and we are keen to have at least two ELC tables booked. If you would like to join us for this event, please either contact your classroom rep or click here to book tickets. This is a wonderful opportunity to get to know your fellow parents in a child-free zone!
A friendly reminder to put the remaining dates for this term's events (on display on the board in the ELC entrance foyer) in your calendar so you don't miss out.
Amelia Barrow
Director of the Early Learning Centre
---
Teaching & Learning
Years 3–6 Father/Son Night
3 Burke
On Thursday evening, 3 Burke had the opportunity to present the concept of Circle Time to their dads at the annual Father/Son Evening. Boys were encouraged to share their stories and feelings with their fathers and peers before hearing their fathers do the same.
Boys and their fathers were asked to bring in a prized possession to share during Circle Time. They had to keep their prized possession a secret and to come prepared to share more about it on the night. Boys and their fathers were prompted to share the story of where the prized possession came from, why it is so special to them, where they keep it, how they feel when they have it with them and how it symbolises an important aspect of their life. Many boys were surprised to discover what their fathers' prized possessions were and gained valuable insight into their lives and histories.
The occasion was a fantastic opportunity for fathers to join our Circle Time and experience first-hand the value of such sessions, which we share in the classroom on a regular basis. Boys shared their prized possessions first and, in doing so, modelled the behaviour expected during Circle Time. All boys and their fathers were able to share confidently, listen respectfully to others and learn more about their peers and families. It was a very successful evening, with many fathers commenting that they enjoyed sharing their stories with their son and seeing how Circle Time runs in the classroom. 
6 Endeavour
Name that song! How far can you stretch a snake? Don't drop that balloon!
Fathers and sons came together to compete in a gruelling test of knowledge and skill for the annual Year 6 Father/Son Trivia Extravaganza last Thursday night. With the pressure building, the Father/Son teams pulled out all stops for the honour of achieving Team Trivia winners for 2018. Fathers were asked to work collaboratively in their teams and satisfy all the success criteria to ensure they had a successful evening with their sons. They needed to choose an interesting team name, work together, share the lollies and, above all, accept the final word of the referee! Teams were also asked to choose one boy to represent them at quarter-time and half-time breaks. Lolly snakes were stretched to their limits, balloons were kept off the floor (with hands firmly in pockets) and Minties wrappers were torn to extraordinary lengths. A great night was had by all!
For more on Teaching & Learning at BGS, visit Crowther Thinking
---
BGS Bods
Laura Hall is a Junior School Teacher.
1. What gets you out of bed in the morning?
My son, Joe who is 4 and a half.  His love for life is infectious.
2. Where did you go to school?
Kingswood Primary School and Mentone Girls' Grammar from Years 7–12.
3. Given a day to yourself, what would you do? 
A massage, some binge-worthy TV and a good page-turner.
4. What is on your wish list for your time at BGS?
To continue to develop in my new role (Primary Science), which I love.
5. What's the most recent app you downloaded and have you used it?
ELSA families (Early Learning STEM Australia) and no, not yet!
---
Parenting Tip
Click here to view this week's Parenting Tip: How do you show up for your kids?
---
JPG News
Junior School Gala Ball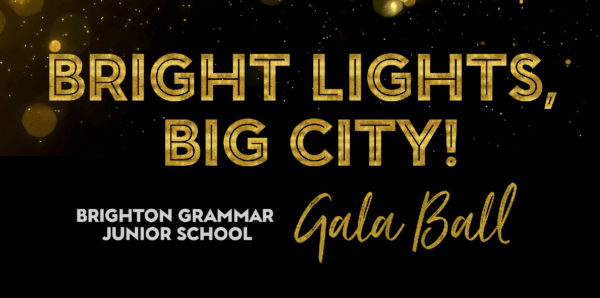 It's just two weeks until the Junior School Gala Ball and the last chance to get your tickets – only 30 places remaining! Click here to purchase tickets. Ticket sales must close on Sunday 26 August. Don't miss out on the social event of the year!
Our Silent Auction event platform will be going live shortly. View the fabulous array of items on offer at www.bidbgsball2018.com. Bids can be placed on Silent Auction items via this site even if you are unable to attend the event. 
Some incredible items will be offered on the night at our Live Auction. Here's a sneak peek –
The Atlantic – Six-course degustation for eight people by Executive Chef Nick Mahlook, accompanied by matching wines selected by Head Sommelier, Aleksander Jeremic. All enjoyed in a private dining room. Plus a take-home gift of The Atlantic at Home cookbook. The Atlantic is Melbourne's finest waterfront seafood restaurant. Every morning, The Atlantic Team handpicks an unrivalled selection of wild and sustainable fish, unique oyster varieties and pristine shellfish. Nick Mahlook has created a menu designed to rouse the senses and celebrate the pure tastes of the ocean. His passion for the perfect ingredients and finely-tuned techniques consistently pushes the boundaries for sophisticated cuisines and has cemented The Atlantic's reputation as one of Melbourne's best seafood restaurants and fine dining establishments. 
Rockhouse is a casually chic boutique hotel resort perched upon the scenic cliffs of Negril's pristine cove in Jamaica, overlooking the serene waters of the Caribbean Sea.
Enjoy seven nights in a Premium Ocean Villa for two adults and two children. Also includes five days of couples' spa treatments, morning yoga and transfers to and from Montego Bay. The long journey there is made even more worthwhile with an additional five nights in a beautiful beachside location staying at The Idle Awhile Beach Resort in a Deluxe Garden View Room. Embracing the style and simplicity of laid-back island life, The Beach is an intimate boutique retreat on Negril's world-famous Seven-Mile Beach.
Hellenic Republic – Dinner for six in your home prepared by Hellenic's Executive Chef, Alex Inis.
Raffle
Have you purchased your raffle tickets? There are some fabulous prizes on offer! 
With the new BGS school uniform coming in 2019, this is a great opportunity to win a $500 voucher from Noone! 
Escape Melbourne winter with a trip to Hamilton Island (including flights). 
The whole family will enjoy everything a new iMac offers. Homework will never be a chore again!
Click here to purchase your raffle tickets.
Social media
Please follow our event on Facebook to receive exciting offers and details https://www.facebook.com/events/528836844180391/