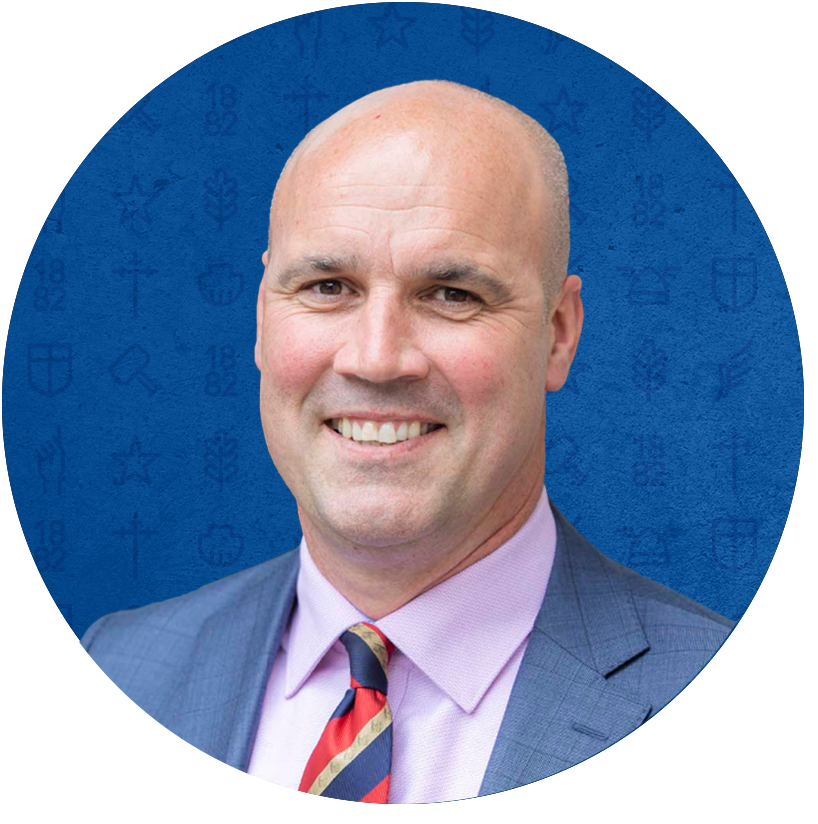 Ross Featherston
Headmaster, Brighton Grammar School
Sport at BGS is a vital part of who we are. Over the past week, we have celebrated the success of our swimmers involved in the APS Swimming and Diving Finals and some of our Junior School boys competing in the Eastern Metropolitan Regional Carnival, and our rowers are gearing up for the Head of the River Regatta in Nagambie this weekend.
With students from Years 5 to 12 participating in APS Sport competition, all boys have the opportunity to develop a healthy attitude towards competition and teamwork.
Last Saturday, our 1st XI showed great sportsmanship in their game against Caulfield, winning the first innings but, after a sporting declaration, losing the match outright. At BGS, sport is not just about winning; it's also about showing respect for all and, as Kipling intimates in If, treating victory and defeat in the same way.
Through our +M program, we promote a culture that encourages boys to embrace positive masculinity – not only through actively modelling traits (such as respect and humility), but also by exhibiting these qualities naturally.
Sport helps boys learn that success does not depend on physical strength or size but instead on determination and hard work, and sometimes just a bit of good luck!
I urge you to take to the sidelines this weekend – whatever the sport – to support your son and motivate him as he strives for his best. We want to create an environment where everyone can appreciate that success comes from working together in respect and camaraderie.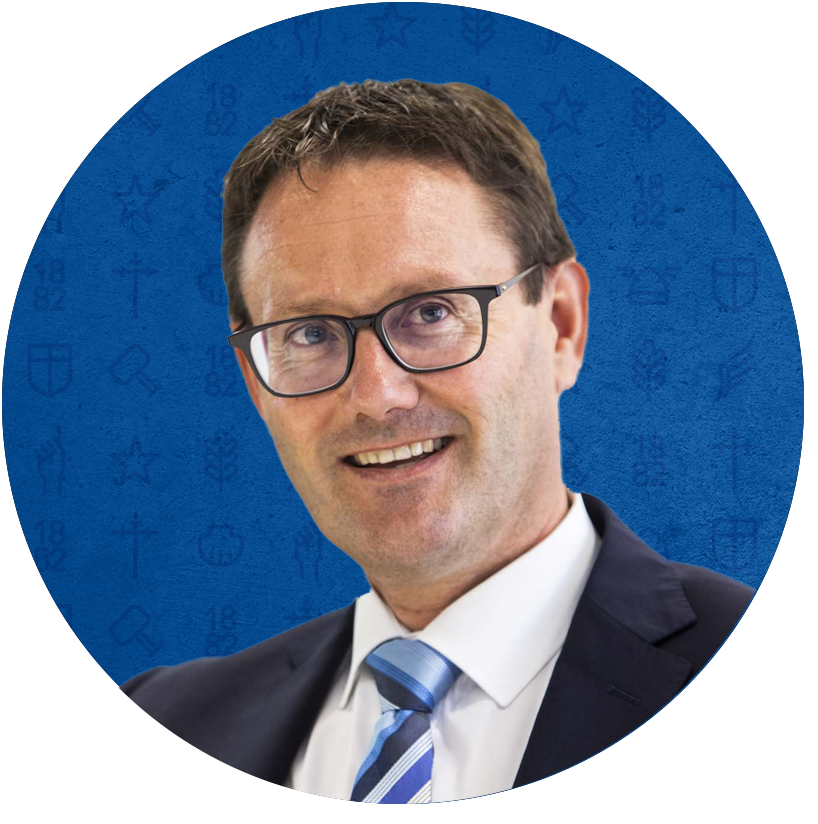 Peter Tellefson
Deputy Headmaster, Head of Junior School
A strong sense of belonging and connectedness has a positive effect on boys' self-esteem and confidence. Our Outdoor Education Program, House System and the Buddy Program are opportunities, over and above the pastoral support our boys gain from their day-to-day classroom experiences.
As this term has progressed, I hope the boys feel good about themselves as they have a strong sense of belonging at School. My daily 'meet and greet' before school is a fantastic and most enjoyable start to my day, in fact, it is prioritised in my calendar to be on the yard at the start and end of each day.
I enjoy the opportunity to chat with our boys, asking them about their weekend, how their class work/homework is going, are they practising 'Good Old Collingwood Forever' on their instrument, what sport they are playing, what they have to present at 'show and tell', or engaging in conversation about the Library book they are reading.  I hope it also enhances our boys' sense of connection at Wilson House. 
Our Buddy system, involving all boys from ELC to Year 6, is an important part of our boys' experiences at Wilson House. Our Buddy Program focuses on the values of friendliness, respect, responsibility, caring, including others and valuing difference.  I hope you have already had positive conversations at home in regard to buddies.
It is always rewarding to see the many positive interactions our boys experience in the classroom and on the playground.
Wilson House Happenings & Reminders
We have enjoyed welcoming our Prep and Year 1 fathers this week for classroom activities and look forward to our Year 2 dads joining us tomorrow morning. See the BGS app for further details.
JPG Easter Raffle & Donations – Each boy is asked to contribute an Easter egg for the raffle. Other donations of any type of Easter items (bunnies, chickens, fluffy toys, baskets etc.) are most welcome.   
Raffle tickets will be on sale from Monday 20 March until Tuesday 4 April. Prep – Year 6 will be able to purchase from the playground before school or by placing tickets in an envelope in the box at reception. A ticket collection box is also available in the ELC. Please see the BGS app for further details.
JPG End of Term Lunch – final orders due by Thursday 30 March through Flexischools.
Our first 'Ute Full of Food' for this year will be held on Friday 31 March. Brighton Grammar has a long-standing commitment in supporting St Mark's Anglican Church in Fitzroy. All food items will be transported by the 'Ute' to St Mark's, where it is distributed to needy families. Please see the BGS app for further details.
On Friday 12 May from 8.30am all our Prep to Year 6 mums are invited to a Mothers' Day Celebration to join their sons in various classroom activities and a Mother's Day Service at St Andrew's Church. This will be a wonderful opportunity for our community to express our appreciation to our mums, and the special morning together will conclude at approximately 10.30am. A slide show featuring photos of boys and their mothers will be shown during the church service, and mothers are encouraged to email their favourite mother and son/s photos to the Junior School by Friday 28 April.
Student Achievements
Congratulations to the following Year 6 boys who will be appointed to leadership positions at tomorrow's Assembly;
Art – Nate Kennett, Tobias Knaack, Yareed Mahmudul, Benjamin Shang, Charlie Xia, Aiden Zhang
Library – Sky Guo, Alex Owen, Hunter Scrimgeour, Eddie Wang
Technology – Sam Maher, Fergus Ross, Leo Retamal, Jack Xiao
Congratulations to the Year 5 boys (Tom McLean, Andy Chen, Leo Wang, Roy Gu, Lenny Lui, Kyle Wang, Claude Zhang, Max Liu, Jasper Mace, Terry Ji, John Allen and Waters Zhang) who were selected to compete in an Interschool Chess competition on Monday 20 March. They played 7 rounds of games against 32 teams with great strategy selection and success to win the overall competition. Best individual performers were Andy Chen (1st place), Roy Gu (2nd place), Leo Wang (4th place), Tom McLean (5th place).
Congratulations to Daniel Walter (Year 6) who was selected to represent BGS in the Secondary School APS Swimming team at the APS Finals this week.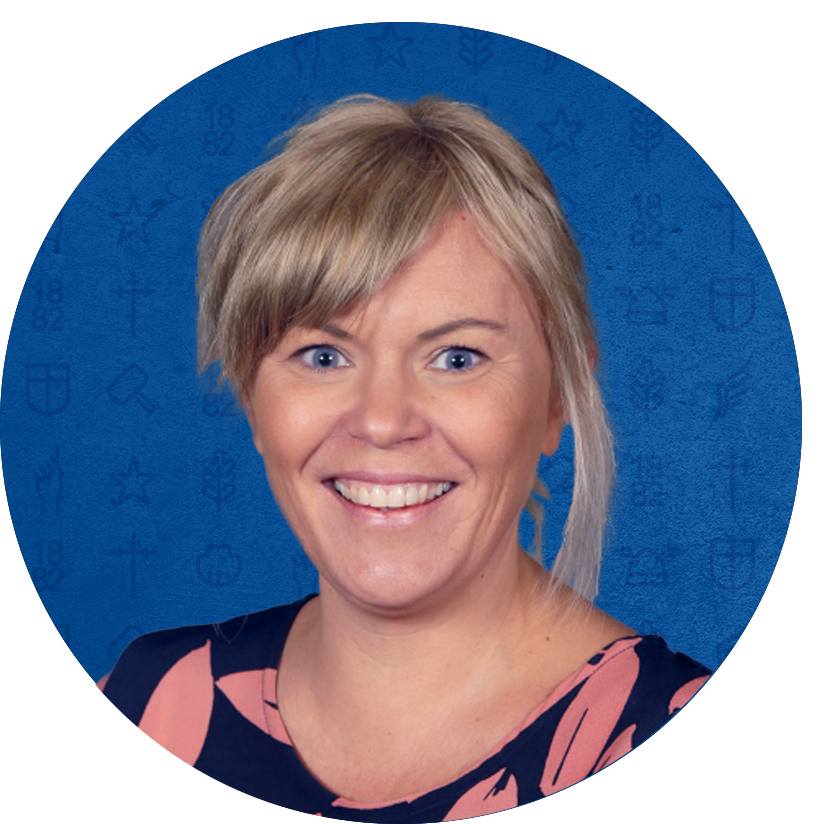 Amelia Barrow
Director of the Early Learning Centre
This week has been action-packed with numerous activities to celebrate Harmony Week in the ELC.
Our Harmony Day on Tuesday was the highlight of the week as the boys arrived in a variety of cultural outfits to celebrate our diverse backgrounds. We began our day, like every day, with our Welcome to Country and then discussed the countries from where we all come from.
The boys' pride in sharing their heritage was lovely to hear, and our group research into each culture has created wonderful discussions amongst the boys. We also enjoyed a visit from Mr Featherston and Mr Tellefson who spent the morning engaging with the boys and discussing their own cultural backgrounds.
The Centre has been filled with a wide range of music as we enjoyed traditional songs from around the world. We would like to thank all of our parents for supporting this special day.
Our boys have been working hard behind the scenes on their JPG Mothers' Day gifts which we know our mums will love. Next week we begin our Easter discussions for the final two weeks of the term.  
A big thank you for all of the Easter raffle donations and tickets bought so far. Our donation box in the foyer is being closely watched by the boys each day!
Celebrating Harmony Week
Harmony Week is held annually in March across Australia. The goal is to encourage everyone to appreciate and celebrate differences and promote a sense of community and belonging. To read more, see the link below for suggestions on how parents can engage their children in discussions about diversity, inclusiveness and multiculturalism.
JPG News
End of Term Lunch
The JPG will again be offering an end of term lunch for the ELC and Junior School boys on Thursday 6 April 2023. Lunch will include a burger, juice and a treat. The cost will be $10.00 (extra burger $3.00). Online ordering is available through Flexischools online ordering system and must be placed by no later than Thursday 30 March 2023 at 5.00pm – no late orders will be accepted. Please note that normal canteen ordering will not be available on this day.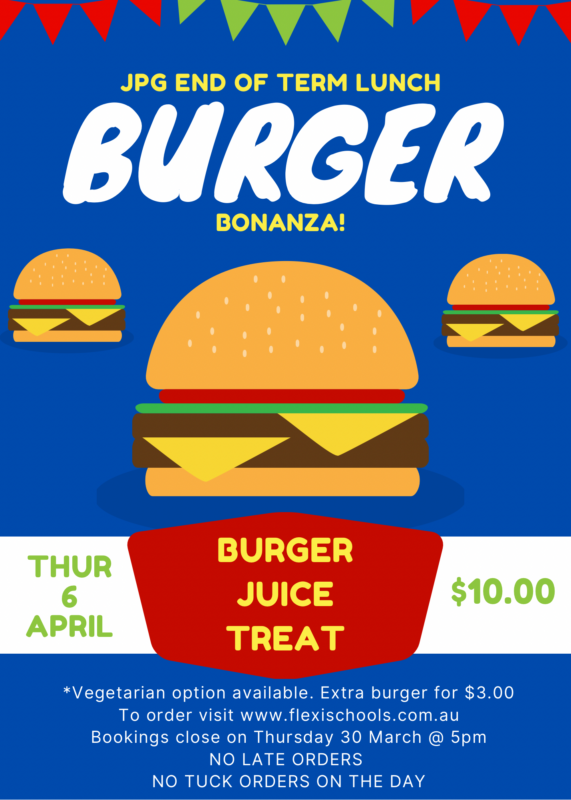 Looking for Term 1 holiday programs?
The BGS Share Community Campus will be busy with many holiday programs from coding to sport, something for everyone. Please view Term 1 calendar for their holiday camp programs for details.
Are you a BGS fan?
Remember to follow, subscribe, and like us on our social media channels.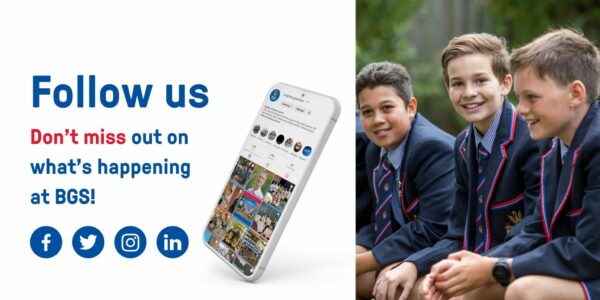 Read other eNews from this week