A Word from the Headmaster – Ross Featherston
This week we formally farewelled the Class of 2019 at a Eucharist service in St Andrew's, a Year 12 Prize Giving Assembly, Beating of the Bounds and the Valedictory Dinner. This year's graduating class has led the School very well. The ultimate test of any Year 12 cohort is whether they have left the School in better shape than how they inherited it. I have no doubt that the Class of 2019 has done exactly that; they have unlocked their dance and have handed over BGS to the Class of 2020 that little bit better.
We wish our Year 12s well: in the short term for their upcoming examinations and in the long term for their life beyond the gates of BGS. At the Valedictory Dinner on Monday night, I referred to a passage from Colossians that was read by one of the Year 12 boys during their final Eucharist. I reminded the Class of 2019 to clothe themselves with compassion, kindness, humility, gentleness and patience. And over all these virtues put on love, which binds them all together in perfect unity.
Have a great week ahead.
From the Deputy Headmaster, Head of Junior School – Peter Tellefson
All Junior School boys and staff have enjoyed participating in Year 12 end of year celebrations.  Last Friday we welcomed back those boys who attended the Junior School for 'Wilson House Revisited'. They spent time visiting teachers and boys in the classrooms and reminisced about their Junior School days. Many boys commented on 'how good' the refurbished spaces looked, how they loved their time in the Junior School and were happy to come back and walk down memory lane.  The Beating of the Bounds service on Monday was a wonderful experience. It brings back a host of times, places, events and faces for the Year 12s and their families as they process, pray, reflect and visit the Senior School Quadrangle, St Andrew's, Wilson House, the Urwin Centre, Crowther Oval, the Clock Tower and the Oak Tree. This is a powerful and meaningful experience en masse as approximately 500 people walked through the different parts of the School.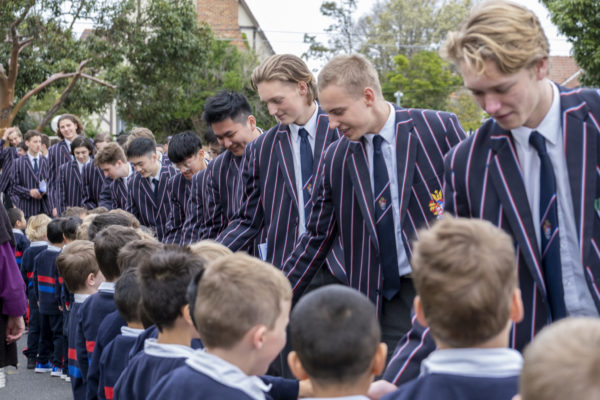 Tom Banfield, the 2013 Wilson House School Captain, spoke fondly of his memories of the Junior School. It was certainly a buzz for the Early Learning Centre boys to high-five the Year 12 boys as they entered the Junior School. Congratulations to Junior School Captain, Charlie Sabin, who spoke superbly on behalf of the Junior School community. I appreciate the excellent work of the Grounds and Maintenance staff, as Wilson House looks a picture.
Junior School happenings and reminders
Last weekend, the Outdoor Education staff provided the opportunity for Year Six boys and their Dads to experience a Father/Son white water rafting weekend on the Mitta Mitta river. The weekend was most successful, with the boys and dads enjoying canoeing, low ropes, bush cooking and some father/son reflective time. The feedback from attendees has been overwhelmingly positive, and I appreciate the work and support of Head of Outdoor Education, David Gemmell, for facilitating this opportunity.

Best wishes to the Year 6 boys and staff participating in Relay for Life on Saturday 26 October to support the Cancer Council. 

Please mark Friday 22 November in your diary for the Family Fun Night from 4.30–8.00pm. This is the major JPG fundraiser for the year and I am sure we will all enjoy this year's event. The organising committee is working hard to ensure the night will be entertaining for all. Further details will be forwarded to parents via School Stream.

Best wishes to Year 3–6 boys who are completing various instrumental AMEB exams. I appreciate the efforts of the Music staff in preparing the boys.
I have received a number of complaints from neighbours in Grosvenor Street recently, as parents are not parking appropriately and obstructing driveways – particularly at pick up time at the end of the day. I have also noticed an increase in congestion on Grosvenor Street as parents are arriving as early as 2.45pm and lining up within the car park and on the street. This makes it very difficult for ELC3 parents (2.30pm finish) and ELC4 parents (2.45pm finish) to park and collect their sons. I understand that parents who have sons in the ELC will park and wait until 3.20pm to collect older siblings, but I would ask Junior School parents not to arrive before 3.00pm please. Our system works effectively once the boys are dismissed at 3.20pm, and, on most days, the car park is clear by 3.30pm. Please help to ease the congestion by not arriving so early. All boys are supervised in the car park until 3.45pm which provides 25 minutes for pick up.
Student Achievements
Congratulations to the Year 4–6 boys who competed in the Eastern Metropolitan Regional Athletics Championships last week with some outstanding results. Best wishes to the following boys who have qualified for the State Championships next week – Jake Ring (Shot Put, 80m Hurdles), Leo Reeve (100m, 200m, Long Jump), Edward Mitrevski (Long Jump), Jasper Williams (Discus), Sebastian Naccarella (Long Jump), Jody Cripps (100m) and the U11 4 x 100m relay – Oliver Chernikeeff, Jody Cripps, Sebastian Naccarella, Jake Ring and Luca New (reserve). Thank you to Glenn Garland and Matt Barker for their coaching and management of the team and to all parents for your support.
Year 6 debaters showcased their skills at Loreto, Toorak where they debated in front of 100 girls! Carter Russell, Daniel Coleman and Luke Sexton disagreed that Australia should become a Republic. Cooper Ballantine, Jerry Mei and Charles Williams argued in favour of the introduction of a sugar tax. They all delivered persuasive speeches, with Carter and Jerry recognised as best speakers. Well done to the boys for their preparation and outstanding performance.
From the Director of the Early Learning Centre – Amelia Barrow
High fives and sweet wishes to bid Year 12s farewell
The tradition of Beating of the Bounds is one of the highlights of the year as we gather as a school community to recognise the important milestone of farewelling the Year 12 boys. As the Class of 2019 and families revisit each section of the School, we recognise and reflect on the their journey from ELC3 to Year 12.  Margaret Coyne, Jess Collins and I were honoured to be part of this journey for some of the boys who we proudly waved goodbye to on Monday. Although it only feels like yesterday when we were playing games, singing songs and celebrating each milestone in the ELC in 2005 and 2006, the picture of our current ELC3 boys standing next to them really pulled at our heart strings. We wish the Class of 2019 all the best for their exams and hope that the next 13–14 years don't go as fast!
Our 2020 Transition Program is well under way, with ELC3 and ELC4 programs in operation. Once these have been completed, class allocations will be sent to all 2020 enrolled children. The Saturday Welcome Morning will be held on 9 November, with more information to come soon. Please contact me if you have any questions.
We celebrated World Children's Day on Wednesday and created a wonderful mural for the ELC community. A reminder that the ELC Term 4 Calendar  has been sent to families on SchoolStream. The School will be closed on Monday 4 November, however the 48 week long day care boys will be offered a holiday program in the ELC.
Rehearsals are underway for the ELC Christmas Pageant which will take place on Thursday 5 December. We are currently trialling the boys in a variety of roles and will finalise roles once the boys feel confident and happy with their choice. Families are requested to contact me as soon as possible if they are planning to leave on holidays before the end of the School year. 
Teaching & Learning
'Skype with a Scientist' brings Science to life for Year 4
We live in a world that is constantly changing.  Even things that we may consider immoveable, such as mountains or rock formations, are gradually changing, sometimes with processes that are visible in our lifetime.
This term the Year 4 boys are studying rocks and soil in a Science unit called 'Beneath our Feet'. It has provided students with opportunities to explore how natural processes and human activity shape their surroundings. The boys have been investigating rocks, soil and landscapes through a series of hands-on activities.
The Year 4s were fortunate to have a 'Skype with a Scientist' session with Heather Handley, Associate Professor of Volcanology and Geochemistry from Department of Earth and Planetary Sciences at Macquarie University in NSW.
The boys loved chatting with a Scientist via Skype and asked a lot of questions such as, How are volcanoes formed? Does magma cause erosion faster than water? What causes some volcanoes to have powerful eruptions and some to have weak eruptions? Heather even showed the boys a picture she had taken of a volcano erupting in Vanuatu. She was so close to the volcano that hot rocks were flying past her head! It was a wonderful opportunity to speak to an expert about her field.
Laura Hall
Science Teacher
Growing Together – Year 5 BGS/FGS activities
Growing together is the theme of this year's Brighton Grammar and Firbank Grammar's activity days. Over the past two Thursdays, students have enjoyed working together in rotation across six activities: leaf drawings in art, capture the flag, initiatives, spoons and learning new skills in netball and drama. The students have begun their journey of lifelong friendships and connections. Days like these cement the community feel of Brighton Grammar, and our sister school Firbank, and are an annual highlight as they become better acquainted in preparation for the Year 6 musical next year.
Cindy van Dijk
Year 5 Teacher
This week's parenting tip 
Resilience
Resilience is one of those skills that all children need and should have. It refers to their ability to cope and adapt in situations when confronted with challenges such as adversity, trauma, tragedy, or even stress. It is a skill that can be learned from an early age through the support of an adult role model, and it is essential to their mental health and wellbeing as part of their journey into adulthood. Being resilient does not mean that your child won't experience any difficulties, but it will better equip them to manage those situations. In this edition of SchoolTV parents will gain an understanding of how they can help support and build resilience in their children so that they develop a resilient mindset that will inevitably help them deal with challenges later in life.
BGS Keep Cup



The newly formed student Eco-club has launched its first project, the BGS Keep Cup, available for $26 online and at School events. Read about the club's work.
JPG News
World Teacher's Day
The Junior School will be celebrating World Teacher's Day tomorrow, Friday 25 October.  As a special token, each boy is asked to bring in one flower for their classroom teacher on this day. This will provide each teacher with a lovely bouquet to take home.
Save the Date – Family Fun Night
The Junior School Family Fun Night 2019 will take place on Friday 22 November from 4.30–8.00pm.  All the fun of previous years and more! 
Booking information and further details to follow soon.