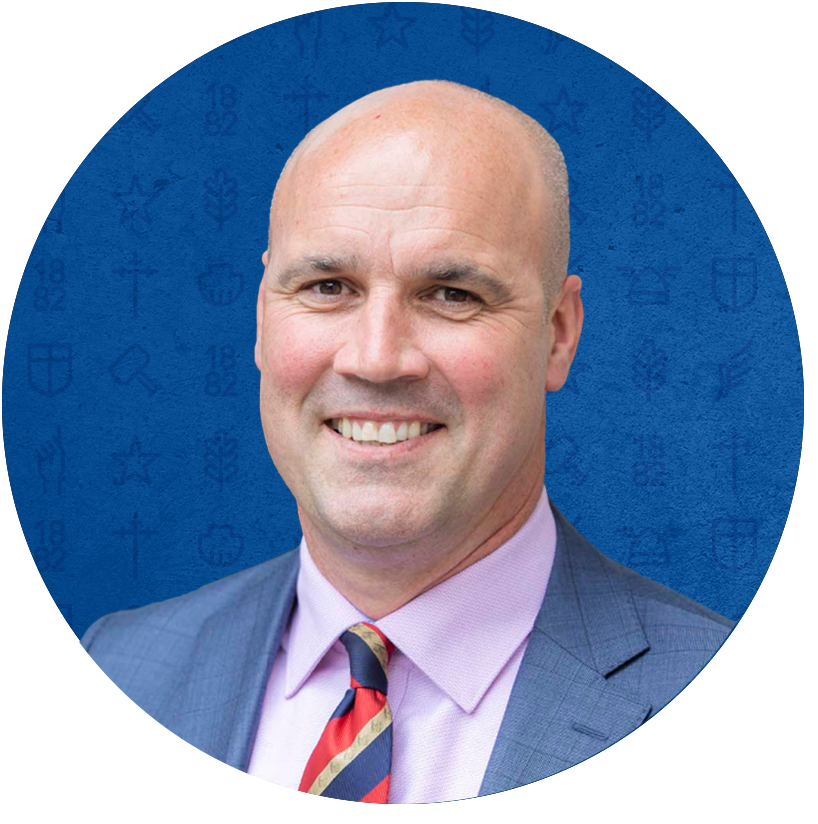 Ross Featherston
The Headmaster of Brighton Grammar School
School sport is valued at BGS as it benefits the boys' physical and mental health and teaches them key life skills, including collaboration, commitment, resilience and team spirit. All these qualities have been displayed by BGS teams in APS Sport.
Our rowers showed the value of developing a positive mindset as all crews delivered stirring contests at the 153rd APS Boys Regatta (Heads of the River) on the weekend, culminating in the First VIII winning the coveted Fairbairn Cup and the rowing premiership, for only the second time in the School's history (the earlier win was in 1983). 
Our Swimming and Diving teams had some pleasing results at Tuesday's APS Finals. We wish the First and Second Touch Football teams all the best for their semi-final (and hopefully grand final) appearances on Friday and also to our sailors as they challenge for an amazing three-peat championship win at the Victorian Schools Teams Sailing State Championships this weekend. 
All boys who take part in our sports programs are contributors to our ethos of a culture of excellence across all aspects of school life. In this week's Crowther eNews, Dr Ray Swann explores the drivers of performance and the importance of culture in sport.
I am proud of our successes in sport but equally as proud of the best efforts. After all, it's not whether you win or lose, it's how you play the game.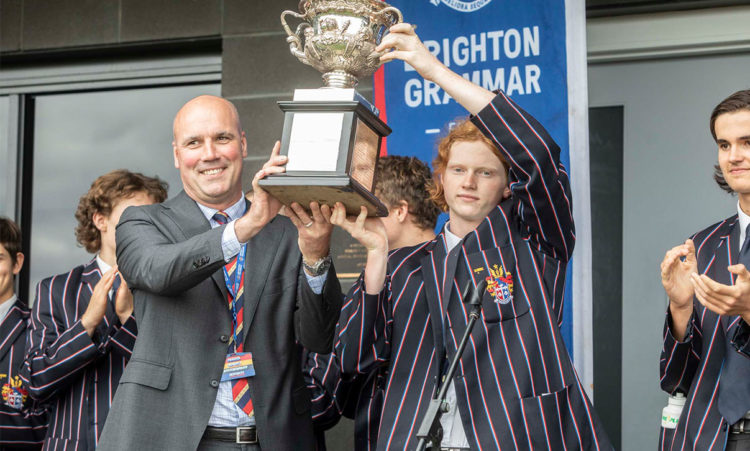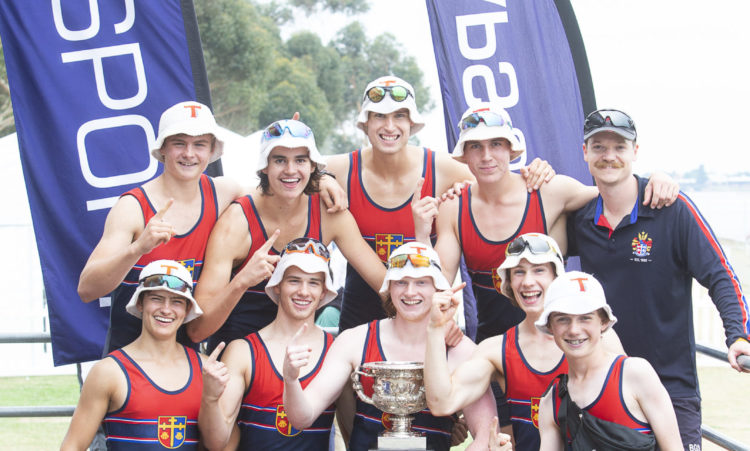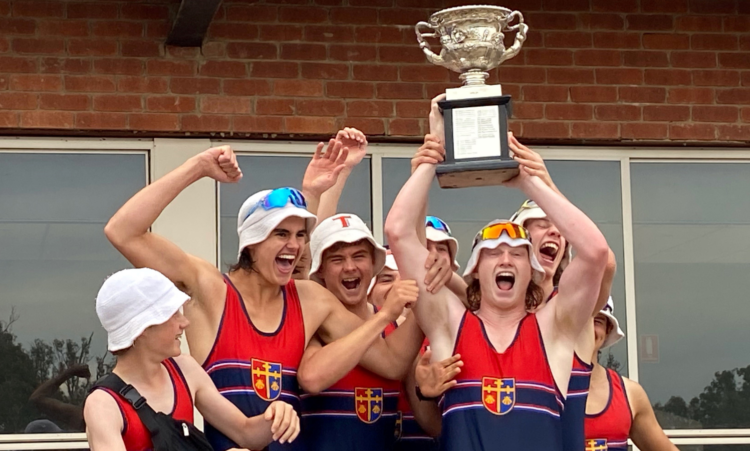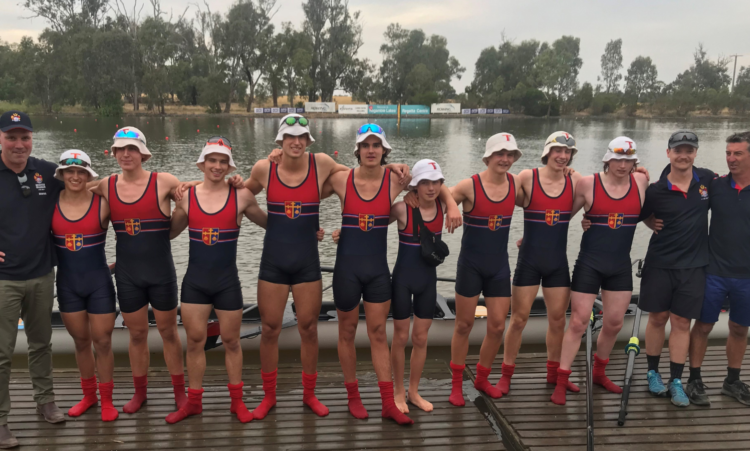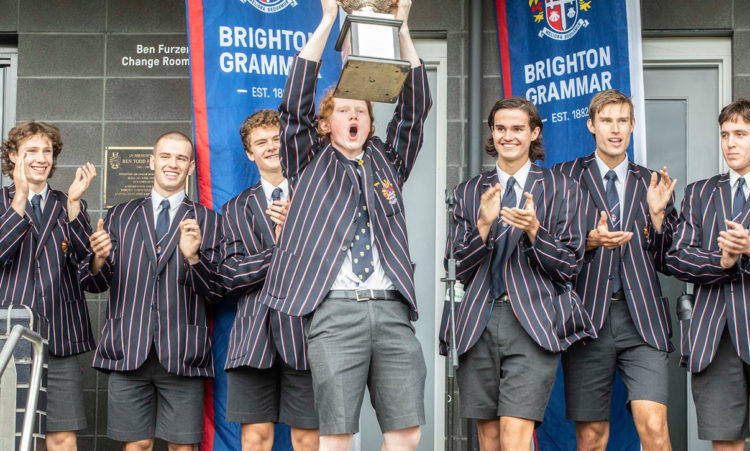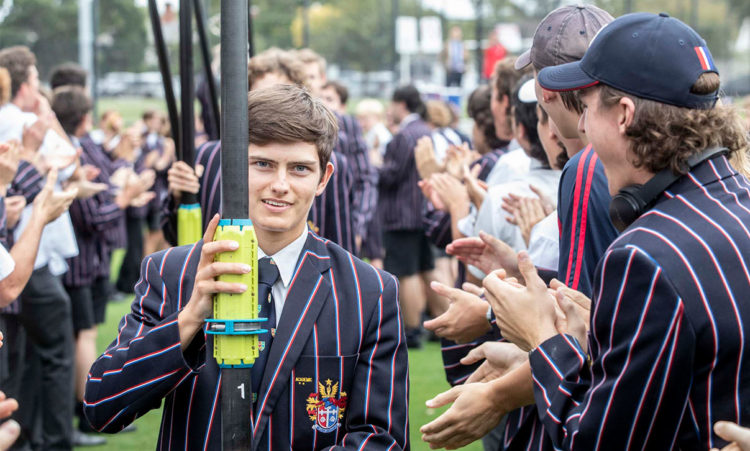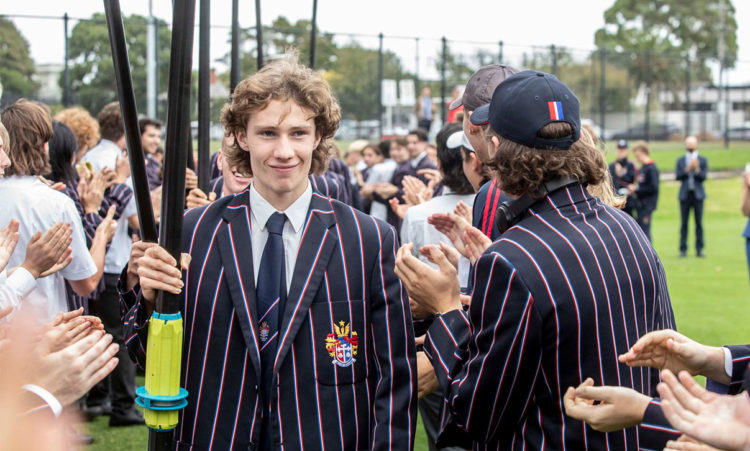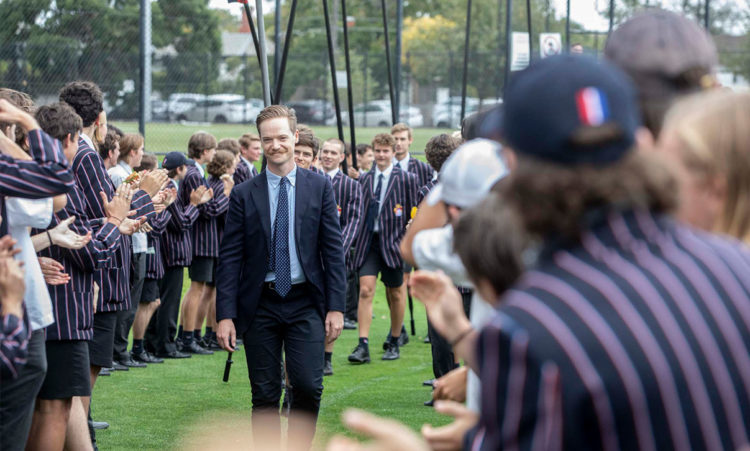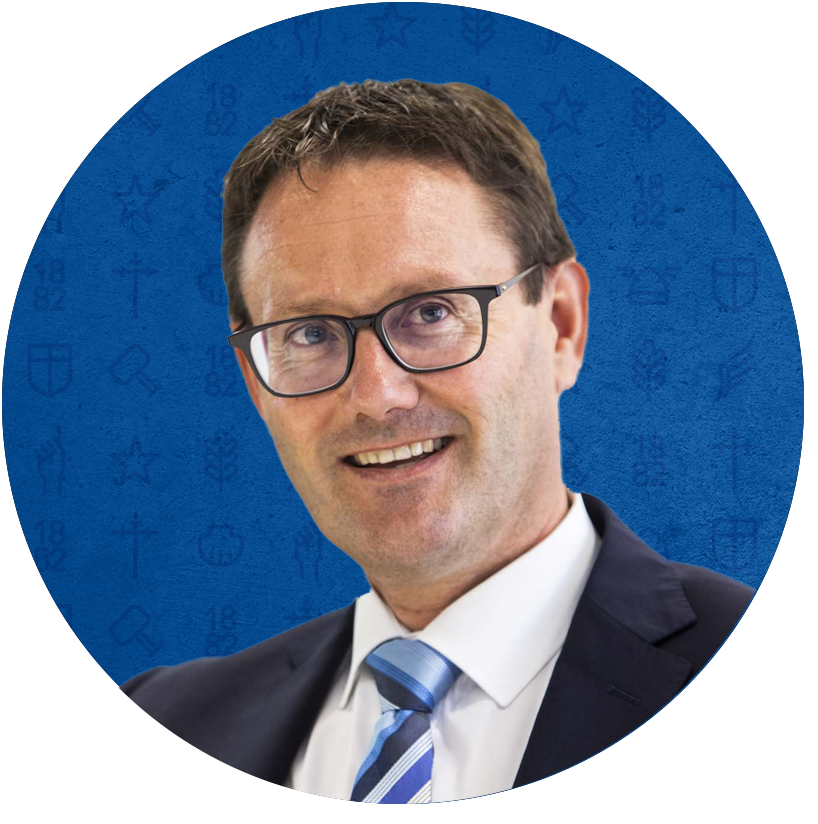 Peter Tellefson
Deputy Headmaster, Head of Junior School
A strong sense of belonging and connectedness has a positive effect on the boys' self-esteem and confidence. Our Outdoor Education Program, House System and the Buddy Program are opportunities for this, over and above the pastoral support our boys gain from their day-to-day classroom experiences.
As this term has progressed, I hope the boys feel good about themselves as they have a strong sense of belonging at school. My daily 'meet and greet' is a fantastic and most enjoyable start to my day, in fact, it is prioritised in my calendar to be on the yard at the start and end of each day.
I enjoy the opportunity to chat with our boys, asking them about their weekend, how their class work/homework is going, are they practising Good Old Collingwood Forever on their instrument, what sport they are playing, what they have to present at 'show and tell', or engaging in conversation about their Library book they are reading. I hope it also enhances their sense of connection at Wilson House. 
Our Buddy system, involving all boys from ELC to Year 6, is an important part of our boys' experiences. The program focuses on the values of friendliness, respect, responsibility, caring, including others and valuing difference.
It is always rewarding to see the many positive interactions our boys experience in the classroom and on the playground. I hope you have already had positive conversations at home in regard to 'buddies'.
Junior School happenings and reminders
Our first Ute Full of Food for this year will be held tomorrow, Friday 26 March, with the ute leaving at 9.00am for St Mark's Anglican Church in Fitzroy. Items requested are: breakfast cereals, sugar, jams and spreads, pasta and pasta sauce, rice, noodles, biscuits, tins of vegetables, fruit and fish are particularly welcome, meals-in-a-can, toilet paper, bathroom supplies. Our generosity is very appreciated by St Mark's.
JPG End of Term Lunch – final orders due by Friday 26 March – order through Flexischools.
Easter Raffle and Donations by Tuesday 30 March
Next Thursday will be our final day of Term 1. The following is an outline of the day:
8.50am – Chapel – Prep to Year 6
11.20am – Assembly (Rosstrevor Hall) Parents are welcome to attend and sign in via QR Code
12.15pm – JPG Lunch – Please note there are NO Tuck shop orders available
2.00pm – Tabloid Sports – boys can wear their Sport Uniform/House Polo Shirt
3.20pm – Normal Dismissal
Term 1 Interim Reports will be available to parents online for all Prep to Year 6 boys from Thursday 1 April. These reports focus on attitude, effort and the development of various personal skills, rather than achievement.
From the start of Term 2, all boys from ELC to Year 6 are to wear the winter uniform. Prep to Year 6 boys have the option of wearing grey shorts or trousers but are required to wear shorts on formal occasions, such as music performances. The long-sleeved, pin-striped shirt is to be worn with the BGS tie, blazer and jumper (optional).

Student Achievements
The following Year 6 boys will be appointed to leadership positions at tomorrow's assembly:
Art – Archie Baines, Alexander David, Will Flanigan, Seven Li, Lachlan Wiseman, Marco Zhou
Mindfulness – Cooper Follett, Connor Giles John Haralambakis, Tobias Landsman, Hamish Lawson, Ed Mohseni, Will Stott, Ronnie Xu
Science – Charlie Denning, James Lorback, Des McDonald, Aiden O'Connell
APS Heads of the River
Well done to Sidney Bartlett (Year 6) who competed at the 2021 APS Heads of the River on Saturday. Sid was the coxswain of the BGS Male School Eight Open Division 3 crew and the Male School Coxed Quad Scull Year 9 Division 2, steering both of them to win bronze medals in A Finals.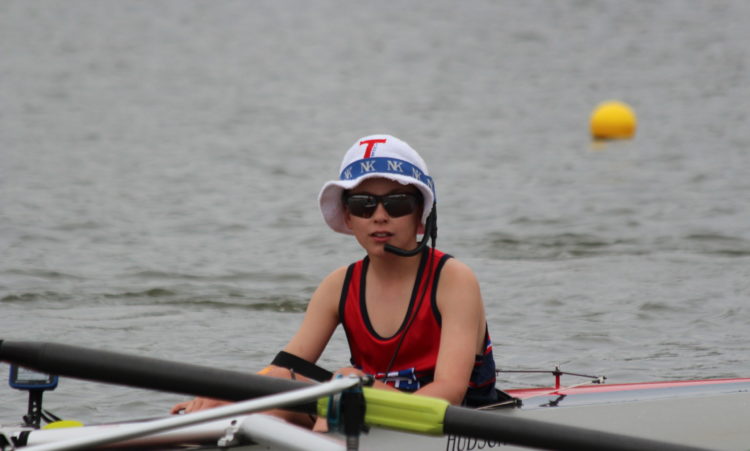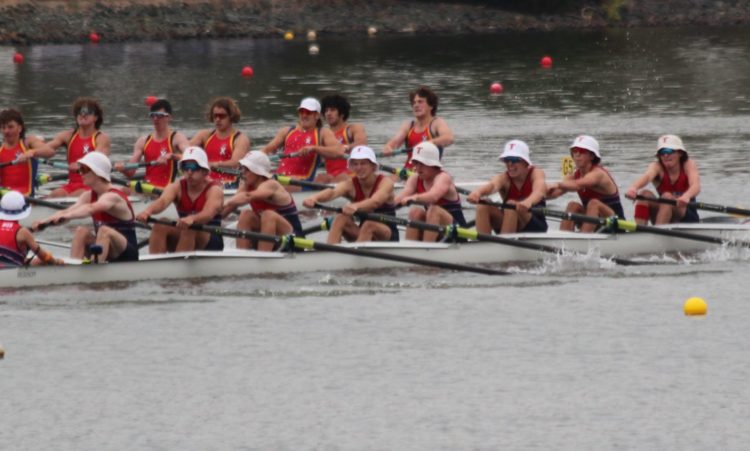 APS Combined Swimming and Diving
Congratulations to Mitchell Carney, Justin Mei, Hanming Shen and William Tan who swam at the APS Combined Swimming and Diving at MSAC on Tuesday evening. The Year 6 boys were invited to join our Secondary School Swimming and Diving team and swam in various events.  This was a great opportunity for the boys to experience competition at this level.
House Swimming
Crowther was the winning House of the very successful Prep – Year 2, Year 3/4 and Year 5/6 House Swimming Carnivals.  Our Year 6 boys provided excellent leadership to the younger boys, providing direction, calming nerves and generally supporting the boys in their House. Well done to all boys on their efforts. 
Year Level Champions
Year 3 – Charles Zhu
Year 4 – Tyler Buckingham
Year 5 – Ethan Xu
Year 6 – William Tan
APS Sport Awards
The following boys will be presented with Term 1 APS Sport Awards at this week's assembly.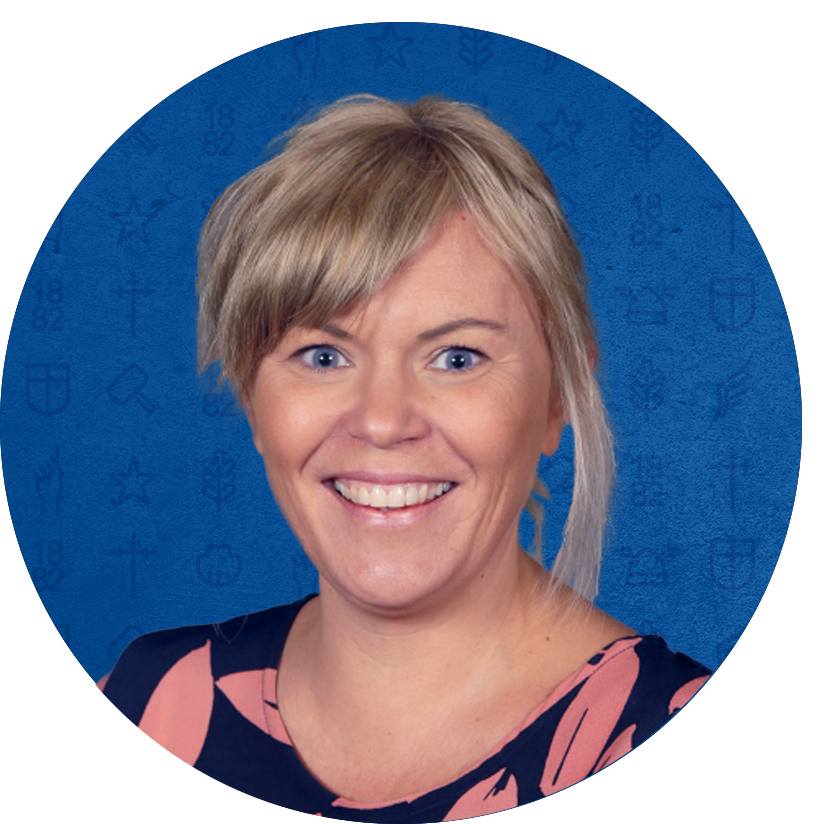 Amelia Barrow
Director of the Early Learning Centre
Peace and Harmony in the Early Learning Centre
This week has been action packed, with numerous events spread across the BGS community.
With the exciting news of our First VIII Rowing team winning the Head of the River, the ELC4 boys were invited with the rest of the school to the oval to congratulate the rowers.
It was so wonderful watching the pride in our boys' eyes, knowing that it could one day be them. As little boys do however, the newly laid turf on the oval was just as exciting. After we left, it looked like a polo match had occurred with all of the newly picked divots!
The Year 4 boys needed an audience to perform their Dreaming stories, so who better than their buddies, the Bandicoot and Wallaby boys, to watch them act out Indigenous stories. Indigenous studies are part of the Buddies curriculum and also included in their Performing Arts classes.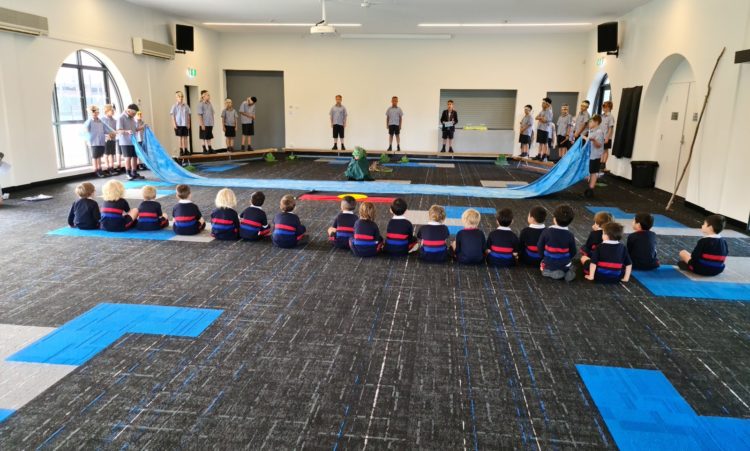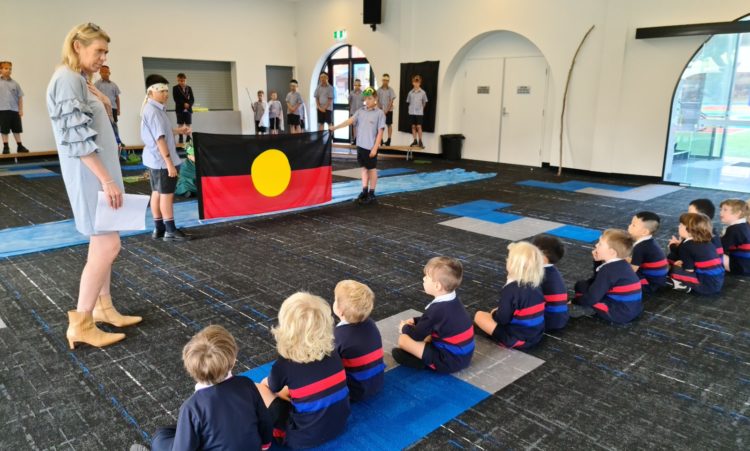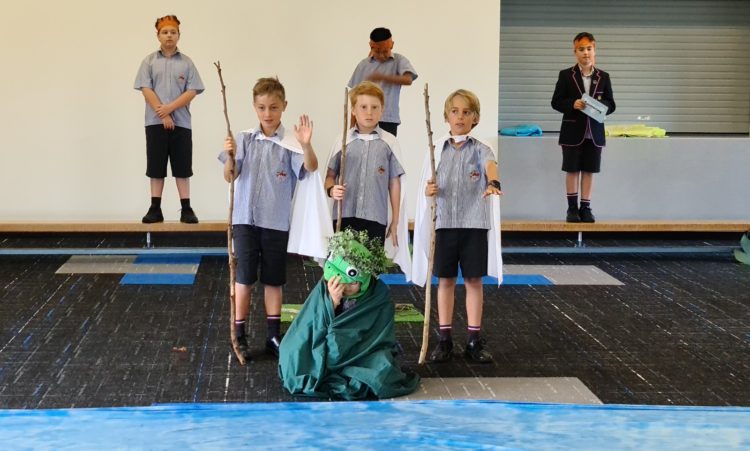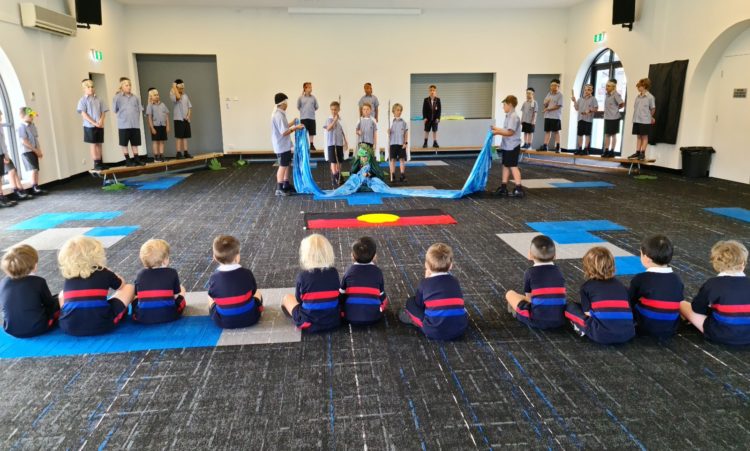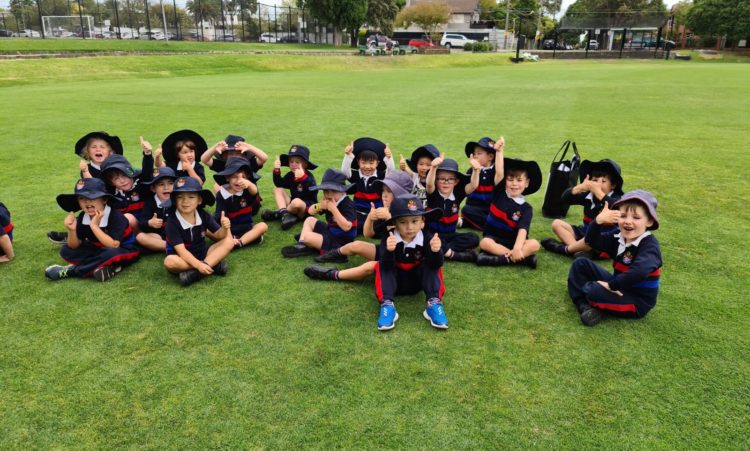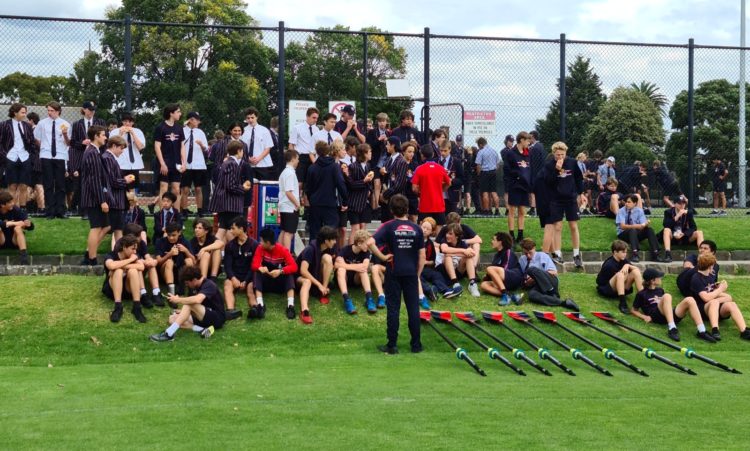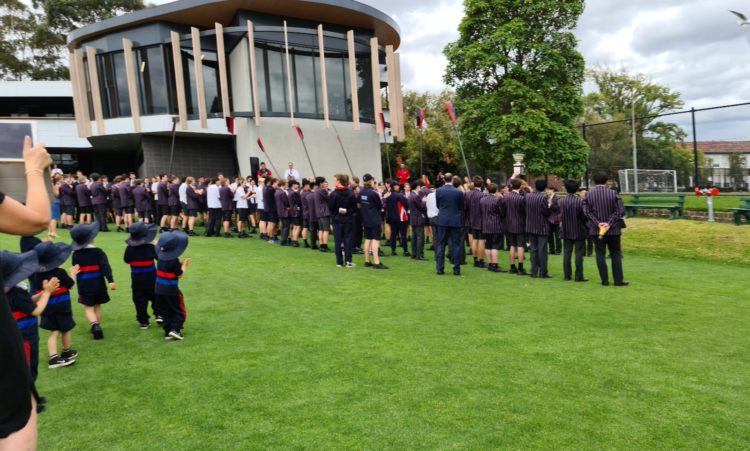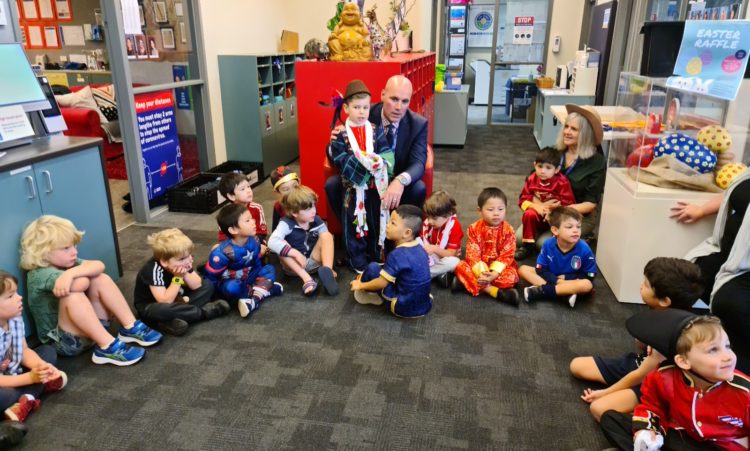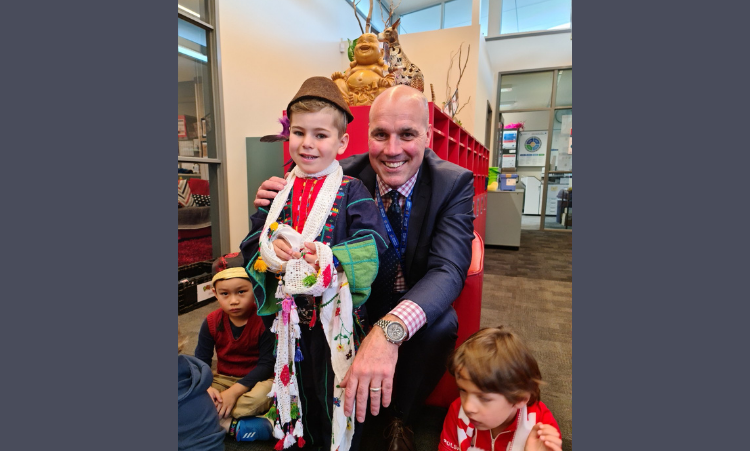 Our Harmony Day was the highlight of the week, with the boys dressed in a variety of cultural outfits to celebrate our diverse backgrounds. Headmaster Ross Featherston and Deputy Headmaster, Head of Junior School Peter Tellefson attended and shared their cultural backgrounds with the boys. All four classes performed a song in the foyer for each other and enjoyed seeing who had similar outfits to themselves.
Thank you for donations and support of the Easter raffle. You can order your son an end of term lunch in support of the JPG via Flexischools by tomorrow.



This Week's Parenting Tip
Establishing digital boundaries 
Many parents establish screen time limits for their 'screenagers' (children and teens) by stipulating how much time they can spend plugged in.
Focusing solely on time is not the only digital boundary to consider. It is best to expand our dialogue beyond screen time as the only metric that is used to assess young people's digital behaviours.
Teaching & Learning
National Day of Action against Bullying
The National Day of Action Against Bullying and Violence is an Australian Government initiative for Australian schools, to highlight their efforts to counter bullying and violence.
This year's theme was Take Action Together. Each class spent time discussing what bullying is, what the various forms of bullying are and what steps they could personally take if they were being bullied or if they witnessed someone else being bullied.
Individual classes then made a pledge to be upstanders and not bystanders to bullying behaviour.  See 2 Waratah's pledge below.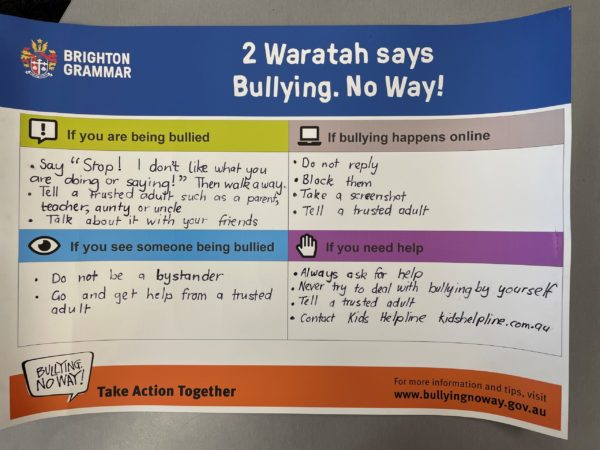 Brass Bedlam
Last week, Years 5 and 6 students experienced the talents of the nationally renowned brass ensemble, Brass Bedlam, featuring musicians Bernie Hickey and Katy Addis.
The boys were enthralled by their amazing performances and had lots of fun and were in fits of laughter as they learnt about the history and features of brass instruments. The boys were inspired by their incredible talents on trumpet, trombone, euphonium, horns, as well as many other things!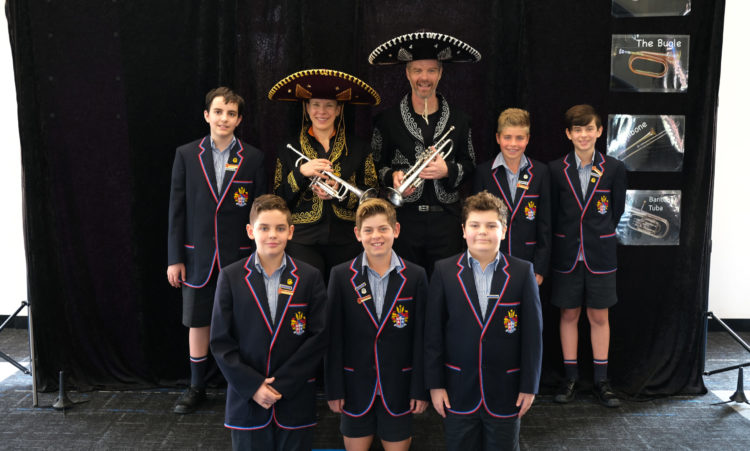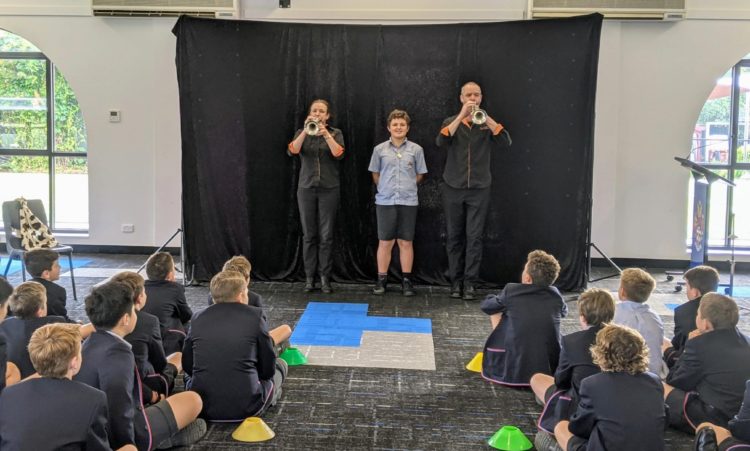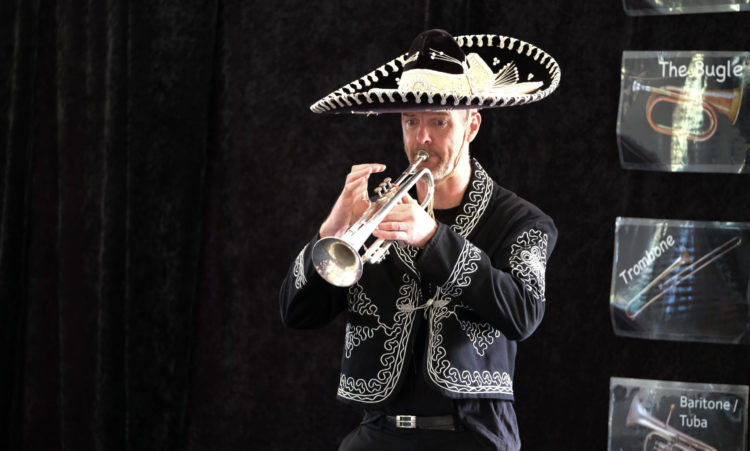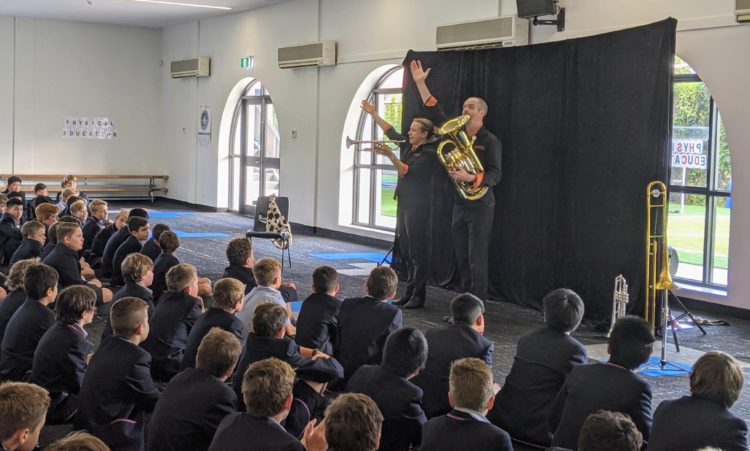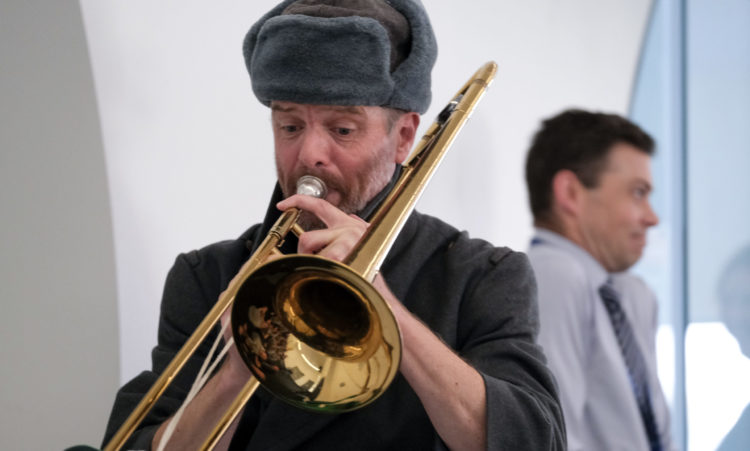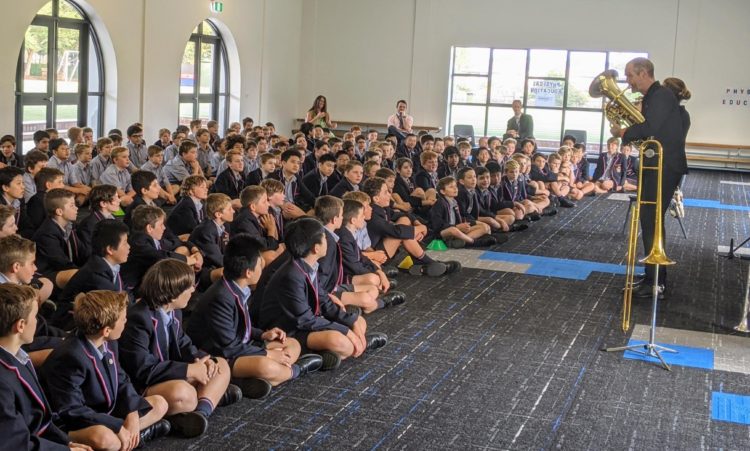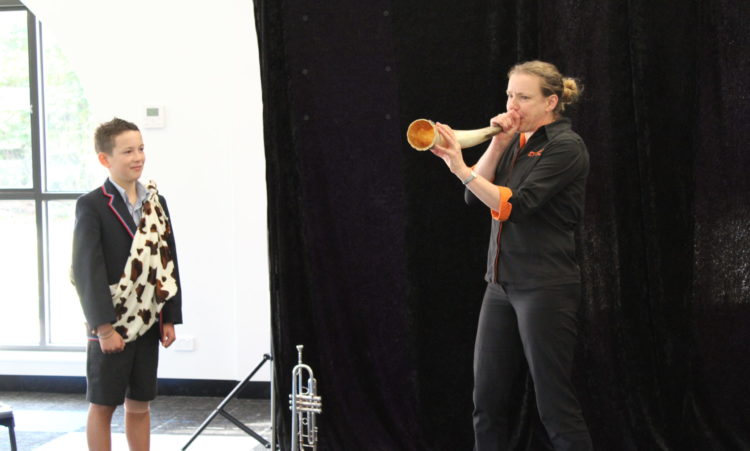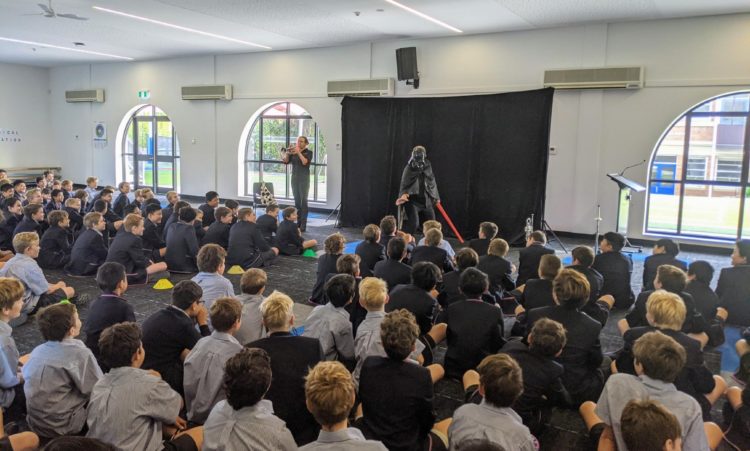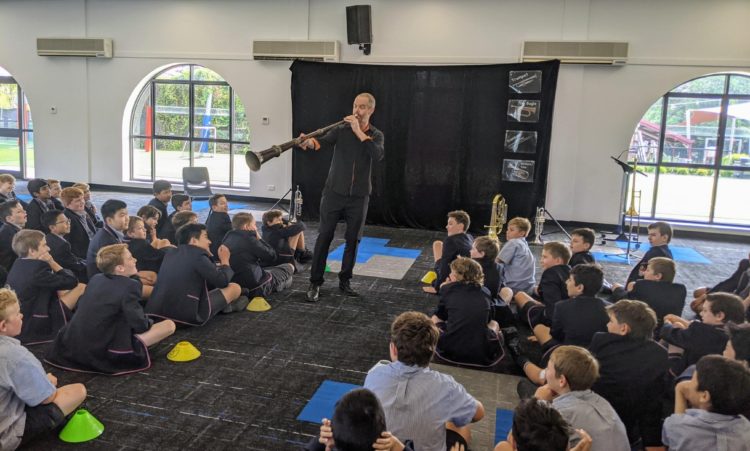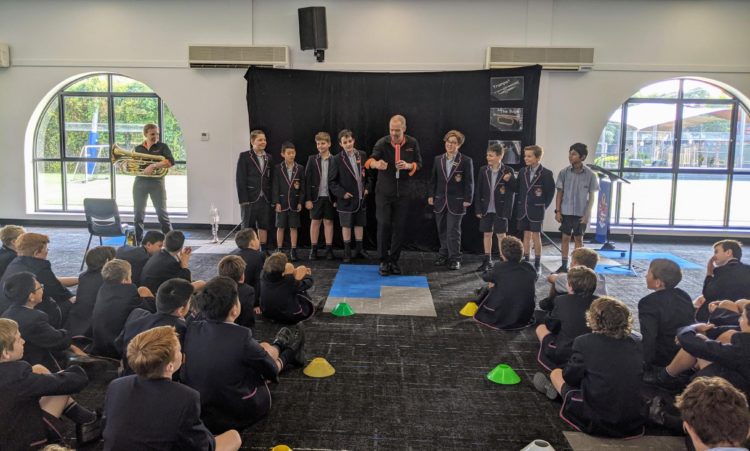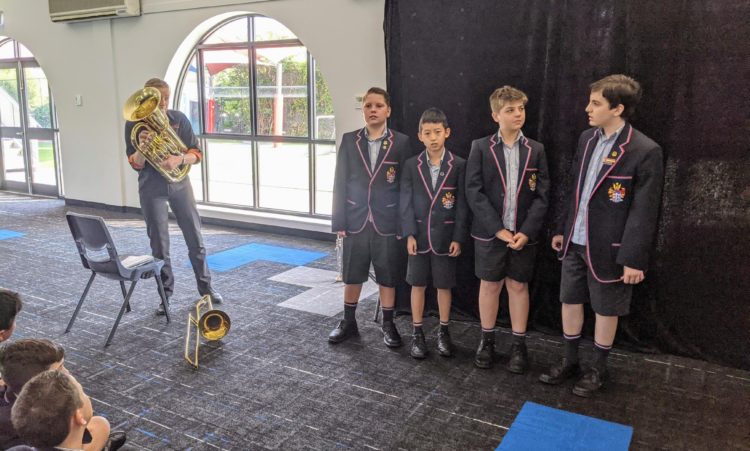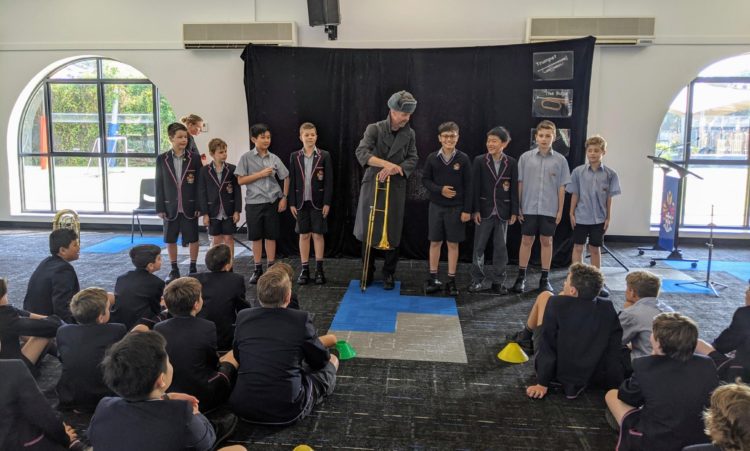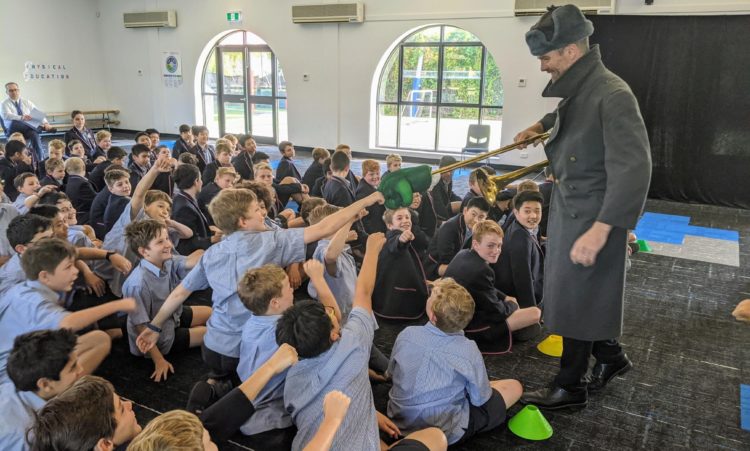 Live music is an essential part our Music curriculum, as it allows the boys to experience and aspire to the performance of professional musicians. They can get up close to all that live music offers and further develop their love of music.
Hayley Blakiston
Head of Junior School Music
Year 1 Design and Technology
Year 1 boys have been constructing wobble boards as part of Design and Technology, building their skills with hammers and saws to create challenging mazes.
Many boys have learnt the lesson to measure twice and cut once as part of the process! Along the way, they have evaluated their skills in construction by using rubrics for feedback.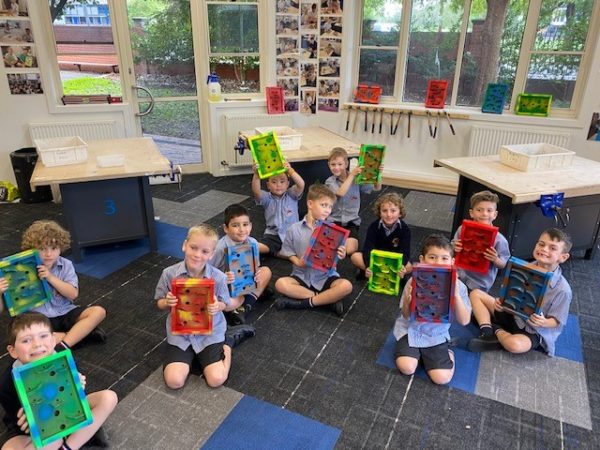 The boys are now looking forward to sharing these as part of the Year 1 Fathers' breakfast.
Hamish Leahy
Year 1 Class teacher
BGS Tennis Holiday Program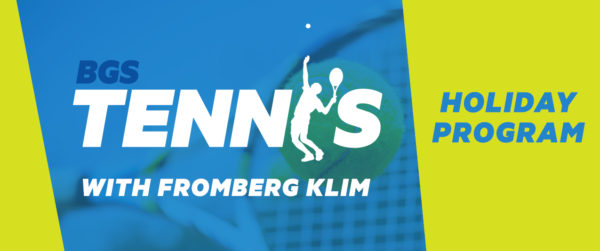 Join our new holiday program with Fromberg Klim Tennis, held from Monday 12 April to Friday 16 April and open to BGS boys 4 to 12 years and older, their siblings and the wider community.
BGS Generations Form
Parents of boys whose fathers, grandfathers or great grandfathers attended BGS are asked to complete the BGS Generations Form and email it to Peter Toms in the Development Office. When determining third or fourth generation families, there is no distinction between paternal or maternal grandfathers or great grandfathers. There is no need to submit a new form if you have completed one previously. 
BGS Annandale Gym
The Annandale Gym will be open during the holidays for parents and community members. If you need an extra bit of inspiration to ward off the winter, come on in.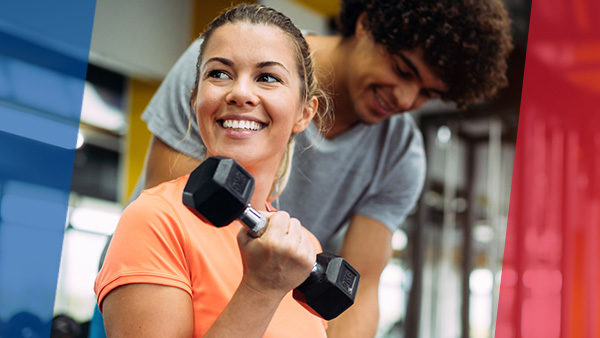 Read other eNews from this week