A Word from the Headmaster – Ross Featherston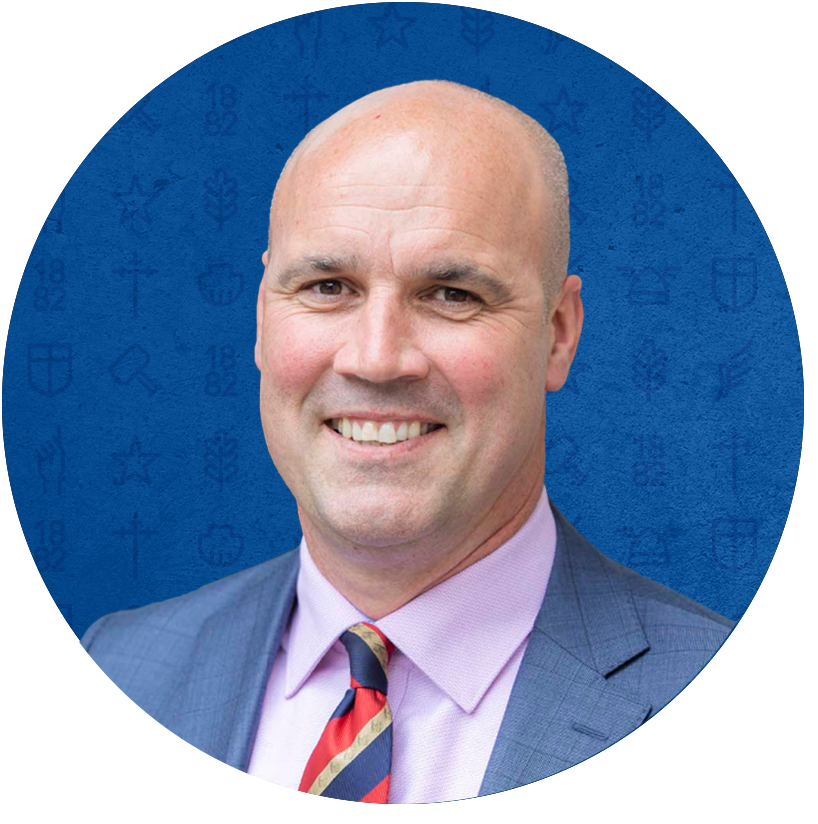 There is a new lift in spirits with further restrictions eased and it's wonderful to share in the boys' excitement as they prepare and anticipate their end of year activities and celebrations. Please be sure to stay up to date with our planned events via the eNews and School Stream.
Although the year we had planned has taken some dramatic twists and turns, I feel a great sense of pride as I visit all areas of the School and see the energy and time spent by all on ensuring we finish the year strongly.
From ELC boys preparing for a plunge in the new pool, rehearsals of the Lower Primary Christmas Pageant, time trials for the Billycart Cup, iDesign finals, exams for Years 7-11 students and our Class of 2020 completing the last of their VCE examinations early next week.
Now is a time of reflection and for setting up a time to have those final conversations with your son/s to close the year off well. We know it's been a year like no other, but it is important that as educators and parents we recognise this with the boys and reset some goals and expectations for reports to come and plan for the year ahead.
In this week's Crowther Centre newsletter, Dr Ray Swann outlines some steps for you to consider when planning for your end of year conversation with your son, which you may find helpful.
Have a good week. 
From the Deputy Headmaster, Head of Junior School – Peter Tellefson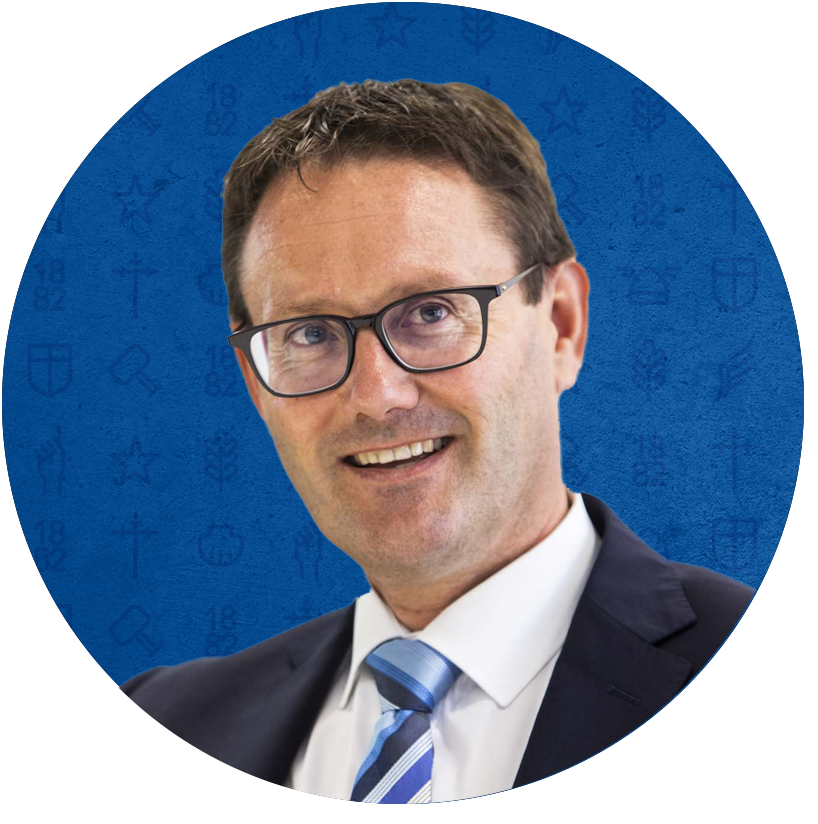 For many years, Brighton Grammar Junior School has supported the students of Kibera Baraka School in Nairobi, Kenya. We have been able to assist with the refurbishment of buildings, purchasing of desks, texts and stationery resources. 
In past years, our Prep to Year 6 boys have participated in a mini-fete to raise funds. This event was organised and run by the boys as they participated in a variety of activities and purchased 'bits and pieces' from stalls.
With current restrictions, the mini-fete will not be held this year but in its place we will offer a variety of fun activities for the boys to participate in. We will also show the filmed performance of our Year 6 Production of Madagascar Jr. On Friday 4 December, casual clothes may be worn for the day and each boy is asked to contribute $5 to support Baraka.
At the end of the year, we say farewell and extend our best wishes to a number of staff who are departing Wilson House. 
Pauline Anthony (Library, eLearning) and Tatiana Oskolkov (Strings Program) are retiring, Sam Kuring is taking 12 months leave to work in Pormpuraaw, a remote indigenous community in far north Queensland that BGS has had exchange programs with for the last six years, Karine Coste (Year 3/4 French) has an increased teaching load in the Secondary School in 2021 and Vincent Liang (Year 5/6 Chinese) who has worked with us for Semester 2 in Linda Chen's absence. 
We thank Pauline, Tatiana, Sam, Karine and Vincent for their commitment to the boys in their care and wish them well for the future.
Junior School happenings and reminders
Our Term 4 Prep to Year 6 Parent/Teacher Discussions will be held on Monday 30 November (3.30 – 8.30pm) and Tuesday 1 December (3.30 – 6.00pm) via Zoom. 
Our Junior Parents' Group has organised a Christmas tree in the main Reception area so that families can leave a gift under it for underprivileged children. These gifts will be donated to the Mary MacKillop Family Services which I am sure will bring pleasure to many children in need. Mary MacKillop Family Services have asked that gifts not be wrapped.
Congratulations to our Prep to Year 2 boys and staff who filmed our Lower Primary Pageant this week. I appreciate the excellent leadership provided by Hayley Blakiston, Claire Clarke and Samara Madden.
Classes conclude for all Prep – Year 6 on Tuesday 8 December at 12.00pm, the car park will be supervised until 12.30pm, boys not collected will be sent to After School Care.
Student Achievements
Minute to Win It!
During Distance Learning, Glen Garland set a variety of challenges for boys to complete in a minute or they had the opportunity to create their own challenge and produce a video. 
These boys received awards at Assembly for their creative entries: Jack Curwood, Miller Dobie, Shya Harvey, Freddie Inglis and William Tan.
Year 6 Debating
We were pleased our annual Year 6 debate against Christchurch Grammar, South Yarra could go ahead this year via Zoom.
Nathan Lui, Ben Calder and Alex Hill argued, 'That parents should provide their children with pocket money'. Nate Woff, Domenic Todarello and Tom Hara argued against the contention 'That the best things in life are free'.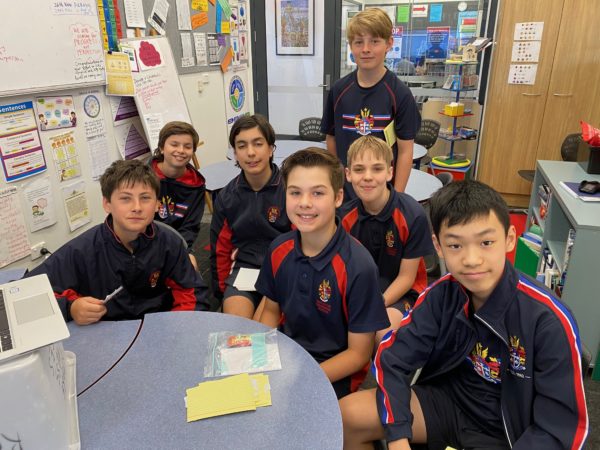 The boys were given constructive feedback from the teachers at Christchurch and Ben and Tom were awarded best speakers.
Jane Lowe
Enrichment/Extension Teacher
Generations Badge Presentation
The School is always delighted when an Old Boy enrolls his son at BGS. We have developed a special program to acknowledge our current second, third or fourth generation BGS students. 
These boys will be presented with their Generations badge at Assembly this week: Patryk Paolacci, Jax Uglow, Oscar Uglow, Yuan Wu, Charlie McRae, Mitchell Carney, Angus Hare, Harvey Atchison, Will Naughton and Spencer Morley. 
Specialist Effort Cards
Congratulations to the following boys from Prep – Year 6 who will be presented with Specialist Effort Cards.
| | |
| --- | --- |
| Religious Education | Bart Yang, William Giddings, Edward Olliver, Cooper Johnston, Dominik Janoshalmi, Lenny Lui, Thomas Everett, Caleb Arceri, Martin Yang, Hugo French-Wright, Timothy Martin, Hamish McCausland, Aashvik Sareen, Freddie Inglis, Eason Ma, Matheus Judah, Alex Hill, John Hall, Joshua Torr |
| Drama | Ray Chen, William Giddings, Thomas Leaman, Zane Mtenje, Tom Saadie, Rupert Clancy, Thomas Everett, Barnaby Heath, Lachlan Dever, Jesse Pratt, Lucas Judah, Max Reeve, Des McDonald, Hudson Hallinan, Fred Denning, Lachlan Ballantine, Joe Lewis, John Hall, Kenneth Yeung |
| Music | Leo Suszko, Nathan He, Thomas Leaman, Isaac Corcoris, Ryan Lin, Nicholas Russell, Euan McQualter, Kris Xu, Ieuan Hill, Ryan Weaver, Lucas Judah, Nicholas Galinas, Hugo Faulkner-Aschman, Justin Mei, William Tan, Xavier Chepurov, Oliver Chernikeeff, Daniel Piccolo, Evan Raglin |
| Physical Education | Ray Chen, Nathan He, Olly Heath, Archie Hooper, Brandon Marks, Jack Cunnington, Lachie Collett, George Keenan, Tom Pollock, Harper Cunnington, Hudson Vassallo, Max Reeve, Charlie Corben, Jensen Mazzoni, Oscar Uglow, Caelan Mackay, Domenic Todarello, Miller Dobie, Anthony Tian |
| Design & Technology | Yuan Wu, Ned Stewart, Freddie Pollock, Sebastian Schmidt, Tom Saadie, Kyle Wang, Jamie Giannarelli, Alex Rekusz, Lachlan Dever, George Cozens, Oska Jacob, Nicholas Galinas, Hugo Faulkner-Aschman, Sid Bartlett, William Tan, Ben Cornish, Hugo Giles, Angus Beaton, Anthony Tian |

This Week's Parenting Tip
Are your kids caught up in the Fortnite frenzy? Here's everything you need to know about this popular video game.

Teaching & Learning
Year 6 Billycarts
In Design and Technology this term, the Year 6s have enjoyed their hands-on learning experience designing and building their billycarts.
During their Design and Technology lessons with Bill Gibney, and their Science classes with Laura Hall, the boys have learned and developed the skills necessary to construct a successful (and hopefully a winning!) billycart.
Their first task was to research which materials to use and then build a scale model of balsa wood and corks. They then thought about what they would need to make a full-size prototype, which they would aim to race when completed. 
The billycart sessions tested not only the boys' woodworking skills and knack with hammers and drills but also their ability to work together as a team. They learnt how to build and construct a billycart frame strong enough to hold their weight and be pushed around a track. The boys' budget of $100 was an extra element to take into consideration.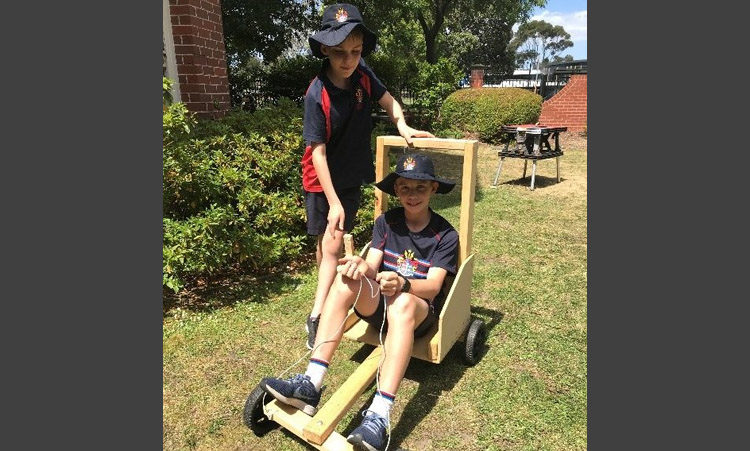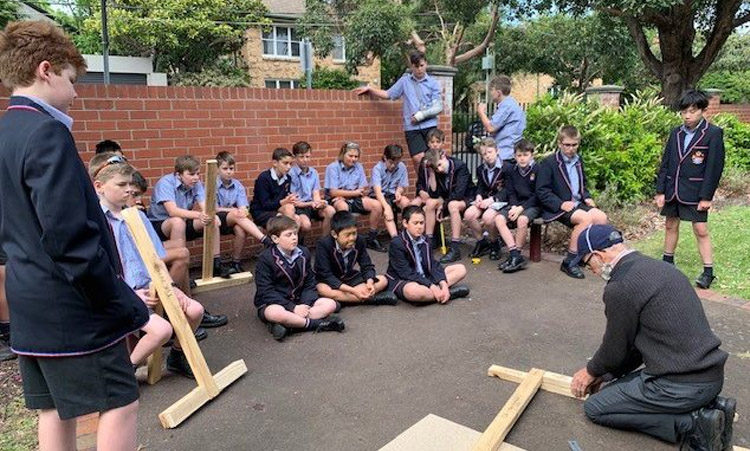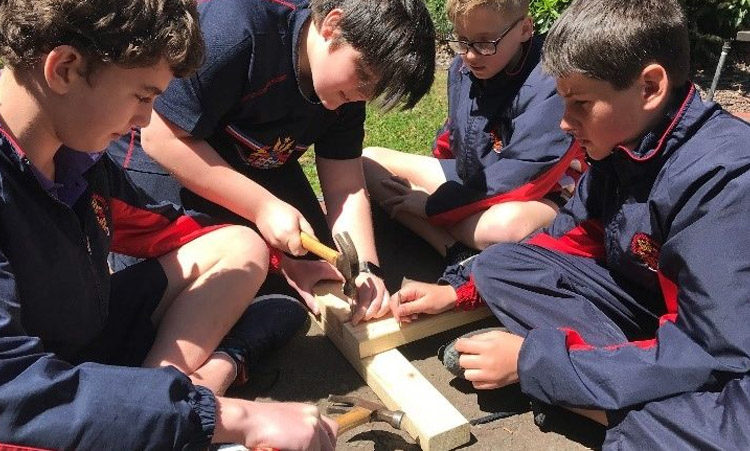 This unit of study links to the Year 6 Science curriculum, where Newton's laws of motion are taken into consideration when designing the carts.  There is also a literacy focus where the boys read and analyse the text, Spit Nolan, a short story written in the early 20th Century about Spit and his friends and their love for billycart racing. The boys write extended responses to thought-provoking questions, using evidence from the text.
Each team then races their billycart along a boy-designed track to compete for the prize of Billycart Cup Champion and the Best Design award. We are all eagerly awaiting competition day for the announcement of the winners.
Sarah Webster 
Year 6 Homeroom Teacher
Year 2 Activities 
This term, the Year 2 Unit of Study has been Beautiful Bayside. The boys looked at the geography and history of the City of Bayside, including the indigenous tribes who are the custodians of the land, and the origin of each suburb's name.
The boys then focused on the suburb of Brighton and its history.  Each boy drew, coloured and used 3D shapes to make a replica of one of Brighton's bathing boxes.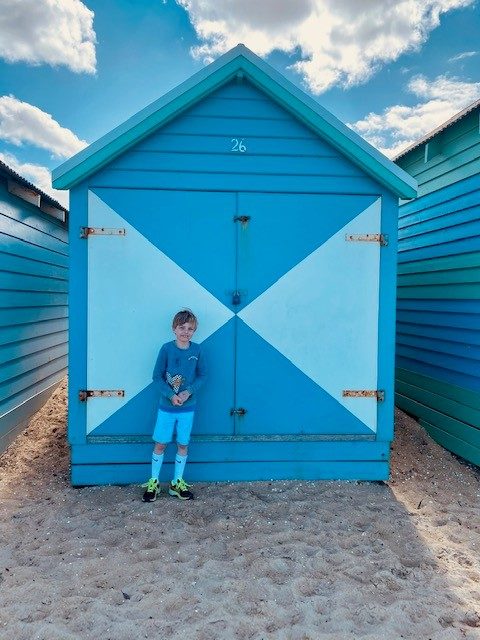 The boys also learned about the life of Henry Dendy, a settler from England, who bought land from the government and named it Brighton.
Steve Lewis
Year 2 Homeroom Teacher
Share Community Holiday Program
The Share Community is happy to offer the following holiday programs, please see links for bookings and further details.
Annandale Gym Timetable – BGS Community
Annandale Gym classes recommenced this week for our community members and the timetable is now available for the remainder of 2020. 
Classes will be limited in number in line with Victorian Government guidelines until further notice. As classes are filling fast, please make sure you book ahead so you don't miss out!