A Word from the Headmaster – Ross Featherston
The Power of Books
Our two most recent School duces (David Lawlor 2017 and Jack Liu 2018) spoke at their respective Scholars' Assemblies about the important role that reading played in their academic development while they were at BGS. I don't think anyone would disagree with the efficacy of reading to aid academic development and culture; however, it can be a challenge to get the 'big boys' to read a book regularly! Across the School, we encourage and promote reading in a number of ways.
The Secondary School runs book clubs through both libraries. The St Andrew's end Library has created a quiet, 'no device' corner to encourage reading. Books of the Week are published on the Hub for the boys to consider and each year we promote reading through our celebration of Book Week.
The practice of Book Honouring is gaining traction at BGS. Boys are social and collaborative by nature, so we allow them time to talk about what they are reading with their peers. We also invite influential mentors to honour books with the boys. Currently, staff members' favourite books are on display around the Urwin Centre.
With the same goal in mind, our approach needs to differ slightly in the Junior School. The Library is an especially appealing space, where good old-fashioned book borrowing is encouraged! BGS has participated in the Victorian Premiers' Reading Challenge for the past 10 years and Book Week is celebrated enthusiastically by staff and boys alike. Of course, reading aloud in class is a regular teaching practice in the Junior School.
Have a great week – and encourage your son to read a book!
From the Deputy Headmaster, Head of Junior School – Peter Tellefson
Competition is a key element of Boys' Education. We have a responsibility to teach our boys to be humble in victory and gracious in defeat. At no stage do we expect our boys to be the best, but at all times we expect our boys to give of their best. Most boys also enjoy competition as they are competitive by nature. Our structures within the various sporting competitions from Years 3–6 and our House System from Prep – Year 6 provide healthy competitive experiences for our boys.  Our third round of Year 5/6 APS sport took place with games of Cricket, Tennis and Table Tennis and boys from Years 4–6 represented BGS in the APS District Swimming Championships on Wednesday.  Later this term our Year 3/4 boys will compete in a swimming carnival with our friends from St Kevin's College.
We look forward to our School Officer Induction Chapel Service tomorrow at St Andrew's Church. Mr Featherston will appoint the following boys to leadership positions:
Captain of the Junior School – Charlie Sabin
Vice Captain of the Junior School – Hamish Featherston
School Officers – Ned Bailey, Billy Burgess, Luke Connolly, Bowen Ke, Harry Heaselgrave, Lachlan Reid, Luke Sexton
Senior Chapel Server – Huw Thomas
Assistant Chapel Servers – Billy Burgess, Isaac Pels
Congratulations to the following Year 6 boys who will be appointed as various leadership positions at tomorrow's Assembly at 11.15am in the G B Robertson Hall:

House Captains
Armstrong – Luke Sexton
Crowther – Sebastian Naccarella
Dixon – Jody Cripps
Hancock – Cooper Ballantine
Rofe – Charles Williams
School – Edward Mitrevski
Music Captains
Wilson House String Orchestra – Luca New and William O'Leary
Wilson House Concert Band – Isaac Pels and Conrad Retschko
Borwick House Choir – Jared Thomas and Trent Vincent
Junior School Happenings and Reminders
All ELC to Year 6 families are welcome to attend the Junior School Welcome Picnic/Family Fun Night tomorrow from 4.30pm–8pm. Wristbands are available to purchase on the night.
Peter Tellefson will be away for the duration of next week. Dean Bryan will be responsible for the Junior School in his absence.
Our Prep–Year 6 House Swimming Carnivals were a great success; our Year 6 boys provided excellent leadership, their House chants, war cries, colour, organisation and assistance they gave was impressive. Congratulations to all boys on their efforts, Crowther House won the House Championship and School House were awarded the House Spirit Award.  Thank you to Glenn Garland for his organisation, to all staff for their assistance to ensure the Carnival was successful, and to the many parents who supported their sons throughout the morning.
We would encourage you to discuss with your son/s the issue of safe travel to and from school, and what to do if they ever feel uncomfortable. There is no need to alarm the boys but it is important to make them aware of safe practices and to ensure that they feel confident when they are outside the school grounds. Please raise any concerns with the School.
 
Student Achievements
Congratulations to the Year 4–6 boys who competed at the APS Divisional Swimming trials on Wednesday. Best wishes to William Tan and our 9/10 Years 4 x 50m Freestyle relay team (William Tan, Ronnie Xu, Mitchell Carney, Luke Kollmorgan, Brodie Buckingham – reserve and Etienne Eiglier – reserve) who were selected to compete at the Regional Swimming trials on Friday 15 March.
Inaugural BGS 'Generations' Photograph 
When we decided to organise a 'Generations' photograph, to be taken early one morning before school, we weren't prepared for the number of sons, fathers and grandfathers ready to be there. Clearly, it is a special thing to be part of a BGS Generations family. Read more here.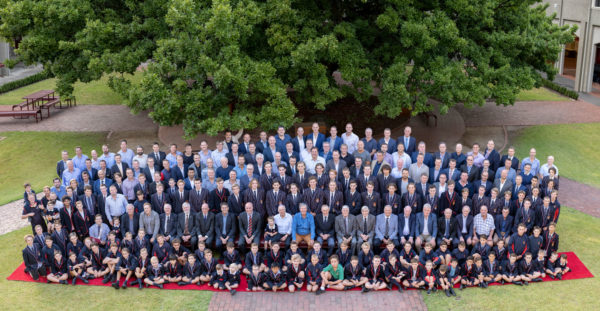 From the Director of the Early Learning Centre – Amelia Barrow
Enjoying the last days of Summer in the ELC
As we sadly had to wave goodbye to Summer this week, the boys have taken every opportunity to flourish in the sunshine. Our wonderful playground has provided opportunities for the boys to explore, engage and use their imagination. This has highlighted the importance of giving children time outdoors to practice basic playing skills. It reminds us as adults of our own childhood where we were left to our own devices on weekends to play with our neighbours outside – playing all day long, learning essential life skills.
The ELC3 boys have started to gain confidence outside and explore all areas of our 'backyard'. It is quite a big area for a little three year old, and we have noticed the boys observing their 'big brothers' from the ELC4 classes and attempt new experiences. Our water play areas have been popular, and as much as we try to cover the boys in wet weather clothing, they certainly find a way to get their uniform wet! We thank all parents for providing spare clothes in their son's school bag for these occasions.
Our Parent Information Night tonight will provide the opportunity for all parents to meet Mr Featherston, Mr Tellefson and the ELC team. It is a great night to meet new parents and reconnect with existing BGS families. Information booklets will be placed in your son's locker if you are unable to attend. Thank you to the JPG for providing drinks and nibbles for the evening. We look forward to your support.
Next week we will be hosting Parent Teacher Discussions and a reminder for parents to log into their Synportal account and book an appointment with your son's classroom teacher.
Our boys continue to be engaged through the Specialist Programs with Claire Clarke. Wellbeing classes are currently focusing on kindness as well as supporting the boys with social and emotional language. This can also be extended at home with parents discussing sharing skills, how to read facial emotions and responding to facial cues. Sports class has provided the boys with specific skill-set goals. The transition from the ELC to the GBR Hall can be quite an adventure for our new ELC3 boys. Library visits have also begun for some of our classes and we hope you enjoy your son's selection each week.
This week we also welcomed two Melbourne University students to the ELC4 classes. Rong Rong and Haishi will be joining us for a six week placement for their Master of Teaching in Early Childhood. We look forward to all that they will bring to our ELC program.
Our Long Day Care Program has been busy in the afternoons with daily experiences timetabled each week. Kirstie McCormick and Kate Davy have placed information on the display board at the ELC entrance to share with parents what happens each afternoon. Whether it is cooking in the kitchen, working outdoors or sport group games, the boys definitely have fun after school. If you would like further information, please do not hesitate to contact Kirstie McCormick or phone 0409 400 198.
Teaching & Learning
Design & Technology News
The Year 1 boys have been busy planning and creating their own wobble board mazes during Design Technology classes.  
The boys began the process by researching the various types of mazes past students have made. This helps them when it comes to choosing the layout for their own maze. Once the boys have drawn up some designs, they learn about the safe and correct use of tools. There is a strong emphasis on measurement and accuracy throughout the construction phase. The importance of such skills are reiterated every lesson through our learning intentions and success criteria.
Once constructed, the boys enjoy testing their mazes and evaluating their designs. Students are required to make further improvements to their models to ensure they are challenging, but not impossible to complete. Finally, the boys are required to write a statement about the aim of their game and a list of rules on how it is to be played.
House Swimming
Prep–Year 2
Following on from the very successful introduction of a Prep–2 House Swimming Carnival in 2018, the second instalment was held on Friday 22 February. As well as providing a fitting finale to the P-2 Swimming Intensive Program, this event encourages boys to show pride and support for their house. The carnival also encourages every boy to have a go in a variety of events. The sense of connection for the boys within their respective houses was further enhanced by the terrific work of our Year 6 Leaders. With a strong emphasis on the boys doing their best, there was plenty of determination on show. With minimal tears during the event, it was very pleasing to see every boy (and parent) leave the pool smiling, proud and a little exhausted.
Years 3–6
Last Friday boys descended on the BGS Pool for the 2019 House Swimming Carnival. House meetings were held prior to recess, before boys reconvened and strode to the pool with purpose. The chanting and camaraderie as the boys made their way to the pool in their house groups was a sight and sound to behold. Throughout the day, boys who showed terrific house spirit and determination to take the water for over 150 events. It was brilliant to see swimmers of all abilities give it their all to score valuable points for their house. After the individual events, the boys took to the 25m Freestyle and Novelty Relays. The final events were the Division 1 relays and the All-Star relay.
In a very close finish, Crowther House clinched their second House Swimming title in the past three years – edging out 2018 champions School House by 10 points. This close finish yet again demonstrates that every race counts. Armstrong (3rd), Rofe (4th), Hancock (5th) and Dixon (6th) swam hard all day and did their houses proud.
Despite it being a tough choice, as all houses demonstrated great house spirit, School House claimed the House Spirit Award.  Thank you to the parents who attended and supported their boys on the day. A huge thank you must also go to the staff for ensuring the day ran so smoothly. Finally, congratulations to all of the boys who were involved on the day. From the boys in the Division 1 races to the more reluctant swimmers, every boy should be proud of their efforts last Friday.
This Week's Parenting Tip
Please click here to view this week's Parenting Tip: 'Unearthing kids' strengths'.
JPG News
BGS Junior School Welcome/Family Fun Night: 1 March 4.30pm-8pm
Red Square, BGS Junior School
As the 2018 Family Fun Night was cancelled due to inclement weather, this year the Welcome Picnic will also incorporate Family Fun Night. This is a great opportunity for families to get together and enjoy a fun evening. There will be a variety of food trucks on the night. BYO drinks and due to the hot weather forecast, please dress appropriately. 
Please note that if you previously purchased tickets for the 2018 event and did not request a refund, new wristbands will be issued at no extra cost. Additional tickets can be purchased for $35 per child (unlimited rides) and adults are free.  Wristbands are available to purchase on the night from 4pm on Red Square.
If you have any queries, please contact Sarah Fearn (0431 372 166)
JPG Meeting
The next JPG Meeting will be held on Tuesday 5 March in the G B Robertson Hall from 8.45am.  All parents are most welcome to attend.
The Value of the Intangible with Michael Masterson
Today, almost 90% of most companies' growth and profitability consists of intangible assets. This is where Michael Masterson comes in. He helps companies and investors unlock their competitive edge by identifying, valuing and monetising these assets, which include data, content, software and brand.
Michael's experience is diverse. He has worked with high-growth businesses, helping them to evaluate innovations and opportunities. He has founded a number of start-ups and took one well-known company from 8 employees to more than 7500 in just over eight years, making it one of Omnicom Group's most successful and profitable acquisitions. He is also the chairman of several private companies.
At our next BGS Breakfast Bio, Michael will explain what it takes to be a successful entrepreneur in today's knowledge-based economy, including the importance of contacts. His journey hasn't been without its failures – you'll hear about these, too.
Michael has presented to some of the world's leading thinkers at international conferences. But all YOU need to do to hear Michael is join us for breakfast! Don't miss out – book now.
Date: 28 March 2019
Time: 7am for a 7.30am start
Location: The International, 81 Bay Street, Brighton
Cost: $60
Book: Online
Hellenic Republic Joins the Family
We are delighted to announce that Hellenic Republic, Church St Brighton, is joining our partnership program! 
To welcome BGS to the Hellenic family, they are giving you an opportunity to win a $100 dining voucher.  When you next dine at Hellenic Republic Brighton, before 31 March, mention BGS and the team will invite you to leave your details to be in the draw to win.  Particular thanks to Hellenic Republic for partnering with BGS – their support, along with our other partners, is directed into our Building Fund supporting future projects at BGS.