A Word from the Headmaster – Ross Featherston
Community Service
I was delighted to see so many from our community here on Monday night to hear from James Kerr about all things high-performance, culture and success. As you would know, we have had a relationship with James for some time now and to have him at BGS working with boys, teachers and the community in the first part of this week was a perfect exclamation mark on that relationship. As a parent said to me after Monday night, the words of James can shape and inspire boys and staff, but they can also go a long way to shaping and inspiring the whole BGS community.
The link between privilege and responsibility can be traced back to biblical times, the French Revolution, US political leaders and even Spiderman. Regardless of its origin, the phrase 'with privilege comes responsibility' rings true. We are privileged to live in this community and our boys are privileged to attend BGS. With this privilege comes responsibility, and particularly a responsibility to help those less privileged.
Our various community service commitments continue at the School this year, including our first Ute Full of Food for 2019 last week, which St Mark's is very grateful for –they estimate that BGS's donations are worth $8500, and were especially impressed by the teamwork shown by the students and staff who unpacked the goods and restocked the shelves.
Our Secondary School boys now have a number of new opportunities to get involved in service individually, through their House or in a small group. You can read more about these in last week's Secondary School eNews.
Have a great week and please do not hold back in encouraging your son to consider how he can exercise that aforementioned responsibility.
From the Deputy Headmaster, Head of Junior School – Peter Tellefson
Our involvement in the Year 5/6 APS Sport Program is essential to the 'all boy' educational experience. The emphasis is on participation; there is no ladder or premierships awarded at the end of a season. The boys have a choice of 3–4 sports to select from each term. They are expected to train on a weekly basis to improve their skills, game plan and fitness levels. Representing our School with pride, the importance of organisation, the wearing of their uniform correctly and the emphasis on sportsmanship, are all key elements of this Program.
The boys are fortunate to have this weekly opportunity. I congratulate and thank our PE Teacher & APS Sport Coordinator Glenn Garland for his coordination and all staff for their commitment to the Program. This week was our final round of APS Sport for Year 5/6 boys and training will be held next Monday afternoon for our Term 2 sports – AFL, Cross Country and Volleyball.
Junior School happenings and reminders
JPG Easter raffle & donations – Each boy is asked to contribute an Easter egg for the raffle. Other donations of any type of Easter items (bunnies, chickens, fluffy toys, baskets etc.) are most welcome. More information available on the JPG Easter Raffle Poster.
Raffle tickets sales will continue through to Monday 1 April.  Boys from Prep to Year 6 will be able to purchase from the playground before school or by placing tickets in an envelope in the box at reception.  A ticket collection box is also available in the ELC. You can print off the raffle tickets from the flyer. The raffle will be drawn on Friday 5 April.
Term 1 Interim Reports will be available to parents online for all Prep to Year 6 boys from Wednesday 3 April. These reports do not assess achievement, but focus on attitude, effort and the development of various personal skills.
Next Friday will be our final day of Term 1. The following is an outline of the day:
8.50am  Chapel – Prep to Year 6
10.00am  Free time Winning House
11.20am  Assembly
12.20pm  JPG Lunch – please note there are NO tuck shop orders available
1.30pm  Tabloid Sports – boys can wear their sport uniform/House polo shirt
3.20pm  Normal dismissal
From the commencement of Term 2 all boys from ELC to Year 6 are to wear the winter uniform.
Student achievements
Congratulations to the following Year 6 boys who will be appointed to leadership positions at tomorrow's Assembly:
Mindfulness – Jerry Mei, Jackson Zhao, Ollie Sutherland, Carter Russell, Kyle Hearne, Max Pihan
Art – Jacob Everett, Jarvis Rowe, Bryn Cory, Kyle Hearne, Zach Mighton, Rob Xu, Frank Wu, Aidan Hearne
Congratulations to the following boys who were selected to attend the APS/SSV trials: Sebastian Liddle (Tennis), Addison Amor (Basketball), Tom McMullen (Basketball), Cooper Ballantine (Basketball), Hamish Featherston (Cricket), Carter Russell (Cricket), Max Pihan (Cricket), Edward Mitrevski (Soccer), Luke Sexton (Soccer), Lewis Porteous (Soccer), Jody Cripps (Football), Lachie Reid (Football), Jake Ring (Football).

We will present the following APS Sport Awards at this week's Assembly:

APS Sport Awards
| | |
| --- | --- |
| 5A Cricket Most Outstanding Player | Joe Lewis |
| 5A Cricket Best Team Player | Tom Hara |
| 5B Cricket Most Outstanding Player | Harvey Schutz |
| 5B Cricket Best Team Player | Luke Ferdinands |
| 6A Cricket Most Outstanding Player | Lachie Reid |
| 6A Cricket Best Team Player | Ned Bailey |
| 6B Cricket Most Outstanding Player | Rishi Mahendranathan |
| 6B Cricket Best Team Player | Ollie Sutherland |
| Year 5 Tennis Most Outstanding Player | Sebastian Liddle |
| Year 5 Tennis Best Team Player | Luca Cleret |
| Year 5/6 Tennis Most Outstanding Player | Leo Reeve |
| Year 5/6 Tennis Best Team Player | Andrew Zhang |
| Year 6 Tennis Most Outstanding Player | Luca New |
| Year 6 Tennis Best Team Player | Bowen Ke |
| Year 5 Table Tennis Most Outstanding Player | Lucas Lin |
| Year 5 Table Tennis Best Team Player | Matheus Judah |
| Year 5/6 Table Tennis Most Outstanding Player | Kenneth Yeung |
| Year 5/6 Table Tennis Best Team Player | Noah Walton |
| Year 6 Table Tennis Most Outstanding Player | Jesse Lacey |
| Year 6 Table Tennis Best Team Player | Will Rattray |
| Year 5 Swimming Most Outstanding Swimmer | Caelan Mackay |
| Year 5 Swimming Best Team Swimmer | Christian Field |
| Year 6 Swimming Most Outstanding Swimmer | Cooper Chilcott |
| Year 6 Swimming Best Team Swimmer | Kyle Hearne |
From the Director of the Early Learning Centre – Amelia Barrow
Energy-packed days in the ELC
This week the boys have been enjoying the change in weather and rugging up for outdoor programs. The new bikes have been a highlight in the playground, even with races on the big boys' oval before lunch. It certainly is a good workout for them! Our new trucks and sandpit equipment have also been enjoyed with water painting, tunnel digging and construction sites spread throughout the area – how busy the boys can be when they are concentrating and engaged.
We have been focusing on sharing and respectful behaviours across all four rooms in the last few weeks as we can see the boys' interest in pushing boundaries. This often occurs when the boys are feeling either more confident in themselves and trying to gauge their place in the group, or they haven't yet developed their skills when dealing with peers to negotiate and predict behaviours. Rest assured, we are professionals in this area and are implementing strategies across all classes.
Kate McCormick has placed the Term 1 Holiday Program schedule in the boys' lockers and we ask that you return your attendance sheet to her as soon as possible. It is vital we know numbers for our wonderfully planned experiences over the Easter break.   
Again, a big thank you for last week's Harmony Day celebrations. We look forward to this afternoon's ELC4 Parent Information Session focusing on our Term 2 Beach Kinder Program which will be hosted in the Junior School Drama Room.
This week's parenting tip
Please click here to view this week's parenting tip entitled Insights: Balancing extra-curricular activities for flourishing kids.
Teaching and learning
Year 1 Fathers' breakfast
Last week the Year 1 boys hosted a breakfast for their dads in their classrooms. This is a great chance for the boys to showcase their classroom and share some of the learning they have experienced throughout the term with their dad. It also enables the three-cornered partnership to be strengthened which is a vital part of helping all BGS boys achieve success.
On the day, the boys were very excited to have their dads in the classroom and keen to give them a special tie they had made in class. The tie was not only colourful but also showcased some things that the boys love about their dads. The effort put into creating the ties and the thoughtful messages on them was appreciated by the dads, and special mention to those who wore the tie at work to show what it meant to them!
Another aspect of the morning involved dads and boys making paper aeroplanes for a friendly competition on the oval. The competitive instincts of the boys, not to mention their dads and special friends, came to the fore as paper planes were carefully folded and decorated. The boys had to follow instructions to create a plane with specific features and the importance of persistence and attention to detail was paramount in order to achieve their best. Everyone enjoyed the contest on the oval and it was great to see the boys and their dads working together to try to get the best result. Well done to Henry Zhang and Rupert Clancy for having the best performing planes on the day.
As the boys said goodbye to their dads and special friends, it was clear to see that they loved hosting their visitors and sharing their classroom with them. It was also obvious throughout the morning that the three-cornered partnership, so crucial in enabling the boys to achieve their best, was thriving in Year 1.
Chess Tournament
We are fortunate to have so many enthusiastic and talented chess players in the Junior School. Boys have fun playing chess and at the same time develop problem-solving skills, improve memory, patience and analytical ability. A team of 15 boys proudly represented BGS at a tournament run by Chess Australia. They demonstrated resilience, critical thinking and concentration as they played seven tough matches in a row in a field of 90 competitors. Well done to Matheus Judah, Alex Jin, Tom Mc Mullen, Jacob Everett and Declan McCormack who were awarded 3rd place overall and have now qualified for the Zonal Chess state final.  Our best individual performers were Matheus Judah, Lucas Judah and Eddie Tong. All students are welcome to attend Chess Club on Wednesdays at recess or register for chess lessons at lunchtimes on Thursday or after school on Fridays. Congratulations to all involved in this challenging and exciting game.
Jared back on stage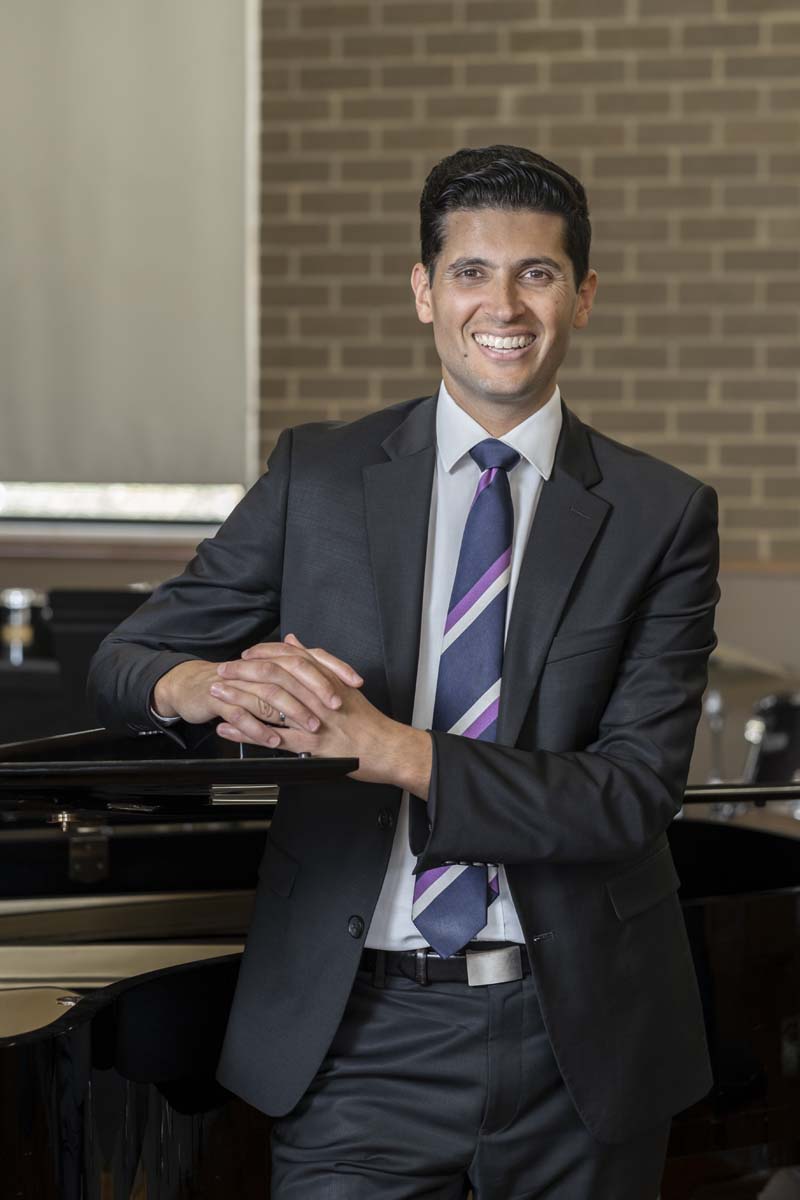 It's ten years since the BGS Director of Music, Jared Furtado, was last on stage. But now, he's getting 'show fit' for his lead role in the upcoming Sydney production of Chicago the Musical. We'll miss him while he's away – but we're willing to share him with the theatre audience for a short time. Read more about Jared here.
JPG News
End-of-Term Lunch
The JPG will again be offering an end-of-term lunch for the ELC and Junior School boys on Friday 5 April. Lunch will include a burger, drink and chocolate treat and the cost will be $7.50.  Online ordering is available through Flexischools ordering system.  Orders must be placed by no later than end of day Friday 29 March at 5.00pm.  Please note that normal tuck shop ordering will not be available on this day.