A Word from the Headmaster – Ross Featherston
Many thanks to the 300 parents who completed the recent School Improvement Tool (SIT) survey. Designed by our Crowther Centre team, the survey allows us to measure the thoughts of our parents, students and staff on key areas that are driving our improvement agenda.
The parent results indicate that the majority of you are pleased with the leadership, levels of engagement and quality of teaching at BGS. However, it identified some specific areas which we will review as we head into 2020.
These include consistent standards for students across the whole school, refinement of parent communication, continued focus on developing our pedagogy through the Effective Learner Model and ensuring each boy receives individual and personalised care.
As always, I value your feedback. I believe the SIT survey will continue to be a reliable mechanism to improve the key aspects of Brighton Grammar.
From the Deputy Headmaster, Head of Junior School – Peter Tellefson
The weather was superb and our Family Fun Night was a great success last Friday evening and lived up to its name splendidly. The large crowd, made up of so many happy boys and families, enjoyed the delights on offer, the company of each other and the rides and entertainment. Approximately $30,000 was raised and my thanks to Nick Bulfin, Eva Aschman and the JPG Committee for their organisation and to all families for your continued support.
Next Thursday 5 December, all Prep to Year 6 boys will participate in a 'Mini Fête' to raise funds for the Baraka School. This event will be run and organised by the boys with various stalls and activities for them to enjoy. Casual clothes may be worn for the day and boys will be asked to donate $2 to wear casuals. I suggest boys bring small change, not notes, as 20c, 50c, $1, $2 activities will provide them with plenty of fun.
At the end of the year we say farewell and extend our best wishes to David Turner and Christine Marks who are retiring.  We thank David and Christine for their continued commitment to the boys in their care over a combined 40 years at Brighton Grammar School and wish them well for the future.
Junior School happenings and reminders
All Year 3 to 6 boys are expected to attend Speech Night which is to be held on Friday 29 November at 7.00pm in the Robert Sanderson Centenary Hall in Secondary School. Boys will be sitting together in the seats allocated to them downstairs. They need to arrive by 6.30pm in the Atrium, which is adjacent to the hall, and are to wear summer uniform with their pin-striped shirt, shorts and blazer. Speech Night will commence promptly at 7.00pm. 
On Friday 29 November, the Junior Parents' Group will be organising a Christmas tree in the main Reception area so that families can leave a gift for underprivileged children. These gifts will be donated to the Mary MacKillop Family Services which I am sure will bring pleasure to many children in need. Mary MacKillop Family Services have asked that gifts not be wrapped please.
Congratulations to Michael Bowerman who was the winner of the Family Fun Night Scratchie Tree. Thank you to all families for their support.
Best wishes to all our ELC3 to Year 2 boys and staff for our Christmas Pageants next week. I appreciate the excellent leadership provided by Claire Clarke, Amelia Barrow (ELC), Hayley Blakiston, Jess Taylor and Samara Madden (Lower Primary). This is also a very busy time of the year for our musicians, and I wish them well for their performances at Speech Night and Carols next week. My thanks to Hayley Blakiston for her excellent leadership 'of all that is Music' in the Junior School.
Our End of Year Carol Service is next Monday 2 December at 7pm at St Andrew's Church. I would encourage families and boys to attend; it is a superb night and a highlight of our preparation for Christmas. You will enjoy the quality of our talented musicians and the congregation certainly have the opportunity to join in the Christmas spirit.
Classes conclude for all Prep – Year 6 next Friday 6 December at 12.00pm, the car park will be supervised until 12.30pm. Boys not collected will be sent to After School Care.
Student Achievements
Congratulations to Thomas Dunne who was recently awarded a medal for a perfect score in the ICAS Mathematics competition.  Thomas was the only student in his age group and in Victoria to receive this honour.
From the Director of the Early Learning Centre – Amelia Barrow
Twinkling in the ELC
The ELC has been a hub of excitement and activity this week with the boys putting the finishing touches on their special Christmas gift making and wrapping.
Christmas Pageant rehearsals  have been uplifted with our School pianist Andrew Kerr providing the accompaniment to the boys' singing. Costumes have been sent home with an explanatory note of the lead up to our performance on Thursday 5 December at 10.00am. A shared food items list for parents to complete is on display in the ELC; please put your name next to at least one item of food or drink to bring to share with our ELC families after the concert. 
The boys' smocks, library bags, sneakers and gumboots have been sent home for the end of year and their individual portfolios should be ready by the end of this week. 
Teaching & Learning
Exploring Music and Art
This year, Year 5 boys have studied the relationship between Music and Art in an Australian Chamber Orchestra Music Project as part of their class Music program.
Paul Zabrowarny, a professional cellist from the Australian Chamber Orchestra, visited over the course of Term 3 and 4 to perform on his cello and show the boys how to represent sounds in a graphic score, how to create different sounds such as 'ponticello' on a string instrument, and how to write a graphic score piece. 
The students wrote a poem based on a season and then developed it into a graphic score, depicting the onomatopoeic words used. The project culminated with Paul performing the original musical compositions written by the boys.
It was a wonderful experience and very inspiring for the boys to have their pieces performed in real-time by a professional cellist.
Alexandra Beamont
Head of Strings
Year 6 Debating
Should Australia change our National Anthem? Should we become a Republic? Congratulations to the Year 6 boys who vigorously debated these topics against Trinity Grammar in our annual debate. In their speeches, they used persuasive techniques, sophisticated vocabulary, incorporated humour and then rebutted the opposing team's arguments.
Well done to Bailey Mulhall, James Li, Harvey Newstead, Hamish Elliott as well as Lachie Reid and Jackson Zhao who were awarded best speakers. Josh Fletcher and Fletcher Brougham were outstanding in their role as MC and Chairperson. 
Jane Lowe 
Junior School Enrichment Teacher

Year 2 Camp
The weather forecast was not hopeful before the Year 2 Camp at Merrick's Lodge and, sadly, it proved to be true.  We arrived in the rain and that is how it was for most of the time. The boys didn't seem to notice the weather as nothing was going to stop them from having a good time. Talk about building resilience!
The two day camp offered the boys the opportunity to try canoeing and orienteering. The boys were fitted with life jackets and given a lesson on how to use the paddle before paddling around the lake. They also learned how to 'raft up', by maneuvering their canoes so they were all lined up next to each other.
For the orienteering activity, boys worked in teams of four or five, using a map and compass to find pieces of a puzzle. This was quite a challenge as the puzzle pieces were well hidden. The day finished with a story around the indoor camp fire.
The next day, they set off to play 'Predators and Prey'. In groups of four, the boys collected food, water and shelter cards from around the camp, whilst attempting to seek or hide from other groups. This game was a camp highlight for many boys. 
It was a very quiet bus trip back to School with boys reading their favourite book or having a snooze after a wonderful two days.
Christine Marks
Year 2 Teacher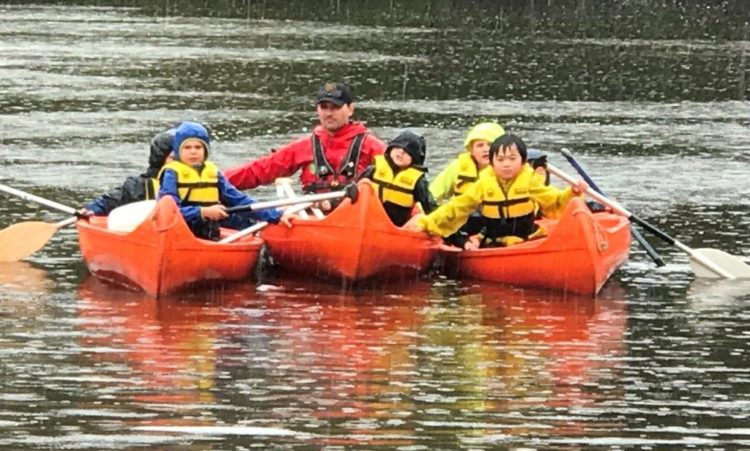 This week's parenting tip 
See this week's Parenting Tip,  Insights – Reading your Child's Report
JPG News
Save the Date:  Junior School Ball – 28 August 
Annandale Gym
The Annandale gym is now open to the whole community. We're here to help you achieve your health, fitness and wellbeing goals. Check us out!