A Word from the Headmaster – Ross Featherston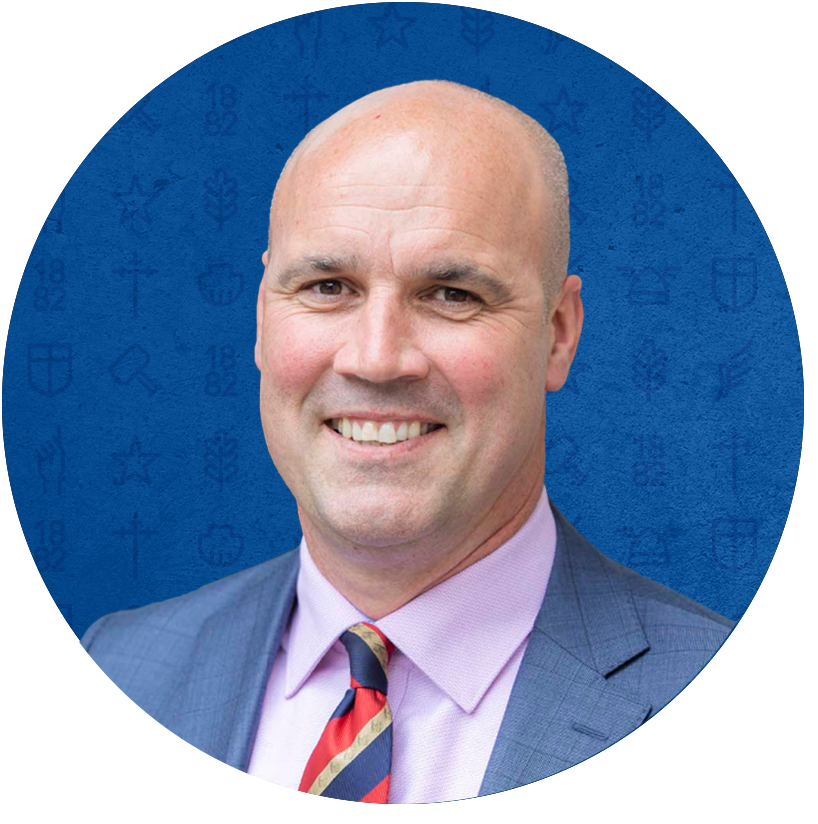 My thanks to all in our community who have helped our boys through this year which has thrown so many challenges our way. I believe we can all look back on the school year that was with justified pride in what we have achieved through difficult circumstances.
I am pleased to now turn our attention to end of year celebrations of the boys' achievements across the school, and in particular the Year 12s who will return to school next week for a special Valedictory Day. I am also looking forward to the release of our VCE results on 30 December and the start of the new school year on Thursday 28 January 2021.
The holidays now beckon and I hope you take the time as a family to rest, recharge and regroup during this period. As I have done in previous years, I urge you to encourage your son to read a book or two over the summer break. Reading improves vocabulary and language skills and helps students make sense of the world. Pamela Paul, co-author of How to Raise a Reader, offers the following ideas which may help you.
Watch out for my final On the Gate which will be sent to parents next Tuesday 8 December on our final day of term.
I wish all in the BGS community a happy, safe and Holy Christmas and New Year.
From the Deputy Headmaster, Head of Junior School – Peter Tellefson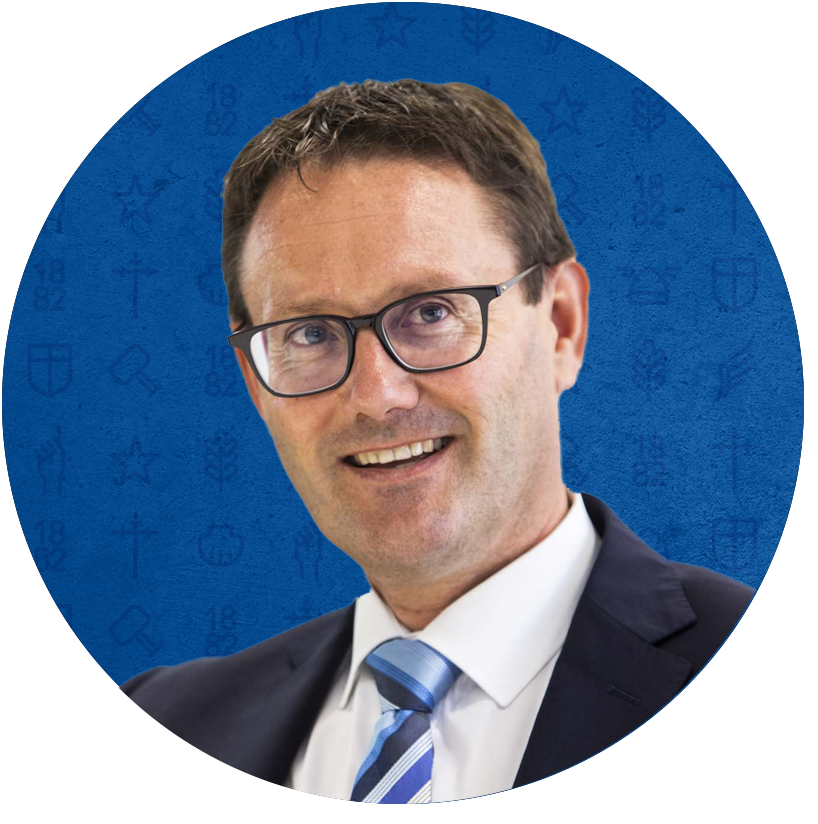 I am extremely proud of our Junior School community, all boys, staff and parents from ELC to Year 6 and how we have responded and adapted to the challenges of 2020, always with positivity and gratitude. 
Thank you to our boys for their wonderful contributions, to our staff for their commitment, encouragement and concern for the boys in their care, and to all parents for your continued support and generosity. 2020 has been a year like no other and we can hold our heads high and have every reason to be proud of our boys' progress and achievements this year.
Billycarts, Year 6 Farewell Chapel service, and our Lower Primary Pageant have all been highlights in our final weeks of the School year. I was delighted our Prep to Year 5 boys were able to support our Year 6's as they participated in the Billy Cart Cup. I encourage you to read this week's Crowther eNews and Dr Swann's and a Year 6 boy's 'take' on this annual event on our Junior School calendar.
I extend the blessings and peace of Christmas to you all and my best wishes for a safe holiday period and a Happy New Year. Thank you and take care.
Junior School happenings and reminders
Thank you to all Prep to Year 6 staff and parents for your commitment to Parent/Teacher Interviews this week.
Term 4 Reports will be available on the Synportal from tomorrow, Friday 4 December at 4.00pm. Further information will available via School Stream.
Tomorrow our Prep – Year 6 boys will raise funds to support children who attend the Baraka School in Nairobi, Kenya. Boys may wear casual clothes for the day and we ask boys to contribute $5 to support Baraka.
Our Junior Parents' Group has organised a Christmas tree in the main Reception area so that families can leave a gift under it for underprivileged children. These gifts will be donated to the Mary MacKillop Family Services which I am sure will bring pleasure to many children in need. Mary MacKillop Family Services have asked that gifts not be wrapped.
Classes conclude for all Prep – Year 6 next Tuesday 8 December at 12.00pm, the car park will be supervised until 12.30pm, boys not collected will be sent to After School Care.  Please be aware of parking restrictions on Grosvenor Street at pick up time, we need to ensure clearways exist for the traffic to flow in and out of the car park.
Best wishes to Pauline Anthony (Library, eLearning) and Tatiana Oskolkov (Strings Program) who are retiring, to Sam Kuring who is taking 12 months leave to work in Pormpuraaw, a remote indigenous community in far north Queensland that BGS has had exchange programs with for the last 6 years, to Karine Coste (Year 3/4 French) who has an increased teaching load in the Secondary School in 2021 and to Vincent Liang (Year 5/6 Chinese) who has worked with us for Semester 2 in Linda Chen's absence. We thank Pauline, Tatiana, Sam, Karine and Vincent for their commitment to the boys in their care and wish them well for the future.
Student Achievements
Class Effort Cards
Congratulations to the following boys from Prep – Year 6 who will be presented with Term 4 Class Effort Cards.
ICAS Results
A number of students from Years 3 – 6 took part in the ICAS testing for 2020.  ICAS independently evaluates students' skills and knowledge in core learning areas and provides insight into students' understanding. Congratulations to all participants, in particular those awarded with a High Distinction, Distinction or boys who made progress from last year.
Maths
High Distinction – Sky Guo, Thomas Zhuang, Aiden O'Connell
Distinction – Branden Turner, Lucas Judah, Quinn Wang, Elijah Pels, Oska Jacob, Leo Lin, Charles Williams, Luke Lawrence, Hamish McCausland, Sid Bartlett, Sam Lorback, Will Hutchison, Matheus Judah, Eddie Tong, Evan Raglin, Tom Hara, Riley Luong, Evan Raglin
English
High Distinction – Aiden O' Connell
Distinction – Barton Ballantine, Thomas Everett, Branden Turner, Elijah Pels, Oska Jacob, Ethan Davis, James Lipovetsky, Isaiah Harper, Will Hutchison, Alex Hill, Flynn Quill, Tom Hara, Sam Lorback, Matheus Judah, Evan Raglin
Australasian Problem Solving Olympiads
We also congratulate the students who undertook the Australasian Problem Solving Olympiads. The five test papers contain unique questions that focus on the students' ability to solve mathematical problems in a creative manner. The best performers were Lucas Judah, Elijah Pels, William Tan and Matheus Judah.
National History Challenge
Congratulations to the students who volunteered to take part in the National History Challenge. This exciting researched based competition challenged students to discover more about the past. Each entrant worked independently following the set criteria using both primary and secondary resources. The topics were varied, well researched and edited.
Tom Hara – The Kneeling Protest
Kenneth Yeung – Impact of Vietnam War
Nicholas Galinas – The Balkan Wars
Luke Lawrence – Winston Churchill
Aiden O'Connell – Nuclear Energy
Hugo Faulkner-Aschman – The Berlin Wall
Xavier Bates – Global Pandemics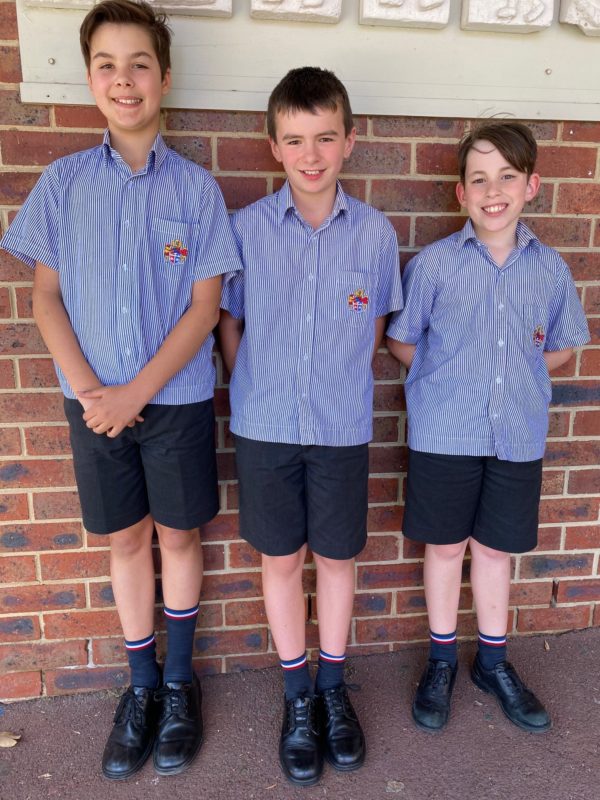 Three students' achievements were recognised:
Tom Hara – Silver medal State Level
Xavier Bates – Gold medal National Level
Luke Lawrence – Gold medal National Level and 'People Power' category.
Jane Lowe
Enrichment/Extension Teacher
From the Director of the Early Learning Centre –

 

Amelia Barrow
Reflecting on what can only be described as a challenging year, we can all be proud of the strong resilience and connections our ELC community has shown. The boys have always been our priority, to ensure we continued to provide a supportive and safe learning environment within a differing world outside.
My heartfelt thanks to the ELC staff who have throughout this year implemented the highest practices for our safety whilst providing a stimulating program, whether on-site or during distance learning.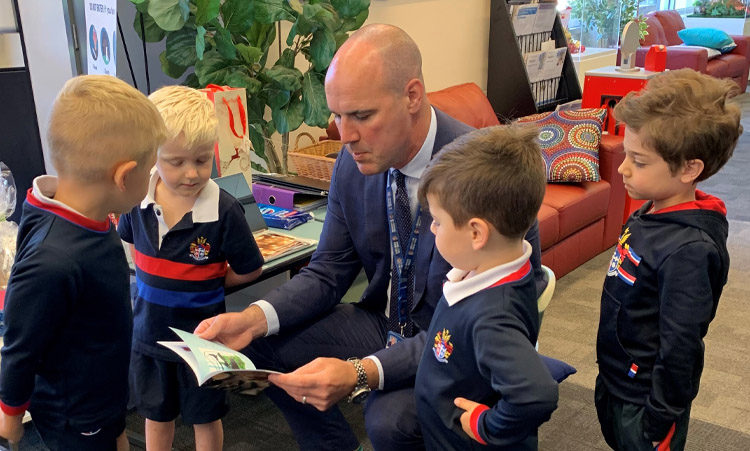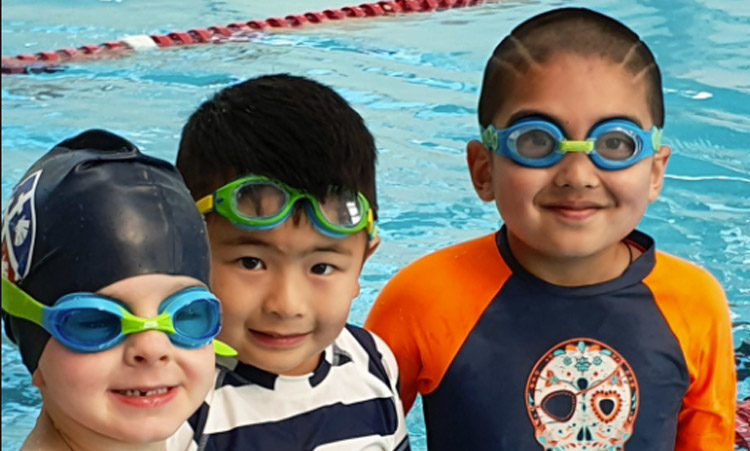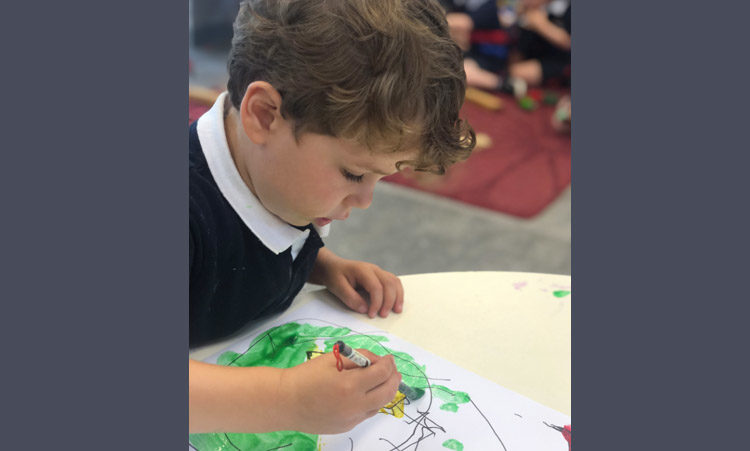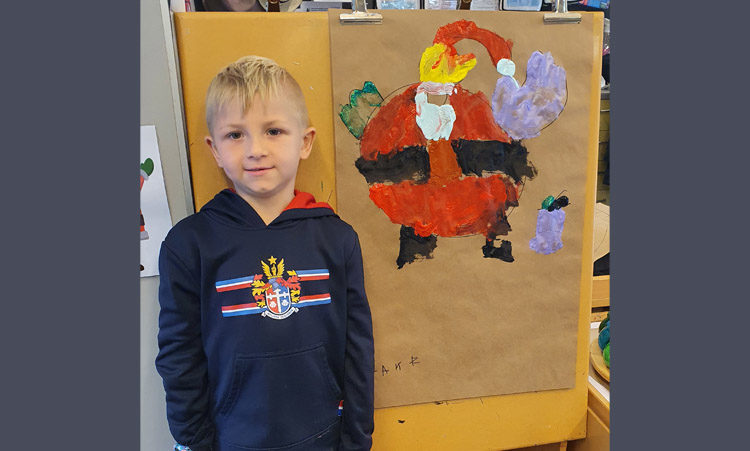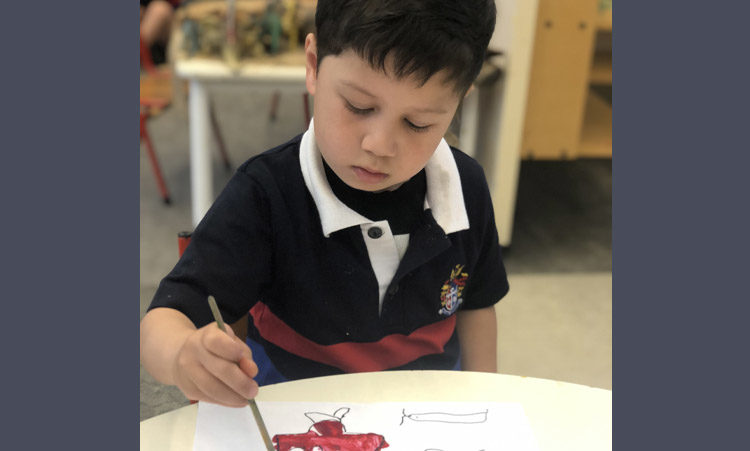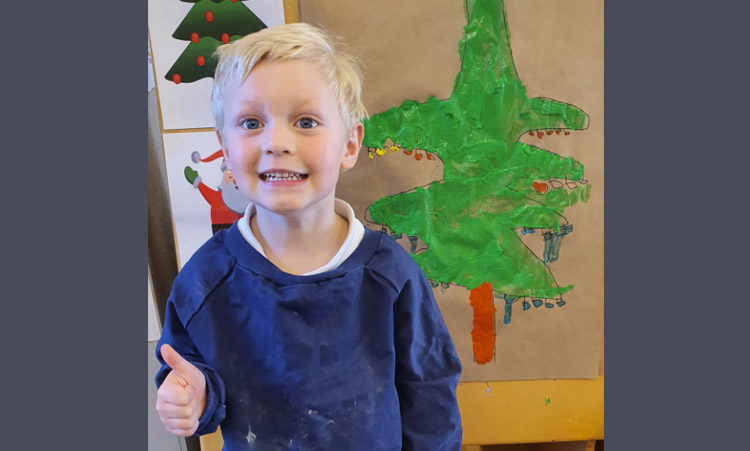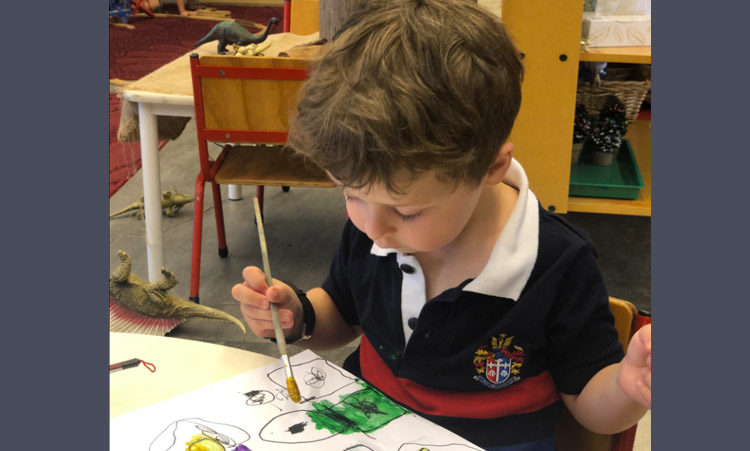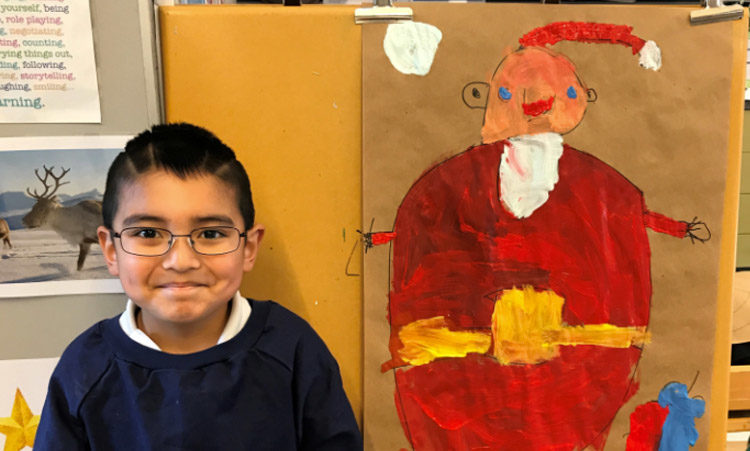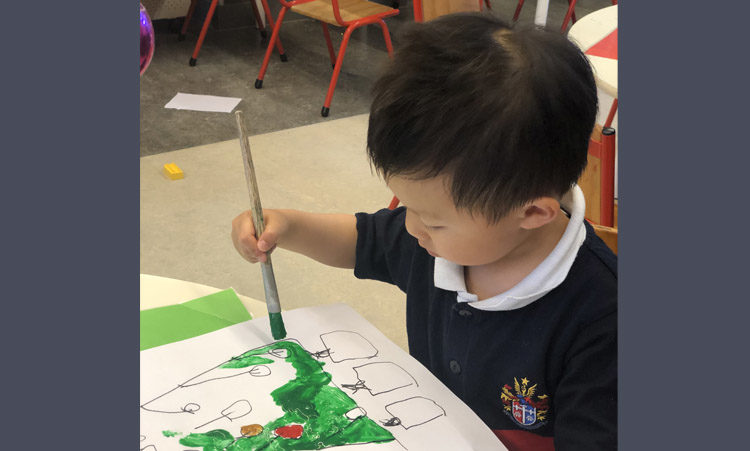 With our last full week nearly completed, it is with a heavy heart that the realisation of saying goodbye to our ELC4 boys hits. Although the majority of our boys are just crossing the car park, not seeing their smiling faces bouncing through the ELC doors each day is the sad reality of growing up!
For our ELC4 boys and families, we thank you for bringing such energy, laughter and passion for learning over the past two to three years. We hope for the boys that their first years of schooling will be looked back upon as a happy time in the ELC and they will always a part of the family.
For our ELC3 boys, we can't wait for 2021, when we can challenge and support your growth in the best boy-friendly ELC.
We wish all of our ELC families a happy and safe festive season and thank you for your support and kindness throughout the year.

This Week's Parenting Tip
Anecdotal evidence suggests that many mums will overdo preparation rather than expect others to step up and help. There's only so much we can manage.
For those of us who are anxious, there will be times our plates will fill, and overflow. While there is no single way to ease the mental load that mothers carry, the following ideas will help to make life more manageable.
Teaching & Learning
Lower Primary Pageant
This year's Prep – Year 2 pageant took on a very different look and feel. Whilst we couldn't gather as a group or even sing, the boys' Christmas spirit remained! Boys got a taste of the movie star life and the entire pageant was recorded over a  three day period.
The performance was a rendition of the Christmas story, told from the perspective of the three kings.  The creek area was transformed into Bethlehem and saw the arrival of our Prep angels and Year 1 shepherds. A particular mention to our Year 2 boys, who without hesitation did a spectacular job in both the main acting roles and narrating the story.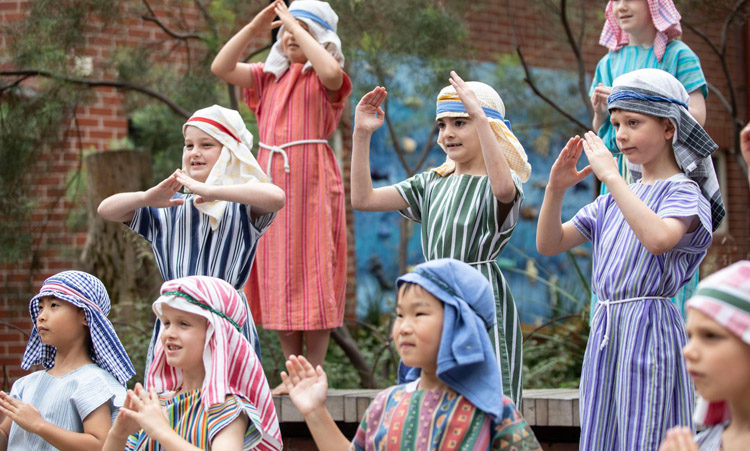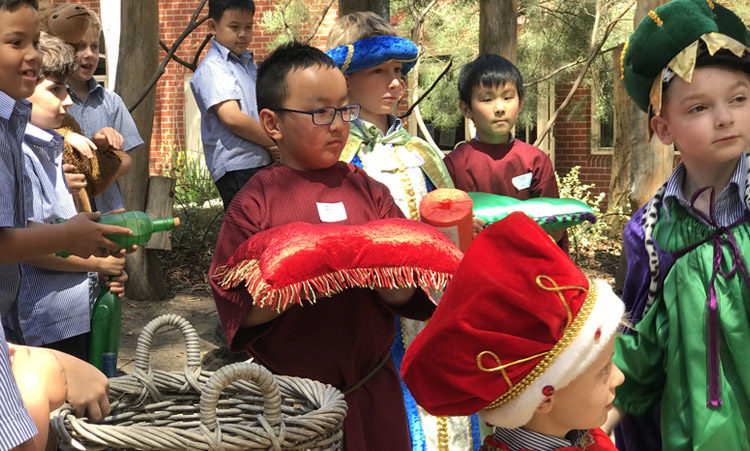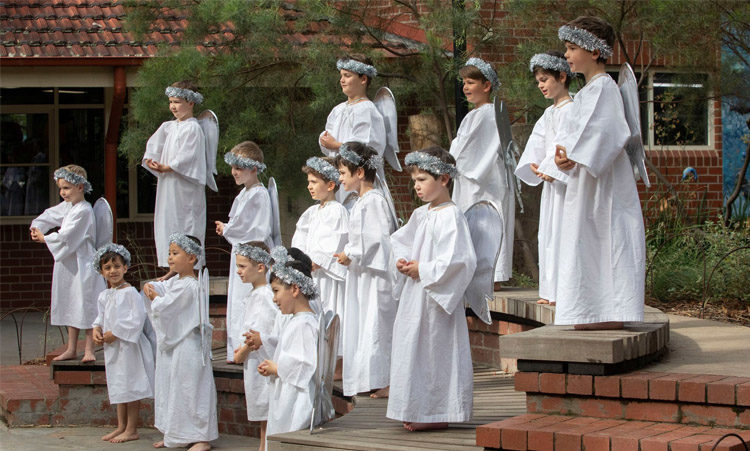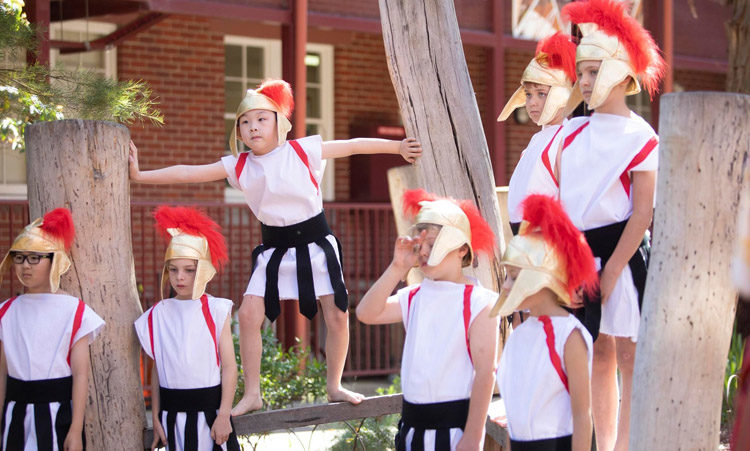 A huge thank you to Harriet Heath who gave up a large deal of time to assist with costumes.
It has been a celebration of a wonderful yet trying year in Lower Primary. We can't wait to watch!
From all the boys and staff in Lower Primary, we wish you a Merry Christmas and a safe and happy holiday.
Make it count and keep on playing!
As part of the newly refurbished and very impressive GBR Hall, a grand piano will hold pride of place to be enjoyed for generations to come at BGS.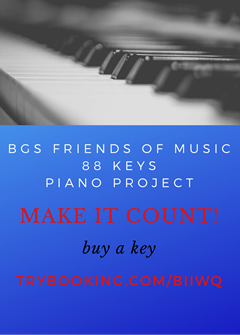 Friends of Music at BGS is making a donation towards this piano and all members of the extended BGS community are invited to be a part of this momentous piece. Donate here to have your family or son's name assigned to a key.
Participation will contribute towards funding the piano and you will also be invited to the unveiling of the piano and the accompanying commissioned art work by Luca Spampinato (Year 10, 2020).
Friends of Music at BGS is an active and inclusive parent group supporting the boys and staff associated with the Music Faculty.
For more information about what we do and to get involved, email Friends of Music or visit our webpage. 
Share Community Programs
The Share Community is happy to offer the following programs, please see links for bookings and further details.
Shaun Brown Cricket Camp
Shaun Brown's Cricket Coaching annual junior cricket camp is back at Brighton Grammar in 2021 on 20 – 22 January. For boys and girls aged 5-8 (intro program) and 8-16 (full program) the camps feature six Test stars including Merv Hughes, Rob Quiney and Test captain Graham Yallop.
The camps covers all skills with beginners and regular players welcome. 
Young Engineers – new STEM program at Brighton Grammar in 2021
Exciting new Engineering and Robotics classes for Prep to Year 6 children. Lego bricks challenge (P–2) and Lego robotics (3–6). Held in the STEM classroom after school from 3.30 – 4.45pm.
OSHClub News
The OSHClub will be offering a Holiday Program over the summer, see booking details below.