A Word from the Headmaster – Ross Featherston
Another sign we are on the right track with academics
This morning, we received our 2018 NAPLAN results (parents of Years 3, 5, 7 and 9 boys will receive their son's individual results soon). NAPLAN results are not an all-encompassing tool of measurement and do not tell the whole story of academic success; however, they do provide us with one measure to monitor the effectiveness of our focus on an improved academic culture via our Effective Learner Model.
When reviewing the results, we zone in particularly on the progress that each cohort makes across two years – from Year 3 to Year 5, Year 5 to Year 7 and Year 7 to Year 9. The 2018 results demonstrate:
excellent overall progress made by both our Year 7 and Year 9 cohorts, with some particularly pleasing gains made in the domains of Numeracy and Writing
excellent gains made by our Year 5 cohort in the domains of Reading and Writing.
Overall, we are very pleased with this year's results. They are another strong indicator that in terms of the academic component of our boys' development, we are on the right track, and that our school-wide Effective Learner Model approach to teaching and learning is having a significant impact.
---
From the Deputy Headmaster, Head of Junior School – Peter Tellefson
Due to ticket demand for our JPG Gala Ball on Friday 7 September at Central Pier, Docklands, our hosts Atlantic Group (current Year 3/6 parents Hatem and Agnese Saleh) have upgraded our Junior School Ball to the larger Peninsula C Room to accommodate additional tables at no additional venue charge.  If you are still considering attending, bookings will remain open until 4pm on  Tuesday 4 September, click here to book. 
This is our major fundraiser for 2018 and all dollars raised will assist with the refurbishment of our Drama space, providing new AV/PA equipment, tiered seating and learning spaces. If you are not able to attend the Ball, please support the event by clicking here to purchase raffle tickets. Raffle tickets need to be purchased prior to the Ball as they will not be sold on the night.
Our Prep, Year 1 and Year 2 boys enjoyed the opportunity to host their dads in the classroom this week.  Lots of 'fun and learning' took place through a variety of activities: coding, domino maths, speed stack cups, THRASS bingo, mapping skills and a phoneme detective activity.  Thank you to all dads, special friends, staff and boys for your support and engagement this week and best wishes to all our dads for Fathers' Day on Sunday.
Last week's Book Week celebration, 'Find Your Treasure', was a great success. The boys enjoyed the dress-up parade and cross-age rotations from Prep to Year 6, participating in a variety of classroom activities. They also attended the Meerkat Production play focusing on the shortlisted books for 2018.
It is vital that we provide a variety of experiences, both at home and at school, to develop a love of reading among the boys.  Thank you to Pauline Anthony and Ms Davies for coordinating the Book Week activities, to Pauline (again) and Mrs Petley for organising the Book Fair, and to all parents for your support.
---
Student Achievements
I was pleased to hear that our Junior School boys competing in the various Snowsports Competitions enjoyed and acquitted themselves well last week. Congratulations to Toby Jones, Max Mailing, Christian Field, Hudson Hallinan, Archie Hallinan, Jake Ring and Angus Beaton, who qualified for Nationals. Thank you to our parents for your continued support and to Mat Steed and Jane Abbott for their coordination and management of the team.
Congratulations to Harry George, Thomas Louw and Tom Hollway, who have been selected in the Victorian Primary School State Touch Football team.
---
Celebrating our Dads in the ELC
This week, the boys have been busy working away secretly to prepare for our Fathers' Day celebrations in the Centre. Not only have the boys been planning and designing special gifts and messages, they have had lots of fun deciding what they would like to do when their dads come to the Fathers' Night Session. Their ideas and plans are certainly never minimalistic, and their enthusiasm for the possibilities is always to be admired.
With our ELC4 fathers joining us tonight, we hope the weather predictions are wrong! (We'd hate our campfire to be washed out!) We are sure the night will go too fast, but we hope that the memories it leaves will remain with our boys and their fathers for a long time to come.
We look forward to our ELC3 Fathers' Night next Thursday at 5.30pm.
With the complexity of Melbourne's weather, we would like to remind families to provide a set of spare clothes and a winter weatherproof jacket. Although the boys don't feel the cold like we do, we need to ensure that they have suitable attire for four seasons in one day!
ELC4 parent/teacher interviews will be held next Tuesday 4 and Wednesday 5 September in your son's classroom. Long Day Care will operate out of the ELC3 rooms on these days. Please book your interview through the Synportal. ELC3 parent/teacher interviews will open for booking next Monday, with interviews on Monday 10 and Tuesday 11 September.
We would like to wish all of our dads a wonderful Fathers' Day on Sunday.
Amelia Barrow
Director of the Early Learning Centre
---
Exothermic reactions and elephant toothpaste
This fortnight, some ELC boys were lucky enough to visit Laboratory Manager Jane Nurton in the Secondary School Science Lab. I had mentioned to Jane that the boys were keen to see some real science experiments. They sat in awe as the 'magic' unfolded.
We discussed air, water, temperature, gravity, magnetic pull, chemical reactions and static electricity. Jane made 'elephant toothpaste' using a chemical reaction. She explained that this reaction happens very fast and makes lots of bubbles. She also explained that the experiment creates an exothermic reaction – meaning that it creates not only foam, but also heat.
Jane pushed pencils through a zip lock bag filled with water. To our surprise, not a drop of water spilled out! The boys understood that although it looked like magic, the pencil was helping to form a temporary seal – chemistry in action.
Jane used scientific language as she did her demonstrations, introducing the boys to 'molecules', 'atoms' and 'polymers'. The boys asked Jane some really interesting questions.
The boys explored gravity by creating their own paper helicopters. They stood on chairs to drop their helicopters from a high point and watch as they spun to the ground.
We even met a water dragon called Gerald. The boys watched Gerald eat his lunch (blueberries with veggie pallets hidden inside because Gerald doesn't like to eat his greens), followed by dessert – live crickets! They even gave Gerald a pat.
These experiences were such a treat and have already stimulated great curiosity in science, which has overflowed into our classroom program. The boys also loved walking through the Secondary School and observing the older boys' activities in full swing. We are so lucky to be immersed in the BGS community.
Jess Kenny
ELC Teacher
From the boys…
"I saw a pencil pick up a bottle of rice without using any hands." (Jack)
"Science goes pop and stuff blows out." (Oscar X)
"I touched the water dragon. I thought he was a lizard but he is a dragon – but not with fire." (Benjamin)
"Science is fun! I liked the elephant toothpaste – it exploded out of the cup and kept flowing on to the table." (Oscar W)
"The dragon was spikey and had sharp claws. But he had a claw missing – his brother bit it off when he was cross. That is not nice." (Brandon)
"Gerald walked around the science place, and sometimes he went fast to get the crickets. He ate them all up! l don't think l am allowed crickets." (Sam C)
---
Teaching & Learning
Book Week in the Junior School
Book Week celebrations are a highlight of the Junior School Library's calendar. In fact, we celebrate Book Week for the whole month of August, beginning with our annual Book Fair and culminating in the Book Week multi-age activity day and Book Character Parade – with many exciting events in between.
Each year across Australia, the Children's Book Council of Australia brings children and books together by celebrating CBCA Book Week. During this time, schools, libraries, booksellers, authors, illustrators and children celebrate Australian children's literature.  A little like the 'Oscars' for Australian children's books, Book of the Year awards are announced across six categories, with celebrations following the announcement of the winners.
The boys eagerly awaited the announcement of the winners after viewing some of the shortlisted books during their weekly library sessions. We wondered whether we would agree with the judges' choices!
The Book Fair kicked off the celebrations and was well supported by the School community. We raised $2038.40 and the funds will assist with our support of the Milikapiti School Library.
We cheered, clapped and cried during the Meerkat Productions' performances of two of the shortlisted books, Boy and The Elephant.
During a new initiative, 'Dog Tales', the Year 2 classes shared their library sessions with Luca Walsh, Guide Dog-in-training. A huge thank you goes to Barbara Walsh, Luca's trainer. The delight on the boys' (and teachers') faces was priceless as they clamoured to share their reading with Luca the Library Dog!
Our final celebration day began with all boys participating in multi-age rotation activities based on this year's theme:  Find Your Treasure.  They cut, pasted, rolled, drew, painted, folded, filmed, coded and told stories with robots. It was a truly immersive experience!
The eagerly awaited Book Parade was a wonderful way to come together and celebrate the end of Book Week and show our passion for reading and books. Congratulations to all the boys and their teachers for the wonderful array of costumes! We were in awe of the creativity and imaginative efforts of all.
VICTORIAN PREMIER'S READING CHALLENGE CLOSING SOON!
Please complete all reading for the Challenge by Wednesday 5 September and email me at panthony@brightongrammar.vic.edu.au for verification. 
Pauline Anthony
JS Teacher Librarian
Poetry in 5 Zachariah
The Year 5 boys have been working busily on a poetry unit as part of the English program. This unit encourages the boys to experiment with creative language, to develop the confidence to share their feelings and observations, and to express themselves through creative writing. The boys have studied different poets, such as Henry Lawson and Banjo Patterson, and explored various poetry types, including diamantes, limericks, alliterations and haiku.
In 5 Zachariah, the boys have been extremely busy putting pen to paper. They have thoroughly enjoyed spending writing sessions experimenting with poetry, but they have also drafted a speech for the upcoming JS House Public Speaking Competition. These two different types of writing have reminded the boys that there are many purposes for writing. We have discussed the purposes of writing to inform and retell, but also to experiment with the English language, express ourselves and, of course, entertain.
The poetry unit culminates in the boys creating a folder of personal poems. This folder contains approximately ten poems that each boy has drafted and published over the term and includes illustrations, both hand-drawn and created using technology. The boys then write a self-reflection of their efforts and have their folder critiqued by a classmate, teacher and parent. This feedback is invaluable to the boys and their learning.
Another important aspect of the poetry unit is for the boys to share their ideas and final products with their peers, whether that be a classmate, a small group, the whole class or even the entire Year 5 student cohort at our regular student meetings. Public speaking skills are discussed and practised.
It has been a delight to observe the boys fully immersed in their learning as they have explored different elements of poetry, and to see them, on some occasions, surprise themselves with some wonderful creativity.
For more on Teaching & Learning at BGS, visit Crowther Thinking
---
Parenting Tip
Click here to view this week's Parenting Tip: Kids need good men in their lives
---
Meet our New Hall of Famers!
Every three years, we honour and celebrate our most high-achieving Old Boys by inducting them into the BGS Hall of Fame. You only need to wander through the Hall of Fame Gallery of Achievement (just off the Quad) to be inspired by the diversity of talent that comes out of BGS.
On Wednesday 14 November, 13 Old Boys and five 'Young Achievers' will be newly inducted into the Hall of Fame at a Gala Dinner. Don't miss this exciting community event – it may be your only opportunity while your son is attending the School! Click here for more.
---
JPG News
Junior School Gala Ball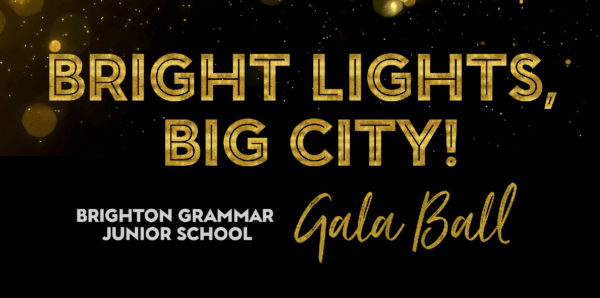 One week to go until the social event of the year!
Time to start bidding for some incredible prizes! With over 70 items on offer, there is something that will appeal to everyone in the family.
Head to www.bidbgsball2018.com  and click on the Menu to access the Silent Auction and view the lot titles. Tap on a specific lot to view additional information and place a bid.
Raffle
Have you purchased your raffle tickets? There are some fabulous prizes on offer! 
With the new BGS school uniform coming in 2019, this is a great opportunity to win a $500 voucher from Noone.
Escape Melbourne winter with a trip to Hamilton Island (including flights). 
The whole family will enjoy everything a new iMac offers. Homework will never be a chore again!
Click here to purchase your raffle tickets.
Social media
Please follow our event on Facebook to receive exciting offers and details https://www.facebook.com/events/528836844180391/