A Word from the Headmaster – Ross Featherston
I had the pleasure of engaging with our Old Boy community at reunions in Sydney and Brisbane last week. More than 40 members of the BGS community joined us in Sydney and 30 in Brisbane. The span of Old Boys who attended was impressive, ranging from the Class of 1951 to the Class 2017, with every decade in between well represented also.
These reunions provide the Old Boys with an opportunity to hear from me about the School today. Of course, they are always interested to hear about new buildings, enrolment numbers, our relationship with Firbank, how we are faring on the sporting field and the like.
However, the one element of a BGS 'education' today that seems to interest this group most is our wellbeing and positive masculinity programs. Why this is I am not entirely sure, but I suspect it is due to the life perspective many Old Boys have as fathers, grandfathers and husbands, and their long and successful careers in a variety of fields.
Regardless, it is reassuring to receive validating feedback on this important part of what we do at BGS today.
I encourage you to provide me with feedback on how we are faring as a school by completing our School Improvement Tool parent survey which remains open for parents until Friday 13 September.  
Earlier this week, the School received our 2019 NAPLAN results which I will report on in my next eNews.  I will also provide information on how best to understand your son's results (for those boys in Years 3, 5, 7 and 9) which will be posted to you next week.
Have a great week.
From the Deputy Headmaster, Head of Junior School – Peter Tellefson
Music is a key cultural driver in a school environment.  Term 3 on our school calendar is always a highlight as boys and staff share their creative talents and expertise.  In recent weeks we have enjoyed Choral and Strings 'Journey Concerts', tonight is the Bands Showcase Concert and next week the Junior School community will come together to see the Year 6 boys join with Firbank Grammar to shine on stage as Singin' in the Rain Jr comes to life.
I always look forward to the commencement of the School day when I have the opportunity to meet and greet your son. It is an enjoyable start to my day. There is a real purpose in my presence; it is so important that we, as adults, role model respect, continue to remind boys to make good eye contact when speaking and, given the boys' opportunities, to gain confidence and a sense of pride in themselves.  So many boys are now quick to shake my hand.  The boys also have a greater expectation of themselves in regard to their uniform, as often boys tuck in their shirt, pull up their socks and organise their tie. I thoroughly enjoy the conversations, questions, and queries I have with the boys and I am delighted our Headmaster Ross Featherston joins me on the playground to meet and greet our boys on Monday morning and Friday afternoon.
Junior School happenings and reminders
Our next 'Ute Full of Food' is tomorrow – Friday 6 September. Items particularly requested are: breakfast cereals, sugar, jams and spreads, pasta and pasta sauce, rice, noodles, biscuits, tins of vegetables, fruit and fish, meals-in-a-can, toilet paper, bathroom supplies.
Thank you to all Year 3/4 boys and parents who supported last week's Maths Night and to Jane Lowe for her organisation.
Term 3 Interim Reports will be available to parents for all Prep to Year 6 boys from Thursday 19 September. These reports do not assess achievement, but focus on attitude, effort and the development of various personal and social skills. These reports will be available online.
Prep to Year 6 boys have been engaged in a variety of activities celebrating National eSmart Week to ensure our boys are aware of smart, safe and responsible digital citizenship practices.

Student Achievements
A total of 23 boys from Year 4–6 represented Wilson House in the APS Divisional Athletics. The boys have worked hard in preparation for the event with the following boys qualifying for the Regional Championships in Term 4:  Mitchell Carney, Jody Cripps, Jake Ring, Seb Naccarella, Luca New, Kylan Thompson, Edward Mitrevski and Harvey O'Sullivan.  Our U10 4×100, Mitchell Carney, Lachlan Strahan, William Tan, Henry Barber, Luca Savill were 2nd in the Final and our U11 4 x 100 Oliver Chernikeeff, Jody Cripps, Seb Naccarella, Jake Ring, Luca New were 1st in the final, these teams also progress onto the Regional Championships. Congratulations to all boys and thank you to Glenn Garland and Matt Barker for their management and assistance with the team and to the many parents who supported their sons.
Congratulations to Christian Field who has qualified for Nationals in the Moguls. Christian Field, Corey Gendala and Leonardo Grollo won team bronze in Division 4 (Year 5–6) Moguls.
From the Director of the Early Learning Centre – Amelia Barrow
Big boys and little boys in the ELC
We all understand how important it is for boys to have a positive male role model in their life and on Monday night the ELC celebrated these men. With an exciting lead up to the evening, the centre was buzzing when fathers, grandfathers and sons arrived to have quality time together.
Boys and dads excitedly visited the Junior School STEM Centre and saw 80 African drums awaiting their talented beats. Bouba, our drumming teacher, engaged both boys and their musical dads with rhythmic beats and coordinated drumming patterns. We could see the pride in the fathers' eyes and excitement in the boys' eyes, as they played together for 25 minutes. What a beautiful memory to hold in their hearts. We thank our ELC fathers and grandfathers for joining the boys in such a special evening, and enjoyed seeing the child within!
On Tuesday we waved our 3 Wombat class goodbye as they set off to Firbank Grammar for their morning session with the girls. Then we shared our wonderful program and outdoor environment with the Firbank ELC4 girls in the 4 Wallaby room. The boys were very excited to share their equipment and chat away during morning tea. Thanks to our parent helpers from both schools in supporting this important excursion.
A big thank you to the ELC community of boys, parents and staff for a busy and exciting week. Although there are only two weeks left in Term 3, we have squeezed in an explosion of experiences and opportunities for learning. The ELC4 boys are preparing for their Twilight session next Tuesday 10 September from 5.00–7.00pm. I'm not sure which part of the evening they are looking forward to the most – pizza dinner, playing in the ELC at night, or the disco! One of our favourite events, the ELC Footy Day, takes place on Thursday 19 September before the term finishes on Friday 20 September. Information on the Footy Day has been sent home this week and we look forward to the boys wearing either their footy or sporting gear ready for their training session with our BGS First Footy team.
This week's parenting tip

–  

Are you asking your kids to step up?
Children and teenagers are capable of so much more than they are often given credit for. Closing the expectation gap between what adults believe kids and young adults are capable of, and allowing them to create their own solutions to the challenges they face will greatly impact their resilience. Please click here for tips on what parents can do to support children and young people to step up. You may also be interested in a free upcoming webinar on 18 September at 8.00pm hosted by internationally respected parenting and youth development expert, Dr Deborah Gilboa, who will outline the practicalities of getting kids to step up, and the guiding principles that will make it possible.
Register for the webinar here following the instructions below:
Click 'add to cart', then click 'view cart'. Enter the voucher code STEP and click 'apply coupon'. Your discount of $37.00 will be applied to the order. This voucher is valid until 18 October 2019. If you are unable to make the scheduled time you can simply register and access the recording later. Click 'proceed to checkout' and fill in your account details. These are the details you will use to login to your account and access your parenting material. Then click 'place order'.
eSmart Week in the Junior School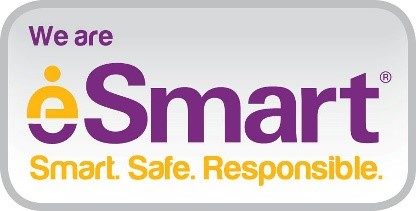 This week all classes have been participating in lessons and activities as part of eSmart Week 2019.  'What is your digital footprint?' has been the main theme of our circle time discussions. Please take the time to discuss the theme with your children.  CommonSense Media is a great starting point for parent tips.
Help children post, comment, and upload responsibly
As soon as you share the first photo of your child, you are establishing their digital footprint. As children get older and start creating their own content or engaging with others online, it is important for them to understand the tracks they're leaving behind and what those tracks might reveal. Parents can help guide children towards creating the kind of footprint of which they can be proud.
Tips and advice on helping your child have safe and enjoyable experiences online can also be found here.
Teaching and learning
Preps bring their dads to school
There was more excitement than usual in Prep last Wednesday as the boys arrived with their dads in hand. For the last few weeks, the boys have been very eager to show off their classroom and complete activities with their dads that enabled the Preps to showcase their learning. The boys are incredibly proud of how much they have learnt since the start of the year and really enjoyed sharing this with their special guests. It was fantastic to see some very enthusiastic and competitive fathers complete tasks with their son.
Year 3 and 4 Maths Night
Last Thursday, a group of budding mathematicians from Years 3–4 and their parents took part in a special evening of Maths. Everyone congregated in the Drama space and Cam (Green Hat Workshops), together with Jane Lowe, led the group through several challenges involving wooden building planks. The session encouraged self directed, play-based learning and provided opportunities for all abilities to participate and to challenge themselves at their own level. Activities enabled participants to simply stack towers of impressive height or to create sophisticated cantilever bridges, 3D objects and more.
It was wonderful to witness the engagement, collaboration and, at times, resilience as the group took on all challenges with gusto!  
Strings Spectacular Concert
BGS string ensembles and orchestra, featuring students from across the whole school, filled St Andrew's Church with the beautiful sound of strings as Acting Director of Music, Kurt Abell reports.
JPG News
End of term lunch
The JPG will again be offering an end of term lunch for the ELC and Junior School boys on Friday 20 September. 
The $7.50 lunch includes juice, an ice-cream cup and choice of a meat pie, sausage roll, spinach & ricotta roll, or party pies (2).  Extra hot food items can be ordered for $3.00 each.  Online ordering is available through Flexischools online ordering system. Orders close on 13 September at 5.00pm.  Canteen orders will not be available on this day.
2019 BGS Pink Dinner
With just two weeks until our 2019 BGS Pink Dinner, we are excited to announce some of the amazing items for the live and silent auctions and thank our donors for their support:
5 nights at the Intercontinental Hayman Island Resort for 2 adults including return airfare, daily breakfast and luxury launch transfer with champagne and canapes
2 nights away at Hepburn Springs Family Retreat including Lexus car for the weekend
Renewal of your wedding vows by a marriage celebrant
Botox and Skin Care voucher
Presidents Cup Golf Tickets for Saturday 14 December and Sunday 15 December
Apple watch and lots more…
Come prepared for $50 balloon pops, raffles and gold coin donation games.  A Pledge Tree is available for credit card donations to St Kilda Mums which can be made on the night or by clicking here.