A Word from the Headmaster – Ross Featherston
Award-winning innovation
On Monday, The Educator's Innovative Schools Awards 2018 were announced and Brighton Grammar's iDesign program was recognised as a leader in innovative education.
Under the leadership of Jamie Watson, for eight years now, our Year 8 students have participated in iDesign, an initiative that involves critical and creative thinking, innovation, sustainability and entrepreneurship. iDesign provides students with an opportunity to demonstrate independence and originality, to plan and organise a significant project over a relatively long period, to experience working with a mentor, and to practise some of the skills they learn from that mentor.
No matter what their level of academic achievement, through iDesign, our boys can highlight their individuality and inspiration.
Currently, our Year 8s are working to complete their iDesign projects for presentation in mid-October. I encourage all members of the BGS community to come along to a public viewing session to see how our boys are being prepared for the 21st century. Keep an eye on the eNews and SchoolStream for further details.
Have a great week.
---
From the Deputy Headmaster, Head of Junior School – Peter Tellefson
Music is a key cultural driver in a school environment.  Term 3 on our School Calendar is always a highlight as our boys and staff share their creative talents and expertise. In recent weeks we have enjoyed our Choral and Strings 'Journey Concerts', tonight is the Bands Showcase Concert and next week our Junior School community will come together to see our Year 6 boys join together with our Firbank 'sisters' to shine on stage as 'Once on this Island Jr' comes to life.
Prep to Year 6 boys have been engaged in a variety of activities celebrating National eSmart Week to ensure our boys are aware of smart, safe and responsible digital citizenship practices.
I always look forward to the commencement of the school day when I have the opportunity to meet and greet your son. It is an enjoyable start to my day. There is a real purpose in my presence; it is so important that we, as adults, role model respect, continue to remind boys to make good eye contact when speaking and, given our boys' opportunities, to gain confidence and a sense of pride in themselves. So many boys are now quick to shake my hand.  
The boys also have a greater expectation of themselves in regard to their uniform, as often boys tuck in their shirt, pull up their socks and organise their tie.
The Friday of Book Week, I greeted the boys in my 'Boy' costume, which was a shortlisted book for the Awards. By 8.30am there were 4 'boys' on the playground!  We were certainly outnumbered by plenty of Harry Potters, Charlie and the Chocolate Factory and Where's Wally!  I thoroughly enjoy the conversations, questions, and queries I have with the boys and I am delighted Mr Featherston joins me on the playground to meet and greet our boys on Monday morning and Friday afternoon.
---
Junior School Happenings & Reminders
Thank you to all families who are supporting the Junior School Gala Ball tomorrow night. If you are not able to attend the Ball, please support the event by clicking here to purchase raffle tickets. Raffle tickets need to be purchased by 9am Friday 7 September as they will not be sold on the night.
---
Student Achievements
Congratulations to our super spellers who took part in the ICAS Spelling competition. This is an independent assessment that measures and reports students' skills at spelling words in four different contexts: dictation, proofreading, error correction and applying rules and conventions. Well done to all participants and in particular Ethan Davis, Kenneth Yeung, Angus Beaton and Huw Thomas who were awarded a Distinction.
Twenty-five Year 4 – 6 have boys represented BGS in the APS Divisional Athletics. The boys have worked hard in preparation for the event with the following boys qualifying for the Regional Championships in Term 4: Jody Cripps, Harry George, Hugo Richey, James Tan, Jerry Zheng, Ayden Roos, Luca New, Edward Mitrevski, Eli Botha, Seb Naccarella. Our U10 4×100, Ed Hutchison, Jody Cripps, Seb Naccarella, Jake Ring and Luca New (R) were 1st in the Final, U11 4×100, Harvey O'Sullivan, Harrison Gibbins, Seb Khan, Edward Mitrevski and Will Rattray R) were 2nd in the Final and our U12 4×100, Kyle Roos, Harry George, Elden Zeng, Lenny Hofmann and Cade Segar (R) were 1st in the Final. These teams also progress onto the Regional Championships. Congratulations to all boys and thank you to Ben Ryan for his management and assistance with the team and to the many parents who supported their sons.
Congratulations to Harrison Charlton and Alex Rekusz who were also selected to compete in the National Snowsports Competition as a result of their performances last week.
---
Big boys and little boys in the ELC
Spring is here and what a great week it has been in the ELC! With last Thursday night's Fathers' session for ELC4 a great success, we look forward to hosting tonight's ELC3 fathers and sons.
It is always a highlight of the year with our Father's Day celebrations. How excited and proud the boys are arriving with their Dad, Uncle or Grandfather to share their special program with them.
It's a great time where the Dads need to roll up their sleeves and get into action straight away.
This week we began our ELC4 Parent Teacher discussions which celebrated the boys' learning thus far. Next week we'll be focusing on the ELC3 boys.  
We thank our ELC parents for making the time to attend these and we hope you enjoy the summary of your son's development this term.
A big thank you to our ELC community of boys, parents and staff for an amazingly busy and exciting week!
Although there are only 2 weeks left in Term 3, we have packed it with an explosion of experiences and opportunities for learning.
Next Wednesday we have been invited to watch the dress rehearsal of the Year 6 school play "Once on This Island Jr". We will also send out on schoolstream our invitation to our ELC Footy Day on Thursday 20 September.
Amelia Barrow
Director of the Early Learning Centre
---
Teaching & Learning

National eSmart Week 2018
Celebrating the building of cyber safe communities.
As a newly accredited eSmart School, Brighton Grammar School has embraced the Alannah & Madeline Foundation's National eSmart Week to demonstrate our commitment to keeping children, teens and adults safe online. 
National eSmart Week aims to create an awareness of cyber-safety, and encourages the whole community to be smart, safe and responsible when using digital technology.
During this week, the Junior School boys have read picture storybooks exploring and discussing smart, safe and responsible digital citizenship practices; watched a video from Common Sense Media "Super Digital Citizen" and created their own versions of a Super Digital Citizen with 'superpower' tips on internet safety.
Our Year 5 Digital Leaders promoted eSmart Week at assembly accompanied by 5 Melville singing the 'Pause and Think Online' song.
Our Parent Tip feature this week entitled 'Is your child's brain ready for the online playgrounds?' by Martine Oglethorpe, from the Office of the eSafety Commissioner, is a thought-provoking article for all our parents. 
The article also includes a voucher to participate in the Parenting Ideas upcoming webinar on September 13, 'Managing video games and the next digital craze'.
Please also click here for the attached letter from Olivia Tims Head of Psychological Services and Deputy Headmaster Peter Tellefson which outlines the School's concerns regarding the game 'Fortnite'.
Further information for parents is provided at the reception of the Junior School:
'Parents Guide to Online Safety' booklet from the Office of the eSafety Commissioner (Chinese language version also available)
And online:
Pauline Anthony
eLearning Co-ordinator
Year 5 Design Technology
The Year 5 boys have been very busy with their partners designing and building pinball machines throughout the second half of this term. After thorough research on different pinball machine types the boys must consult with their partner in order to decide on both the layout of their machine and what theme they plan to develop.
After receiving instructions on the correct use of the tools and safety wear, each team uses measuring tapes, saws, hammers, nails, electric drills, chisels, and screwdrivers to create machines that reflect the ideas they displayed in their original designs.
Throughout the construction phase, the boys need to solve a variety of problems. What length should the flipper be? Will longer or shorter flippers make the game easier? How do the flippers operate? What angle should our rebound walls be in order to create the fastest game? What is the best method of joining two perpendicular panels in order to have the maximum strength?
Once the pinball machines are completed the Year 5 boys will host a 'Pinball Extravaganza' in the GBR Hall during a lunchtime session at the end of the term. Year 5 parents and boys from all Junior School classes are invited to come along and test out the completed pinnies.
Year 3 and 4 Maths Night
At Brighton Grammar, we believe strongly in the three-cornered partnership (school, student, parent) as an opportunity to work together and learn from each other. This was very evident when the year 3 and 4 boys brought their parents along to a Family Maths night. Everyone embraced the opportunity to participate in hands-on maths activities, dice, and card games as well as some tricky brain teasers. The focus was on how we build strong foundations in number, place value, and calculations in order to develop as mathematicians.
For more on Teaching & Learning at BGS, visit Crowther Thinking
---
Parenting Tip
Click here to view this week's Parenting Tip: Is your child's brain ready for the online playgrounds?
---
BGS Bods
Jared Furtado is Director of Music and Head of Choral – but he's passionate about many things.
What gets you out of bed in the morning? Two mornings a week: my amazing choirs – those boys are legends. The other five mornings – my alarm!
Where did you go to school? Perth Modern School, Subiaco, WA. It is Perth's first school dedicated to music education and funded by the government, and a program based entirely on Kodaly methodology – all about singing and aural training. I thank my lucky stars I was fortunate enough to attend Mod.
Given a day to yourself, what would you do? Gym, movies/watch whatever series is going (Handmaid's Tale, Mystery Road and Killing Eve have been the latest – I'm a strong advocate for the ABC and SBS), friends, FaceTiming family, cooking … and good food.
What is on your wish list for your time at BGS? Seeing more staff and boys singing with confidence and passion, and more boys viewing singing and performing as a show of strength of character.  
What's the most recent app you downloaded and have you used it? Bureau of Meteorology (BOM) – and yes – all the time! Keeping an eye on the radar is imperative for moving between all areas of the School!
---
JPG News
Junior School Gala Ball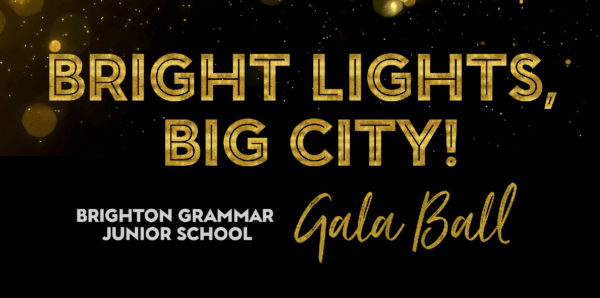 After months of planning, our Big Night is finally here! Thank you to all those who have booked. We can't wait to see you there to enjoy this fantastic evening!
Don't forget that even if you aren't attending, you are still able to show your support by buying a raffle ticket or bidding on one of the silent auction items at www.bidbgsball2018.com.
All dollars raised will assist with the refurbishment of the Junior School Drama space, providing new AV/PV equipment, tiered seating and learning spaces.
Live Auction
An exciting item has been added to our Live Auction:
Receive a signed Essendon Football jumper with a personalised message from our very own Andrew McGrath. Andy commenced at Brighton Grammar in the Junior School and was School Captain in 2016. He now wears the number 1 jumper as an AFL star at the Essendon Football Club.
Andy will visit your home or local park and have a kick of the footy with your son and up to 10 of his friends. What a superb surprise birthday present for any boy – but in particular, a Bombers fan!
Getting to the Venue
Whilst we recommend getting to the venue by taxi or Uber, alternative transport options and directions can be viewed here.
Limited valet parking is available on site for $30.
Raffle
Last chance to get your Raffle tickets!! With only 100 tickets currently sold and 3 prizes on offer, the odds are favourable!
PLEASE NOTE THAT RAFFLE TICKET SALES WILL CLOSE AT 9AM ON FRIDAY 7 SEPTEMBER. RAFFLE TICKETS WILL NOT BE AVAILABLE FOR PURCHASE AT THE VENUE.
Click here to purchase your raffle tickets.