A Word from the Headmaster – Ross Featherston
The Melbourne Cup long weekend is an indicator for me that the finish line for another school year is now in sight. Another sign is the wonderful sound of our musicians and choristers rehearsing their Christmas Carols, in preparation for our Carols Service in early December.
Although the Melbourne weather is being its usual inconsistent spring self, summer is only just over three weeks away and, if my calculations are correct, we have 21 days of school left.
Growing up in Ballarat, I had a fairly tough (but fair) 'old school' football coach, whose favourite form of getting us into shape was for us to run 400 metre repeat sprints. I can still vividly recall his mantra of ensuring that we finished each 400 metre lap as we started it. After all, he would remind us, if you can run 390 metres, why can't you run the full 400?
This year has been a very good one to date: it is important we finish it off well.
From the Deputy Headmaster, Head of Junior School – Peter Tellefson
I love 'escaping' from my office to be amongst the boys and see them in action in the classroom, at music, competing in sport, on the playground or on camps. Last Thursday, Mr Featherston and I visited the Year 3 boys in Healesville.  It was great to see them having fun whilst participating in a variety of activities, with the highlight the giant flying fox known as the 'super swooper'!  Thank you to our Outdoor Education staff: David Gemmell, Nathan O'Malley, Carly West and Joshua Murray and to Brendan Rahn and David Turner for their time, support and care of the boys.  Best wishes to our Prep to Year 2 boys who venture out on their Outdoor Education experiences this week and next.
Our JPG Family Fun Night on Friday 22 November, 4.30–8.00pm is our final fundraiser for the year.  The night is always a highlight with plenty of excitement and fun for the boys. Thank you to Nick Bulfin, Dr Eva Aschman and the JPG for their excellent planning and preparation.  At this stage, all that is required from you is to ensure the date is in your calendar and to order your children's wristband online, see details.
Junior School happenings and reminders
The annual Junior School Book Fair will be held from Monday 11 November – Friday 15 November in the Junior School Library. Boys will preview the fair during their library sessions on Monday and Tuesday. The fair will be open for sales on Wednesday and Thursday from 8.00am–6.00pm and on Friday from 8.00–11.00am.
Our final Prep to Year 6 Parent Teacher Discussions are listed on the Date Card for Monday 18 November, 3.30–8.30pm and Tuesday 19 November, 3.30–6.00pm. Booking details have been emailed to parents this week and can be made via Synportal.
The JPG's AGM is next Tuesday morning 12 November, and I would encourage parents to consider a formal role as a JPG Committee Member for 2020. Numerous positions will be vacated at the end of the year so your support is needed to ensure the JPG's outstanding efforts are continued into next year.
Student Achievements
A number of Year 6 boys volunteered to take part in the ASX Share Market Competition. They were given a hypothetical $50,000 to trade for a ten week period, buying or selling shares 'online' in any of the nominated ASX listed companies. They experienced a number of highs and lows during a turbulent time. The best 'trader' was Josh Fletcher who finished with a portfolio value of $55,752.07. Other successful traders were Charles Williams, Luca New, Rishi Mahendranthan and Kyle Hearne. Well done to the boys for their research into particular companies, application of maths skills and increased awareness of the sharemarket and the economy.
Congratulations to the following boys from Years 3–6 who will be presented with Semester Two Effort Cards for Art, French, Science, Chinese, Year 3 Physical Education and Year 3 Religious Education at tomorrow's Assembly in St Andrew's Church at 9.20am.
Art – Max Zhou, Nathan Liu, Danny Du, Harvey Schutz, Ethan Marks, Harryson Yang
Chinese – Josh Fletcher, Bryn Cory, Cooper Chilcott, Luke Sexton, Leo Reeve, Sandro MacNab, Jack Carson, Austin Taleb
French – Luke Lawrence, Eason Ma, John Haralambakis, Hugo Cleret, Ryan Weaver
Science – Josh Fletcher, Lachie Reid, Rob Xu, Will Rattray, Ben Louw, Aashvik Sareen, Etienne Eiglier
Year 3 Physical Education – Jaska Maher, Aston Russell
Year 3 Religious Education – Alex Woolf, Ieuan Hill
From the Director of the Early Learning Centre – Amelia Barrow
A short week is a busy week in the ELC
It was so lovely to see the boys arrive yesterday, all refreshed and ready for the last five weeks of school. After completing our Transition Programs for 2020, this week we have focused on the boys' feelings about change and how we cope with worries or concerns. This has been supported with our understanding of mindful breathing and taking big deep breaths when our tummy is feeling worried or scared. The ELC4 Transition Statements will be sent home tomorrow for parents and boys to read through and complete. These should be returned next week for our Parent Teacher Discussions which will be held on 12 and 13 November. Bookings can be made through Synportal.
The rehearsals for the Christmas Pageant are in full swing and they are packed with energy and fun. We are so proud of the ELC boys who performed last year as they lead the singing and acting to show everyone how it is done. We can't wait for rehearsals to begin on the big stage where the event will occur in four weeks. Further details and invitations will be sent soon. Information will also be distributed via SchoolStream to purchase a DVD of the Christmas Pageant. 
The ELC Parent Christmas Party will be held on Thursday 21 November, and all ELC staff look forward to joining this special event.  Please ask your classroom representative for further details if required. We thank the class reps for their hard work, not only to organise this event, but also throughout the year supporting the School community.
We look forward to seeing our 2020 ELC families tomorrow to meet one-on-one with their son's new teacher.
Teaching & Learning
Year 5 Mates Program
The Year 5 boys are on the cusp of becoming the 2020 leaders of the Junior School. In class, they have been working on the theme of leadership. Inherent to this concept is the ability to work cohesively as part of a group.  As part of the Junior School Wellbeing Program, the Year 5 Mates Program was born.
The boys have developed dispositions including innovation, creativity, collaboration and tolerance. They have seen firsthand the need to practise the BGS values of integrity, respect, passion and accountability.
Over the last three years, the Mates Program has been designed according to the social and emotional needs of the cohort. This year, the boys will be part of a three session program, held on Friday afternoons. The boys will be working on a project using hands-on application that is added to each week and culminates in a finished project created by the group. The groups are Plank Mates, Art Mates, Sphero Mates and Drama Mates.
Each learning experience begins with a scripted Mindfulness session to bring the boys into the present moment.  All four concepts are ways of using social thinking to improve the Year 5 boys' planning, joint problem-solving, social thinking, listening and communication skills.
The success criteria of the Year 5 Mates Program is working together in a collaborative process with inherent interdependence, so that the boys in each group experience shared goals, joint accomplishment and social communication. We look forward to the boys embracing this experience, utilising their strengths and each playing their integral part throughout the Year 5 Mates Program.
Monica Le Couteur
Student Growth and Wellbeing Coordinator
The Victorian Premier's Reading Challenge
What do these numbers represent?  203…4485…88…

The 2019 Victorian Premiers' Reading Challenge saw 203 boys across the Junior School, ploughing through 4485 books.  Congratulations to the 88 avid readers who completed the Challenge, some of whom read more than 100 books over a six-month period. The VPRC certificates have been distributed to each of the boys who completed the Challenge.
In recognition of their outstanding efforts, the following boys received the 2019 Victorian Premiers' Challenge Champion badges at assembly.
| | |
| --- | --- |
| Prep Fivedale | Isaac Corcoris |
| Prep Kurrajong | Joseph Li |
| 1 Banksia | Miles Neatnica |
| 2 Acacia | William Husband |
| 3 Burke | Oska Jacob |
| 4 Bass | Sid Bartlett |
| 5 Argyle | Evan Raglin |
| 6 Investigator | Ryan Raglin |
Happy reading!
Pauline Anthony
Junior School Teacher-Librarian
This week's parenting tip 
Understanding children's behaviour
Repeated misbehaviour generally has a purpose or a goal. It is not necessarily intentional, however the behaviour does have some type of pay-off. Please click here for a guide on how to respond to five common types of unacceptable behaviour.
JPG News
Family Fun Night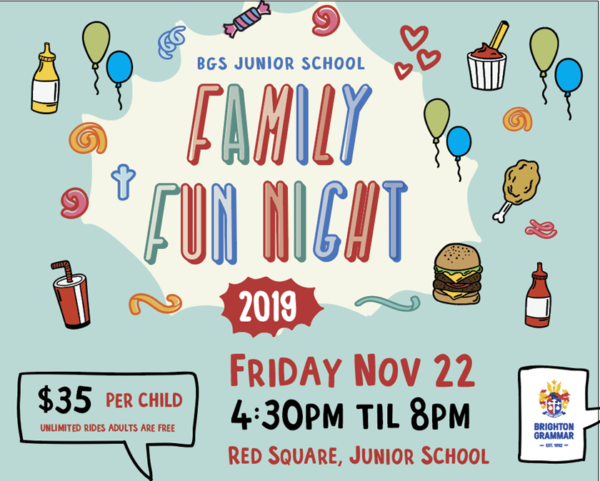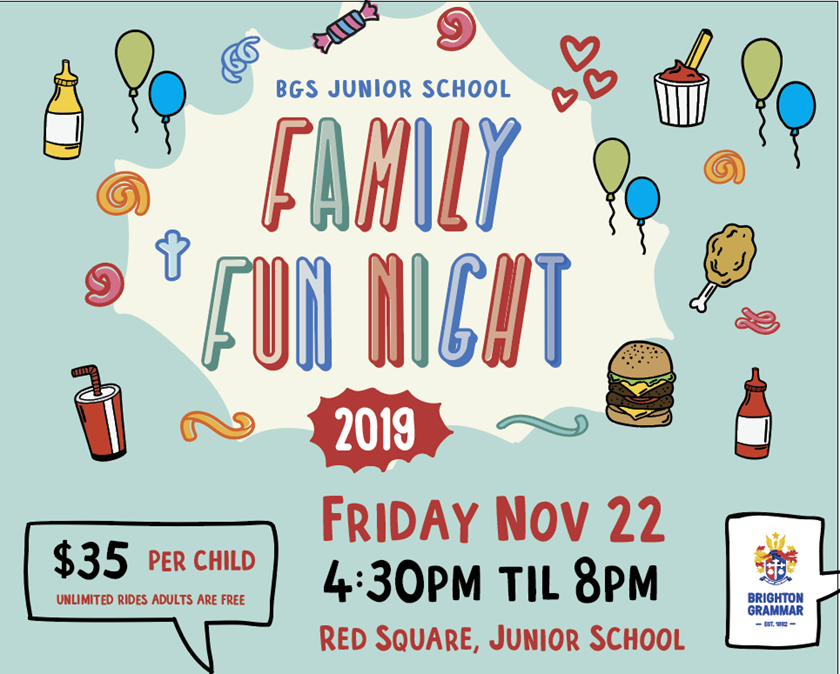 Book your tickets to receive one of the exciting showbags, together with the admission wristband.
Wristbands will also be available for purchase at the entrance on the day.
JPG Annual General Meeting
The JPG AGM will be held on Tuesday 12 November at 8.45am in the Drama Room (Room 12).  All welcome to attend.