A Word from the Headmaster – Ross Featherston

It has been an absolute delight to welcome students back on-site this week and to be back on the gate! 
Their enthusiasm and excitement to once more be with their teachers and classmates face-to-face has created a positive atmosphere.
The School certainly felt lonely without the boys and I am very pleased to report that the heartbeat of the School has returned.
I have enjoyed talking online with our Year 8 and Year 9 students who are still completing school by distance learning and continuing to do a tremendous job.
This week I had the pleasure of meeting our Year 7 2021 boys and their families at their virtual Transition Day and Transition Information Evening to begin their journey into Secondary School.
As we settle into the routine of school life, I remind you to review our parent guide for the top 10 protocols for the safe return of students. 
I look forward to having all our students back at school soon.
A Word from the Deputy Headmaster, Head of Secondary School – Dr Rachel Horton  

The start of the week saw Melbourne returning to beautiful spring weather and many of our Secondary School students returning to school for the first time in a very long time.
Although Monday marked the start of Week 2, it felt more like the start of term and there was certainly a cheerful and positive vibe around BGS for students and staff alike.
While things are slowly returning to normal and restrictions are easing, we do need to be cognisant of the existing restrictions, particularly around the number of students gathering in local areas outside of school hours.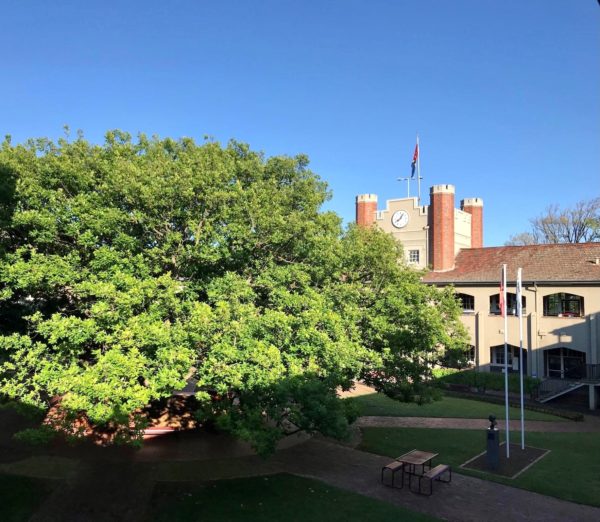 As we endeavour to work within the current requirement, a variety of activities are being organised for the boys, particularly during lunchtime.
The Year 7 students have a schedule of activities ranging from art and improv club to chess and tennis and inter-House debating which will start next Tuesday. 
The Book Week theme this year is Curious Creatures, Wild Minds. This sits particularly well with the Year 8 and 9 boys who are still in Distance Learning 3.0 and will be given some outdoor challenges.
The Library staff have some great activities and competitions planned for all Secondary School students over the next two weeks so please encourage your son to keep an eye out for these on The Oak.
Towards the end of Term 3, the BGS Libraries in collaboration with Secondary School Psychologist Naomi Tham ran a writing competition in which the boys were asked to write on a social or political issue with the theme of 'hope'.
The quality of submissions was absolutely outstanding and selected passages from four of the winners will be shared over the next four weeks. Please take the time to read the first submission from Benhao Gu (Year 12).
Term 4 update
A warm welcome to Term 4 for all families and a special shout out to Years 8 and 9 students who still have another week before they can return on-site.
The Year 12s have sat the GAT, finished their SACs and almost completed their trial exams. The Years 7, 10, 11 and 12 students are back on-site and revisiting their classroom expectations and safely reconnecting with friends.
It is vitally important that all boys are connected through their tutor groups, get the latest updates from their tutors and receive the necessary pastoral care as they start Term 4.
The boys will be busy over the coming weeks as they finalise their knowledge and understandings of the current year level curriculum. It won't be long before most are engaged in assessments and activities which enable them to demonstrate their level of ability.
The most important thing for each student (and parent) is to remember is that it is the student's individual progress against his prior performance that is the true measure of success. 
All children develop at different rates.  Our boys didn't all walk at the same age, they didn't all talk at the same age, nor learn to ride a bike, or swim or complete a jigsaw puzzle. 
They arrived at the mastery of these various skills in their own time, after being given ample demonstration, time to practise and plenty of opportunities to try (and fail) and try again.  It is exactly the same with academic learning. 
Travis Hopgood
Director of Students

Supporting your son at exam time
As our Year 12 students undertake trial exams this week in the lead up to their final exams, parents may be wondering what they can do to support their sons. In this edition of SchoolTV, parents can access interviews with leading specialists, articles, and fact sheets containing strategies and advice relating to exam preparation and exam stress. 
Naomi Tham
Secondary School Psychologist (Years 9-12)
BGS Writing Prize
In his entry to the BGS Writing Prize, Year 12 student Benhao Gu brings the reader into his world, making for a deeply personal account of 2020 and his final year of secondary school.
Benhao demonstrates a wisdom beyond his years by reminding the reader that in challenging times, it is by looking outwards that we gain perspective on our problems. 
BGSPG news
The Brighton Grammar School Parent Group warmly invites you to the Annual General Meeting to be held on Wednesday 28 October at 7.00 pm by Zoom. A link will be sent shortly.
The ordinary business of the meeting will be to stand down the 2020 committee members and elect a new committee for 2021 with all of the following positions available:
President
Vice President
Treasurer
Parent Rep Co-ordinator and
Events Co-ordinator
Every parent or guardian is welcome to be a part of the BGSPG, whether you are new to the School or have had sons attend for some time. Brief descriptors of the committee roles are available from Lizzy Badge or Georgie Girardau.  If you would like to nominate for a role or have any questions, please contact us.
Joining the BGSPG is a wonderful way to get involved in the BGS community, contribute ideas and make great friends along the way. A full and active committee is vital in order to keep the Parent Group running smoothly.
We look forward to hearing from you!
Lizzy Badge 
President 
Georgie Giradau 
Vice President
Read other eNews from this week