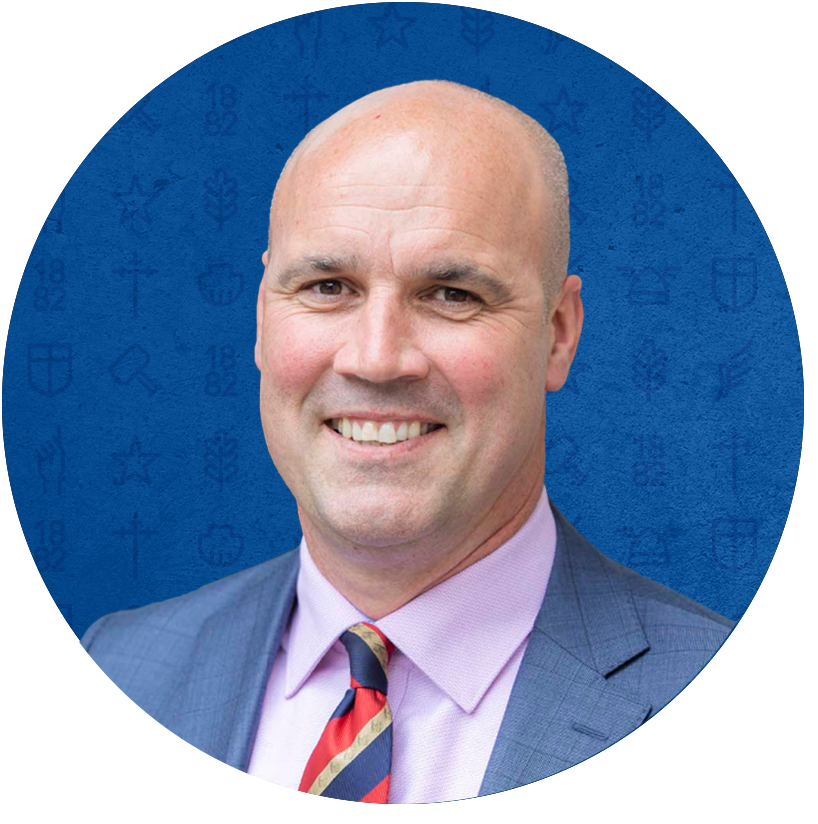 Ross Featherston
Headmaster, Brighton Grammar School
It has been a busy and rewarding Term 3 for students and staff, with many involved in the broad range of co-curricular activities on offer at our School.
All aspects of BGS life play a role in educating our boys, providing them with the opportunity to develop and learn through new experiences. In this week's Crowther eNews, Dr Ray Swann emphasises the importance of student engagement. 
One key activity of this term was our whole school photo to mark Brighton Grammar's 140th anniversary this year. You can purchase the photo here or return it to one of our School receptions.
These next two weeks will allow boys to have a break from the routine of school and for you all, hopefully, to enjoy some family time together. Good luck to our Year 12s as they embark on trial exams during the holidays.
I look forward to welcoming students back to school on Tuesday 4 October.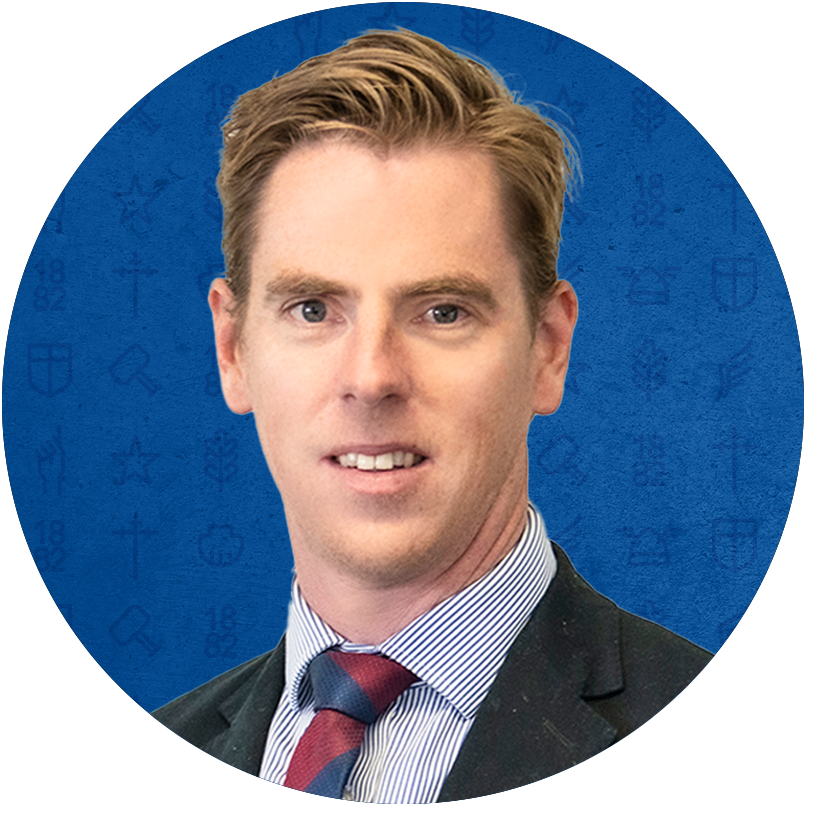 Simon Angus
Deputy Headmaster, Head of Secondary School
We are excited to be commencing our much anticipated building works – the Centre for Science, Creativity and Entrepreneurship – at the St Andrew's end early next term. More details about this build will be shared in Term 4.
To support the build, please be aware of some changes to School operations including – 
Our St Andrew's end Science classrooms will be relocated to the Rosstrevor precinct for the period of the build. This precinct has been fitted out with newly refurbished classrooms in preparation. Students will have amended timetables to reflect this from the start of next term. Students will also be accommodated in our newly opened BHIVE building.
The St Andrew's end tuck shop will move to the Annandale building from start of Term 4 
The Urwin Centre tuck shop will be moving to online lunch orders only.
Years 9 -12 students in Armstrong and Crowther House will have their lockers moved to Rosstrevor during the upcoming holidays, students in School House (Years 9-12) lockers will also be moving during the holidays to the lower Hancock wing.
I have met with all students this term, year level by year level, and worked through the implications that affect them. I also shared with them many more positive changes to the physical spaces occurring including new play spaces in the Urwin Centre and a resurfacing of the Crowther Oval in January, resulting in student access throughout lunchtimes. I thanked them for their support and I am confident we have set the School up for success in the coming term and years.
I hope you get to enjoy some quality family time together over the school holidays.
Meliora Sequamur.
Happenings and reminders
House Athletics – Friday 16 September
School Holidays – Monday 19 September – Tuesday 4 October
Gariwerd Journey
Gariwerd, Grampians is both a spectacular and challenging place to visit. Right now, the area is experiencing the Petyan, or wildflower season. The mountains and surrounding plains are currently bursting with life and beauty. Our Year 8s will return home having cycled through forests, walked over mountains and climbed up and down rock faces. They'll have seen wallabies, kangaroos, emus, and innumerable birds as their moved from campsite to campsite.
Year 8 boys in each week have experienced rain, wind, frosts and beautiful sunshine. I have been fortunate enough to have spent the last seven days on program. In that time, I have had the pleasure of seeing our boys accept and overcome all the challenges that the activities and environment could throw at them. From long days hiking or cycling, to enduring the rain or chilly mornings.
I watched one young man persevere for 10 minutes with the 60m abseil. He wrestled with his head and heart, repeatedly saying he wasn't going to do it but never actually making a move to quit. His classmates looking on were only ever encouraging and as this young man's heart overcame his head, he was able to literally take the plunge. As he stepped off the rock, he first let out a squeal and then a triumphant cry of 'Look at me, I'm a secret agent!' His show of resilience and unconscious leadership gave the remaining boys the courage to embrace their own challenges and push through successfully.
Every boy has bravely faced a challenge as part of these programs, but none have faced them alone. While they are supported by their teachers, the Outdoor Ed Team, Group Leaders and OELPs, they often draw the most support from each other. Being there to give a tent mate a helping hand with packing his sleeping bag or helping a friend up and over a rock as they summit Mt Rosea are the kinds of acts that cement the strong bonds the boys bring back to classroom and then carry as they journey through their time at BGS and beyond.
Robert Ogilvie
Acting Head of Outdoor Education
Interstate Schools Exchange
The Interstate Schools Exchange has finally been able to proceed. Originally planned for Year 8s in 2021, it's now a reality for four lucky Year 9 students. The Interstate exchange between Hale School (WA), Knox Grammar (NSW), St Peter's College (SA) and Brighton Grammar is a great opportunity for a small number of boys to experience the different cultures and characteristics of Australian schooling in other states and share with others our remarkable culture and community. The friendships made and kindness displayed by all demonstrate just how similar schools can be.
Over the last two weeks, Year 9 BGS boys Sebastian Naccarella and Fletcher Brougham, have been lucky enough to host Angus Baily and Oliver Dean from Knox Grammar School in Northern Sydney. They have completed daily classes, been part of Chapels and Assemblies, been lucky enough to go to an AFL game and both boys ran the 9.8km of Connor's Run on the weekend! Well done gentlemen!
When the boys met with Mr Featherston and Mr Angus early last week, they made note of just how close the community is. 'Having classes around the quad is amazing. Everything is so close and you get to know everyone in the school… You spend a little more time in class at BGS and the staff are so friendly.' We look forward to hearing about Knox Grammar School from Sebastian and Fletcher when they return in Week 5 of next term.  
In Adelaide, Isaac Pels and Angus Giles have found their feet at St Peter's College. Known as Saints, our boys have been very impressed with the history of the school and have enjoyed classes, rowing training and band practice. They have another week to go during our Term 3 holidays and have been great ambassadors for BGS. We look forward to hosting the Saints boys next term in Weeks 3 and 4.  
Christian Neeson
Director of Co-curriculum
2022 House Bookmark Winners 

                   
This year has seen the inaugural House Bookmark Competition as part of the BGS Library's Book Week event. Years 7-12 students were invited to create a bookmark of their own design to represent their House. The objective of this competition is to increase interest in reading, provide opportunity for creative development and encourage House spirit. As a prize, winners will have their bookmark design professionally printed and circulated around the school.
Thank you to all who submitted entries. I hope you continue to create bookmarks in our next year's competition.
 This year's House Bookmark winners are:
Armstrong : Darsh Shah, Vuna Ofahengaue
Crowther: Bruce Wilson, Kevin Garrawura
Dixon: Zach Munar, Sonny Smiler
Rofe: Jerry Pei, Callum Cooper
School: Jason Zhang, William Bradbury
Congratulations to all the winners and watch out for the printed bookmarks in Term 4.
Ruth Silva
School Librarian
BGS Inaugural Clothing Drive
With the world becoming more alerted to the crisis of global warming, our future leaders, your children, have been loud in making sure they are part of the solution.  As such, BGS has introduced a permanent clothing donation bin which is located within the Secondary School at the St Andrew's end.  Provided by the SCR Group, the organisation ensures that 100% of all donations do not end up in land fill and are donated to local and international communities that will benefit from these donated goods. All shoes will be donated to a local primary school in Frankston North where a past BGS parent works.  
With the inaugural BGS Clothing Drive, we are calling on our community to spring clean their wardrobes and gather all their unwanted clothing and shoes. Throughout the first week of Term 4, all donations can be placed at the drop off locations around the school; ELC and JS receptions, on the tables provided at the Urwin Centre and in the tubs located under the Oak tree.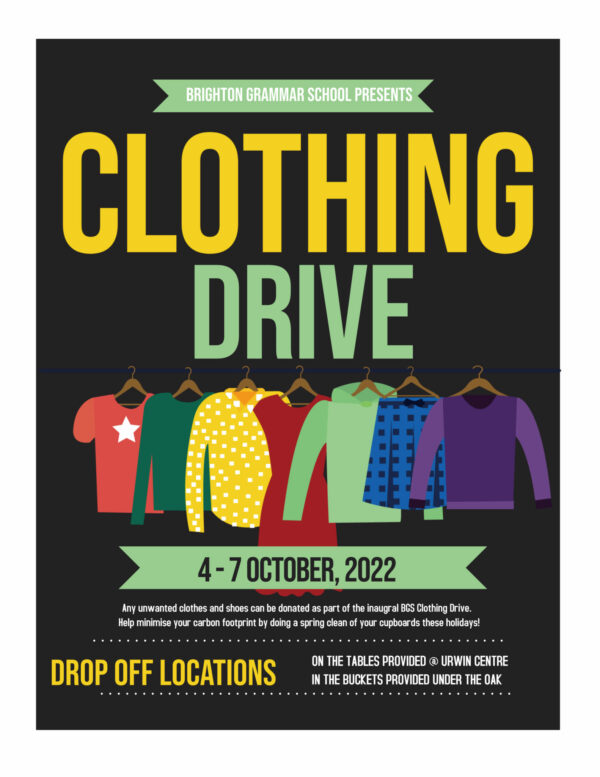 Anna Ladas
Director of Service
Developing positive masculinity 
Orygen, a world-leading mental health organisation, is investigating how boys and young men in Australia construct and perform masculinity. Researchers are interested in speaking to Brighton Grammar students aged 12-18, as well as parents and teachers about the ways in which they understand masculinity and boyhood.
As part of this research project, participants will be interviewed and asked to describe their day-to-day experiences being boys and young men and/or with boys and men (e.g. how the boys and men they know think and behave), as well as reflect on some of the challenges and opportunities related to being a boy in modern Australia.
We encourage both Secondary School students and their parents to participate in this project. Read more information from Orygen, and to register your interest, please contact Dr Sarah Bonnell at Orygen.
Money management for teenagers
As teenagers become more independent and begin to earn money, it's important to set them up with a good foundation of knowledge in money management. Most people learn money management from their parents, so taking the time to actively educate your teen and helping them develop good financial habits can literally set them up for life.
Read other eNews from this week