A Word from the Headmaster – Ross Featherston
Steve Biddulph at BGS
In our quest to be a leader in boys' education and development, we continue to bring world experts to BGS. Next Tuesday evening, we're delighted to be welcoming psychologist Steve Biddulph, one of the world's best-known parent educators. His book Raising Boys continues to influence the way we look at the childhood of boys and especially the development of boys into young men. Steve's presentation at BGS will include how to raise sons who are kind, confident and safe; boys and school; the importance of dads; what single mums can do; the three stages of boyhood; and boys and housework.
This event has been fully booked for some time but there will be more events in the near future, including our Crowther Centre Parent Workshops.
Best wishes to the cast and crew of Anything Goes as they take to the stage later next week. A few tickets are still available for what will be a fantastic co-production between FGS and BGS.
And finally, yesterday I sent you a message about this year's Annual Giving Appeal, 'Creating Brighter Futures'.  Remy's story, seen in our short video, provides a compelling case for the significant impact your donation can have. I'd urge you to find a moment to watch it, if you haven't already.
Have a great week!
From the Deputy Head of Secondary School (Years 11–12) – David Liddle
"Every day the opportunity for leadership stands before you … Each day brings you opportunities to raise important questions, speak to higher values, and surface unresolved conflicts. Every day you have the chance to make a difference in the lives of people around you." – Ronald Heifetz and Marty Linsky
In our weekly meeting with the Year 12 leaders (Prefects and House Captains), Christian Machar charged the boys with meeting the challenges put forward in this quote. On reflection, it is a challenge that all boys should aim to live up to.
Each week, Year 11 students have a Leading and Learning lesson; the focus this term is on leadership. The reason for this is to start preparing the boys to take on the mantle that the current Year 12 boys now hold. On Friday, the boys were exposed to some examples of leadership from a variety of speakers.
Dr Rachel Horton spoke of her time in the army and how she felt that she was not a great leader while at Royal Military Academy, Sandhurst. Rather, she developed these skills while serving in Iraq, when she had the opportunity to use them. Since that time, she has not taken leadership for granted.
Simon McPhee spoke about a St Kilda footballer (Seb Ross), who needed to learn to become a better team player before he could reach his potential. He needed leaders at the club to help him and is now working to help the next group of players coming through.  (Seb won the Trevor Barker Medal for the club's best and fairest player in 2017.)
Finally, Christian Machar spoke of the opportunities available to lead as a Year 12 student. He reminded the boys that all students are seen as leaders in Year 12, whether or not they hold an official leadership title, as the younger boys look up to them.
As the unit progresses, I hope that all Year 11 students look to make a positive difference to those around them and the School as a whole and that they reflect on the messages from last Friday.
Student leadership
At the recent Secondary School Assembly, Noah McGrath (Captain of School) and Martin Kulesza (Vice-Captain of School), presented three images they consider to be moments where students were able to 'unlock the dance'. The first image was from 2016 when the First XVIII Football team won their third consecutive APS premiership. The second image was of Luke Ianuali (Old Boy 2018) in front of the Wall of Scholars for achieving an ATAR score of 95+, and the final image was of Captain of Swimming and Hancock House Captain, Harrison Preston, at this year's APS Swimming. All moments were the culmination of tremendous drive and passion, that unlocked feelings of pride, community and comradery. Both Noah and Martin finished by challenging each boy to set goals and unlock a moment to dance.
Christian Machar
Head of Student Leadership (7–12)
Dixon House – start of 2019
Dixon House has had a very positive start to 2019 and it has been great to meet and welcome the Year 9 Dixon boys to the St Andrew's end of the school. As always it has been a busy time for those boys in their later years of school, with their VCE studies well and truly under way. This year, the interaction between the year levels in tutor groups has been visible, with a new buddy system introduced, where boys from Years 9 and 12, and boys from Years 10 and 11 regularly spend time talking about their goals and pathways to achieve them. The culture is beginning to grow in our House and the signs of what's to come are looking very bright. When it comes to the House activities, our boys have all been willing to participate and support their mates. Throughout the semester we have competed well, highlighted by our teams in Years 9–10 futsal (1st), Years 9–10 basketball (1st), Years 11–12 basketball (2nd) and Years 9–10 House Chess (1st). Although we didn't finish where we wanted in House Swimming and Choral, all the boys gave it their best shot and that's all we can ask for and what we encourage in Dixon House.
Ben White (Head of Dixon)
Louis Butler (Captain)
Caspar Tremlett (Vice Captain), Hayden Mitchell (Vice Captain)
Orchestral, Guitar and Choral Concert
Last Thursday night, our young musicians treated members of the BGS community to another night of stellar performances at the Orchestral, Guitar and Choral Concert.
The concert opened with the Intermediate String Orchestra, whose performance featured American bluegrass and Spanish influences. The international theme was continued by Meliora Voices, singing the Portuguese song, Uma Familia, and the Corelli String Orchestra performing works by French composer Offenbach and one of Australia's most notable composers, Percy Grainger. Our senior string musicians closed the evening with a brilliant performance by Senior Symphony Orchestra, performing Two Norwegian Dances and Saint-Saens' Bacchanale.
All of the performances at the concert were a fantastic demonstration of the hard work and dedication of the Secondary School musicians. I would also like to acknowledge and thank our marvellous instrumental Music staff and Music parents. We could not produce evenings like this without your continued support.
Now is the perfect opportunity to join one of the numerous School ensembles or choirs, as they will be starting on new music for Semester 2. Please contact the Music Office to find out more information.
Kurt Abell
Head of Instrumental Music
Japanese immersion bento workshop
Recently the Year 11 Japanese students participated in a kyara-ben making workshop with Etsuka-sensei from Harapeko Kids. Kyara-ben is a type of bento which features food decorated to look like people, characters and animals.
The students are studying a unit on the healthy Japanese diet. In particular, they are learning about what kyra-ben is: it's elements and why Japanese people make it.
Etsuka conducted the workshop in Japanese and students had to use their language skills to listen to her explanations and instructions. It was great to see students asking questions in Japanese.
Students are currently preparing for their next assessment, which is writing an essay in Japanese about kyara-ben. (For more on assessment at BGS, see this week's Crowther Centre eNews.) Now, they can draw on their workshop experience to inform their writing. Learning by doing, using Japanese for real purposes and being able to eat the result – a great BGS language lesson.
Melissa Faulkner
Head of Japanese (7–12)
TV news at BGS
The Year 9 Visual Communication Design students recently finished a task on creating their own TV news station. Working in groups the students had to research, script, film and edit stories on current affairs, sport, entertainment and cooking. The students considered a possible target audience group and the demographic interests from their viewers. All the finished videos will be shown at the Creative Arts exhibition, held later in the year. The students had fun creating their videos, with many starring in front of the camera.
Matthew Wardell
Head of Visual Communication Design
Intermediate House Chess
As part of the House events program, the Houses battle it out on the Chess board to see who will be victors. Last week saw the Year 9 and 10 boys strategise their way through the maze of pawns and kings. By Wednesday, it was a very tight battle with four Houses potentially winning but on the last day, it came down to the wire. It could really have been anyone's game and fittingly, maximum points were awarded in a tie to Dixon and Crowther.
This week we look forward to seeing who will win in the Senior section!
Kylie Rose
Head of Armstrong
Firbank and Brighton Grammar combined activities
Last Wednesday our Year 7 boys had their first combined activity with Firbank. This year's activity took on a different flavour with Liz Dawes, CEO of the RCD Foundation and mother of Connor, presenting a wonderful new initiative. Liz spoke passionately about her work raising crucial funds for brain cancer and the love that her son had for 'all things BGS'. We were a little concerned when she asked all of the students to take out their phones, but it was soon evident that it was for a great cause. She introduced RCD Birdbrain, a new online trivia game with an emphasis on using our 'grey matter' to answer a series of questions. An added bonus to training the brain is that Sharpie (yes, the coloured textas company) will donate $2 for every game played. It was so wonderful to watch the boys and girls reactions when realised they had also raised over $600 just having fun with friends. I am so proud of how our boys interacted with Firbank and look forward to seeing as many of boys register for Connor's run on Sunday 15 September.
More information to Connor's Run and RCD Birdbrain available here.
Nicole Clark
Head of House (7–8)
An insight into the Vietnam War period – from the perspective of a Major  
On Tuesday morning Year 10 History boys had the honour of listening to a talk by Major Steve Pilmore OAM RFD (Ret'd). Major Pilmore was a member of the Australian Defence Force for 47 years. For much of this time, he was a commando or commando trainer.
Major Pilmore spoke about his experiences as a member of the Australian Defence Force. He emphasised the comradery of those in the Armed Forces and the important roles that they play. Those who, like Major Pilmore, have been commandos, underwent extensive training and were required to retain sharp skills in order to perform their role.
It was interesting to hear from a person who was so committed to, and passionate about, life in the military. It gave all of the boys an insight into what is a very demanding way of life.
In his presentation, Major Pilmore spoke on the Vietnam War. He paid particular attention to the Battle of Long Tan in August 1966 that involved considerable Australian causalities. It was a wonderful introduction to the next phase of Year 10 History, which will focus on Australia's involvement in the Vietnam War.
Declan Hayes
Year 10 Dixon
Winner of the Year 10 History 'Battle for Australia' Essay Prize
Prior to hearing from our guest speaker, Sam Flockart (10 Rofe) was announced by the Headmaster as the winner of this prize. He received a book on the History of the Second World War in recognition of his outstanding essay on a continuing historical debate over the extent to which the Australian continent was threatened by invasion after 1942.
Go Grey in May
Last week for BGS marked the first week of 'Go Grey in May'. We were fortunate enough to have Liz Dawes speak at Mothers' Day chapel about her experiences as a mother, and she also provided us boys some great advice for our mother's special day. 
On Friday, BGS staff and students came together as one school for the annual grey casual clothes day. With hundreds of boys wearing grey, it was truly an amazing sight. Throughout Friday lunchtime, the boys of School House ran brainy activities including: table tennis, sign up for the Fifa tournament, chess and ran the merchandise sales. There was a staggering $2,200 made in merchandise sales in 30 minutes, $85 being made in the BGS Fifa tournament (to be played for the duration of this week), and a massive 58 Connor's Run registrations. Overall, the day was a massive success. It was amazing to see how when a group of people come together with a common goal, we can achieve something bigger than any one of us. 
The day would not have been possible without the work of Mrs Simone Lewis, who is organising 'Go Grey in May' for 2019. On behalf of all the boys, we would like to thank you for all of your hard work!
This week we invite the BGS community to use their brains to help beat brain cancer by playing Birdbrain.
Noah McGrath
School Captain
Mothers' Day Chapel Service 2019
The annual Year 7 Mothers' Day Breakfast and Chapel Service is one of the highlight events of the year. It's one where we get to celebrate and thank (arguably) the most important person in our lives. This year's breakfast was taken up a notch with The Pantry catering the morning and there were certainly no complaints with the quality and quantity of food. However, it was the warm sense of occasion and recognition of our mums that was the true stand out.
The opportunity for boys and their mums to spend quality time together over breakfast, is one that was clearly cherished by those in attendance. Making cups of tea or coffee, sharing a smoked salmon croissant or taking the opportunity to snap a beautiful mother and son photo were just some of the displays of love and gratitude on display. Once breakfast was over, it was time to make way to St. Andrew's for our more formal ceremony.
Father Tony presented a warm service that highlighted just how lucky we all are to have strong, caring and loving mothers in our lives. Katie White was this year's presenter and she reflected on what has been her first year of motherhood. She told anecdotes of her beloved moments with baby Harper and made humorous comparisons to that of raising a teenaged boy. One thing was clear from Katie's speech: her love and adoration for her daughter and how she would stop at nothing to provide her baby with the most amazing life – something that all our Year 7 boys can be grateful for.  The most touching moment of the morning was to watch the boys escort their mums out of St Andrew's hand-in-hand and give them a heartfelt hug before returning to School. This simple act of love and kindness typifies what Mothers' Day is all about.
To all the mothers, we hope you had the happiest of Sundays, enjoying time with friends, family and especially your sons.
Our worlds simply don't work without you.
Scott Davies and Nicole Clark
Heads of House (7–8)
BGS Business Breakfast: Can entrepreneurship be taught?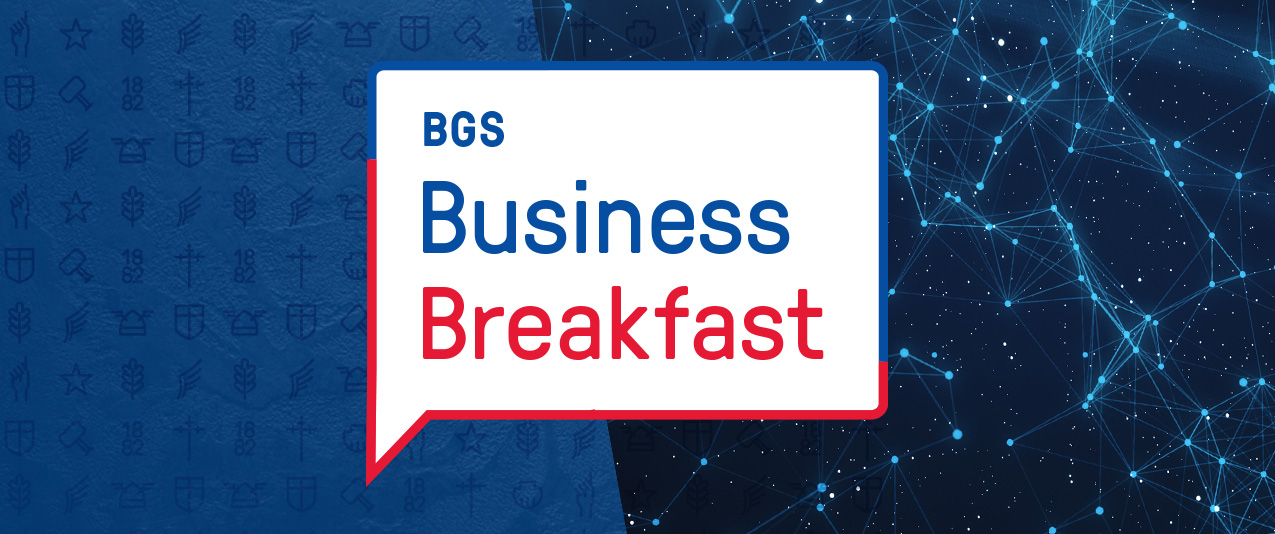 Our next Business Breakfast is fast approaching (23 May) and it is one you won't want to miss. We will be hearing from Georgia McDonald (business leader, teacher, mentor and Director of the Wade Institute of Entrepreneurship) on the topic, 'Can entrepreneurship be taught?'
BGS is now partnering with the Wade Institute – come and hear more about how it is leading the way in the delivery of immersive education programs.
BGS Business Breakfast details and bookings.
Particular thanks to our event sponsor, Willis Towers Watson, whose support of this breakfast enables 100% of your attendance fee to be directed to the BGS Building Fund. Willis Towers Watson has been providing insurance services to BGS for over 20 years and offers a range of insurance solutions. You can find out more about their services here. 
Dates for the Diary
Tuesday 21 May 
Steve Biddulph's Presentation 
Monday 20 May – Friday 24 May
Science Week 
Wednesday 22 May – Friday 24 May
Senior Production Performance Anything Goes