A Word from the Headmaster – Ross Featherston
Being engaged about engagement
At Parent Information Nights in 2019, I have spoken about engagement and how this is a point of focus for our staff this year. In particular, we want each boy to be engaged with what he is doing, whether he's in the classroom, on the stage, on the sporting field or in the outdoors. Engagement – or being ready to learn – is a key part of our Effective Learner model, sitting within the Learning Dispositions quadrant.
As Dr Ray Swann wrote a couple of weeks ago in the Crowther Centre eNews, engagement and learning readiness is crucial. Research shows that engagement is closely linked to motivation and is a reliable predictor of academic outcomes.
You can help your son with engagement in a number of ways. First, have regular conversations with him about school (in the right way, at the right time and in the right place). Second, access the resources we provide to help parents in this regard, including the Crowther Centre eNews and our Parent Workshop Program. (You can book these workshops via the Crowther Thinking eNews.) Finally, ask us for help. After all, we have been doing this for 137 years!
Have a great week.
From the Deputy Headmaster, Head of Secondary School, Dr Rachel Horton
Secondary School Academic Colours Assembly
On Wednesday morning in assembly, we took the opportunity to recognise the achievements of those boys who placed in the top 10% of their cohort academically last year by awarding them half colours. Those students awarded Dux of their year on Speech Night were recognised again with the award of full colours. Dr Rachel Horton spoke to the boys about the importance of thinking through consequences and making good decisions now for long term gain, and Andrew Wang (Year 11) exemplified this in a beautiful performance of Cello Concerto No. 1 in A minor, by C. Saint-Saens on the cello. Finally, Dr Ray Swann spoke about the importance of having hunger, a desire to achieve, but also the fact that academic achievement in particular does require a level of maturity and that everyone matures at a different pace. To that end, this year will see a continued focus from teaching staff on ensuring that students act appropriately, respecting the rights of others and themselves to learn in class.
The full list of boys receiving colours, by current year level, is:
Year 8
Full Colours
Tristan Orb

Half Colours
Jenson Galvin, James Clarkson, Josh Finkelstein, George Roubos, Oliver Goodger, Matthew Cruse, Lachlan Molloy, Thomas O'Leary, Ben Fox, Kento Hikima, Kyle Verbunt, Angus Haddon, Moe Spencer, Harry Penwright, Brayden Hope, Heath Fulton
Year 9
Full Colours
Jorge Houridis

Half Colours
Jonah Campigli, James Bourke, Mitchell Kuzilny, Matthew Hill, Isaac Lee, James McDougall, Aaron Hong-Dunnett, Jamie Hope, Charlie Heaton, Zach Bowen, Michael Paltoglou, Declan Bakker, Cameron McIntyre, Sam Sweet, Eric Chen
Year 10
Full Colours
Hamish Roberts
Half Colours
Max Kortge, Jack Anson, Tony Li, Lucas Williamson, Eric Stone, Declan Hayes, Harrison Chapman, James Cannuli, Eric Sima, James Clark, Patrick Gu, Ben Sullivan, Oliver Lally, Adam Larkan
Year 11
Full Colours
Jaikob Akinci 

Half Colours
Harrison Kirkham, Lachie Caldwell, Ben Sexton, Liam Konidaris, Carl Rumbens, Wei-Yee Hall, James Sherborne, Richard Jiang, Costa Chantzos, Sam Banfield, Kareem Zecevic, Darby Hipwell, Nate Hollis, Peter Qiu, Jeremy Booth
Year 12
Full Colours
Joshua Sum
Half Colours
David Li, Max James, Leo Kouskouris, Dennis Gu, Curtis Wilson, Lionel Wang, Jason Jin, Jacob Travers, Matthew Warman, Martin Kulesza, Joshua Clyne, Liam O'Kane, Tom Banfield
Peer and Leadership Support Program
The Peer and Leadership Support (PALS) Program was designed to strengthen the relationship between the Years 7 and 8 cohorts. The Year 8 students are provided with the opportunity to develop leadership, communication and organisational competency. These students are able to use their skills to mentor the Year 7 boys, offering them with student-led support to identify and develop strategies to manage challenges they may face in the transition to Secondary School.  
Prior to the commencement of school in 2019, the Year 7s and 8s completed a questionnaire that allowed them to be paired based on their shared interests and aspirations for the year. The boys are given regular opportunities throughout the school day to interact with their Pals. The Pals have been assigned lockers next to each other, enabling the boys to interact organically: where the Year 7s can ask questions or seek advice and the year 8s can check in regularly with their Pal.
The Year 8 students had their first PALS lesson with their House tutor. During this time the boys reflected on their experiences in Year 7 to assist them in building empathy and thinking about ways in which they can support their Pal in the early stages of Secondary School. The Year 8 boys also identified their character strengths and how they can utilise their strengths to mentor their Pal. After their first lesson, the Year 7s and 8s spent their house tutor period together getting to know their Pals. The Year 11 Outdoor Education Leadership Program (OELP) students were also present at this session and assisted all the boys in getting to know each other. It was great to see the boys actively engaged in conversation whilst fostering new relationships.
Nicole Clark
Year 7 Head of House – Crowther, Armstrong, Dixon
Danielle Wolff
Years 7–8 Secondary School Psychologist
Year 10 Dance classes
Year 10 Dance classes commenced in Robert Sanderson Centenary Hall last week with about 15 boys being joined by about 35 girls from Firbank on Friday afternoon. Under the guidance of two experienced dance teachers (one of whom is a past FGS student), the group learnt two dances, the Evening three-step and the Jive. 
Both were progressive dances, in that, once they had mastered the basic step, everybody regularly had new partners as they moved through a song. Most of the students were beginners but all made steady progress and as the first session come to an end, the entire group was moving well grasping most of the steps in the right places and keeping time to the music.
There are several important outcomes to be gained from these dance classes. Yes, it is about learning some dances, but it is far more than that. The boys who attended in the first session are to be congratulated for the way they represented themselves and the School. They were welcoming, respectful and generous hosts and were quietly determined to succeed as dancers. The concentration levels were very impressive considering the classes were after school on Friday! It was heartening to see the boys relax somewhat, as they felt more confident with the dance steps and there were some big smiles and a real sense of accomplishment as they improved throughout the session. The boys are building new friendships, they are accepting new challenges and they are collaborating to succeed.
It is pleasing to note that there are many more boys intending to join the group for the upcoming sessions – there are three remaining sessions – on Fridays (22 February, 1 March and  22 March 4–5.30pm).
Boys can sign up to Year 10 Dance classes here.
The Year 9s will have an opportunity for Dance classes with FGS later this year.
Peter Shepard
Deputy Head of Secondary School (Years 9–1o)
Year 9 Great South West Journey
We wish our Year 9s well for their upcoming Great South West Journey. Packing Day is this Sunday 24 February before they head off on Monday morning for an amazing two-week journey. They will return and be welcomed back into the Quad on Friday 9 March in the late afternoon. Keep an eye out for School Stream messages with additional details.
Library Lovers' Day
On Valentine's Day, staff and students were invited to have a blind date with a book to celebrate Library Lovers' Day.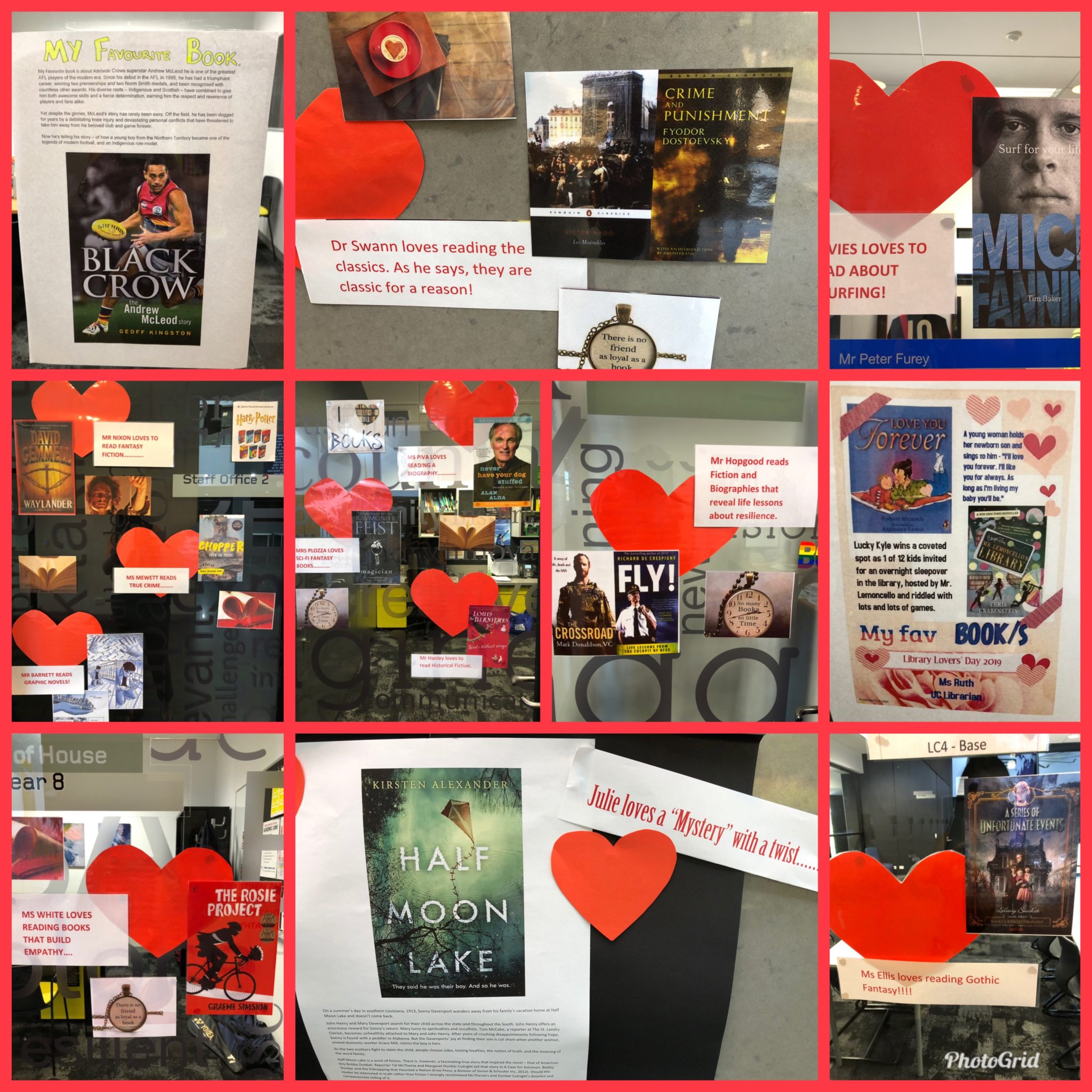 Crowther House News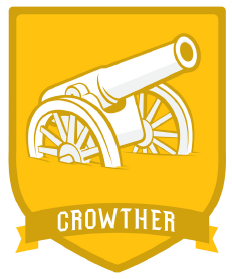 Last week saw the commencement of House competitions. The Crowther boys were to the fore. In the annual 'Beat the Buzzer', which is a quiz on the history of the school conducted by our Headmaster at the Founders Day Chapel Service, Jay Jay Zhu was beaten to the buzzer by the Hancock representative. Although, he came through with an equal third placing.
Also last week, the Intermediate (Years 9 and 10) Futsal competition took place over three lunchtimes. With the rules allowing only five boys on the field at once. A long list of eager boys tried their best across the three days. This included: Maxim Coste, Aaron Mickelborough, Matteo Palillo, Max Morris, Archie May, Henry Lowenstein, Liam Coleman, Dougal Bland, Declan Bakker, Lane Donohue, William Stebbing, Pat Gu, Lucas Williamson, Josh Badge, Lachlan Barlow and Will Landman. Sam Funston must be commended for the way he coached the boys in the final rounds despite the absence of scoreboard success.
It was especially pleasing to see the way the older boys assisted in the organisation and running of the event. The House Captain (Josh LeGrice) and Vice Captains (Aidan Nicholls & Brock Jackson) helped select the team and help to organise the boys on the first day. Fellow Year 12s, Ryan Hartshorne and Jack Thomas also referees the Junior Futsal matches that were held by the Year 7s and 8s in the Urwin Centre.
This week, the highlight was the first rehearsal for our House Choral performance. Jack Wyss agreed to conduct and with some assistance from Mr Frances Walker, Jack took the House through the first two verses of the compulsory hymn 'Be Thou My Vision'. This was a familiar song and the boys did well on it. The House selection of the Beetles' Here Comes the Sun was not familiar to any but a few of the older House tutors and the Head of House and proved a greater challenge. However, after a few run-throughs, we agreed there was plenty of potential for harmony parts and next rehearsal we expect great things!
I take this opportunity to report on successes or challenges facing some of the boys in the House who may not get readily recognised. Year 11 Charlie Lamont has been performing at an elite level in Triathlon completions in recent years. A member of the Triathlon Victoria Development Program, Charlie will seek to defend his win in the Victorian Schools Triathlon Championships on Sunday 3 March. We wish him every success.
Mark Sainsbery 
Head of Crowther House
Compete for a Cause
Year 7 and 8 students are invited to put their creative skills to the test and enter the Gingerbread House Building Competition.
Students can purchase a kit for $5 at reception or from Community Service representatives: Jarod Prins, Kevin Liu or Max Thomas. Students will have the first weekend in March to create imaginative new designs. Submissions are due for judging on Monday 4 March.
All funds raised will help us assist in establishing the Pormpuraaw Breakfast Program. Pormpuraaw is on the western coast of Cape York. It is the home of the Thaayore, Wik, Bakanh and Yir Yoront People. Our connections with Pormpuraaw continues to develop beyond the B2M Program, as we identify ways that the Brighton Grammar community can support individuals, families and programs in their community. In the coming weeks, students that have taken part in the Cape York program will be invited to take part in a range of opportunities to assist. I encourage all past participants to contribute in some way. I have no doubt these students will have a genuine appreciation for the needs of the Pormpuraaw community.
A big thanks to Xavier Hendy and his family for donating the gingerbread kits. We look forward to showcasing your fantastic creations.
Please contact Simone Lewis if you have any questions. 
Simone Lewis
Director of Service
Years 7 and 8 House Futsal 
The 2019 House Futsal competition saw boys from each Year 7/8 House combine for a mixed year level team. Five boys from Year 7 and five from Year 8 joined forces to make up each House team. This year's competition was divided into two conferences. A 'downstairs' conference including Armstrong, Crowther and Dixon. And an 'upstairs' conference of Hancock, Rofe and School. Our 'downstairs' conference kicked off (pun intended) the first round of matches on Wednesday 13 February. It was goals aplenty with no less than 8 scored throughout the three matches. Dixon House were the clear standouts winning one match and drawing the other and scoring four goals for the tournament.
On Thursday, our 'upstairs' conference battled it out in what proved to be a much tighter affair. Goals were hard to come by, especially with Kyle Verbunt almost unpassable as the Hancock goalkeeper. The standout for this conference was certainly Campbell Dovison, who demonstrated outstanding skills on both sides of his body. However, it was the consistency and overall teamwork that saw School House make it through to the final to face Dixon on Friday on the Mitchell Oval.
Stakes were higher, the size of the pitch increased and the boys could play seven on the field, meaning more game time for the competitors. The final was a nail-biting affair, with plenty of scoring shots failing to hit the mark. But only minutes before full-time, School House's Matthew Cruse fired in a brilliant shot that hit the back of the net. Matthew's goal would prove to be enough as School House went into defensive mode to run out the clock and be awarded House Futsal champions for 2019.
A big thanks to the boys who competed and did their House proud and a special thank you to Miss Zoe Schaffner for her insight and expertise. The bar has been set high by School House and I know for certain that five other House are already planning their attack on the 2020 championships.
Scott Davies
Year 7 Head of House – Armstrong, Crowther, Dixon
Years 9 and 10 House Futsal
The boys enjoyed perfect conditions for the first House sport competition for 2019. There were big lists in each House, with many of the Year 9 and 10s vying for positions on the fields.
This year, the round-robin tournament saw each House playing each other once across the three lunchtimes. The top two teams would then play off against each other on one side of the field, while the Year 7s and 8s held their final on the other side of the Mitchell Oval.
Rofe started the first day strong, with two wins and some commandingameplayay against Armstrong. Dixon and Hancock had one win each. School dropped into 2nd place at the end of Day 1 with one draw and one win.
To start Day 2, Dixon got the better of Armstrong with a very strong 5–2 win, and a 2–0 win over Crowther, to put them into a great position for the last match of the round robin on the final day. With all the results in after four matches played, the top four houses were very close. Dixon and Hancock held 1st and 2nd but School and Rofe were nipping at their heels and it was anyone's guess as to who would play off. As the draw would have it, the top four teams were playing off against each other in the final round robin match.
On Day 3, there was a great amount of energy visible and the tensions rising with the Year 7s and 8s out on the Mitchell to cheer on the last round robin match of the 9s and 10s. Armstrong and Crowther were held to a 1–1 draw. Dixon's quick pace and fast passing got them through against Rofe 2–1, to cement a finals place. School was only just able to beat Hancock with a 1–0 victory. With all of the support on the sidelines, it somehow eventuated that the 7/8 and 9/10 finals would both be Dixon vs School.
The atmosphere was electric and it could be anyone's game! In the 9 and 10 final, there were many shots on goal and some tight foot work that got the Dixon boys home for the win. School put up a valiant effort and was unlucky on a couple of occasions.
Many thanks to all the boys who got involved and played over the three days, as well as those in Years 11 and 12 who helped referee, and the many teachers who came out to support their Houses. It was a great event and we look forward to House Swimming and House Choral still to come this term.
Mat Steed
Acting Head of Armstrong
Music Camp
With fanfare, water dragons, pirates and a secret laboratory, who doesn't want to be part of one of our bands? It was a joy to see our boys 'molto vivace' at Music Camp over the weekend with our enthusiastic Music Staff. From French horns to flutes, bass guitars to saxophones – all marching with Hyperion Robots, 'As One'.
The time is invaluable to our boys' understanding of the rhythm, shape and articulation of the pieces to be played in the very near future. It certainly makes for a tired boy on Monday night, but be assured the lessons learned are fermata. Bravo Gentlemen (Fortissimo)!
If you wish to continue supporting the Music programs at BGS, please consider attending our family-friendly Social Evening at 7pm on Monday 25 February in the Robert Sanderson Centenary Hall. RSVP via email to the Music Department.
Mary Poppins!
The Middle Years Production will be an amazing opportunity for all boys in Years 7–9 to be involved in a fantastic show that is a story which has been loved for generations! Partnering with Firbank Grammar, who are hosting the musical this year, our boys will have plenty of opportunity both on and off the stage to gain new skills and create new friendships.
To find out more about auditioning or getting involved backstage, there will be a meeting on Monday 25 February at 1.05pm (halfway through lunch) in the Urwin Centre, Learning Common 2 (Back of the Nexus on the right).
There will also be more information posted on The Hub about auditions and how to sign up.
Enquiries can be directed to Michael Kent.

Rowing NSW State Championships
Consistency. Every high performing athlete chases it and every successful person has it. It is what the sport of rowing demands. From our not so little one's in the Wilson Club to the boys of the Skelton Thirds and on the weekend past our 1st and 2nd VIIIs at the Sydney Regatta Centre, it is the consistent bending of carbon against steal, of feather and square, of catch and release that sets any crew apart. Our 2nd VIII performed admirably in the heat and even better in their Four and Quad races, with the Quad outperforming other Victorian 1st VIII break downs to place third. Callum McPeake and Brock Jackson rowed to silver in the U19 double on the Sunday.
Our 1st VIII tested the water in their Hudson for the first time on Saturday. Whilst a race might seem to be between crews, it seldom ever is. It is more appropriate to think of controlling your own boat than of pressing of defending. However spectators of heats and finals in the CS8+ were acutely aware of a delicate dance between two very capable crews. The heats of the Schoolboy 8+ had BGS four seconds faster than rivals Scotch and the final 3.65 seconds to the Scotch crew. It is a small margin, but one that will be keenly watched by all in the coming weeks. Well done Tonners!       
Christian Neeson
Director of Co-curriculum
BGS Rowing Annual Raffle
Brighton Grammar Rowing (Meliora Club) is conducting its annual raffle with the opportunity to win over $9000 in prizes. 
The draw will take place at 2pm on Sunday 24 March 2019 at Brighton Grammar's Robert Sanderson Hall. All prize winners will be notified.
1st Prize – 7 nights at Mt Hotham Chalet – Sleeps 12 (21-28 June 2019) – Value $7000
2nd Prize – Caulfield Cup Race Day package for 4 people – Value $800
3rd Prize – Bottle of Penfolds Grange – Value $700
4th Prize – Brighton Travelworld voucher – Value $300
5th Prize – Brighton Bathing Box voucher – Value $200
Tickets can be purchased from any rower or BGS Rowing Annual Raffle. 
Please direct any questions or queries to aleks@amsalacapital.com.au
Years 10–12 Supercharge your resume at the Future Careers Expo – 26 March, 6pm-8pm Firbank Grammar
The Bayside Glen Eira Kingston Local Learning & Employment Network (BGKLLEN) will be providing resume and job skills tips at our Future Careers Expo on March 26. BGKLLEN focuses on keeping young people in our community focused on school and prepared for future employment. They offer a range of services, from anxiety management to advice on how to approach employers and how to transfer your current skills to future employment. Bring a hard copy of your resume with you to the expo for some instant feedback and get the chance to discover new strategies for your success!
26 March, 6–8pm, Firbank Grammar School, CCA.
Sophie Keele
Careers Counsellor
Hellenic Republic Joins the Family
We are delighted to announce that Hellenic Republic, Church St,  Brighton, is joining our partnership program! 
To welcome BGS to the Hellenic family, they are giving you an opportunity to win a $100 dining voucher.  When you next dine at Hellenic Republic Brighton, before 31 March, mention BGS and the team will invite you to leave your details to be in the draw to win.  Particular thanks to Hellenic Republic for partnering with BGS – their support, along with our other partners, is directed into our Building Fund supporting future projects at BGS.
BGS Parent Group Meeting
The next meeting will be held at 7pm Wednesday 27 February in the Annandale Pavilion Function Room. 
Our guest speaker will be David Gemmell, Head of Outdoor Education.
Ultimate Indoor Golf to Support CF
Alongside Firbank Grammar, BGS is an Event Partner at a charity golf event to be held at X-Golf Mentone in support of the Monash Cystic Fibrosis community.
Only a few booths remain available at the event – book now to enjoy an evening of ultimate indoor golf fun and to support CF. Bookings can be made through Felicity Stretch.
Dates for the Diary
Mon 25 February 
– Friends of Music Social Evening
Mon 11 March 
– Labour Day (Public Holiday)
Wed 13 March
– 7–12 House Swimming
Sat 23 March
– Head of the River