A Word from the Headmaster – Ross Featherston
Beginnings and endings
Yesterday (Wednesday afternoon), our final Year 12 examination was completed as boys who studied Chinese language put down their pens. At the same time, at the other end of the journey, our ELC boys continue to rehearse for their Christmas Pageant. Such is the rhythm of life at BGS, with only two weeks of school left for 2019 (hard to believe, I know).
The end of the school year is always filled with events that celebrate and mark the year that was – and it is excellent that the Secondary School Speech Night is making a comeback this year. An event of particular note that I'd love more of our community members to experience is our Community Carols Service, held in St Andrew's Church. Our musicians and choristers have been rehearsing intensely for this service and I am absolutely confident it will be another tremendous and moving event. Please mark your calendars for Monday 3 December (7.30pm) and come along.
The New Year will be here before we know it and we are excited that two more boys from MITS (the Melbourne Indigenous Transition School) will be joining us in Year 8. We have one host family awaiting their arrival but we need one more family prepared to welcome a student into their home for a minimum of two years. Your own children do not need to be the same age as the student – you just need to be willing to include an extra child in your everyday family life. Having seen first-hand the opportunities offered to both the MITS student and the host family, I can assure you that the rewards of opening your home and your heart are immeasurable. If you are interested in the program, please email me by Tuesday 27 November so that I can discuss this opportunity with you in more detail.
Have a great week.
From the Deputy Heads of Secondary School, Travis Hopgood (7–8) and David Liddle (11–12)
After completing their exams this week, the Years 7–10 boys will receive their results, and work through the answers with their teachers, on Tuesday 27 November. This will help the boys reflect on their effort and progress throughout the year. Over time, BGS has built a positive coaching culture. Since 2015, each student has met with their tutor, who has supported them in identifying a range of goals that they have chosen to work on. This year, we are developing the model to incorporate more tutor/tutee interaction.
The coaching day will take place on Wednesday 28 November. On this day, there will be no formal classes and your son will only be required at School for his appointment, which his tutor will organise with him prior to the day.
Coaching plays an important role in allowing students to set goals and establish routines for the following year. As each student needs to prepare for this day, I encourage parents to discuss the goals your son is aiming to achieve and follow up with him after his discussion with his tutor on Wednesday. The Years 7–8 boys will guided through a self-analysis task to help them identify their strengths and areas for focus in 2019. Year 8 boys will also meet their new House Tutor and Head of House towards the end of the day to make meaningful connections as they set new goals for 2019.
This week, the School community and mums helped to farewell the Year 10 Rites of Passage group. We look forward to witnessing their return on Friday and celebrating this milestone event undertaken by the boys and their fathers.
The 2018 Secondary School Speech Night will be held at Robert Blackwood Hall on Thursday 29 November, commencing at 7pm. We look forward to celebrating the achievements of the boys with you on this evening.
Athletics – State Championships
On the Melbourne Cup long weekend, a number of our senior boys competed in the State All School Track & Field Championships. The team who represented Brighton Grammar included Caden Arnold, Jonah Campigli, Josh Finkelstein, Ben Fisher, Sam Fitzgerald, Oliver Goodger, Cameron Hathway, Aaron Leferink, Vuna Ofanhengaue, Tristan Orb, Ben Sullivan, Jackson Sweet, Tristan Scheirs, Christopher Valcanis, Kyle Verbunt, Kai Vivian and Lucas Wright. There were a number of outstanding results, which can be viewed here. 
A number of boys finished in the Top 8 for their event in the state, including Tristan Orb 6th in U14 Long Jump (5.30m), Josh Finkelstein 5th in U14 Triple Jump (11.12m), Vuna Ofahengaue 4th in U15 Discus (46.92m), Cameron Hathway 4th in U16 Javelin (34.94m), 5th in U16 Pole Vault and 7th in U16 Long Jump (6.07m), Jackson Sweet 6th in U16 Triple Jump (12.53m), Lucas Wright 7th in U17 100m final (11.68s), Chris Valcanis 5th in U17 200m final (23.12s), Ben Fisher 6th in U17 800m final (1:59.75)
Outstandingly, a number of our Tonner athletes finished in the top 3, with medals: Sam Fitzgerald 2nd in U17 High Jump (1.93m), Aaron Leferink 1st in U18 200m (22.06s) and 2nd in U18 100m (10.91s)  Vuna Ofahengaue 3rd in U15 Shotput (11.00m), and Tristan Scheirs with the triple effect: 1st in U20 Long Jump (6.97m), 1st in U20 Javelin (46.42m) and 2nd in U20 Triple Jump (13.19m).
Congratulations to all our boys. And a very special thank you to Tom Morehouse for coaching and organising the boys over the weekend.
Meg Adem
TIC Athletics
F1 Preparation and Dedication
BGS participated in the F1 in Schools Victorian State Finals, read the story and see the gallery.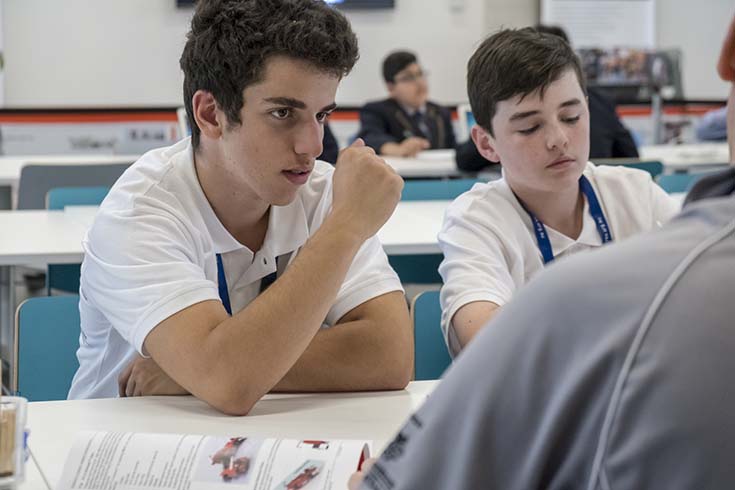 Annandale for Everyone
The view through the Annandale Gym's floor-to-ceiling windows across the Crowther oval early on a spring morning is worth the early wake-up. Plovers pick at the grass. The School is still, as through resting before the onslaught.
Boys have been training on this patch of ground since the original Annandale Pavilion was opened in 1956. The design was ahead of its time and a great boon for the 600 boys then at BGS. It was named in honour of Walter Annandale Jack, who attended BGS from 1885 until 1892, along with his four brothers.
Walter's father, Andrew Jack, migrated to Melbourne from Scotland in 1862. There, he had worked at the Annandale & Son Ltd Polton Paper Works – hence Walter's middle name.
When BGS Headmaster Dr Crowther died suddenly in 1918, Walter, by then a company director, joined lawyer William Frederick Weigall and Dr Crowther's widow, Alice, to ensure that the School continued. Walter became one of the founders and benefactors of the School in 1923, joining with Canon William Hancock to guarantee BGS as an independent entity under the aegis of the Church of England. He was a member of the School's first Council (1924–44) and then Chairman (1934–65). In 1960, he was awarded an MBE for social service to young people. He was a gentle, self-effacing man with strong values, who gave generously to the School and the local community.
By the late 1970s, BGS had grown to more than 1000 boys. The original pavilion was replaced by a larger facility, also called Annandale. Completed in 1982, it served the community well until 2017.
Back in the stunning 'new' Annandale, completed mid-2018, Ian Miller, Head Strength and Conditioning Coach, is running an interval training class for the BGS community. The School is keen to share this facility and the Annandale Gym is now open to members. (If you're reading this, you probably qualify as a community member, but you can check on the Annandale Gym website – look for the FAQs.)
Unlike many other gyms, all the trainers at the Annandale Gym are university-qualified. So, whatever your fitness level and your training goals, they know exactly how to help you obtain the results you want. Classes are small and each member receives individual attention.
"People hear the word 'elite' and they assume this gym is not for them," says Ian. "But it's for everyone. Everyone's 'elite' is different. For one of the School's PE staff, it might be training to run a marathon. A Junior School mum might want to be able to run around after her kids. For a retiree, it might be enough fitness to improve their golf game."
BGS staff member Julie Ellwood has been attending classes regularly since the Gym opened.
"I hadn't been to a gym for a while before joining Annandale. I found the early-morning interval training classes great. These classes are set so you can personally challenge yourself, and the coaches are encouraging and supportive."
Claire Clarke, who teaches in the ELC, is another regular.
"The trainers offer an excellent range of classes to suit all abilities. The sessions are fun and varied, including both challenge and clear guidance on technique. I would recommend them to anyone wanting to improve their overall strength and conditioning."
Classes, which run at various times outside school hours, currently include indoor cycling, interval training, circuits, boxing and yoga – but we're open to feedback and suggestions. We want this Gym to fulfil our community's needs and increase your wellbeing.
To find out more, visit the Annandale Gym website. Our trainers are currently offering free fitness assessments to Foundation Members to help you work out which classes would suit you best, email Megan Hall for more details. 
Now, the School is beginning to shake itself awake. Boys shout to each other across the Crowther. Staff walk past the Gym, juggling coffees and laptops. In the Music School, someone is doing their saxophone practice. It will be another busy day at BGS. Walter Annandale Jack would be pleased.
Visit us at the Annandale Gym Open Afternoon
Friday 30 November, 3–5pm
BGS Hall of Fame Gala Dinner
Last Wednesday night's BGS Hall of Fame Gala Dinner went off in spectacular style. Read the story and view the gallery.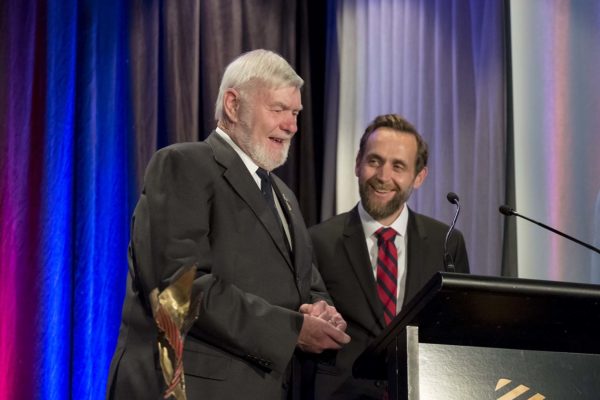 Homestays Required
Local families have an opportunity to share an international experience.  Two Year 12 2019 BGS students, who come from China, are seeking accommodation for next year. The fees paid for full board are set by the Australian Homestays Network.
Further information, contact Maggie Lynch, International Coordinator (0425 786 683).
School TV – Mindfulness
We can often become preoccupied with issues of the past and worries about the future. Mindfulness is the practice of being in the moment, and can help to calm the mind in times of stress. This week's SchoolTV provides interviews with leading specialists, helpful articles, and fact sheets about mindfulness.
Head Shave Challenge Poster
To raise awareness of youth homelessness and raise funds to help, Years 7 to 12 students are invited to participate in the Head Shave Challenge. Crêpes for Change, a non-for-profit social enterprise, will be onsite serving crepes, and we also have a barbecue, raffle, sporting events and 'Share the Dignity' sorting station arranged. Brave students can undergo the shave (with parental consent – a form has been sent via SchoolStream).
Secondary School Speech Night 2018
Secondary School parents of boys in Years 7 to 11 are warmly invited to Secondary School Speech Night 2018.
Date: Thursday 29 November 2018
Time: 6.30pm for a 7.00pm start
Venue: Robert Blackwood Hall, 49 Scenic Boulevard, Monash University, Wellington Road, Clayton (map below)
For: Boys in Years 7–11 and parents/guardians
Booking: General entry admission – no tickets required
Parking: Free onsite parking available in the carpark opposite the Hall
Second Hand Uniform Shop – We Need You!
Our Second Hand Uniform Shop is run entirely by volunteers and our core group is leaving after years of great work. We need more volunteers for the remainder of 2018 and for 2019.
The money raised by the Shop is donated to the Parent Group and used to fund projects for the boys. Volunteering a great way to give back to our wonderful School – and we have fun, too!
If you can help or would like to find out more, please contact Tracey Oliver.
The final day for donations/sales in 2018 is Tuesday 27 November, 2–4pm.
RCD Christmas Market
This year's RCD Foundation Christmas Market is the perfect opportunity to tick items off your Christmas list.
BGS & FGS Supporting Cystic Fibrosis
BGS and Firbank Grammar are supporting the Monash Cystic Fibrosis community as event partners in a charity golf event at Australasia's leading indoor golf simulator.
Both schools have strong connections with the CF community. Only a few booths remain for the charity event on 29 March 2019. We encourage you to come along and support the Monash CF Foundation.
Please contact Felicity Stretch (BGS Year 8/9 parent) for more information. 
Year 13 Mums' Catchup
Is your son a BGS 2017 graduate? Join us for a Year 13 Mums' Catchup…
Tuesday 27 November, 7–9pm
Mr & Mrs P
312 Bay St, Brighton
RSVP Annie (0408-526-786), Michelle (0412 922 199) or Jodi (0414 517 184)
If you know any Year 13 mums who might not see this message, please let them know.
Dates for the Diary
Fri 23 November
– Year 10 Rites of Passage journey return activities/afternoon tea
Mon 26 November
– Report Writing/Proofing Day (student-free day) 
Tue 27 November
– Choir rehearsals for carols 
– Exam Return Day (special timetable) 
Wed 28 November
– Years 9–11 Coaching Day 
Thu 29 November
– 2019 Classes Promotions – Day 1 
– Secondary School Speech Night 

Fri 30 November
– 2019 Classes Promotions – Day 2