A Word from the Headmaster – Ross Featherston
Backbone and Heart
It was a genuine pleasure to have Steve Biddulph at BGS on Tuesday evening. The RSCH at the St Andrew's End of the Secondary School was full with parents eager to hear from Steve, a world leader in assisting us to raise boys to be open-hearted, kind and strong men.
If you missed the seminar and haven't accessed the work of Steve, I strongly encourage you to buy his updated book, Raising Boys in the 21st Century, or to have a look at Steve's website and other online platforms. His message resonated strongly, in part because of the warmth and humour of his storytelling, but also because of the simplicity of his beliefs and advice.
According to Steve, there are four principles that are key to raising boys, with a fifth 'bonus' principle. These are: spend time with your son, play 'rough and tumble' games with him (especially when he's young), teach him to respect women and honour his tender feelings. The 'bonus' is to teach him to do housework and have him cook a meal for the family once a week (which would be especially handy if you have two or three sons).
Personally (and more as a father of four than as the Headmaster), Steve's call to raise our boys to have 'backbone and heart' was both compelling and moving.
Have a great week.
From the Deputy Headmaster, Head of Secondary School – Dr Rachel Horton
As we reach the mid-point of Term 2, the winter sport season is in full swing, the much anticipated Senior Production is finally upon us and our Year 9 students are preparing to attend their Service Programs. This week at BGS is also Science Week and as I write this I can hear the boys roaring with laughter, applause and amazement at the exciting demonstrations taking place in the Atrium. The week has been filled with amazing events and competitions which you will hear about in further articles, designed to showcase the wide range of the sciences. Of course, as a scientist myself, I have a vested interest in engaging young people in science – but it is not for everyone. The very basis of science is a questioning mind, and that is something that we hope to encourage in all BGS boys. The astrophysicist Neil deGrasse Tyson is quoted as saying 'I am driven by two main philosophies: know more today about the world than I knew yesterday and lessen the suffering of others. You'd be surprised how far that gets you.' If our boys leave BGS with those two broad philosophies, they will be valuable contributors to society and I will consider that we have done a good job.
I would like to finish this week by congratulating Harrison Preston who has, this week, been appointed as a Prefect of the School. Harrison is also Hancock House Captain and Captain of Swimming and his leadership in all aspects of school life this year has been outstanding.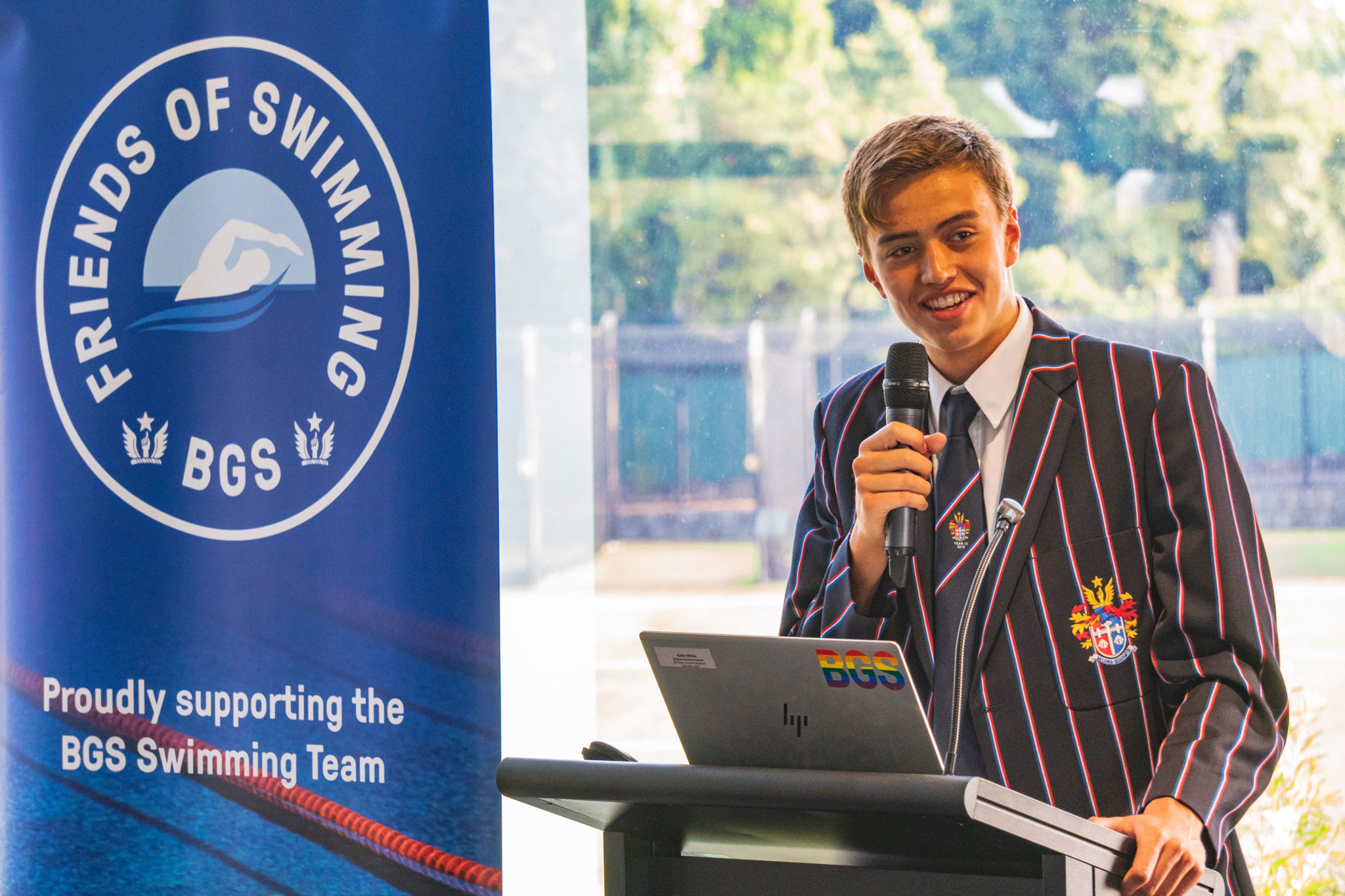 Respect
In the midst of the infamous three-peat, it was only a few seasons ago when we had masses of BGS students attend each and every game – there was equally as much noise as there was last week. Yet, the noise wasn't from yelling abuse at the opposition, it was directed and intended to motivate and support our fellow tonners. This extra support and brotherhood extends throughout the whole School, not just through the boys on the field, and is what gives our teams such a distinct advantage – especially when playing at home.
I know that the boys who were at the School for last week's games can still hear the ringing of chants that were led by the likes of George Fry, Ollie Barden, Tom Sharry and others who cried out their love for the school through the chants that all of us here at School know and love. Each of them poured out their passion in chants that would constantly swing the momentum of the game back in our favour. Passionate, relentless support for our boys, yet demonstrate respect for the opposition.
Jacob Travers
Year 12
Reflection on Year 12 – Hancock House
Year 12 is pretty tough. Every week, every day and every lesson we are constantly paying attention to what we're learning and then staying back at School to grind another three hours of study. At times, it feels like School is repetitive (and tiring), and with the addition of SACs and other sporting commitments, some of us are missing our free time – something I feel like we really need right now. So although there are many days where I wish I could ditch School and sit at home watching TV, I actually like coming to School. I like learning and the teachers at School always try to make it less boring. I have made sure to surround myself with mates that benefit me but also people that I can have fun with. I think that's the reason why I actually enjoy coming to School – I love seeing my mates. I love being around them and going through the same struggles. At the end of the day, the friends I have made at School are people that I can see myself hanging out with for the rest of my life. And I think that's why our School is so special.
Max Hanna
House Vice-Captain
B2M
In the next fortnight, all the Year 9 students will spend time on B2M Service trips. For many, these programs will contain the highlights of their year, possible of their Secondary schooling – certainly some moments where they 'unlock the dance'.
While the destinations are varied, the themes are similar. The boys are all encouraged to appreciate the need for service, empathise with others and then act, actually do something, in service of others or the environment, or plan for future action. Some will participate in environmental service, while many will be involved in human service.
There are four very different Melbourne-based programs:
Human Melbourne – boys spend one day with residences of Bayley House followed by 4 days at the Brotherhood of St Lawrence in Fitzroy.
Environmental Melbourne – boys gather information from across Melbourne before presenting the School's Executive their proposals on how BGS can be more sustainable.
WeDesign Melbourne – working in conjunction with the Wade Institute (as featured in eNews last week), boys will use design thinking to creatively find solutions to various social problems in Melbourne.
Artist in Residence – boys will work alongside students from Berendale School in Hampton, under the guidance of local artist and BGS Old Boy, Ash Hoar. They will learn about working collaboratively while creating some interesting pieces of art.
And there are four interstate or international trips:
Cape York Indigenous Program – one week in the community of Pormpuraaw on Cape York and one week in Melbourne, boys are given a rounded immersion into indigenous culture and an opportunity for them to work in support of both communities.
Borneo Program – a south-east Asian experience including a chance to work on coral restoration, reforestation and in the Orangutan Rehab and Sunbear Conservation Centre.
Marine Biology – visiting Fitzroy Island and the Great Barrier Reef, boys will learn about the damages done to the Reef and ways to return to the Reef to health, and also be involved in turtle rehabilitation and care.
Papua New Guinea – boys will be based at the Martyrs School in Popendetta and will spend time working for, with and alongside the locals. This continues a 50-year association between Martyrs School and BGS.
Look out for reports from the various programs in the next fortnight.
Peter Shepard 
Deputy Head of Secondary School (Years 9–10)
Science Week 2019
Science Week is about celebrating and acknowledging the presence of Science and Technology in our everyday lives. This year at BGS, we've pulled together a program that enables students and teachers to get involved and take part in events, including: bake-offs, photo competitions, mini-challenges, guest speakers and wildlife visits. The program has been designed to encourage an interest in science pursuits and for students to be fascinated by the world we live in. This year's theme of Destination Moon: More Missions, More Science and the celebration of the 150th year since development of the Periodic Table, provides a chance to reflect on the great achievements as we continue to move forward in scientific research. Early events this week provided an opportunity for students to engage with professionals in the science field and get creative!
Top Designer Visits VCD
Members of the Visual Communication Design Units 3/4 class were fortunate to have Tara Durkin visit their class recently.
Tara (cousin of Charlie Durkin, a student in the class) completed Year 12 last year and was selected to showcase her Unit 4 VCD folio in the highly acclaimed VCAA Top Design exhibition, held annually at the Melbourne Museum.
She spoke to the students regarding her suggestions with the SAT and SAC assessments, and offered some advice about the end-of-year examination.
After her presentation, Tara stayed behind and reviewed the students' current Unit 4 folios, giving individual suggestions.
We thank Tara for visiting us and wish her well in her tertiary studies at Melbourne University, where she is studying Architecture.

Dr Swann's Garage
For an update on the Motorbike Project (affectionally known as 'Dr Swann's Garage'), see this week's Crowther Centre eNews.
Dates for the Diary
Friday 24 May
Senior Production Performance Anything Goes
Wednesday 29 May
'Creating Brighter Futures' campaign