A Word from the Headmaster – Ross Featherston
Community Service
I was delighted to see so many from our community here on Monday night to hear from James Kerr about all things high-performance, culture and success. As you would know, we have had a relationship with James for some time now and to have him at BGS working with boys, teachers and the community in the first part of this week was a perfect exclamation mark on that relationship. As a parent said to me after Monday night, the words of James can shape and inspire boys and staff, but they can also go a long way to shaping and inspiring the whole BGS community.
The link between privilege and responsibility can be traced back to biblical times, the French Revolution, US political leaders and even Spiderman. Regardless of its origin, the phrase 'with privilege comes responsibility' rings true. We are privileged to live in this community and our boys are privileged to attend BGS. With this privilege comes responsibility, and particularly a responsibility to help those less privileged.
Our various community service commitments continue at the School this year, including our first Ute Full of Food for 2019 last week (staff at St Mark's were especially impressed by the teamwork shown by the BGS students and staff who unpacked the goods and restocked the shelves). But our Secondary School boys now have a number of new opportunities to get involved in service individually, through their House or in a small group. You can read more about these in last week's Secondary School eNews.
Have a great week and please do not hold back in encouraging your son to consider how he can exercise that aforementioned responsibility.
From the Deputy Head of Secondary School (11–12) – David Liddle
The beginning of 'ends'
'The end is never the end. It's always the beginning of something.'
―Kate Lord Brown, The Perfume Garden
It is hard to believe that it is almost the end of Term 1 and that, for Year 12 students, their year is almost one third over! As we reflect on what has been a busy term once again, for Year 12, it also marks the last time that they will do these things at Brighton Grammar School.
No more cricket matches on the Crowther, the last Head of the River for Year 12 students, Badminton and Tennis finished and Swimming concluding last night with APS finals. It was great to see so many boys cheering on both our swimmers as well as the rowers last Saturday.
Congratulations to the First VIII rowers who came a narrow second to Scotch on Saturday and who will race again at the National titles this weekend. A great win to our cricketers to finish the season and congratulations to Felix Flockart, who finished with two wickets off the last two balls of the day. He is ending on the possibility of a hat trick after his final game on the Crowther Oval.
It is also a busy time on the academic front with a great deal of content taught and SACs beginning to become more prevalent as a result. It is important that all boys maintain strong study habits over the coming holidays and review areas of concern in preparation for what will be an even busier Term 2.
We look forward to the coming break as well as the Year 12 Formal on the last Friday of this term. A reminder to all boys to ensure that they have booked their tickets. With the theme of Hollywood Glamour, it is looking to surpass last year's memorable night based around the Streets of London.
While there have been a number of 'ends' this term, there is still much to look forward to and more 'ends' to come. I trust that the Year 12 boys will take time to reflect on these milestones as they arrive.
Managing Academic and Sporting Commitments
This year's Legacy Project is about creating moments of success and triumph at Brighton Grammar but to do this, each individual needs to take steps to realise their full potential. Here, School Prefect Jacob Travers talks about how he manages his academic and sporting commitments to achieve his best self and help him 'unlock the dance'.
While academia and sport seem to be two very different pursuits, at Brighton Grammar, both are crucial aspects to the School's overall culture and vision. Yet, it is balancing these two commitments that ultimately, many students will find difficult over their years at the School. By no means am I the School's best sportsman, nor am I the next dux of the School; however I understand the challenges and workload required for both high achieving academics and the pressures and physical requirement of high-level sport. Over the course of my time at BGS, both of these commitments become more and more prevalent as I have progressed through the School. However, if I have learnt anything from this, it is that the busier you seem to be, the more you'll get done. Having seemingly no time, makes you prioritise the time that you do have ultimately making time dedicated to study and homework more efficient. Pair this with utilising the new Long Day Program in the library (or the Hancock Wing for Year 12s) and coming in at 7.30 in the mornings will provide you with plenty of time to get work done. This lowers the stress felt from sporting commitments which, in turn, boosts sporting ability. It is in balancing these two seemingly opposing pursuits that I have learnt the skills of self-management and organisation whilst maintaining physical fitness which we all know increases wellbeing.
Jacob Travers
Prefect
Great South West Journey 
Our Year 9 boys began their B2M journeys in earnest three weeks ago as they departed the grounds of BGS early one Monday morning en route to the southwest corner of Victoria.  Affectionately referred to at the 'Great Southwest Journey' (GSWJ), this significant marker in the lives of BGS boys is the first bookend to their Years 9 and 10 sequence of programs.
In its fourth year, the GSWJ doesn't shy away from extending the boys comfort zones; instead through distance, time and close communal living each boy is tasked with drawing upon their inner-archetypes to forge greater comradery with each other, or reject the benefits of close community and new friendships.  I have no doubt that some of our boys have exited the GSWJ immediately different – more confident, emotionally stronger, alive to their personal capabilities; some won't understand the impact of their experiences for a long time yet.
This year, the Outdoor Education department took a risk by introducing an ambitious waste management system of collecting and separating compost, recycling and soft-plastics with the hope of keeping our landfill rubbish to a minimum.  Clean up Australia Day also fell smack in the middle of the 12-day program, so we incorporated beach clean-ups and trailside rubbish collections into the journeys of all 12 groups.  With varied success, predominantly depending on the culture of each small group of boys, we were able to donate three barrels of compostable food waste to the local Portland Community Garden and hand over 6 large garden bags of soft-plastics to the local Woolworths.  The Portland Council also allowed us to drop off our mixed-recycling and beach clean-up bags into the transfer station for free!
I say mixed success because some groups did not pick up the concepts of proper separation fully, resulting in me – armpit deep – in days old food waste digging out bits of aluminium foil and soft-plastic from compost barrels. I suppose that was my way of extending a comfort zone!
Some of the highlights I've heard from the stories and pictures the boys have shared are: the shared 'archaeological' dig of a whale skeleton by most of the groups, rest days in Portland or Nelson during the heatwave mid-program, dissecting a dead stingray, catching-cooking-eating fish while canoeing along the Glenelg River, camping beside a lighthouse, having a large wedge-tail eagle fly just above their heads while cycling and setting the canoes to sail while the winds pushed them along the river. Magical moments that will be shared and celebrated for years to come.
David Gemmell
Head of Outdoor Education
Year 7: The term so far
We can't believe that academic classes for Term 1 are almost over. With Armstrong, Crowther and Dixon heading off on their Outdoor Education program this week, and Hancock, Rofe and School the following, it will mark a tremendous milestone in the boys' Secondary School journey. Not only will they have ticked off their first term as 'high schoolers', they will have embarked on what is arguably a world-class Outdoor Education Journey, beginning in Point Leo as Year 7 boys and ending with the Big Fella journey in Victoria's High Country as Year 12 men.
As Heads of House, Nicole Clark and I are extremely privileged to work with some outstanding House Tutors who have gone above and beyond to ensure that our Year 7 boys are well cared for. Craig Major (Armstrong), Adrienne Mewett (Crowther), Jess Taillandier (Dixon), Zoe Schaffner (Hancock), Loren Giorgetta (Rofe) and Ryan Barnett (School) have all worked tirelessly to ensure the smoothest of transition for our Year 7s. The boys themselves have done an amazing job immersing themselves in the culture and wider co-curricular program. From House Swimming, Futsal and Basketball, to auditioning for school productions and taking a stance again bullying; it's certainly been a busy term both in and out of the classroom.
The highlight for this term, however, has been the inception of our PALS program. Our Year 8s have been working side by side with our Year 7s to ensure they feel safe and welcome in the Urwin Centre. This was no more evident than when our combined Year 7/8 Houses took part in the Courage to Care Program focussing on bullying, anti-social behaviour and acceptance. Together the boys learned just how important it is to stand up for what is right.
Term 2 proves to be another busy and exciting time. We look forward (well, maybe not the boys!) to NAPLAN, winter sport and a continued rigorous academic program.
Nicole and I couldn't be prouder of the growth we've seen in our boys and we wish them every success on their Outdoor Ed Journeys over the next two weeks and of course the well earned holidays just around the corner.
Scott Davies & Nicole Clark  
2019 APS Regatta and Head of the River
BGS went into the 2019 Head of the River regatta with not only a chance of winning the Fairburn Cup for only the second time in the School's history but also of being one of the dominant schools on the day. A great crowd of parents, Old Boys and students gathered on the bank in the morning. The Meliora Club provided a fantastic venue, with a marquee set with an all-day grazing menu, a coffee cart and photos of the season and all our rowers on the walls of the tent.  Overall, we featured in 13 of 15 A-Finals and achieved a top 3 finish in the 1st VIII (2nd),  2nd VIII (3rd), 3rd VIII (3rd) and Year 10B VIII (2nd). 
[Photo credit: Eric Stone — Year 10]
Our 1st crew rowed with great strength, courage and belief. Scotch College got out to an early lead and by the halfway point of the race held a 3.4 sec lead. BGS strengthened over the final 1km and brought the Scotch lead down to less than a length with 250 metres to go. Lifting the rate, they continued to make up ground on (a now tiring) Scotch College. To their credit, Scotch had measured the race well and went across the line with a 2/3 boat length win (2.6 seconds). We are very proud of the crew's row. Scotch also took home a new course record, demonstrating that they are one of the best crews in recent history.
Touch football winners
Brighton Grammar sent two squads to play in the Touch Football Victoria Schools Eastern U15 competition on 19 March at Greaves Reserve, Dandenong. BGS Red competed in the Plate competition and played superbly, winning all of their games and the Plate competition outright. BGS Blue played in the Championship division and produced scintillating displays to beat all the teams in the group stages before going on to win the final, beating McKinnon Secondary by six tries to one.
Winning this competition qualified BGS Blue for the Touch Football Victoria U15 State finals, which took place at Elwood Park on 26 March. In this competition, they competed against the best of the rest from around the State, including the Western Metro U15 Champions and the Eastern and Western Country U15 champions. BGS Blue won all of their qualifying games on the day and reached the final, where they played St Patrick's Ballarat. BGS Blue were victorious in the final, winning by five tries to two. This is the first time BGS have won this prestigious competition and it is a superb achievement. All the players played with passion and commitment and each and every one of them represented Brighton Grammar superbly.
Poetry to the rescue
The Year 8 students enjoyed a poetry performance from our visiting author and poet, Steven Herrick. Steven has pioneered the verse-novel genre for YA (Young Adults) here in Australia, and the Year 8s are currently studying his book The Simple Gift.
This is what teachers and students had to say about Steven's visit:
 'He was engaging and surprising – he answered questions about the book generously and in detail. He showed that even the author did not know all of the answers – like what happened to Billy's mother. It was nice to understand the background of the novel and to know that he is writing a sequel. I loved the poetry, especially the Wall poem.' –Louise Piva (Coordinator of English)
'Steven Herrick gave a lot of insight about the book and resolved many classroom arguments regarding the characters in the story.' –Will Fearn (8 Rofe)
'Steven has given us an amazing presentation to the Year 8s.  The cohort was engaged and answered many questions regarding The Simple Gift.  They proved my English teacher wrong about literary devices.' –Eason Liu (8 Hancock)
'I liked how he read us a couple of interesting and engaging poems that incorporated parts that were relevant to the students such as, 'walls are where teachers smash their heads back.' –Josh McCahon (8 School)
'It was good to see him and get his perspective of the story and compare it to ours. It was also good to learn about him and how he writes books.' –George Mihailidis (8 School)
 'Steven Herrick is the first author's visit I have arranged here at the BGS Urwin Centre Library.  I am so pleased that he was well received by students and teachers.' –Ruth Silva (UC Librarian)

Future Careers Expo 2019
The BGS/FGS Future Careers Expo took place on Tuesday 26 March.  Whilst the expo is a biennial event for each school, it is the first time Firbank and Brighton Grammar have held a combined event in almost a decade.  Over 90 representatives from both industry and the tertiary sector came onto the Firbank campus to offer advice and insight and, importantly, to share their varied career stories.
Seventeen informative presentations were held across the evening, each to a full house of interested students and parents. Activities were also aplenty and students or parents were able to take part in a virtual reality experience, try out surveying equipment, plant a seedling, pet the Vision Australia Labrador puppy, check out the Outdoor Education equipment and even purchase an item from the Vision Australia Opportunity shop.
There were many valuable and inspiring conversations across the evening, improving student understanding of the dynamic and sometimes complex world of work. 
Sophie Keele
Careers Counsellor
Tomorrow Man workshops
As part of the 9/10 B2M program this year, the Year 10s have been participating in regular 'Tomorrow Man' workshops. They completed four workshops this term and will complete another two during Term 2. The Tomorrow Man program is a series of presentations and workshops that focus on social and emotional growth. Positive masculinity, the importance of choices and actively supporting one another through these years are just some of the powerful themes explored and developed during the program.
The most recent workshops have seen the boys step up into some challenging and difficult content. Last week the boys completed a workshop that built their understanding of their social intelligence. The boys completed a survey before the workshop, to help drive conversation in the session. 
The preceding workshop was at the cutting edge of Health and Wellbeing education. It was a session that aimed to empower and educate the group on important themes related to their sexual lives. The active, discussion-based, immersive workshop set out to teach the boys that they are responsible for their impact on those with whom they share their sexual lives.
The workshop explored the following topics:
The stereotype of sex for men
Who teaches us about sex
Pornography and its impact
Pornography, sex and brain development
Normalising fears and insecurities
A positive sex life
Legacy and responsibility
The benefits of having these conversations are broad and far-reaching and include:
The promotion of healthy, equal, positive and respectful relationships
Increased awareness that early sexual experiences shape sexual future
Increased awareness and comfort of each boy in his own sexuality
Likely decrease in future negative sexual behaviours towards others – such as peer or partner pressure
Possible reduction in the use of pornography
Possible reduction of harm to self or others through STIs or unwanted pregnancies
Possible increase in engagement in class and ability to be 'present'.
This workshop complements much of the work conducted in our Health, Physical Education and Wellbeing classes, particularly in the 'Respectful Relationships' units, which are delivered with increasing complexity at Years 7, 8, 9 and 10.
Tomorrow Man is an important and powerful component of the 9/10 B2M program. The boys have enjoyed building connections with their workshop leaders, Tom and Ryder, and have grown and developed as individuals and as a collective.
Jared back on stage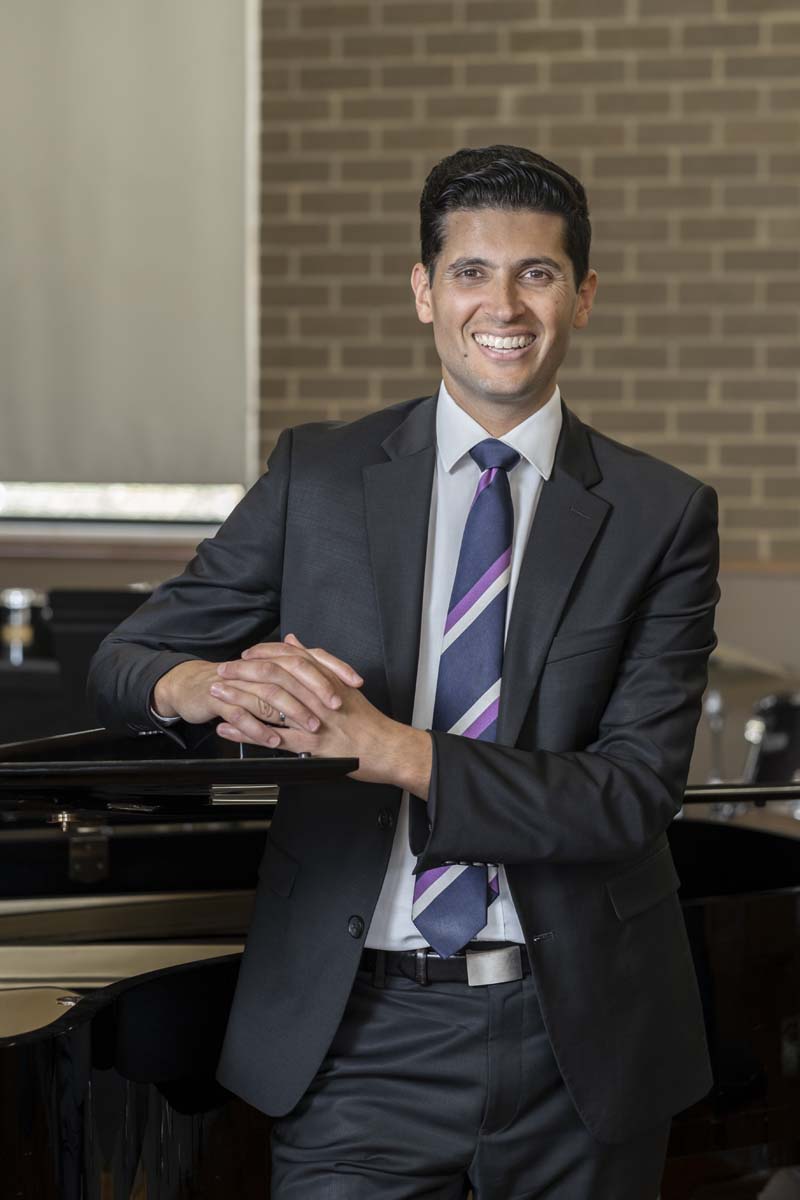 It's ten years since the BGS Director of Music, Jared Furtado, was last on stage. But now, he's getting 'show fit' for his lead role in the upcoming Sydney production of Chicago the Musical. We'll miss him while he's away – but we're willing to share him with the theatre audience for a short time. Read more about Jared here.
Anything Goes!
Tickets are now available for the joint Firbank Grammar and Brighton Grammar School production of Anything Goes.
Anything Goes is a hilarious tale set aboard a ship bound from New York to London. With outrageous characters and some incredible, show-stopping tunes and the incredible talent of the two schools combined, this is sure to be a smash-hit! Anything Goes is open 22–24 May and Anything Goes tickets are available for purchase now.
See you aboard!
Top Arts excursion
Last Friday, 13 VCE Art students went to the National Gallery of Victoria to see the Top Arts exhibition. This exhibition features outstanding artworks from Art and Studio Art students across the state.
After attending a lecture, the boys were lucky enough to attend a private folio viewing, gaining further insight into the working methods of the Top Arts students. All the students came away inspired – albeit a little overwhelmed – by the quality and quantity of work on display.
Steve Emmett
Head of Art
Ute Full of Food
Words cannot describe the pride we felt in our boys on Friday as the Ute Full of Food donations just kept rolling in. The Urwin Centre tables were overflowing with cans, boxed goods and toiletries and Student Services looked more like Woolworths. Our student volunteers had their work cut out for them as they loaded the bus and made their way to St Mark's.
Once there, they too felt the pride as they sorted and filled the empty shelves. St Mark's advised that an impressive 2400 items were donated with an estimated value of $8500.
A huge thanks goes out to every parent, guardian, student and staff member who made the effort to donate. You may not be able to change the world but you can make a difference.
Simone Lewis
Director of Service (7–12)
SchoolTV
Grief is a natural response to loss. It might be the loss of a loved one, relationship or even a pet. Children and adults grieve differently due to their developmental stage, and this can prove difficult for parents to understand. Young children fluctuate in and out of the stages of grief rapidly, as they may not comprehend the permanency death. They express their grief more physically. Teens on the other hand, may not know how to express their grief and will need some space to process their loss. Some may choose to grieve alone, not wanting to stand out or be seen as not coping. Whilst others, who may have a greater understanding, can start to question their own mortality.
In this edition of SchoolTV, parents can learn how to acknowledge their child's feelings and the best way to support them through the grief.
The Meliora Club and BGS Rowing Annual Fundraising Raffle Winners
The Raffle (Permit No. 10625/18) was drawn on Sunday 24 March 2019 at 2.00pm.
Congratulations to our winners and thank you to the Brighton Grammar community for their ongoing support of the Boat Club.
Winners as follows:
1. Stewart – ticket no. 963 
2. Nuala – ticket no. 305
3. Williams – ticket no 727
4.  Strong – ticket no 173
5. Skocic – ticket no 1225
Dates for the Diary
Tuesday 2 April
House Choral Festival
Friday 5 April
Last Day of Term 1 
Tuesday 23 April
First Day of Term 2
Thursday 25 April
Anzac Day
Tuesday 30 April
Wind, Brass & Percussion Concert 
Friday 3–Sunday 5 May
Generations in Jazz (Mt Gambier)
Thursday 9 May
Orchestral, Guitar & Choral Concert