A Word from the Headmaster – Ross Featherston
Through our Effective Learner model, we tell the boys that actively seeking feedback, and acting upon it, is essential to successful learning.
So it is for schools and, as outlined in my communication to parents yesterday, I am pleased to offer you the opportunity to provide me with your views on the effectiveness of our academic, wellbeing and co-curricular programs.
A Crowther Centre initiative, the School Improvement Tool is an online questionnaire here which will be open for parents to complete until Friday 13 September.  
We are asking for 15 – 20 minutes of your time to give us honest feedback on your attitudes towards some of the key pillars, values and programs offered at BGS. Your responses will help us to understand and provide insight into where we are operating well as a school, and identify areas in need of improvement.
The research team will protect your privacy and confidentiality to the fullest possible extent. Your personal information will be kept separately from your questionnaire responses in order to maintain confidentiality. Once the research has been completed, the Crowther Centre will provide me with a report and I will share with you a summary of the outcomes.
I look forward to the School community's participation in this important project, and to using the findings to further improve the quality education BGS provides your sons.
Finally, I wish all the dads in our BGS community a happy Father's Day this Sunday.
A Word from the Deputy Headmaster, Head of Secondary School

–

Dr Rachel Horton
On the first page of Serve to Lead, a book given to everyone who passes out from the Royal Military Academy Sandhurst, historian Sir Arthur Bryant is quoted from an article he wrote in 1948 'The safety and honour of Britain depends not on her wealth and administration, but on the character of her people. This in turn depends on the institutions which form character.' Of course, the institution he was referring to here was the British Army.
Great people are usually judged by their character, and at the 'institution' that is BGS, we would hope that, in addition to the core business of teaching the academic curriculum and setting the boys on a path towards their chosen careers, we provide experiences, opportunities and support for the boys to confidently develop into young men of good character; displaying the school values of passion, respect, accountability and integrity in all that they do.
At this time of year, our Year 11 students in particular have been reflecting on both their own character, by nominating themselves to stand for leadership positions next year, and the character of others as they cast their votes for their peers. It takes courage and strength of character to put yourself out there in the first place, so every boy who has nominated himself should be commended on this. I look forward to continuing the process of selection over the next few weeks, with small panel interviews for the short-listed candidates being held and then the announcement of Probationary Prefects taking place at the final assembly this term.
World Class Journey Reports
New Zealand
The Year 10 trip to New Zealand was the most amazing overseas trip I have ever been on and I will always remember it as a highlight of my Tonner years. Not only is the scenery there something out of a movie – The Hobbit and Lord of the Rings trilogy – but, with the help of our awesome and experienced guides, we were completely immersed in it. A highlight for me was spending two nights in Rex-Simpson Hut, amongst beautiful, snow-capped mountains. In these two nights, I became good friends with boys that I hadn't even talked to in my time in the Secondary School; I think this was due to our sleeping quarters being so close together, leaving us no option but to talk.
I am extremely thankful to both my parents and the BGS Outdoor Education department for providing me with this experience and I am sure the boys in Year 9 will love it next year.
Pearson Grant
Year 10
New Zealand is one of the most amazing places on Earth, for its continuous rolling mountains, some covered with snow, and some with world famous walking and bike tracks. One of my highlights would be the hike to Rex Simpson Hut because it was something I have never done before. A lesson I learnt from going on this trip is, you don't have to travel far from home to have a trip of a life time, a trip that can help you in everyday activities for the rest of your life.
Milan Adams
Year 10
The New Zealand journey was an unforgettable experience. The scenery, ranging from the crystal white mountain tops to the gleaming pink sunrises, was truly special and, for me, was quite under appreciated during the trip. However, looking back at the photos simply made me realise how lucky I was to be there. I would like to give a special shout out to our teachers and especially our guides who worked tirelessly every day, from cooking breakfast to briefing us about the next day before bed.
The care they demonstrated throughout the journey was mostly the reason why this trip was so enjoyable. The famous pies, that jet boat ride, and maintaining the comfort as if you were still at home, were just some of the reasons why the trip was so well received by the boys. New Zealand had everything.
Tony Li
Year 10
Nepal
Recently I was lucky enough to go on the Year 10 B2M journey to trek in Nepal. Upon arrival, I could tell almost instantly that I had made the right choice. When we stepped outside Kathmandu Airport, the weather was a beautiful 29°C and sunny, when we had expected that it would be similar to Australia in winter. Once we started on our hike, we realised the biggest difference between Nepal and Australia is the amazing mountain scenery. We were in awe at the interlocking hills, mountains and valleys that formed the vast majority of Nepal.  These views paled in comparison to the two that I will cherish for life.
The first was just before breakfast when we looked out the window to see both Annapurna South and Fishtail Mountain completely unimpeded by the clouds, both of which are over three times higher than the tallest mountain in Australia. The second was a view of the hills swimming in cloud and tinted in many shades of red, orange and yellow in the sunrise. There were many memories that were created on this journey, way too many to list here, but I hope that my recount of the visit has convinced you that this was a spectacular trip.
Jonathan Hick
Year 10
Lady Gladys Nicholls Award
In National Reconciliation Week, we went to Parliament Garden for an event to mark the recommendation to award a Red Cross Distinguished Service Award to Lady Gladys Nichols. 
Lady Gladys died in 1981, at aged 74, so the award is posthumous. During her life, Lady Gladys was a pioneer who helped develop programs for the advancement of Aboriginal and Torres Strait Islander people. Together with her husband, Pastor Sir Doug Nicholls, she helped to establish the Aborigines Advancement League, the first Aboriginal organisation in Australia.
Lady Nicholls was a volunteer who addressed the rising poverty and social problems of the Aboriginal community living in the city. She founded opportunity shops in Fitzroy for community fundraising, and also opened and ran a hostel for Aboriginal girls in Northcote in 1956. She played an important role in leading positive change for Aboriginal and Torres Strait people.
Calvin Cook
Year 8 
Book Week at St Andrew's end Library

To celebrate the theme for this year's Book Week, 'Reading is my secret power', we combined the power of the word with visuals by Year 12 student Kieran Farrell, who worked tirelessly for months to create a large number of super-hero props.  Boys were invited to 'prop and pose', and to 'Bookface'.  Kieran also set up and manned the popular Virtual Reality game, Beat Saber.
Visiting Australian author, Mark Smith (The Road to Winter, Wilder Country and Land of Fences) immediately engaged students in Years 9 and 10 with a wonderful story. We appreciated his honesty about writing as a career and the influence of digital media on the industry, which will be an ongoing discussion with students.
Other activities included an online book quiz, won by Armstrong 3, and the annual Great Teacher versus Student Debate. Students Harry Barden, Will Curtis and Patrick Liddle battled wits with teachers Ms Anna Ladas, Mr David Nixon and Mr Alan Wilkes in front of a packed library, with the student team winning by one point.  
Debating and Public Speaking
It has been a busy term for the Year 7 and 8 Debating and Public Speaking teams.
Year 8 student Jenson Galvin progressed to the DAV regional public speaking semi-finals this month and should be proud of his achievement to reach this level.
There was a very high standard of debating at our inter-school debates against Firbank Grammar, with BGS coming out on top of six out of nine debates, and best speaker awarded to Nicky Robertson, Andrew McGregor, Jenson Galvin, Will Torrens and Harry Penwright.
A small group of Year 12 students are taking part in the regional DAV Junior Secondary Debating program, including Jenson Galvin, Will Fearn, Moe Spencer, Harry Penwright, George Roubos, Zac Oberai, Harry George, Andrew McGregor, James Tan, Ethan Rowe, Pearce Theodore and Hudson Christie. I'm sure the boys' debating skills will be well developed and stretched through their participation in this unique program.
Thank you to Old Boy coaches, Callum Drake, Mikkel Talts and Finn Roberts for their willingness to develop our debaters and public speakers.
Raelene Plozza
Junior Secondary Debating Coordinator
BGS Snowsports
The BGS Snowsports team has again performed at an exceptionally high standard, with arguably its most successful ever season in 2019. Read the full report here.
Students support Eat Up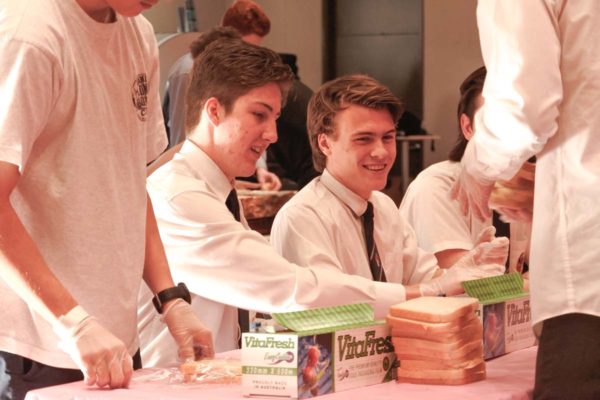 A band of student volunteers, from Years 7–12, were hard at work after school on Tuesday making over 1000 sandwiches in aid of Eat Up, a program that makes and delivers lunches to kids in need. Read full story here.
Geography Fieldtrip
Unit 2 Geography students undertook a day of fieldwork at Melbourne Zoo in Parkville to examine the scale, development and impacts of global tourism.
The boys listened to a presentation from the zoo's education officer, undertook heat mapping to determine the most popular thoroughfares of the zoo and observed tourists to monitor whether or not they were engaging with the conservation and education displays on offer. 
James Harrod
Head of Geography
Trial of new bus route
We are assessing the viability of running a new bus service to and from the School in suburbs including: Armadale, Carnegie, Caulfield, Malvern, McKinnon, Murrumbeena, Ormond,
Prahran and Toorak.
We are seeking families to register their expressions of interest to trial this service free of charge* for boys for the duration of Term 4.
*Normal charges will apply in 2020 if bus run has sufficient interest to continue.  
2019 BGS Pink Dinner
Come dressed in your best bridesmaid's outfit and ready to donate to our wonderful charity, St Kilda Mums. We have a fabulous line-up of fundraising games and activities:
Bridesmaids' Fashions on the Field, with guest judge Della Kantessen
Best bridesmaid Quiz
Catch the Bouquet competition
$50 Balloon Pop
Live auctions featuring a Hayman Island holiday, an Apple watch and lots more
Raffle with amazing prizes
Fashion Illustrations by Sarah Darby
Make a pledge at the St Kilda Mums' Pledge Tree
Pink Dinner Photo Wall
Don't forget to bring plenty of gold coins for the donation games.  EFTPOS only will be available on the night