A Word from the Headmaster – Ross Featherston
What matters in the classroom
As you would know, we continue to emphasise the importance of a high-performing academic culture across the whole School. Currently, we have a particular focus on some key elements of engagement in the classroom (click here for a recent Crowther eNews that outlines this in more detail).
Recently, I had new and personal insight into this process of measuring engagement in the classroom when Ray Swann appraised a Year 11 Literature class that I taught and followed up with a coaching conversation. (Fortunately for me, the boys were highly engaged throughout!)
It was gratifying to read some information about two recent studies that indicate we are on the right track by emphasising engagement in the classroom as a key aspect of a strong academic culture. The first study, from the Journal of Personality and Social Psychology, looked at the relationship between classroom behaviour and educational and career success. The second study, from Edith Cowan University (discussed in The Educator), looked at what students want from their teachers, with a particular emphasis on the happenings in the classroom.
The key results from both studies align with our focus at BGS on ensuring the structure and environment in the classroom is conducive to engagement and thus effective learning.
As an aside, BGS will be hosting an international 'coaching institute' in September, led by a renowned researcher and presenter from the US, Jim Knight. These workshops have not been held previously in Australia. Many BGS staff will be attending this valuable professional development, but the institute is open to the public. If you know of any teachers who might be interested in learning more about coaching, or how to implement an effective coaching model in their school, details can be found here.
Finally, a note of congratulations to all students and staff from FGS and BGS on last week's Senior Production of Chicago. I had to remind myself throughout the performance that this was a school production, such was the quality of all aspects of the performance.
Have a great week.
---
From the Deputy Head of Secondary School (7–8), Travis Hopgood 
Speaking out with truth
'Truth and finding your voice' was a theme throughout the Middle Years this week. At Assembly, the boys listened intently to messages and ideas around being true to yourself. We welcomed Bishop Urwin, who centred our minds on the present moment. School Vice Captain Nick Phillips spoke of the Tonner spirit and how being truthful with themselves enables boys to feel a part of something bigger at BGS. Boys and staff also heard from our two Deputy Headmasters. Rachel Horton highlighted Reconciliation Week – and how every week we are responsible for helping others find their voice so that we 'don't keep history a mystery'. Ray Swann referred to the poem 'The Man in the Glass' (by Dale Wimbrow), and how finding the truth sets you free and allows you to find your voice.
More than 80 Years 7 and 8 boys have signed up for extra-curricular debating this year. This extraordinary number reflects the School's strong debating culture. The boys will compete against Firbank next Tuesday in their first interschool debate. Topics include that 'Homework should be banned' and 'Teachers should be replaced by computers'.
Special mention to the Year 8 boys who are debating in the Senior DAV competition this year. Raelene Plozza has nominated them as a particularly high-achieving group of debaters, who performed extremely well in the DAV Junior competition last year. These boys have been debating with the Year 9s and working with the Senior debating team. They will also attend the DAV Public Speaking competition in the last week of this term. We'd like to recognise exceptional development and commitment from J Sum, Thomas Galinas, Jorge Houridis, Zach Bowen and Sebastian Watters.
A group of Year 8 boys were joined by Firbank girls to discuss this term's philosophy topic – Truth – recently. Deep thinking and careful consideration were given to questions such as 'When is it OK to bend the truth?' and 'How does the media manipulate the truth?'
There is meaningful work in speaking out and letting your voice be good enough. It requires being truthful to ourselves. I'd like to challenge the boys to allow their own voice to matter more to them than the needs and expectations (whether real or perceived) of others.
---
Chicago!
This year's senior production of Chicago was a huge success. The creative team, led by Director Merryn Anstee, brought together an incredible production that left the sell-out audiences in awe. The hardworking cast made up of students from Years 10 to 12 put on a show that was 'splendiferous' and really helped put Brighton Grammar School drama on the map. 
The creative team welcomed BGS Old Boy Ned Wright Smith (OB 2017) as he made his Music Director debut. Ned led a band of young musicians who excelled in performing the complex music of John Kander and Fred Ebb. Another huge thank you to everyone who came to Firbank to watch the boys and girls perform.
Jack Wyss and James Provis
VCE Drama Vice Captains
---
Premier's Awards for Jack and Ben
The annual Premier's VCE Awards were presented on 15 May. Study Awards were awarded to two of our students based on their performance in the 2017 VCE.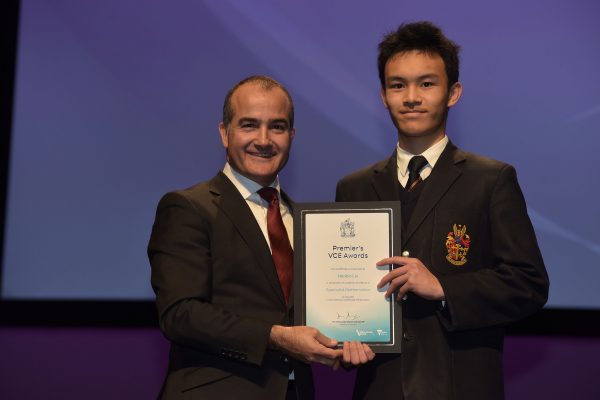 ---
Brad and Craig Compete in PNG
I recently had the opportunity to represent Australia at the Youth Olympic Hockey 5s qualifiers tournament in Papua New Guinea. The Youth Olympics is an underage competition run in a very similar fashion to the Olympics, with the majority of the sports modified to a smaller number of players on smaller pitches. For example, hockey at the Youth Olympics has been modified from a standard 11 players on the pitch to only 5 players on a much smaller field.
To qualify, the Australian team had to travel to Papua New Guinea to contest against PNG, Vanuatu and Solomon Islands for a spot in the Youth Olympics, which will be held in Argentina later this year. The Australian team, playing against some under-resourced nations, was able to win the tournament without much trouble and has since been confirmed by the Australian Olympic Committee to travel to Argentina.
Following this qualification tour to PNG, my younger brother Craig (Year 10) and I have been invited to attend a selection camp in Adelaide, from which the final team to travel to the Youth Olympics will be picked. Hockey has played a very important role in my life so it was an incredible experience to represent Australia for the first time.
Brad Marais
2018 School Captain 
---
Hangout for Science
Last week, we celebrated Science Week, with the aim of engaging students in discussions about Science.  This was achieved through a variety of events, including:
Chemistry demonstrations
Presentation from Dr Christopher Thompson
The House Science Quiz
Talk with a Google Software Engineer
A Titration Competition
Native Animals Visit
During the Science Assembly, Dr Christopher Thompson (Associate Dean in the Science Faculty at Monash University) presented to the Secondary School about engaging with dialogue in Science. Dr Thompson used carbon dioxide (CO2) and the data around measuring concentrations of CO2 in the atmosphere as an example of a current issue where many sources of information are available. The House Science Quiz, an annual competition, also took place, with Hancock House winning in a tough battle against defending champions, Armstrong.
Chris Shallue, a Senior Research Software Engineer within Google and a graduate from Monash University, spoke to a group of boys using the Google Hangouts communications platform. Chris discussed some of his previous projects on the Display Ads Team, where he worked on personalisation of tools such as Gmail and Google Maps. Chris spent the majority of the time discussing his current project with the Google Brain Team, which involves leveraging machine learning to discover planets in data recorded by NASA's Kepler Space Telescope.
Patrick Sanders
Head of Science (7–12)
---
Outdoor Education Leadership Program
Last week, as part of the School's Outdoor Education Leadership Program (OELP), I had the opportunity to attend the Year 6 Outdoor Ed program. The OELP Program has been structured for a group of selected Year 11 students who, over the course of a few leadership programs and numerous mentoring sessions, refine their outdoor and leadership skills. These skills are then utilised to support the younger year-level programs alongside the Outdoor Education staff. I attended the Year 6 Discovery Outdoor Ed Program at Camp Coolamatong in the Gippsland Lakes with other young men I had met numerous times leading up to the program. Together with Oscar Buscombe (another Year 11 boy), I prepared the younger boys for their upcoming program by teaching them skills such as tenting, packing hiking packs and general skills for spending a few nights in the outdoors.
The program with the Year 6s was fantastic – not just in the context of a well-designed and structured program clearly targeted at the Year 6s, but in the sense that I built relationships with boys that will last a long time. The Outdoor Ed Program provided the younger boys with the opportunity to have a senior mentor within the School, regardless of what they needed help with. A big part of our current School culture is unifying all campuses and I feel this program was a prime example of what our 'as one' culture is creating.
Martin Kulesza (Year 11)
---
Fourth Generation for Ned
Ned Bellmaine (Year 12) is the fourth generation of his family to attend BGS. His great-great grandfather, Sir Harold Clapp (1875–1952), began at BGS in 1892. Sir Harold went on to become Chairman of the Victorian Railway Commissioners (1920–1939) and Director-General of Land Transport, coordinating Commonwealth and State road and rail transport (1942–1951). Ned received his Four Generations Badge at Assembly on Wednesday.
Ned's family is one of four Four Generation BGS families that we know of, the others being the MacGlashan family, the Hay family and the Lemon family. Badges are presented to boys from Two, Three and Four BGS Generation families. If your son is second, third or fourth generation, please contact Peter Toms (tomsp@brightongrammar.vic.edu.au) in the Development Office.
---
Student Achievements
Two Year 10 students have been selected in the State Schools Victoria (SSV) Swimming team for 2018: Ewan Smith and Lachie Jackett-Simpson. We wish the boys all the best for the championships, to be held in Hobart in July.
---
Blake Drops by
As Vice Captain of the school and Captain of the AFL team in 2016, Blake Hayes (OB 2016) is no stranger to leadership. He led by example in the classroom, on the field and in the community.
Back on a three-week break after his freshman year at the University of Illinois, Blake took time out to share his experience of being a student-athlete with the Years 9–12 boys in Hancock House and the Junior School Officers.
At university, Blake's days are long. Between training commitments for his American football team, academic classes and homework, he consistently starts at 6am and finishes around 10pm. On game days, he plays in front of home crowds that regularly average 50,000 people. (Coincidentally, the first American football game he ever attended was the game he debuted in!) Chartered flights and buses take the team across the country to 'away' games, where the crowds can be even larger. It is an experience that is more than Blake ever imagined.
Of most interest to me is Blake's continued journey with leadership. Although first-year players do not have leadership positions, Blake recognises that he doesn't need a title to lead, and that his willingness to set an example by doing the extra work both in and out of the classroom is really what leading is about. He also acknowledges that it is important to not just follow, but instead to be true to yourself.
Footnote: As the starting punter of the American football team, Blake averaged 42 yards (just over 38 metres) per punt and recorded the ninth-best single-season average in Illinois history. Blake plans to major in kinesiology.
Christian Machar
Head of Student Leadership (Years 7–12)
---
Games League
In the second-last week of Games League, to celebrate Science Week, the games included science-themed challenges and our guest staff team was from the Science Department. All teams attempted to draw science items in the Pictionary round. While some teams struggled to bring their artistic prowess to the forefront, the staff team (Patrick Sanders, Kylie Rose, Mr Norton and Mat Steed) excelled. Kylie Rose drew her items with accuracy and speed, gaining the staff team a clear win of 7 correct guesses in 1 minute.
The teams then tested their skills of precision, hand–eye coordination, calculation and accuracy in the backflip and spoon-frog games.
We included a casual round this week, with students from a variety of Houses participating, and an enthusiastic staff team (Robert Shaw, Hiroko Hunt and Anna Ladas). The challenges included some of the classics we had seen in previous rounds and they stretched our contestants. Our overall joint winning Houses were Armstrong and Rofe. Thank you to all who participated.
Paula Fletcher
Librarian (Secondary School)
---
Across the Alps – Maths, Science and Art
The Europe 2019 Tour, open to boys currently in Years 8–11, is the first Maths, Science and Art tour to be offered at Brighton Grammar.
Experience cultures, food, historical beauty! Gain confidence and a lifelong passion for travel!
The tour focuses on historical discoveries and achievements, including the City of Rome, Galileo Museum, the Louvre and the Eiffel Tower. Alongside this, we will experience the cutting-edge technology found at the Ferrari Red Campus and CERN, where the Synchro-Cyclotran will open the boys' eyes to the technological possibilities available today.
For a tour itinerary, click here. An information night will be arranged in Term 3 for those interested.
---
BGS in the media
'Should your school teach consent training?' (the educator Australia) Click here
Watch out for legendary crossing supervisor Patrick Bourke, along with the Mayor of Bayside and excited BGS boys, on Channel 9's Today show tomorrow (Friday) at 7.45am.
---
For this week's Career News, click here
---
For this week's Cooking Corner, click here
Easy Ham & Egg Bruffins
---
Dates for the Diary
Friday 1 June
– Year 11 & 12 House Debating Competition 
Monday 4 June
– Years 10 & 11 Exams
– Crowther – Effective Learner Parent Workshop (International Parents)
Tuesday 5 June
– Year 7 & 8 BGS/FGS Debating 
– Years 10 & 11 exams 
Wednesday 6 June
– Years 10 & 11 exams 
Thursday 7 June
– The Effective Learner – A Crowther Workshop for Parents 
– Year 7 & 8 Monsieur Crepes 
– Year 9 Tomorrow Man Session 1 
– Years 10 & 11 Exams 
Friday 8 June 
– Year 8 Sport Tournament 
– Years 10 & 11 Exams