A Word from the Headmaster – Ross Featherston
The term that was…
Thank you to all in the BGS community for a fantastic first term of 2019. From the very first day, when a record number of boys returned for the new school year (looking resplendent in the new academic uniforms), this term has been one of aspiration, hard work, challenge and success.
In the classrooms, the focus on student engagement has been evident, with boys taking greater responsibility for their own (and others') learning. Our Year 12s continue to set an excellent example for the rest of the School to follow as we seek to 'unlock the dance'. The Year 5s, Year 7s and Year 9s have enjoyed adventures in the outdoors, we have collected a number of state and national titles on the sporting field, our relationship with Firbank has continued to strengthen via a number of joint activities and preparations for the Senior Production, Anything Goes, continue apace.
As we continue to aspire for excellence in everything we do, we have laid a strong foundation for Term 2 and the rest of the year.
I wish all in the BGS community a safe, refreshing and peaceful Easter break. Please note that the boys return to school for Term 2 on Tuesday 23 April. (The next edition of the eNews will be published on Thursday 2 May, as the first Thursday of Term 2 is Anzac Day.) I look forward to seeing you then.
From the Deputy Headmaster, Head of Secondary School – Dr Rachel Horton
As we close out the first term for 2019, I reflect on what has been as fast paced and jam packed a term as ever. As the Headmaster has written, this term has been one of hard work, aspiration, challenge and success. I am certain that all boys are ready for a break and I hope that they reach the holidays feeling satisfied with what they have achieved this term. While there has been much to celebrate, both inside and outside of the classroom, and progress to feel satisfied with, likewise, I know there has also been disappointment. However, to fail and build resilience is important. Effort should be applauded and value and reward should still be found in the process itself. 
This term I have been particularly impressed with the way our Year 7 boys have settled into Secondary School life. Having visited them at Point Leo recently I have had the opportunity to see them being challenged by, but embracing with enthusiasm, their first Secondary School Outdoor Education experience under the leadership and guidance of BGS staff, old boys (including 2018 Vice-Captain on the School Nick Philips) and our Year 11 Outdoor Education Leaders. I witnessed a diverse range of conversations including the best way to carry a pack, how to make a great wrap for lunch, favourite movies, sport and how to become an academic scholar and get your name on the wall in the Hancock Wing. On Tuesday morning during the fabulous House Choral competition I saw the excited reaction of the Year 7 Armstrong boys as they saw Lachie Briggs and Jack Seymour (who had been with them at Point Leo) take to the stage to sing. There is so much value in these cross-age interactions and the long term impact of these conversations cannot be underestimated.
I would like to wish all members of the BGS community a peaceful and enjoyable Easter time and look forward to welcoming the boys back for Term 2 on Tuesday 23 April.
House choral competition
On Tuesday 2 April, Secondary School Houses competed in the second Annual House Choral competition in St Andrew's Church. The aims of the competition were to:
to promote a culture of singing in the Secondary School
to actively engage students in the House system through music
to encourage and foster student leadership.
Each House Choir sang a set piece – Be Thou My Vision – as well as a piece of choice. These ranged from songs by Cats in the Cradle to Daryl Braithwaite to The Beatles. The acts were adjudicated by opera superstar, David Hobson and Co-Director of Music at Firbank, Philippa Jones, who were very impressed with the vocal talents of our boys. Whilst there were amazing performances by all House choirs, Rofe House won the Rodney Ford House Choral Shield with their arrangement of 'Stand By Me'. The House Spirit Award went to Jack Wyss from Crowther House and the Most Promising Conductor award went to Isaac Burgess from Armstrong House. The prizes for these awards – JB HiFi vouchers – were kindly donated by BGS Friends of Music.
Year 8: Upstairs, downstairs
There has been a revolution in the Urwin Centre this year and the Year 8 boys are taking it in their stride. For the first time, the Year levels are spread throughout the building so the we now have Years 7 and 8 Armstrong, Crowther and Dixon boys downstairs and Hancock, Rofe and School boys upstairs in alternating commons. This reconfiguration was made in concert with the introduction of the PALS program, which is encouraging greater interaction between year levels and increased opportunities for the Year 8 boys to mentor and support their younger counterparts. Each Year 8 boy has been paired with a Year 7 'PAL', and has their locker next door to their buddy. This way the older boys can provide active, daily encouragement, advice and support. It has been impressive to observe how the Year 8 boys have embraced this initiative, and combined House Tutor activities, are providing opportunities for regular PALS conversations.  An additional highlight for the Year 8 boys was the cross-age event that saw Year 10 and Year 11 boys mixing with Year 7 and 8 PALS to share their BGS experiences and pass on their collective wisdom and ideas about inclusivity.
The Year 8 Armstrong boys under the guidance of Robert Hanley have begun the year with purpose and have made organisation and daily routine a particular focus. Their active engagement in events such as the Courage to Care Program has been appreciated.
Crowther House Tutor Robert Hayward, has been impressed with the energy his boys bring to school and their keenness to 'put a freeze on bullying' during the National Day of Action Against Bullying and Violence. The great efforts of the Crowther boys towards the Ute Full of Food demonstrated their collective social conscience.
David Nixon's 8 Dixon have begun the year very smoothly and have accommodated the routines well. Their learning common is always most welcoming. The Dixon boys, perhaps as a reflection of their House Tutor's penchant for English, were an enthusiastic audience for visiting author and poet Steven Herrick who wrote The Simple Gift, which they are currently studying.
Darren Cook's Hancock boys, in a similar fashion, have actively engaged in all of the activities on offer and are to be congratulated on their efforts in the House sports events and the manner in which they have welcomed their OELP leaders.
For the 8 Rofe boys, a victory in the House Swimming was perhaps the crowning moment of their first Term – finally knocking Crowther off their perch for the first time in a number of years. Linda Flynn's 'luck of the Irish' might have been a contributing factor.
School House played Dixon in the final of the House Futsal and emerged victorious, due in large part to the heroics of Matthew Cruse in the dying minutes of the match, and possibly Shintaro Nagayama's vocal support. School House boys are also to be congratulated on taking out the 3-on 3 Basketball title against Crowther. They came away with the win in a closely contested final.
For all of the Year 8 boys there has been a clear focus this term on how they approach their academic work. A presentation from Ross Featherston and Dr Ray Swann focussing on engagement and appropriate learning dispositions was well received and resulted in the boys' generating two initial core goals around readiness to learn, and being conscious of who they sit next to in the classroom. We hope that articulating their intentions will assist our Year 8 boys to 'unlock the dance' during the remainder of the year.
Finally we acknowledge the guidance and work done this term by our Year 8 Leaders Brayden Hope, Lachie Paino, James Clarkson, Moe Spencer, Tristan Orb, Matthew Cruse, Oliver Goodger and Jenson Galvin, particularly for the student-lead assemblies they have organised, and the leadership they offer their respective Houses too.
Peter Furey and Katie White
Year 8 Heads of House
Badminton
The Year 9/10 badminton boys have had a wonderful season this year. It is great to see the students take the leadership and ownership of their sport commitments. Great praise to those boys who attended the training and Saturday fixtures in a positive and mature manner. We also appreciate all the supports we have received from the boys, their parents and other staff members. Congratulations to those boys who won the MVP, Coach's Award and the 'Rising Star'. Their hard-working and excellent performance are greatly valued by other boys, the coaches and teachers in charge. A special thanks to Arito Nagasaka and Luca Spampinato, who constantly supported and cheered for their teams throughout the journey.
Wen Yan
Teacher in Charge – Badminton
International captains
Brighton Grammar is a diverse community and we have a large number of International students at the school. These boys may be in a homestay, living with a family member or guardian or may be lucky enough to have both parents with them.
No matter their circumstances, an International student is any boy born in another country and has since come to Australia to receive an education. While we currently have a large number of Chinese students, we also have boys from Japan, France and South Africa.
These boys recently voted for students to represent them and I congratulate Jason Jin and Eric Shi who are Co-Captains, Lawrence Liu, and Johnson Shen who are Co-Vice Captains. We look forward to working with these boys in the future.
There is great support at the school for these students with the usual pastoral team supported by Wen Yan at School and Maggie Lynch checking on home stay students and coordinating activities outside of school through the International parents group.
We received this message from Jason after the vote:
'On behalf of international students captains (Eric Shi and myself), vice-captains (Lawrence Liu and Johnson Shen) and all the boys from each different year levels, I would like to take this opportunity to thank you for everything you have done for us, and we really appreciate it. We, as international students, coming from foreign countries to study in BGS, really value this culture within the school, and we really looking forward into the future to build this culture even more stronger and powerful. Again, thank you and hope we can have a great year of 2019!'
David Liddle
Deputy Head of Secondary School (11—12)
Swimming Championships
Four BGS boys have qualified in the upcoming 2019 Prospecting Australian Age Swimming Championships from 15 to 22 April to be held in Adelaide. Harrison Preston (Swimming Captain) will compete in two individual events, while team mates Ewan Smith will line up for seven individual events, Lachie Jackett-Simpson with six events and Max Kortge competing at his first Nationals with three events.  Adding to their schedule will be numerous relays with fellow Firbank Aquastars members.  Coached and supported by Firbank's Director of Swimming, Jason Cooper, we wish the boys all the very best in the lead up and during competition.
APS Swimming Finals
The Secondary School Swimming Squad displayed excellent talent and determination at APS finals night on Wednesday evening. It was a successful night with the school finishing 6th overall which is an outstanding achievement against an incredibly tough competition. It was very encouraging and motivating to receive massive support from parents and peers, which without a doubt, helped us swimmers race down the pool. It is truly a privilege as a swimmer to be part of the loud buzzing atmosphere, which is something rarely experienced outside of school life and is something that will not be forgotten.
There were many outstanding achievements on the night including Lachlan Jackett-Simpson (Year 11 Rofe) coming first in his 200m Freestyle event and the under 13 4×50 Freestyle relay consisting of Kyle Roos (Year 7 Rofe), Ayden Roos (Year 7 Rofe), James Tan (Year 7 Crowther), Levi Ashcroft (Year 7 School) also winning gold.
This season has proved to be a leap forward in Brighton Grammar Swimming. It has great to see the whole squad come together collectively whilst striving to be the best we can be. I hope each member of the squad has taken away the strong message of the season that 'everyone is of value' and hope they are proud to have represented Brighton Grammar.
I encourage swimmers next year to continue to push themselves with the aim to be the best they can be and I am fully confident that BGS Swimming is moving in the right direction.
Harrison Preston 
Swimming Captain
Sailing's not always a breeze
After losing three of their best six sailors coming into the season, the Brighton Grammar Sailing Team understood that the Victorian Teams Sailing State Championship was not going to be a breeze.
The Sailing Team have held the title, taking out the John Middleton Cup for three years in a row. Knowing the target was on their back, the boys demonstrated the core values of the School – passion, respect, integrity and accountability – as the Firsts, Seconds and Thirds entered the waters' edge at Williamstown.
Under the excellent leadership of team coordinator Rob Hayward and coaches Sam Mackay, Tom Trotman and Ethan O'Brien, the boys were ready to give their best efforts and fight the good fight – whatever it took.  After a strong qualifying series from all teams, the BGS Thirds team qualified first in Division 2 – silver, the Seconds team qualified second in Division 2, and the Firsts team qualifying equal first, alongside close rivals Mentone Grammar. With unfavourable wind conditions, the Seconds and Thirds teams were unable to compete on finals day; however, the Firsts were ready and raring to go to defend the School's title.
'Heading into the finals, our goal was simple: sail smart and fast' says Co-Captain James Provis (Year 12). 'A seemingly easy concept to achieve on paper is much harder to execute on the water,' he confirms. Co-Captain Lachie Caldwell (Year 11) commented, 'With Williamstown and mother nature serving us some tricky conditions, we battled it out against eight of the top schools in Victoria.'
After qualifying for the Championships, overcoming Haileybury and Peninsula Grammar School unscathed and not losing a race in their best of three qualifiers, the Firsts found themselves racing Mentone – the single team that had outperformed them throughout the duration of the regatta. In this close and intense final, with some excellent displays of teamwork by all members of the crew, the BGS boys managed to beat Mentone in straight sets – a fantastic achievement.
At the medal ceremony, the Seconds were awarded a second place finish in Division 2. They should be extremely proud of their efforts, not only at this championship but also throughout the season, winning the Helen Middleton Trophy for Term 1 in Division 2.
The sailing results continue to reveal the hard work and dedication of the boys at Brighton Grammar. Their determination to persevere when competition became tough proved worthwhile and a credit to the School.
The Sailing team will represent BGS at the Schools Teams Sailing National Championship this coming June.
Urwin Centre Library Committee – 'Fellowship of the Books'
The Urwin Centre Library Committee is a group of boys who are passionate in ensuring the UC Library is a fun, welcoming place that can take you places through books. Our recent induction marked the start of the 2019 library season, and boy did we kick it off with a bang! Our Blind Date with a Book campaign was a success, with almost every book in the activity borrowed. Following that, we ran an International Women's Day activity, which involved the strong support of our newly inducted members, who curated a set of books and quotes from famous men that demonstrated to our fellow boys in the school why women are so important in a man's life.
Looking to the future, we have many activities planned, which orientate around major events such as Anzac Day, Mothers' Day, Fathers' day and many more. These events would not be possible without the strong support of our librarian, Ms Ruth. While it is her first term at the School, she has already made a big change in the library leading the activities we've run. Boys, if you see Ms Ruth around, please thank her for the great job she's done in first term.
Our newest members are settling into their positions well after a successful induction. This year, we have six Year 7s joining us. They are: Alistair Liddle, Andrew McGregor, Hugh Langdon, Lucas Hiscock, Matthew McIntyre and Thomas Sneyd. Our veteran Year 8 members are: James Pennington, Josh McCahon, Leon Haralambakis, Leon Liu, Oscar Sloan, Will Fearn, Eason Liu (UC Library Vice Captain), and myself. If you see any of these boys around the school, please offer your congratulations to them. They have had an extremely successful first term and, by the looks of it, are excited for the upcoming terms and the opportunities they bring.
The Urwin Centre Library Committee Members are here to help you in your library or with book related inquiries and will continue to strive to make the library an awesome place.
Jenson Galvin
UC Library Captain
Hancock House Service – Clean up Brighton Beach 
Last Tuesday a group of Year 9–12 Hancock boys headed down to Brighton Beach to participate in the 'Clean up Australia' initiative. The group's goal was to pick up rubbish from the Beach Boxes to Brighton Baths. The sun was out as the boys equipped with gloves and garbage bags, headed to each corner of the beach searching through the sand and shrubs to collect and dispose of the rubbish. We collected everything from plastic bags to discarded shoes, the boys enjoying trying to collect the most rubbish possible. Every piece of rubbish collected will help the environment and if we can all look at leaving behind less for the future the world will be a cleaner place.
It was rewarding for all boys involved, especially the Year 9s who got a taste of what it meant to be part of the House – not just the cleaning of the beach, but also being able to talk to boys from different years that you wouldn't normally have a chance to interact with. Talking to younger boys about school experiences or reminiscing about Outdoor Ed journeys all whilst helping a worthy cause. The time we were down the beach flew by and in the end we had filled bags of rubbish and the beach was noticeably cleaner. Hopefully all boys in the School will be able to participate in the new community services that each house is offering.
Greg Hick
Year 12 Hancock
Year 7 Outdoor Education Program – Point Leo
Creating a foundation together
For the last two weeks, Year 7 boys have been out on the Mornington Peninsula, where their Outdoor Education Program is based. The Program consists of two nights hiking along the Two Bays Track to Cape Schanck and two nights camping at Point Leo, where they surf, stand-up paddleboard, explore the coastal environment and spend plenty of time playing games and strengthening relationships. 
The shared experience in their house groups gives the boys an opportunity come together and develop a strong sense of community. The positive strengths focus challenges them to use their strengths to help others and to support their peers to do the same. 
The scenery is spectacular, making it easy for the boys to appreciate the natural beauty and follow their curious nature. Throughout the trip, the boys have learnt how to sort their waste to reduce our impact on landfill and discussed the importance of protecting our natural environments.
The Year 7s have shared challenges, enjoyed new experiences, connected with peers and teachers, and reflected on their goals for year, creating a great foundation from which to strive for more in Term 2.
You can read more about the why and how of Outdoor Education at BGS in 2019 in this week's Crowther Centre eNews.
Youth in Philanthropy
Last Thursday the Brighton Grammar Youth in Philanthropy team ventured to the State Library to gain a deeper understanding of the Program. The Youth in Philanthropy Program was established by Lord Mayor's Charitable Foundation in 2002 to help young people learn about the importance of philanthropy, current community issues and community leadership.
Our 2019 team consists of Eric Stone, Hamish Roberts, Harrison Chapman, Max Mozina, Maxim Coste and Sam Flockart. After listening to the Keynote presenter, Michael Lim, speak passionately of the need for youth to engage in community, identify personal values and follow their passion, the team was set to work. The boys worked together to commit to an impact area, choosing Environment and Sustainability as it is an issue they feel particularly strongly about.
In the coming weeks the team will choose three relevant charities to research and conduct site visits. They are also encouraged to raise funds and make their peers aware of the impact of these services. At the conclusion of the Program, the team will allocate at least $10,000 across their chosen charities on behalf of Lord Mayor's Charitable Foundation.
Simone Lewis
Director of Services
SchoolTV link e-news
There is no single age group of people more affected by alcohol and drugs than our young people. For some, a one time or infrequent use of alcohol or drugs can result in tragedy: alcohol poisoning, an accident or fall when under the influence of alcohol or drugs, or an arrest associated with alcohol or drugs. Young people who use alcohol and drugs before their brain has fully developed, are at increased risk for future addiction. Those who start drinking alcohol before the age 15 are five times more likely to develop alcohol abuse or dependence than those who first use alcohol at age 18 or older. Visit SchoolTV for interviews with leading specialists, helpful articles, and fact sheets about drugs and alcohol.
House Streetball
The Year 9 and 10 edition was the final Streetball competition of 2019. It was hotly contested with plenty of talent on display from all Houses. Rofe, Dixon and Crowther were the stand-out teams with only a small percentage separating them after the Round matches. Unfortunately, Rofe were the unlucky ones, leaving Dixon and Crowther to fight it out in the Grand Final. The Final was a tight contest and Dixon got off to an early lead with baskets from Blake Oliver and Gus Corke, but Crowther rallied hard and levelled the scores with some great play from James Clarke and Seb Watters. In the end, Dixon House prevailed in a tough contest to win the 9/10 Streetball competition. Thank you to all students who participated over the week and well done Dixon!
 Year 9-10 Streetball Ladder
1. Dixon
2. Crowther
3. Rofe
4. School
5. Armstrong
6. Hancock
Ben White
Head of Dixon
Checkmate in five!
Lachlan Paino (Year 7) achieved checkmate in five moves as we took on the might of National Champions Melbourne High School this week. Hosting the Zonal Teams Championships for Chess Victoria, BGS teams placed 7th, 8th 10th and 12th of 16 teams. Melbourne High School won the day narrowly from PLC. Our players have only just begun playing and we're receiving expert coaching from Chess Victoria. We encourage any boy to come to the Annandale classroom at Friday lunchtimes. Soon, teams will be selected for championships to be held at St Catherine's in the hope of qualifying for the state championships later in the year.         
Top Designs Excursion
VCAA Top Designs exhibition
The Visual Communication Design students recently attended the VCAA Top Designs exhibition at the Melbourne Museum.
This exhibition displays selected A+ VCD Units 3 and 4 folio (SAT) work from across the state. The display is now regarded as one of the top junior design exhibitions in Australia.
The exhibition aided our boys' understanding of the key design processes and sparked ideas for their future tasks. They were able to review top VCE work while creating links to learning architectures within their work.
All the students enjoyed viewing the wonderful work on display.
Matthew Wardell
Head of Visual Communication Design  
Welcome back Marty Fields
Old boy comedian, radio presenter and performer Marty Fields generously gave up his time to come in and run a workshop with some lucky Production students last week. Marty gave some invaluable advice on how to bring character and energy to a role, imparting some words of wisdom and sharing his experiences from when he played the role of: 'Moonface Martin' in the professional Anything Goes. Our 'Moonface Martin' played by James Provis and his sidekick 'Erma' played by Sophia Wilson walked away with lots of new fresh ideas for their characters. Thank you Marty.
Michael Kent
Head of Drama and School Productions (7-12)
Triple Treat
On Thursday morning Harrison Kirkham and Martin Kulesza became National Champions in the Men's Under 19 Pair. In a great race they led from start to finish holding out Mosman Rowing Club (NSW) and Swan River (WA). Joshua Bortolussi and Jakub Williams also made the final and finished 5th.  Following a great result in the pairs the 4 combined with Charlie Durkin to take out Gold in the Men's Under 19 Coxed Four. Their time of 6:36 was only 4 seconds outside Australian Junior Team qualification. It's an outstanding effort from these five boys and coach Nick Lloyd. 
The boys then combined with the rest of the 1st VIII crew: Tom Banfield, Callum McPeake, Brock Jackson and Henry Armstrong to finish 2nd in the Australian Schoolboy VIII National Title. This was an amazing race with the crew coming home strong to overtake Nudgee College, Queensland in the final few strokes; a gusty Tonners effort. The School also finished a creditable 7th in the School Coxed Quad and 14th in the Schoolboy four. These crews were made up of the School's 2nd VIII. This caps off a highly successful season for the team.
Independent Service
Service comes in many forms at BGS, including:
House Service Program
Small Group Service Programs
Independent Service
All boys in the Secondary School have been asked to participate in at least one Service program this year. This might be one of the programs listed above or a commitment outside of school – perhaps surf life-saving, CFA volunteering, St John's Ambulance, volunteering at a retirement home or shelter, or one of the many other opportunities open to your sons. If your son has taken part in a program outside of the school throughout Term 1, please complete Independent Service Activity Form and email it to Simone Lewis. We don't want our boys' Service contributions to go unnoticed.
Many fingerprints
It was a thrill to have James Kerr, author of Legacy, work with the student leadership group at BGS last week. James has supported the development of our school culture over the past four years through endless phone calls, emails and text messages. His visit was his first opportunity to greet the students and the wider community in person.
James provided us with an insight into how culture has been created at the All Blacks and in other organisations. He spoke about the Legacy Project and how we can continue to develop our messages through opportunities. He challenged the group not to let an idea stay as an idea and to have initiatives connect – or, in James's words, to 'get as many fingerprints' from people as possible to build the culture.
Christian Machar
Head of Student Leadership (7—12)
Anything Goes!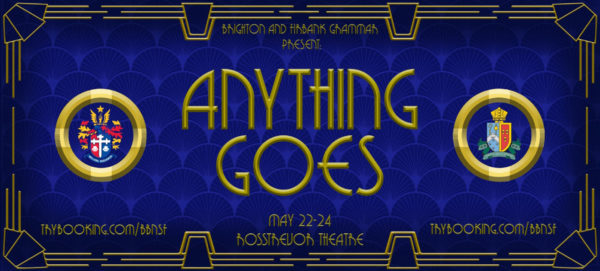 Tickets are now available for the joint Firbank Grammar and Brighton Grammar School production of: Anything Goes.
Anything Goes is a hilarious tale set aboard a ship bound from New York to London. With outrageous characters and some show-stopping tunes, and the incredible talent of the two schools combined, this is sure to be a smash-hit! Anything Goes is open May 22-24. Book now or you'll risk missing out!
See you aboard!
Dates for the Diary
Friday 5 April 
Good Friday Chapel 
Last Day of Term 
Tuesday 23 April 
Term 2 commences 
ANZAC Chapel Service 
Thursday 25 April 
ANZAC Day (Public Holiday)