A Word from the Headmaster – Ross Featherston
Be part of it!
It is fantastic to have the boys back and in fine fettle for what I already know will be another great year at BGS. (If you haven't already had a chance, please watch my short Welcome Video.) In particular, I am very pleased with the look and feel of the new academic uniform, and I think the boys are enjoying it too.
It was exciting to kick off the year with the official opening of our new Annandale sports pavilion last Friday evening. The sense of community, which is such a feature of life in and around BGS, was palpable as Walter Annandale Jack's granddaughter, Sue Leaper, cut the ribbon. Alongside official proceedings, the current 1st XI cricket team fought off the Old Boys by just 2 runs in an entertaining and high-quality match on the Crowther. From now on, Annandale will play a key role in our boys' education at BGS, particularly in relation to their physical wellbeing. 
As the 2019 school year clicks into gear, and you're out and about (or on your device), you might start to notice some examples of a new BGS marketing campaign. The 'Be part of it!' campaign highlights the special sense of community that permeates our single campus and the way we go about things here. We hope that this message will resonate.
Have a great week.
From the Deputy Headmaster, Head of Secondary School – Dr Rachel Horton
Welcome to the 2019 school year! It has been fantastic over the past week to once again have the school filled with the energy and buzz that the boys bring with them. I would also like to welcome new Secondary School families and staff to the BGS community. It has been great to see so many new and returning parents at our numerous information evenings over the past week.
We have started the year with much to celebrate, beginning with the Welcome Ritual for our new Year 7 students on the first day of term. This was followed by the induction of our 2019 student leaders, fresh from Big Fella Camp (more on this below) in a Chapel Service on the second day of term. The School Prefects, together with the House Captains and Vice Captains have had an outstanding start to the year and have presented a clear message which both incorporates themes from previous years, As One, for example, but also builds their own legacy. They are passionate about encouraging every 'Tonner' from Year 7-12 to involve themselves thoroughly in the life of the School, to be the best that they can be. I am truly excited to see what heights they can lead the Secondary School to in 2019.
This week we also celebrated the academic success of our 2018 Year 12 cohort with a Scholar's Assembly attended by all of our 95+ students and their families at which Dux, Jack Liu, spoke to the boys about what had allowed him to (to use the words of this year's cohort) "unlock his dance". An article on the assembly follows in this newsletter and I would also encourage you to click on the link to Crowther Thinking this week for some great information on boy's education, current research, issues and concerns from Dr Ray Swann and his team.
After the official opening of Annandale last week, I was thrilled to see the 8A Cricket XI enjoying their opportunity to play on the Crowther oval last Saturday. In another cause for celebration, our First XI will play their first two day home fixture on the Crowther for well over a year this Friday and Saturday. I know they will also be excited to have the support of their fellow students at the start of the match which has been scheduled for 12.55pm, during lunchtime.
Finally, I wish every member of the BGS community a very successful and fulfilling year.
From the Head of Student Leadership – Christian Machar
The new school year naturally marks the beginning and return of academics for students, but it also sees many boys commence leadership positions. Whether it is the Captain and Vice-Captain of the School; Prefect; House, Music, Drama or Sports Captain; it is a wonderful opportunity to develop skills and behaviour.
For some students it is a responsibility which they have aspired to hold, whilst some immediately dismiss or ignore the notion of being a leader. But even without choosing to be a leader, circumstances will create opportunities to lead. It may be in the context of an older brother or cousin, Year 12 or Brighton Grammar student, or working on a class project. 
All boys need to be aware of the power they have in shaping others, and it is this reason that a unit on leadership is taught in Year 11. In Year 7 and 8, Ms Nicole Clark (Head of Year 7 – Armstrong, Crowther, Dixon) and Ms Danielle Wolff (Secondary School Psychologist – Years 7-8) have introduced the PALS (Peer and Leadership Support) Program, and the benefits were immediate on the first day as the Year 7s were welcomed and supported by their older peers.
Leadership is about making others better and it is important to provide these opportunities.
From the Director of Service – Simone Lewis
Plant trees you'll never see grow
To give of ourselves without expectation of reward can be the most challenging yet humble of acts.
Many years ago I was fortunate enough to accompany a small group of students to see the Dalai Lama speak. His words, as one might expect, were profound but, by far, my greatest take away from the event was his demeanour. He listened, far more than he spoke and at all times, he exuded happiness and love. At the time, I wondered, how can someone who is constantly needed by so many, who has seen such atrocity, have the ability to feel such love, compassion and at the same time be so happy? Why use that energy on complete strangers? What is in it for him? Through my own experiences with service and in working with students in this area, the answers became clear. We all share a basic need for food, shelter, safety and love. In serving others in a practical sense, we are given the opportunity to discover our similarities and appreciate our differences, rather than fear or reject them.
The beneficial effects of volunteering on health outcomes have been well documented in recent years. Research has found that participation in voluntary services significantly predictive of better mental and physical health, self-esteem, happiness and purpose. We all strive to be happier, healthier, better versions of ourselves and we hope that our children will grow to be strong, healthy, happy individuals, who somehow contribute to a better society, don't we?
This year, students will be asked to take part in at least one active service program. Some students already have a strong commitment to a particular program, whether it is playing the piano at a local retirement home on a regular basis or a commitment to surf life-saving volunteering. These efforts matter and are valued by the Brighton Grammar Community. I will provide further information in the coming weeks to ensure these commitment are recognised by the Service Program.
For students that are not already linked in with active Service, I encourage you to check the Hub and eNews for volunteering opportunities or seek out areas of interest yourself. You may want to undertake some volunteering with a family member or arrange for a small group of students and parents to work together, or, your sport team may decide to commit to something that is close to your hearts. Volunteering opportunities for students under the age of 18 can, at times, have limitations but there are plenty of opportunities out there for creative minds. It will be necessary to be organised and avoid waiting until the final months of the year. Your challenge in undertaking service is to strive to continue to be a better version of yourself.
We are looking for parents and other family members to support the Service Program throughout 2019. If you would like to offer time or resources, please email me.
I ask that when you undertake your service this year, you do it with integrity and respect.
Celebrating Academic Achievement
The Scholars' Assembly is a highlight in the calendar as it is the way in which Brighton Grammar School looks to honour high achieving past students. It provides an opportunity to celebrate academic success and reflect on the paths that led these students to that success. All students that receive an ATAR of 95 or above (placing them in the top 5% of the state) are invited back to the Scholar's Assembly. The 2018 cohort achieved the tremendous feat of having 30 students receive an ATAR score of 95 or above, equaling the most that the school has ever had.
The 2018 Dux, Jack Liu, was the keynote speaker at the assembly. Jack achieved a perfect study score of 50 in both Mathematical Methods (in Year 10) and Specialist Mathematics (in Year 11) and obtained an ATAR score of 99.80. This places him in the top 0.20% of the state. In Jack's address, he reflected on his time at Brighton Grammar School and shared his story of progressing from a point where he couldn't understand English used in class in Year 7 to being able to learn, manage and flourish in his classes. From Jack's speech, three major themes emerged for me as to how Jack made so much progress:
Looking at difficulties with content or a learning environment as an opportunity to improve – This resonated with me as a growth mindset such as this allows the develop of really important personal qualities such as persistence and resilience.
Working consistently – Jack talked about how studying 5 minutes more every night for a year can add 20 hours of extra study time over the year. In this way Jack shared the value of manager workloads and provided his method for doing this effectively.
The importance of reading – Jack talked of the importance of reading to his development and encouraged the student body to "get one or two books to read". This has been a consistent theme from our past Duxes which, not surprisingly, I concur with.
Brighton Grammar School is committed to continually placing academics as first amongst equals. This is why the school has invested heavily in setting up the Syndicate Program, Long Day Program and utilising past scholars to support our VCE students. The Scholars' Assembly, along with the Scholars' Wall, are important pillars in the way we celebrate academic successes.
In Jack's words, 'I hope you all enjoy a great year.'
Patrick Sanders
Director of Curriculum and Assessment (ELC–VCE)
A Welcome Ritual
The transition into Year 7 is a key milestone in every adolescent's journey, and last Thursday saw 163 nervous boys welcomed into the Brighton Grammar Secondary School via a ritual held by the Years 8–12 students. The ritual is vital in assisting the boy's growth, and allows them to leave behind Primary School as they continue their schooling journey.
The Year 7 boys were welcomed in the Secondary School by their Year 8 pal, who greeted them as they crossed the road into the Urwin Centre and provided them with their House badge. While this was the first time the Year 7s had met their pals they had already been welcomed into Brighton Grammar with a personalised letter that was sent home to them before Christmas. The ritual provided a great chance for the boys to officially meet and for the Year 8s to provide an insight into what it means to be a Brighton Grammar boy. It also provided a chance for the wider community to honour the Year 7s as they embark on this important transitional phase. We would like to thank the many parents and staff that were in attendance for the ritual and recognise the importance of the role they played in the success of the morning.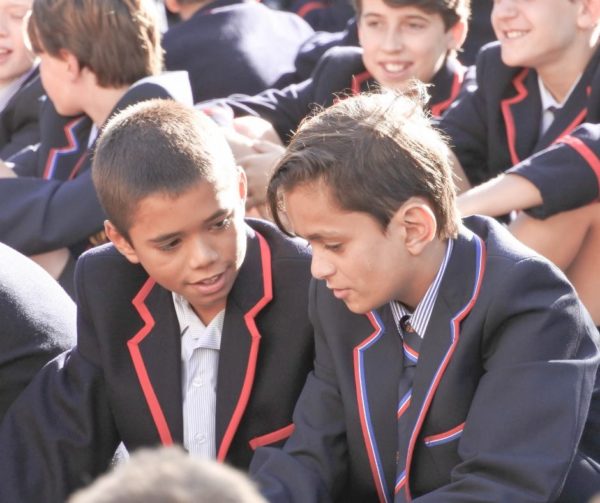 The ritual not only involved the Year 8 boys welcoming the new students, but also involved all Year 12's coming across to the Urwin Centre to embrace the Year 7's and welcome them with some familiar chants. The boys were addressed by the School Captain Noah McGrath before being lead from the Urwin Centre down to the Clock Tower by their fellow House mates. Here the boys were welcomed through the tower by all Year 8-11 students who were situated around the Quad.
This ritual is an important process in all boys understanding their new roles and responsibilities as a member of the Brighton Grammar Secondary School family. We wish all Year 7's the best of luck as they embark on this journey and look forward to watching them flourish this year.
Nicole Clark and Scott Davies
Heads of House (Year 7)
Prefect Induction
On Wednesday in Chapel, we formally inducted the Year 12 leaders for 2019. Headmaster Ross Featherston gave a thought-provoking speech based on the theme of 'Unlocking the Dance' and gave examples of how that might look for the School and Year 12 group in general.
The Prefects then pledged to serve the school, parents pledged to support them, the student body pledged to heed their instructions and the staff pledged to support and guide the Prefects as required. A Eucharist followed the pledges and thanks to Father Tony for putting together the service.
Congratulations to the following boys who are the student leaders for 2019:
Noah McGrath (Captain)
Martin Kulesza (Vice-Captain)
Ethan Baines
Tom Banfield
Leo Kouskouris
Oscar Lewis
Callum McPeake
Jacob Travers
All boys also received their official plaque and ties and celebrated with a morning tea with their parents following the induction service.
David Liddle
Deputy Head – Years 11 & 12
Big Fella Camp 
Once again, all Year 12 students made their way to Big Fella Camp prior to the Australia Day Long weekend as part of their preparation for the busy and often challenging year, which lies ahead.
Accompanied by their Heads of House, Dr Horton, Mr Liddle, Ms Atchison, Mr Machar and Mr Wilkes the boys left bright and early on Wednesday bound for Howman's Gap and the mountain that lay ahead.
After lunch on the first day, Noah McGrath (Captain of School). Martin Kulesza (Vice Captain) and the senior leadership team set out their ideas for leading the school – Unlocking each boy's dance to present their best self and community and planting trees that you may not see grow. Boys then workshopped what this meant to them and how they might present this concept to the rest of the school.
Ms Atchison ran Syndicate sessions in preparation for SACs and Syndicate, which will be a big part of the boys lives this year. Mr Machar conducted Legacy sessions and Heads of House ran circle time and goal setting exercises.
Of course, the main challenge was to climb Mt Bogong (Big Fella) and we set out early Thursday morning to accomplish this task. Boys were challenged physically and mentally both as individuals and as House groups and a great sense of camaraderie brought each House cohort closer to each other. We were fortunate that the weather was much more pleasant than it was in Melbourne and all boys and staff made it up to the summit for the first time. I hope that this a great omen for what lies ahead.
Thanks to the Outdoor Education team lead by Mr Gemmell and Mr O'Malley who ensured that the hike was completed safely and that all boys had plenty of water. Congratulations also to Mr Liddle, Mr Sainsbery and Mr White who are the only staff to have successfully completed all 4 hikes!
The messages from the camp were then put into practice with the Year 7 ritual and the opening Assembly introducing the Legacy project and what it meant to individual students as articulated by Ethan Baines, Jacob Travers, Archer Disney and Matthew Young.
David Liddle
Deputy Head – Years 11 & 12
Sports Activities
Swim Camp
Twenty-six Years 7–12 boys attended Swim Camp in Geelong over the holidays giving members the opportunity to interact socially as one, focus on improving swimming skills and continue to build upon our high-performance culture. It was fantastic to see many new faces to swimming, including our Year 7 boys who were able to learn about their school prior to the beginning of their time at BGS. Alongside the four intense swim sessions, highlights of the camp included lawn bowls, a trip to Adventure Park Geelong and endless games of table tennis! Special thanks to Ms White, Mr Marshall and our fantastic coaching staff.
Harrison Preston
Captain of Swimming


Rowing Camp
Rowing camp for the 1st and 2nd Eight this season panned out very differently to the generic APS rowing camp and past BGS camp styles. As a result of a few camp days being taken away from us because of our trip to NZ, we had less days to play with and ended up using them on full Yarra days with a mix of erg/gym days and regattas in-between over the two week period. Despite being slightly unconventional, the camp proved to be equally or more beneficial than previous years. The Ballarat and Barwon Regattas slotted in nicely within the two weeks and as a club we raced in over 20 individual events over the weekends and gave all the boys great race experience for the extra edge over our competitors.  Overall, our camp this year was a very positive experience that sits us up perfectly for this term's racing and the Head of the River!
Tonner Athletes Excel on Track
Last weekend marked the State Little Athletics Multi-Event Championships, as well as the Parkdale Carnival of the Victorian Athletic League (commonly known as the "Parkdale Gift"). A number of Brighton Grammar boys represented the school.
At the Parkdale Gift, Lucas Wright (Year 11, below) won the under 18 300m in a time of 35.35 off a starting mark of 21m.
And Connor Marriott (Year 10) finished second in the under 16 Bayside School boys Invitational event.
Over at Lakeside at the Little Athletics Victoria State Multi Event Championships Vuna Ofahengaue (Year 9) finished first with a score of 4190 points, including a performance of 52.37m in the Discus.
Tom Marriott (Year 9) finished fourth with 3941 points. Both boys are to be commended for competing across eight different events including throws, jumps, hurdles, sprints and the 800m.
Vuna has qualified for the Australian Little Athletics Championships to be held in Hobart in April.
Finally, we also congratulate Aaron Leferink (Year 12) who won the Rye Gift during the summer holidays. This is a fantastic result with a significant purse. Aaron is now training for the Stawell Gift and we wish him well in the lead-up!
A big thank you to Mr Tom Morehouse who has been coaching the boys over the summer holidays.
Upcoming Expos
The Outdoor Education team invites BGS Secondary School boys and their families to the inaugural Outdoor Education Expo on Tuesday 12 February, 6–9pm in Rosstrevor Hall.  
The expo will provide you with an opportunity to meet the Outdoor Education team and discuss the programs and experiences that will be available in the years to come, including information sessions on the following programs:
Year 7 Mornington Peninsula Program (6.30pm)
Year 9 Great South West Journey (7.30pm) – you'll be able to talk with our Year 9 program providers
You will also have the opportunity to:
Meet gear providers, order hire items, purchase on the day (EFTPOS only) 
Buy and sell second-hand gear from other BGS families (cash only) 
See an example of appropriate self-cater food and equipment.
If you would like space at a table to sell second-hand gear, please contact Carly West.
Suggested items to sell: packs, sleeping bags, sleeping mats, gaiters, rain jackets, overpants. 
The Outdoor Education Department is seeking donations of walking poles (singles or pairs, still in working order). 
If you have gear that is still usable but unsuitable to sell, please bring it to donate to the 2nd Life Project.
Future Careers Expo
Save the date for our biennial Future Careers Expo: 26 March 26, 6–8pm, Firbank Grammar School.
This BGS/FGS event will include representatives from industry and tertiary institutions across a broad variety of sectors.  Students (and parents) will have the opportunity to ask questions about tertiary admission, find out about emerging fields, participate in some hands-on demonstrations or sit back and listen to presenters who are experts in their field. All students in Years 10–12 are expected to attend this informative event, which is an integral part of career development and pathway planning.
Dramatic Events
Jack and Ned in Les Mis
While most of us were putting our feet up over January, one of our Year 12 students, Jack Wyss, was kicking his feet up on the National Theatre stage in St Kilda. Jack has featured in the Young Australian Broadway Chorus production of the renowned Les Miserables. It was an extremely competitive audition process, and being cast in the show is a significant achievement. The production has received a number of rave reviews, and due to a sellout season, an extra performance had to be scheduled.
We were fortunate enough to see a performance, which also featured Old Boy Ned Wright-Smith (2017), who conducted the show. Both boys were proud ambassadors for the School.
If you missed Jack in Les Mis, you'll be able to catch him playing Billy Crocker in the school's production of Anything Goes in May!
Jared Furtado               Michael Kent
Director of Music         Head of Drama & Production
'Generations' photograph
Are you the father or grandfather of a current student? Please join us on 19 February, with your son, for a group photograph of the 'Generations' of Brighton Grammar School, followed by light refreshments in the Atrium.
Please arrive promptly in the Quad at 8.00am with your son(s) for the group photograph. Our photographer will also be available to take individual family photographs if desired.
RSVP by Friday 15 February to Kate Birrell (8591 2272), letting us know which family members will be attending.
If you have not already done so, please fill out a BGS Generations form and email it to Peter Toms so that we can update our records and ensure that your son/grandson receives his generations pin!
From the BGS Parent Group
The 2019 Committee is as follows:
President – Lizzy Badge
Vice President / Class Rep Co-ordinator – Georgie Girardau
Treasurer – Kirsty Lally
Secretary – Kate Moir
Community Service & Wellbeing Rep – Felicity Frederico
BGSPG Meeting dates 2019:
27 February
15 May
14 August
30 October (AGM)
Useful Notes
The St Andrew's Library and the Urwin Centre Library are both open 7.30am–4.00pm Monday to Friday.
The Long Day Program for Year 12s will run 4.30–7.30pm on Tuesdays, Wednesdays and Thursdays.
BGS provides two chartered bus services for the exclusive use of students: one from Beaumaris and one from Port Melbourne. Click for routes, stops, schedules, costs and registration form. This service is also open to Firbank Grammar students.
Given recent events in the Bayside area, we'd encourage you to discuss with your son/s the issue of safe travel to and from school. There's no need to alarm the boys but it is important to make them aware of safe practices and to ensure that they feel confident when they're outside the school grounds. Please raise any concerns with BGS and, if appropriate, with Victoria Police.
Dates for the Diary
12 February BGS Outdoor Education Expo
19 February Years 7–12 Parent Teacher Student Discussions
19 February 'Generations' Photograph
20 February Years 7–12 Parent Teacher Student Discussions
11 March Labour Day (Public Holiday)
13 March Years 7–12 House Swimming
22 March Ute Full of Food
26 March Future Careers Expo
23 March Head of the River
From St Andrew's
Come and hear the Choir of St Andrew's sing with the Choir of Trinity College, Melbourne and the Australian Festival Chamber Orchestra at The Brighton Proms on 22 February, 7.30pm, at St Andrew's Brighton. For more info and bookings: www.trybooking.com/zcuh