A Word from the Headmaster – Ross Featherston
Awareness, understanding and advancing reconciliation
It is a pleasure to write to you from Pormpuraaw, an Indigenous community on the western side of the Cape York Peninsula in Queensland. Currently, a small group of BGS Year 6 boys and staff are staying and working with the local community and school. Next week, some Year 9 boys and staff will visit. BGS has been coming here for four years. Together with our 10-year relationship with Milikapiti on the Tiwi Islands and our partnership with the Melbourne Indigenous Transition School (MITS), this connection is part of our commitment to extending our awareness and understanding of Indigenous Australia, and advancing reconciliation.
There have been many highlights of this trip (painting near a local creek, visiting the crocodile farm, working in the classrooms, meeting the local councillors, sharing meals together). However, the highlight for me has been the conversations I've had with Sid (a local artist) about raising awareness and understanding of Indigenous customs, culture and practices. Sid is passionate about sharing this information so that we can all enhance awareness and understanding. In particular, his descriptions of how boys are chaperoned into manhood by the community resonated strongly for me. There is much we can learn from our friends in Pormpuraaw.
Changing tack, an update on the academic uniform review. As we are currently awaiting completion of the final uniform samples, the unveiling of the refreshed uniform will now take place in early Term 3 (not late Term 2 as previously advertised). Please refer to the FAQs on our website if you have questions; the FAQs will be updated once the refreshed uniform has been revealed.
Have a great week.
---
From the Deputy Head of Secondary School (9–10) – Peter Shepard
Service Journeys and Human Centred Design Thinking Program
The 9/10 B2M program is about to reach another peak with both Year 9 and 10 boys involved in amazing opportunities in the coming fortnight.
After months of preparation, the Year 9 boys are departing on various Service Journeys. The extended Service Journeys into Papua New Guinea, Cape York and Borneo all depart this weekend, followed by other trips that occur in the final week of term.
These trips include the Artist in Residence project conducted at Berendale School. We are delighted to have Ashley Ronning returning as our artist. Ashley will work alongside a small group of our boys and a number of Berendale students to collaboratively create some artwork that both school communities can enjoy. (Ashley is a working artist and some of her work can be seen at ashleyronning.com.) We also have a group of boys spending a portion of the week living and working with the Brotherhood of St Lawrence in Fitzroy, and a group travelling to the Great Barrier Reef to complete environmental service under the guidance of a team of qualified marine biologists.   
The final trip within the Service options for the Year 9s is the Human Centred Design Thinking program. This new and unique program, which is also being undertaken by every boy in Year 10, has incredible potential to unearth talents and abilities our boys may not yet even know they possess. The boys will engage in a creativity-based project over the course of the final week of term.
Design Thinking is essentially a different way of thinking that encourages problem-finding, and unique and diverse approaches to problem-solving. The Service element comes into play via the types of problems the boys find to solve. The solutions are intended to make the world a better place for others. Currently, the boys are compiling a 'bug list' by looking for problems or issues that negatively impact on their own or other people's lives. Whether the impact is big or small is not important; recognising that there is a problem is the important part. The boys are encouraged to be looking at their world with a different focus – but they are not being asked to solve anything … yet! In the final week of term, they'll come together and live through a Design Thinking experience, with the aim of finding creative ways to solve some of the problems they've identified. The program will conclude with a 'marketplace', where the boys will showcase their thinking processes and any outcomes they may have reached. The marketplace will be open to parents and other visitors from our community. Stand by for more details.
A selection of our staff, under guidance from Design Thinking experts from NoTosh, an internationally renowned Design Thinking company, will be facilitating and enabling the week. The facilitating staff spent two days this week in an intensive workshop to enhance their skills and prepare them to help guide the boys through the experience. The photos show a little of the Design Thinking experience, which was very visible – it was stuck all over the walls – and, at times, hard work.
These B2M Journeys all have the possibility of making a profound impact on our boys and, through the boys, on the wider community and the wider world. All Years 9 and 10 families are encouraged to find ways to discuss the upcoming Journeys – to help the boys identify the 'service' they'll be performing, empathise with those they'll be helping and appreciate that they are completing a meaningful and important Journey.    
---
Friday Night Lights – APS Soccer under lights on the Mitchell Oval
Last Friday, the lights came on for the 1st and 2nd XI Soccer Team fixtures. See the Mitchell Oval lit up here. 
---
Félicitations Jessica!
Jessica Taillandier, one of our French teachers at BGS, recently sat the DALF (Diplôme Approfondi de Langue Française) examination at the Alliance Française de Melbourne in St Kilda. This is an internationally recognised diploma awarded by the French Ministry of Education, based on the Common European Reference Framework for Languages. Jessica undertook the highest level, C2, which represents mastery of the language as a non-native speaker of French.
This intensive examination, lasting 5.5 hours, involves academically and cognitively exacting tasks, requiring abilities of a very high standard. Jessica was required to listen to a radio extract, present its contents to the panel of examiners and debate the topic of technology within the workplace. She then read a file of documents of approximately 2000 words and composed her own structured text on the topic of stress and modern family life.
Jessica was told upon her arrival at the Alliance Française that she was the first candidate since 2014 to sit the C2 examination in Melbourne. She was thrilled to receive her results this week, with an overall mark of 85.5/100. Jessica would like to convey to our students that learning should be a passion that extends beyond one's school years, and that we can continue to learn as adults. She believes that it is essential for both students and teachers alike to cultivate a curious mindset.
---
Cameron Berry Inducted as Prefect
In Chapel this week, we had the great pleasure to induct Cameron Berry as a Prefect of the School, honouring the leadership that he has shown this year. Cameron has led Dixon House with distinction and taken a prominent role in fundraising for the Royal Children's Hospital, as well as showing great initiative around the School and making a difference to those around him.
It was great to see Cameron so well-supported by his parents, students and staff as part of the Chapel Service.
We congratulate Cameron on this achievement and look forward to working with him as part of the student leadership group.
David Liddle
Deputy Head of Secondary School (11–12)
---
Memory Project
Year 7 and 8 Art Club has been an extra-special experience lately. Our small group took on the challenge of the Memory Project, a great initiative that invites students and teachers to draw portraits of youth experiencing a life very different from their own. The portraits are then delivered to those who have been depicted. We were sent photographs of displaced or orphaned children in Afghanistan.
As we developed our technical skills, we also spoke about what life might be like for these kids. Our drawings will arrive at their destination this week and will be presented to the children in a few weeks. We cannot wait to see the footage of the ceremony. If you would like to know more about the Memory Project, click here.
Simone Lewis
Art Teacher
---
Drama Class Performance Season
See Drama Captain Luke Burgess' reports here.  
---
Shrek Jr. Tickets
Tickets are now on sale for the joint Brighton/Firbank Grammar School's Middle Years Production of 'Shrek Jr.'
Everyone's favourite ogre is back in this hilarious stage spectacle, based on the Oscar-winning smash hit film and outrageous Broadway musical.
When: 8–10 August – 7pm
Where: Rosstrevor Theatre, Brighton Grammar School
Tickets: www.trybooking.com/VMSH
---
Ute Full of Food
Ute Full of Food is integral to the BGS Way and an extremely important event in our calendar. All donations go to St Mark's in Fitzroy and the BGS boys take pride in being their largest ongoing donor. We provide canned food for clients that are in need and facing extremely difficult circumstances.
We are extremely proud of all of the BGS boys' contributions but particularly impressed by Crowther house. Crowther's contribution and house spirit were inspiring – the boys truly banded together to make a difference for a very important cause. It was fantastic to see so much house spirit and kindness!
The Year 7 and 8 boys of Crowther were treated to a BBQ for their efforts. (Nothing says thank you and we're proud of you like a free snag in bread!) The boys would like to thank Simone Lewis for all of her charity work, as well as their House Tutors and Heads of House. And a shout-out to Dr Sausage (AKA Tim Marshall) for his BBQ expertise. Well done, Crowther!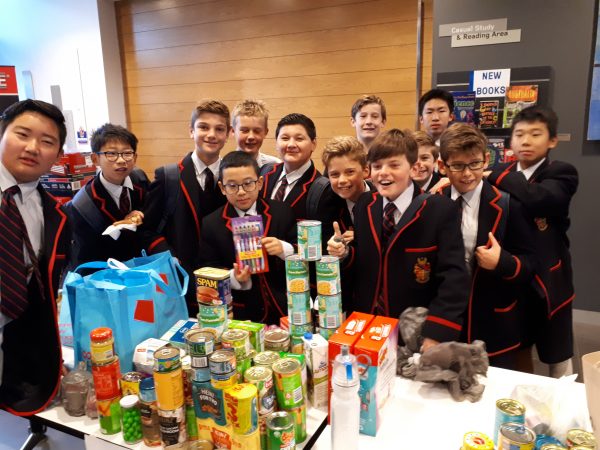 ---
For this week's Career News, click here
---
For this week's Cooking Corner, click here
Apple Crumble
---
Dates for the Diary
Friday 8 June 
– Year 8 Sport Tournament 
– Years 10 & 11 Exams
Monday 11 June
– Queen's Birthday (Public Holiday) 
– B2M: Service – Papua New Guinea 
– B2M: Service – South-East Asia, Borneo 
Tuesday 12 June
– B2M: Service – Cape York 
– Years 10 & 11 ONLY Exams return day (Years 7,8,9,12 normal classes) 
Wednesday 13 June
– All 3/4 VCE students GAT 
– Piano Students' Soiree
– Years 7 & 8 Assembly 
– Years 9–12 Coaching Day (Years 7 & 8 normal classes) 
Thursday 14 June
– Semester 2 classes begin 
Friday 15 June
– Year 10 Crowther Wellbeing Hub with Dianna Vella-Brodrick 
Sunday 17 June
– B2M: Service – Marine Biology