A Word from the Headmaster – Ross Featherston
Sport uniform update
It's been great to see so many students in the new academic uniform and we've received positive feedback from parents, students and the general community.
After the success of the refresh process undertaken last year, the Uniform Steering Committee, along with Jonathan Ward, turned its attention to the Sport, as well as the Health and PE (HPE) uniforms. We're now close to finalising the designs, ready for implementation in 2020, and look forward to revealing them later in the year.
The principles that have been applied to the design include:
Honouring of our history and heritage by using key BGS symbols along with our core colours
Consistency to 'look and feel' so teams across all sports will look the same and distinctively BGS (with the senior firsts teams having a small yet significant extra 'mark' on their uniforms)
A clearer distinction between the Sport (before and after school) and HPE (during school) uniforms, and closer alignment of the HPE uniform with the academic uniform
Student consultation
Modern cuts and first-class fabrics designed to suit active boys across all year levels
A simplified approach that will make the purchasing of sports uniforms easier and less costly for parents.
As with the academic uniform refresh process, we are mindful of the issues associated with transitioning from the old to the new. Once we have worked through these issues, we will communicate with you further. In the meantime, where possible, please keep your Sport and HPE uniform purchases to a minimum.
If you have any questions, please email us at the Uniform Steering Committee.
Have a great week.
From the Deputy Headmaster, Head of Secondary School – Dr Rachel Horton
This year we are continuing to build our engagement with Firbank across all Secondary School year levels and, indeed, the entire community. This week alone we had the first BGS/FGS Combined Chapel Service, with all Year 12 students coming together in St Andrew's Church. I myself had the pleasure of speaking at a Firbank Assembly on Tuesday, and Friday night will see the finale of the joint Year 10 dance classes. There are many more combined events and activities coming throughout the year and, as always, the student voice is strong, with a number of fantastic ideas coming from the students themselves.
This week, the doors of our library at the St Andrew's end remained open until 8pm for the first night of the Years 9–11 Long Day Program. We welcomed David Rowland, an English teacher, to our staff, to supervise this program each night alongside a past scholar. On its first evening, a number of boys were taking advantage of the quiet space to study and the assistance on offer, either coming straight after school or after their sports training had finished.
Looking forward, on Friday we will welcome our Year 9 cohort back from their Great South West Journey in time for a well-deserved long weekend and next Wednesday will see the first of our major House events, with the hotly contested inter-House swimming at MSAC.
Student leadership
"There is more in you than you think." – Kurt Hahn
As the Year 9 Great South West Journey concludes this week, it is hoped that the boys see that they have more courage, strength and resilience than they first thought. Kurt Hahn was a key figure in the development of experiential education, where learners are exposed to direct experiences in order to increase knowledge, develop skills, clarify values, and develop their capacity to contribute to their community. Hahn believed that if we could be exposed to what we were able to achieve, then for the rest of our lives we would be unwilling to settle for anything less. It is a philosophy that drives our School programs and gives each individual boy an opportunity to 'unlock the dance'.
Christian Machar
Head of Student Leadership (Years 7–12)
Where do you find God?
On Wednesday morning, Year 12 students from Firbank and Brighton Grammar Schools met in prayer at St Andrew's Church. Guided by Father Tony Poole and Reverend Christine Croft, our Year 12s reflected on the places they find God.
Each year level will have the opportunity to participate in a combined Chapel service with Firbank this year as we continue to build a strong positive relationship.
Striving for strength through Chinese martial arts 
For the last few years, thanks to our partnership with Melbourne University's Confucius Institute, Year 8 boys studying Chinese have practised a martial art on a weekly basis with an expert teacher. To read more and see a short video click the image below.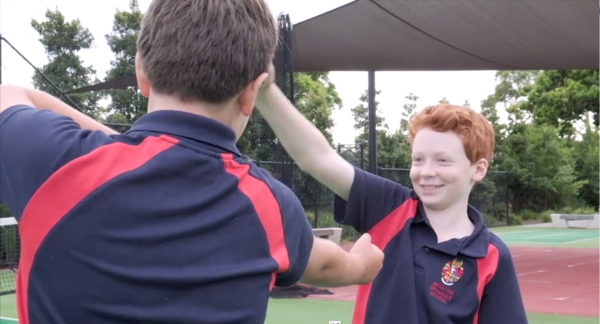 Inclusivity at BGS
During the week, small groups of boys from the same Houses met in various parts of the school to discuss all things BGS.  The groups consisted of Years 7 and 8 PALS matched up with some Years 10 and 11 boys.
After a formal introduction, the groups played some games designed to help them learn a few things about each other. The younger boys spoke about their start to Secondary School and about the Peer and Leadership Support (PALS) Program. The older boys spoke about their B2M activities, VCE Studies and Coaching. The sessions culminated in each groups discussing inclusivity at BGS and submitting examples of this to their Heads of House.
Older boys mentoring younger boys and sharing stories about inclusivity at BGS is a beautiful thing!



Data in Docklands
As part of their SAC evaluating the historical and current land use change in Melbourne's Docklands, 26 students from Brighton Grammar and Firbank Grammar spent Monday collecting primary data in the Docklands region. The data collection consisted of a range of quantitative and qualitative methodologies, ranging from surveys and questionnaires of the public to land-use mapping, environmental quality analyses and public transport tallies. The day culminated with a flight on the much-maligned 'Melbourne Star', which consolidated the students' understanding of the scale of one of Australia's largest urban regeneration projects. The data collected will now be refined, presented and analysed before the SAC is submitted in a fortnight. Thanks to Yvette Radas and Christian Machar for accompanying and supervising the students on what was a very enjoyable and successful day.
James Harrod
Head of Geography, Secondary School
Hancock House News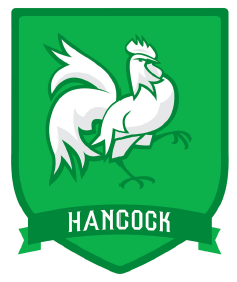 Term 1 started off with a bang for Hancock House with Jacob Travers conquering the Headmaster's Beat the Buzzer in dominant fashion during the Founders Day Chapel Service. This was the perfect start winning the first House event for the year. The Years 7-8 and 9-10 House Futsal tournaments were the next events, with the Years 7-8 team finishing fourth and the Years 9-10 team narrowly missing out on featuring in the final, finishing third. Focus was then turned towards the Hancock and School House Chapel. The theme for the service was 'acceptance and an inclusive community'. The service featured addresses by our House Captain Harrison Preston along with our fellow Year 12, Aaron Leferink. It was fabulously run; inciting thought regarding tolerance and the capacity for all to contribute to society, no matter what their differences are. A special mention goes to our Year 7 Hancock boys Connor Tyler and Bailey McKenzie, who also spoke in Chapel about what the BGS community means to them. We also organised our first service with Clean Up Australia event at Brighton Beach. However, we were required to postpone due to the hot weather last Friday. The rescheduled date will be shared via Hancock tutors and Schoolstream. Hancock House has started the year strong and we look forward to the year ahead.
Max James
Co Vice-Captain, Hancock House
SchoolTV
Children can often feel 'depressed' about a friend's cold shoulder, a bad result at school or sometimes they just feel down for no reason at all. It can become a concern if your child continues to have such feelings frequently over a long period of time. If it starts to interfere with their ability to manage at home and at school, then you should seek help from a skilled professional. Follow this link for interviews and information on depression with leading specialists, helpful articles, and fact sheets about depression.
Danielle Wolff
Secondary School Psychologist (Years 7–8)
New York tour
We are very excited to be offering this tour to Years 10–12 students this year.
The tour will have a Performing Arts focus and students will be attending a range of performances, including several Broadway shows, and also participating in workshops with industry professionals. Students will also visit museums and galleries as they learn about the history and culture of the area. There will be plenty of sight-seeing, exploring the area and fun activities.
For more information, join us at the Parent/Student Information evening on Friday 15 March, 6.30pm in Rosstrevor Hall.
Queries can be directed to Michael Kent.
Are your details up to date?
It's easy to update your son's contact or health details – just go to the Parent Hub on the BGS website and choose 'Change your details'. Enter your email address and you'll automatically receive a link enabling you to make the required updates.
BGS Rowing annual raffle
Brighton Grammar Rowing (Meliora Club) is conducting its annual raffle with the opportunity to win over $9000 in prizes. 
The draw will take place on Sunday 24 March 2019, 2pm at Brighton Grammar's Robert Sanderson Hall. All prize winners will be notified.
1st Prize – 7 nights at Mt Hotham Chalet – sleeps 12 (21–28 June 2019) – value $7000
2nd Prize – Caulfield Cup Race Day package for 4 people – value $800
3rd Prize – Bottle of Penfolds Grange – value $700
4th Prize – Brighton Travelworld voucher – value $300
5th Prize – Brighton Bathing Box voucher – value $200
Tickets can be purchased from any rower or BGS Rowing Annual Raffle. 
Please direct any questions or queries to aleks@amsalacapital.com.au
The Value of the Intangible with Michael Masterson
At our next BGS Breakfast Bio, Michael Masterson will explain what it takes to be a successful entrepreneur in today's knowledge-based economy, including the importance of contacts. His journey hasn't been without its failures – you'll hear about these, too.  Don't miss out – book now.
Date: Thursday 28 March 2019
Time: 7.00am for a 7.30am start
Location: The International, 81 Bay Street, Brighton
Cost: $60
Book: Breakfast with Michael Masterson
Dates for the Diary
Monday 11 March
Labour Day (Public Holiday)
Tuesday 12 March
House Choral Rehearsals 
Wednesday 13 March
Chapel Lent Appeal 
Years 7–12 House Swimming Carnival 
Friday 15 March
SchoolPix Summer Sports Photos 
Saturday 23 March
Head of the River
Tuesday 26 March
Future Careers Expo
Thursday 28 March
BGS Breakfast Bios