A Word from the Headmaster – Ross Featherston
The Melbourne Cup long weekend is an indicator for me that the finish line for another school year is now in sight. Another sign is the wonderful sound of our musicians and choristers rehearsing their Christmas Carols, in preparation for our Carols Service in early December.
Although the Melbourne weather is being its usual inconsistent spring self, summer is only just over three weeks away and, if my calculations are correct, we have 21 days of school left.
Growing up in Ballarat, I had a fairly tough (but fair) 'old school' football coach, whose favourite form of getting us into shape was for us to run 400 metre repeat sprints. I can still vividly recall his mantra of ensuring that we finished each 400 metre lap as we started it. After all, he would remind us, if you can run 390 metres, why can't you run the full 400?
This year has been a very good one to date: it is important we finish it off well.
A Word from the Deputy Headmaster, Head of Secondary School

–

Dr Rachel Horton
As we sit at the mid-point of the final term this year, end of term exams are on the horizon for all Secondary School students. There are many study options on offer to the boys, with before or after school study sessions and the Long Day Program in the St Andrew's end Library continuing until the end of term.
This can be a stressful time of year, but there are many services available for students to seek help if they feel under pressure or overwhelmed in any area of their lives. One initiative is a new Student Support Guide, put together by School Counsellor Naomi Tham and the student Wellbeing Committee. It lists key contact people and where they are located in the Secondary School.  Copies are available at reception. An Urwin Centre version will be available next year.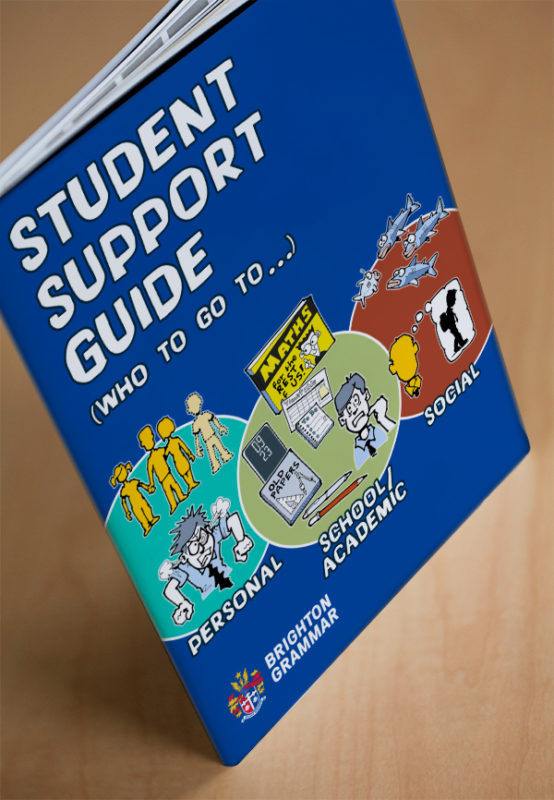 This week in Chapel, we took time out to recognise Remembrance Day and to remember all those who made the ultimate sacrifice in the First World War and later conflicts. We were joined by Old Boy Colonel John Papalitsas, CSC, Commander Regional Force Surveillance Group, pictured below, who spoke about what the day means to him, while reminding us to also think of those who continue to pay the price as a result of personal experiences or the experiences of loved ones in combat. Col Papalitsas finished by urging the boys to honour the memory of the fallen by making a difference in our community and creating a different world where such sacrifice is not necessary. Meliora Sequamur. Lest we forget.
Year 12 exams are now underway
As we move into the second week of the Unit 3/4 end of year exams, the boys have continued to demonstrate their dedicated and thorough preparation for this all important Year 12 'grand final'. The general commentary from the first few days of exams has been extremely positive. The English exam offered plenty for the boys to showcase their knowledge, and both the teachers and English students were extremely happy with the prompts provided. Similarly, the Psychology, English Language, Biology, Further Maths, Business Management and Latin exams have all been held and the general commentary from these has been equally as positive.  
Amy Atchison 
Head of VCE Programs
2020 Production revealed
Brighton Grammar together with Firbank Grammar are proud to reveal that the 2020 combined Years 7–12 Production is Matilda the Musical!
With the show open to all Secondary School students and a cast of 120, Matilda the Musical will be performed at the newly re-developed Alexander Theatre in Clayton. Both schools felt it important to provide students with the opportunity to perform a full-scale show in a professional venue allowing for all vertical learning opportunities possible.
Auditions begin on 11 November and singers, actors and dancers are encouraged to step up! With our largest cast ever expected, and many more roles in the band and backstage, now is the time to become involved. We encourage all boys to audition and be a part of one of the most valuable experiences at BGS.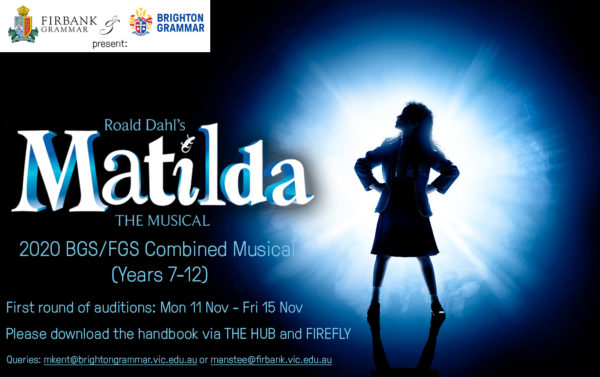 Michael Kent 
Head of School Productions (Years 7–12)
Representative success
It has been a big week for a number of BGS boys on the representative sport front.
Tom Marriott was selected Captain of the U15 Victorian Touch Football side that finished 4th in the championships played in Canberra last week. Brothers Finn (Year 7) and Caelan (Year 5) Mackay also competed in the U12 Victorian Touch Football side, with Finn crowned captain. Congratulations also to Frank Ralogaivau on his selection to the Rugby Victoria Youth Boys 7s State Team. Spencer Wood and Ben Sexton have just returned from successfully representing the U17 Victorian Cricket team in Mackay, Queensland, in which both boys performed wonderfully well.
Over the weekend we had a number of boys compete in the Victorian All Schools Championships. Notable performances included Vuna Ofahengaue claiming gold (Discus), while silver medals were won by Sam Fitzgerald (High Jump), Lucas Wright (200m) and Ben Fisher (800m).
Tim Marshall
Director of Sport
Students ask: how liveable is Brighton?
Year 7 students have been out and about in Church Street and Bay Street Brighton, diligently collecting data on what makes Brighton such a liveable suburb, Christian Machar reports. Read full article
Uniform reminder
A reminder that all students must wear their blazers both to and from School, regardless of the weather that is forecast for the day. Once they are at School, if the temperature rises significantly, a notice will be posted on the Hub allowing the boys to leave School without wearing their blazer.