Junior School Thursday 13 October 2016
Weekly eNews
Junior School
A word from the Headmaster, Ross Featherston
Man Up
As we prepare to farewell the young men who make up the BGS Class of 2016, I was compelled on Tuesday evening to watch the first episode of Man Up – a three-part documentary series on the ABC.
Man Up explores masculinity and men's mental health in Australia today. It's a confronting and challenging series, yet one that I commend to you. The website that is attached to the series can be found here.
On a slightly different note, best wishes to our Middle and Senior School athletes this Saturday afternoon as they run, jump and throw at the APS Athletics Final at Albert Park. It would be great to see as many BGS supporters there as the team hopes to match (or even better) last year's excellent third place.
---
From the Head of Junior School, Peter Tellefson
Last Friday's House Athletics Carnival was most successful and the weather was good to us. Congratulations to the boys for their level of participation, sportsmanship and active support within their House. Our House competitions generate fantastic team spirit and connectedness and the boys enjoy the events with plenty of noise and colour.
I appreciate Mr Ryan's excellent organisation and the support all staff provided to ensure the success of the day. Thank you to those many parents who supported throughout the day, and joined us for lunch. It is events such as this that we gain a strong sense of 'team', which in turn benefits the boys and provides them with excellent experiences while at school. School were House champions and were also awarded the House Spirit award.
In comparison with many independent schools, BGS is considered small in terms of enrolment numbers. I believe this is a great strength of the school – our numbers allow a stronger sense of belonging and connectedness within year level groups, and ensures all boys are known across the school. The close proximity of each section of the school is also a significant advantage.
Another benefit is the focus we place on well-managed transition. It is important we provide support and guidance as the ELC boys venture across the car park to the Prep classrooms, and the Year 6 boys walk from Junior School to Middle School. The Year 6 boys and parents have had their first formal day and presentation at Middle School, we also hosted our new Year 3 to 6 boys who will join us next year, and in coming weeks we welcome our 2017 Prep boys. These programs are also a reminder of how fast the end of the year is approaching.
---
Junior School achievements and reminders
Congratulations to Matheus Judah (Year 2) who received the highest score in Victoria in the recent International Competitions and Assessments for Schools (ICAS) in the area of Mathematics. Matheus will be presented with a Medal from UNSW.
The Australasian Problem Solving Maths Olympiads (APSMO) are a series of five test papers, administered over five months. It challenges students to develop flexible thinking in problem solving and stimulates enthusiasm for mathematics. Congratulations to Eric Chen (Year 6), who achieved a perfect score and Lachlan Molloy who was the best performer in Year 5.
All boys are now wearing the summer uniform. The wearing of the broad-brimmed hat during recess and lunch is compulsory. Boys should be locating their hat for the re-introduction of our 'No Hat No Play' Policy. Year 5/6 boys may wear their BGS cap on Wednesdays.
At tomorrow's assembly we will present 'Generations Badges' to sons of Old Boys from Prep to Year 6.
Best wishes to the Year 6 boys and dads who are attending the Year 6 Father/Son Camp Out weekend with our Outdoor Education staff.
The Prep to Year 3 boys will be participating in their Outdoor Education experiences at various times throughout November. Please check School Stream for dates and details. 
Save the date: Junior Parents' Group's Family Fun Night Mad Hatter's Tea Party (our major fundraiser for the year) will take place on Friday 25 November. Further details will be forwarded to parents via School Stream.
---
Animals and action in the ELC
On Monday we started the week off with our Christmas pageant practice in the G. B. Robertson Hall – all boys and staff together singing at the top of their lungs. The boys were focused and enthusiastic to get the show on the road! With 10 songs with creative choreography, we have to start this early in the term to ensure a well-rehearsed production. Hopefully you have seen on the School Stream app our term dates and have pencilled in the most important day of the term – the ELC Christmas pageant on Wednesday 7 December.
On Tuesday we were all treated to the amazing Wild Action Show focusing on Australian animals, and excitedly the boys experienced a hands-on learning program with real animals in the ELC. We learnt about snakes, lizards, a bucked tooth wombat, parrot, crocodile, owl and koala during our one-hour session, and got to touch and hold each of them. The boys were braver than some of the teachers – especially with the snake!
Our 2017 transition program for new ELC3 boys and our current ELC3 boys moving up to ELC4 continued this week. It has been such a great success so far with the boys getting to know all of the teachers and trial each room. Background information forms and our Emergency Confidential forms have been sent home to all 2017 ELC families this week to be completed and returned by next Thursday. We have sent these out early so we can confirm enrolment before our 2017 ELC interview day with teachers. For our current ELC4 families going into Prep next year, we look forward to supporting the boys transitioning in week 4 this term.
Next Monday 17 October, the Year 12 boys will take part in their Valedictory Day. Included in this wonderful celebration is a ceremony called the 'Beating of the Bounds'. This is where the boys and their proud families revisit each section of the School and recall their experiences throughout their school journey. Our ELC boys will farewell the Year 12 boys and wish them luck for their upcoming exams and line the Junior School car park as they exit the school. We ask that on Monday all ELC boys have their school hats and are wearing their summer uniform. Also all ELC4 boys will require their blazer. 
Amelia Barrow
Director of the Early Learning Centre
---
Parenting tip
Please click here to view this week's tip: Insights: Teaching kids to solve problems.
---
ICAS English and Maths
The International Competition and Assessment for Schools (ICAS) assesses students' skill and knowledge across a range of domains. It enables talented students the opportunity to tackle challenging questions and gain a measure of their own achievement. We applaud the efforts of all participants, in particular the boys who were awarded a High Distinction (top 1% of participants in Australia). 
High Distinction in Maths – Matheus Judah (perfect score), Charlie Sabin, James Tan, Lachlan Auden, Matthew Barwood and Matt Hill.
High Distinction in English – Huw Thomas and Harry Pollock.
We also congratulate the boys who achieved a Distinction (the next 10% of participants in Australia) across a number of subject areas: Seymour Zhu, Tom Jorgensen, Hugh Hasker, Brendan Zhang and Zach Bowen.
Jane Lowe
Enrichment/Extension Teacher
---
Teaching and learning
What's happening in Year 2 and 3 Drama?
"We are making trailers on iMovie. I am enjoying at moment what we are learning and working with others to be creative."  Ethan 3B
"We are using iMovie to make trailers. The focus is on learning how to show how I am feeling using my face and body. I like being creative to make a story."  Charlie 3W
"Last term we made a pirate play, which I loved and we liked what Mrs Main did with our story. We are now learning a new app that has been fun. It's called Green Screen."  Trent 2A
Tell me about… 1 Banksia
"Did you know Australia is the smallest continent?" Charlie C
"Did you know Australia is an island?" Sam R
"I am really looking forward to learning about space and Australia." Max H
"It is important to know your address because if you get lost you can ask someone for help and let them know where you live." Nicholas G
"We are learning to draw Australia. I didn't know it was so big." Ruben R
What's happening in 4 Bass…
"I am looking forward to making an awesome project for the Earth Beneath Our Feet unit." Cam Tregaskis
"I am looking forward to making a lot of new friends and I hope they can help me practice my English." Jimmy Bian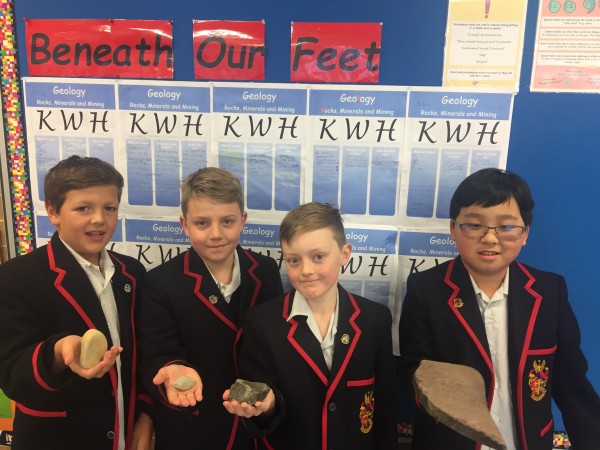 "Did you know 4 Bass work hard in spelling, maths and English?" Elden Zeng
"I am looking forward to learning about rocks, minerals and mining." Matthew McIntyre
---
JPG news
Family Fun Night
The Junior School Family Fun Night is on Friday 25 November 2016.  It is going to be lots of fun for all the family, so make sure you save the date! Click here for the flyer. Further details to follow soon.
2016 Junior School Tea Towel or ELC Apron
The JPG is delighted to once again be running a BGS Junior School tea towel and ELC Apron fundraiser. 
BGS Swim towels: Get ready for the swim season – order your BGS swim towel by clicking here.
---
OSHClub news
Welcome back everyone, we hope you had a great first week back. We all loved the holidays and had lots of fun at Camp Brighton holiday program. This term, we will continue with our Thursday morning pancakes and will be starting basketball for Play on Sport with confirmed dates TBA. Chess club will be starting again on a Friday afternoon. Have a great week and hope to see you all to join in the fun.
Please feel free to contact us with any feedback, questions or concerns.
Head Office: 03 8564 9000.
Program Contact:  0422 193 377 (kinder), 0401 143 440 (primary).
Kinder Coordinator: Samantha Fry, Primary Coordinator: Emma Jean Callery.
Assistants: Kate Rushen, Annabelle Russell. 
All families must be enrolled to attend the program and/or Vacation Care, and remember it is free to enrol your children online. Please create an account online at www.oshclub.com.au.
All bookings and cancellations can also be managed via your online account. For on-the-day/emergency After School Care bookings please contact the School Office and the Coordinator direct at the program (text messages to the program mobile are preferred). Before School Care can be booked in the same fashion, or just come in.
---
Found items
Tracksuit tops size 6
Tracksuit pants size 4
Wide brimmed hat named 'Dylan'