Junior School Thursday 17 November 2016
Weekly eNews
Junior School
A word from the Headmaster, Ross Featherston
The Wellbeing Centre, Young Warriors and a good night's sleep
Last night was a real thrill – we officially and formally opened the new Wellbeing Centre. It was a privilege to have The Honourable Jeff Kennett AC (founding Chairman of beyondblue) open the Centre, and to hear Jeff talk about the critical nature of male mental health. It was also interesting to hear his views regarding the primary and foundation role parents play in their children's wellbeing. Early next year we will stage an informal open evening so all within the broader BGS community can come and see the Wellbeing Centre. I'd like to take this opportunity to particularly thank Kay Rogers, Director of Wellbeing, for all the work she has done to make wellbeing such an important part of the BGS offering.
It was also great to see tents on the Crowther Oval last Friday night as Dr Arne Rubinstein and his team (along with BGS Junior School and Outdoor Education staff) hosted BGS's first Young Warriors Camp. The Year 4 boys and parents spent a night together working with Dr Arne on positive relationships, growing up as a young man, and the importance of having open conversations.
Finally, I read with interest a report on wellbeing and sleep, which investigated the impact using mobile devices near bedtime (and having them in a bedroom) can have on children's sleep. BGS's Understanding Boys blog has covered the topic here. I consider it a must read. 
---
From the Head of Junior School, Peter Tellefson
One hundred Junior School boys, parents and staff may have made history last Friday evening at BGS's first Young Warriors Camp for Year 4 boys, with 60 tents pitched on the Crowther.  The various activities were facilitated by Dr Arne Rubinstein, and provided an opportunity for one-on-one connection time for the boys and their dad/mum/mentor, focused on the importance of relationships. The camp was a great success, with many highlights for young and old, but most rewarding was hearing the quality of conversations, love and 'honouring' between the boys and adults.  Thank you to Mrs Box, Mr Lewis and Mr Stephens for giving of their time and braving the elements on a cold, wet and windy Friday night, to Dr Arne and his team for facilitating, and to the boys and parents for supporting the camp.
I love 'escaping' from my office to see the boys in action, be it in the classroom, at music, competing in sport competitions, out on the playground, or on camps.  Last Thursday, I visited the Year 3 boys in Healesville. It was great to see them having fun canoeing, rock climbing and on the giant flying fox, which was 550 metres long and 22 metres off the ground at its highest point. The boys were very keen to see me have a go at the flying fox! However, as I explained to the Prep – Year 6 boys at assembly,this was a huge challenge for me. I was nervous and anxious as I am scared of heights. Once the harness was on and I had climbed to the top of the launching pad, with boys chanting, encouraging and supporting me, there was no turning back.  I was given lots of advice, hold on tight, don't look down, close your eyes, lean back etc, the boys were great, they helped me through and I survived.  It was an important message to give to the boys, we will all be out of our comfort zone at times but the support, care, and encouragement we give each other, will on most occasions, see us through.
We were fortunate to have Lieutenant Nicholas Waugh, brother of Mrs Emily Beaton, attend our Prep – Year 6 Chapel Service to celebrate Remembrance Day last Friday.  Lieutenant Waugh delivered a superb message reminding the boys of the significance and importance of the eleventh hour on the eleventh day of the eleventh month that we stop and reflect.
---
Junior School achievements and reminders
Next Friday night is our major fundraiser for the year. I am most appreciative to the various families and businesses sponsoring this year's event – Brighton Toyota/Lexus of Brighton, DropnGo Dry Cleaning & Laundry Services, Piccolo Developments and All Graduates; At this stage, 200 wristbands have been purchased, we anticipate another 200 to be purchased! All you are required to do before next Friday is purchase a wristband for your children. If you haven't already contributed a Scratchie card for the Family Fun Night raffle then there is still time, cards can be left at the JS Office. Thank you to Mr Rowan Findlay and Mrs Basia Quill and the JPG for their excellent planning and preparation for event. Please click here for details.
Our last 'Ute Full of Food' will be held tomorrow, Friday, 18 November. It is our Christmas collection, so any little 'Christmassy' bit that could be included would add to our collection. Items suggested are small Christmas puddings, tins of ham, turkey or chicken, tins of vegetables, small packets of shortbread, small Christmas cakes, mince pies, sweets/lollies/chips/chocolate, cans of soft drink, small jars of Coffee (50g), packets of tea bags (25), 500g packets of sugar, small cartons of longlife milk and all the usual non-perishable foods.
Our ELC4 to Year 2 Swimming Program will commence next Monday, 21 November. All boys will participate in a session per day over the five days of the week. Prep to Year 2 boys may wear their PE uniform to and from School for the week. BGS bathers must be worn.
Our final Prep to Year 6 Parent/Teacher Discussions are listed on the Date Card for Monday 21 November, 3.30 – 8.00pm, and Tuesday 22 November, 3.30 – 6.00pm. Bookings are to be completed online and will remain open until Monday, 21 November.
Next week is our final round of Year 5/6 APS Sport, training will be cancelled on Monday due to Parent/Teacher Interviews, there will be no training on Thursday due to the season end.
Congratulations
Congratulations to the following boys from Years 5 – 6 who will be presented with Semester Two Effort Cards for Science, Drama and APS Sport Awards at tomorrow's Assembly in the G. B. Robertson Hall at 12.30pm.
Science – Zach Bowen, Samson Adams, Luka Simic, Felix Brighton-Knight, Alexander Jacob, Sam Coleman, Matthew Barwood
Drama – Elijah Akinci, Alex Tognarini, Ethan Balaskas, Noah Mies, Jarod Prins
APS Sport Awards 
| | | |
| --- | --- | --- |
|   | Most Outstanding Player/Athlete | Best Team Player/Athlete |
| 6 Red Touch Football | Ben Edmondson | Callum Heath |
| 6 Blue Touch Football | Zac Landsman | Jonah Campigli |
| 5 Touch Football | Oliver Goodger | Jarod Prins |
| 6A Red Basketball | Max Absalom | J Sum |
| 6A Blue Basketball | Will Field | Lucas Toms |
| 6B Red Basketball | Nikolas Stavrellis | Liam Gouws |
| 6B Blue Basketball | Tim Moulton | Thomas Stretch |
| 5A Red Basketball | Campbell Yeo | Aaron Hudghton |
| 5B Blue Basketball | Sam Litis | Oliver Howell |
| 5A Red Basketball | Ryan Williams | Charlie Bramley |
| 5B Blue Basketball | Tom Howie | James Hepples |
| 5 Water Polo | Ethan Petris | Lachlan Paino |
| 6 Blue Water Polo | Oliver Robertson | Luka Simic |
| 6 Red Water Polo | Damien Paino | Jorge Houridis  |
| 6A Handball | Marcus Sorensen | Sidney Zeng |
| 6B Handball | Stanley Chen | Oscar Lo |
| 5 Blue Handball | Terence Wang | Matty Goss |
| 5 Red Handball | George Roubos | Noah Mies |
---
There's stage presence in the ELC
This week started off with excitement as we began the journey to Bethlehem (or shall I say Rosstrevor Hall) to start our Christmas pageant rehearsals on stage. There were a few faces in the crowd that looked a little overwhelmed by the thought of standing on a stage in front of people, and the rest were ready to rumble! After placing a few props on the stage, we welcomed the boys to their positions and got the practice underway. I must say, for a first practice on the stage, the boys sparkled with their singing, and listened incredibly well to directions. Invitations to our ELC families were sent home on Monday afternoon. We will require all Bilby boys to attend on pageant day which is Wednesday 7 December. All ELC boys are too arrive at 8.45am in their costumes. Costumes will be sent home the week prior to the pageant. If you would like to order a DVD of the pageant performance, please follow the instructions from the School Stream notification.
This week Mrs Thornton has been in New Zealand visiting ELCs that offer amazing outdoor programs in natural playgrounds. Mrs Thornton has been developing her skills and knowledge throughout the year of how the natural outdoor environment is vital for children's development in their early years. We look forward to learning more about her travels and experiences in New Zealand when she returns next week. Thank you to Kirstie for joining the Wallaby class this week.
Next week our ELC4 classes will participate in our Intensive Swimming program. The 4 Bandicoot boys will swim from 9am to 9.30am, and 4 Wallaby will swim from 9.30am to 10.00am. We welcome parents to watch their son's lesson and help change the boys after the class back in the ELC.
A reminder that all Transition Statements need to be returned to your son's teacher signed with the parent component attached. A copy of the statement will go in your son's portfolio.
Amelia Barrow
Director of the Early Learning Centre
---
BGS bus services 2017
The School provides two bus services for the use of students. Please click here to view a letter that outlines the BGS bus services for 2017, including fare information, routes and bus stops, and a bus service request form.
---
Parenting tip
Please click here to view this week's parenting tip: Insights: How to encourage kids to be problem-solvers.
---
Teaching and learning
What is happening in Year 6 Religious Education?
"R.E. is a great way to learn about our religion through meaningful and wonderful stories, worksheets and enjoyable activities. I really enjoy R.E. when we get to solve puzzles about the important things in life and Christianity." Thomas G
"Chapel this year has been a blast being able to sing catchy hymns and also sit down and listen to Mr Lord's sermons, which always have a relatable and relevant message for us to live good lives. R.E. classes are also a lot of fun each week." Lucas C
"I love how Mr Lord teaches us important life lessons and explains them with demonstrations. That is what school is all about for me."  James B
"You can always count on R.E. classes to be happy times and I love the activities too." Freddie S
"I like to do the Mindfulness activities and calming colouring in R.E. before the lesson begins." James H
"One thing I love about R.E. are the really fun activities we do in class. Mr Lord always brings new and cool things for us to do. It is a good time of the week for us." Jonathan P
What's happening in Art?
"We are making the front of a house out of clay, using the slab technique and its fun." Charles W 3B
"We are learning the slab technique and how to add and subtract clay." Will O 3B
"We drew a horizon line on our yacht drawing. The horizon is where the land or sea meets the sky." Lachlan S 1H
Tell Me about the Prep Outdoor Education experience
"The best part was canoeing to the island and getting off on the island!" Zac N
"I liked talking about the pictures and exploring." George C
"I nearly fell out of the canoe, but it was fun!" Anderson H
"I liked walking around and picking flowers, even though some of the animals bit me." Shuta K
Tell Me About the Year 1 Outdoor Education experience
Last week, the Year 1 boys visited Iluka Retreat as part of their Outdoor Education program. The boys enjoyed a range of activities to challenge their skills and extend their appreciation of our natural environment as they explored the Shoreham Wetlands.
"I enjoyed playing with my friends and running races down the hill." Jack E
"I loved our camp. It was so cool and I wish you could have longer time on canoeing and a longer time on swimming. I can't wait to go back next year!" George W
"I loved jumping off the raft and going swimming. I can't wait until next year when we get to sleep in the cabins!" Hugo F
"I had so much fun canoeing. My group was the first group to reach the island. Next time I would like some more canoeing time." Ethan D
"I liked relaxing in the nature. My favourite part of it was watching the ants stroll by. It was very relaxing." Hakeem N
"I liked when we got to kayak and swim." Tobias L
---
JPG news
Upcoming JPG dates: Final 2016 JPG Meeting and Morning Tea, Tuesday, 29 November at 8.45am in the G.B. Robertson Hall. All welcome.
Family Fun Night Friday 25 November 4.30pm – 8pm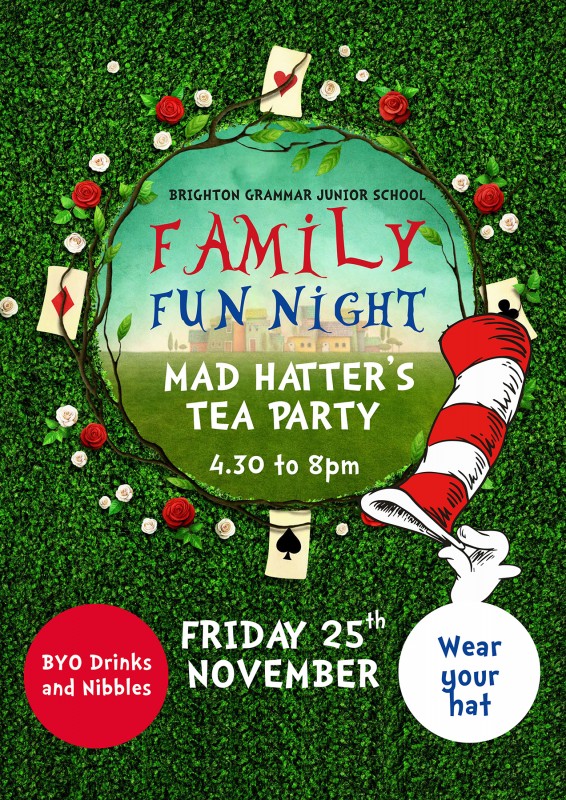 Get your Family Fun Night exclusive show bag by pre-booking your tickets today. Show bags will be delivered to your son's classroom with wristbands the week beginning 14 November 2016. This year we are having a Mad Hatters Tea Party so every child will receive a hat that we would like you to wear on the night.  
This year, parents are invited to bring along their own drinks and they will be entertained with a jazz band throughout the evening. We have Mr Burger, Hot Coals Pizza and Little Pancakes and a Mr Whip van for some cool delights and some new rides and a little bit of disco will be on the agenda for the kids.
If you haven't already contributed a Scratchie card for the Family Fun Night raffle, there is still time – click here for more details. Don't forget to buy your raffle tickets for a chance to win a fantastic Scratchie card Christmas tree.
BGS Swim towels: Get ready for the swim season – order your BGS swim towel by clicking here.
---
OSHClub news
We have had a very active week at after care this week. We have started Play On Basketball on a Monday from 3.35-4.35pm for the primary-aged boys; we have computers with Krissie for the ELCs on a Tuesday; there are pancakes for breakfast on Thursday morning; soccer on a Thursday for the primary boys; and on a Friday we have Chess Club. While the weather has been warming up we have been spending lots of time outside at OSH and would please ask all boys to bring their hats to aftercare. We also please ask parents to ensure your child is booked in as there is a $3 a day charge if your child is not booked in.This is to ensure we maintain our child to staff ratio.
Please feel free to contact us with any feedback, questions or concerns.
Head Office: 03 8564 9000
Program Contact:  0422 193 377 (kinder), 0401 143 440 (primary)
Kinder Coordinator: Samantha Fry, Primary Coordinator: Emma Jean Callery
Assistants: Kate Rushen, Annabelle Russell. 
All families must be enrolled to attend the program and/or Vacation Care, and remember it is free to enrol your children online. Please create an account online at www.oshclub.com.au.
All bookings and cancellations can also be managed via your online account. For on-the-day/emergency After School Care bookings please contact the School Office and the Coordinator direct at the program (text messages to the program mobile are preferred). Before school care can be booked in the same fashion, or just come in.
---
Found items
Purple hooded parka size 10
Coro black/grey fleece top size 30 initials BJ
Hancock polo size 4
Jumper size 10
Black Adidas shorts size 9 – 10
Oakley cap – bone colour
Red Head tennis racquet
Brown Ugg boots – small.