Junior School Thursday 20 October 2016
Weekly eNews
Junior School
A word from the Headmaster, Ross Featherston
Legacy
On Monday, at Valedictory Day, we farewelled the Class of 2016. Our young men finished their time at BGS with the same dignity and class they displayed throughout their time at the School, along with a good, healthy dose of emotion. It was superb to have the whole School involved in the Beating of the Bounds ceremony, where every boy from ELC through to Year 11 had a chance to witness this rite of passage and thank our Year 12s.
Old Brighton Grammarian Rob McGauran (1976) shared five pieces of sage advice with the Valedicts – advice that rings true for us all:
find your voice
have a crack
be curious
be engaged and generous
and, most importantly, be loving.
There is no doubt that BGS's Class of 2016 leave behind a strong legacy. We are so proud of the boys and wish them well for their upcoming examinations, and for their lives beyond the School gates.
---
From the Head of Junior School, Peter Tellefson
All Junior School boys and staff have enjoyed participating in our Year 12 end-of-year celebrations.  Last Friday we welcomed back those Year 12 boys who attended the Junior School for 'Wilson House Revisited'. The Year 12s visited teachers and boys in the classrooms and reminisced about their Junior School days.  The 'Beating of the Bounds' service on Monday was a wonderful experience to be a part of. It brings back a host of times, places, events and faces for the Year 12s and their families as they process, pray, reflect and visit the Senior School Quadrangle, St Andrew's, Wilson House, Rosstrevor, Crowther Oval, The Clock Tower and the Oak Tree. This is a powerful and meaningful experience as, en masse, approximately 500 people processed to the different above-mentioned parts of the School.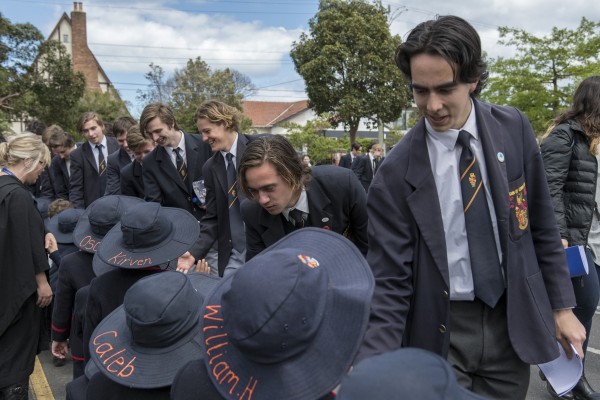 Tom Wallace, School Co-Vice Captain, spoke fondly of his memories of Junior School days. It was certainly a buzz for our ELC boys to high-five the Year 12 boys as they entered the Junior School.
Congratulations to our Junior School Captain, Samson Adams, who spoke superbly on behalf of the Junior School community. I appreciate the excellent work of our grounds and maintenance staff, as Wilson House looks a picture.
Last weekend, the Outdoor Education staff provided the opportunity for our Year 6 boys and their dads to have a father/son white water rafting weekend on the Mitta Mitta river. The weekend was most successful, with the boys and dads enjoying canoeing, low ropes, bush cooking and some father/son reflective time. The feedback we have received from those who participated was overwhelmingly positive, and I appreciate the work and support of Cam Barry for facilitating this opportunity.
---
Junior School achievements and reminders
Best wishes to our Year 3 to 6 boys who are completing various instrumental AMEB exams. I appreciate the efforts of our Music staff in preparing our boys.
Congratulations to our Year 4 to 6 boys who competed in the Eastern Metropolitan Regional Athletics Championships last week, with some outstanding results. Our 12 Year 4 x 100m Relay team (Jonah Campigli, Max Absalom, Zach Bowen, James Bourke, Alex Holman) finished in 1st place; Jonah Campigli – 1st place 12 Years Long Jump, 1st Place 12 Years 800m; Justin Krok, 2nd place 11 Years Triple Jump and Alex Holman, 1st place 12 Years 80m Hurdles.  Thank you to Mr Ryan for his coaching and management of the team and to all parents for your support. Best wishes to all boys competing at the State Championships next week.
This weekend we have 34 Year 6 boys and 17 staff representing BGS in a Relay for Life event that raises money and awareness for the Cancer Council. The boys are required as a team to continually jog, run or walk for 24 hours. Thank you to all staff and parents who will support the boys and good luck for the weekend. All boys from ELC to Year 6 can wear casual clothes tomorrow and donate a gold coin to support our boys and the Cancer Council.
I have recently received a number of complaints from neighbours in Grosvenor Street as parents are not parking appropriately and obstructing driveways particularly at pick up time at the end of the day. I have also noticed an increase in congestion on Grosvenor Street as parents are arriving as early as 2.45pm and 'lining up' within the car park and on the street. This makes it very difficult for ELC3 parents (2.30pm finish) and ELC4 parents (2.45pm finish) to park and collect their sons.  I understand that parents who have sons in the ELC will park and wait until 3.20pm to collect older siblings but I would ask Junior School parents not to arrive before 3pm please. Our system works effectively once the boys are dismissed at 3.20pm, and on most days the car park is clear by 3.30pm. I would ask for parent assistance to help ease the congestion by not arriving so early. All boys are supervised in the car park until 3.45pm, which provides 25 minutes for 'pick up'.
---
What a great week in the ELC
This week started with a highlight for the whole School – farewelling our Year 12 boys on their Valedictory Day at the transitional ceremony, the Beating of the Bounds. The ELC boys excitedly gathered prior to the ceremony and discussed how the "big boys" might be feeling, how their parents would feel, what we could say to them on their last day before exams, and how we could high five them as they entered the Junior School. It was such a lovely group conversation where we really could hear the sensitivity of the boys' feelings and kind thoughts for our Year 12 friends. It also reminds me how one day it will be these precious boys farewelling us as they head off into their next chapter. A thought that always brings mixed emotions of pride and sadness.
This leads perfectly into our final week of transition for 2017 ELC boys. Although it might seem like a small move to us as adults, leaving the security and predictability of the boys' current teachers and classroom can seem like a huge change in a little 3 and 4 year old's life. Not to mention transitioning the new ELC3 groups who are two and three years old. We have had a wonderful time getting to know our new families for next year, and even had the parents creating family portrait masterpieces this week. It's fun to see the competitive spirit already!
A reminder that all boys require their hats for Term 4 and should be in their Summer uniform. Also, we need to hand in our ELC4 swimming forms to the swimming school, so please keep them coming in.
As sent out on the School Stream and advertised in the ELC, the JPG are producing ELC aprons as the last fundraiser for the year. Every boy will have his drawing on this gorgeous and be a wonderful memory of the year. Please support this by purchasing at least one for your family. It's makes a great Christmas present!
Amelia Barrow
Director of the Early Learning Centre
---
Parenting tip
Please click here to view this week's parenting tip: Insights: What it means to be an emotionally intelligent parent.
---
Year 6 debating
Congratulations to the Year 6 debaters who competed at inter school level against Firbank, Sandringham House and Loreto Toorak. Well done to James Reid, Charlie Heaton, Lenny Ewers, Will Field, George McDowell, Thomas Stretch, J Sum and Nik Stavrellis who demonstrated self-confidence, teamwork and critical listening skills, as well as being organised and prepared for the roles assigned to them. The best speaker for each debate was awarded to Lucas Toms, Hamish Andersen, Zach Bowen and Lucas Connell. This is particularly noteworthy as those boys all had the position as third speaker, which, with rebuttals and summaries, is traditionally the most challenging role in a debate. Thanks to Caspar Payne and Ben Akinci for acting as Chairperson and our talented Middle School adjudicators Jaikob Akinci, Liam Konidaris and Thomas Barlabas. We keenly await the opportunity to listen to the boys' arguments in the Year 6 class debates 'That Science is more important than the Arts'.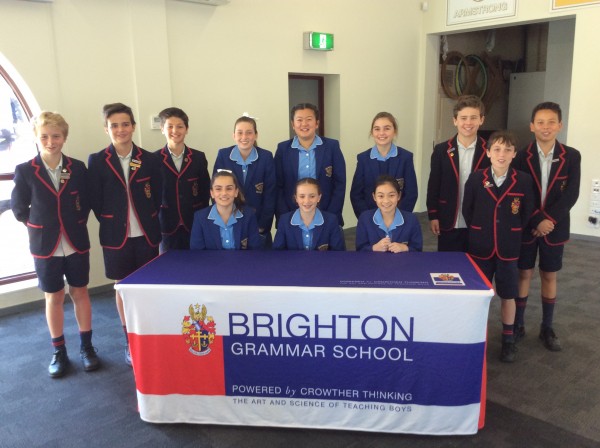 ---
Teaching and learning
Tell me about belonging at BGS…
During Circle Time in 2W we have been discussing what it means to belong at BGS. We all have different ideas about what belonging means to us. Here are some of our thoughts:
"I feel I belong when I participate in House activities such as Athletics and Cross Country because I feel part of a team when everyone is cheering each other on." Ned and Archie
"I feel I belong when I am working with a partner because we help each other." John
"Friends help me to feel that I belong because they welcome me into games." Sam C
"When I wear my school uniform I know that I belong at BGS. It makes me feel included with all the other boys." James
"Working in the classroom with other boys makes me feel that I belong to a group." Stefan
"I like to walk out of my classroom and see the culture in the corridors to see the work that is being done by other boys at BGS." Sebastian
"Following the School values makes me feel that I belong." Sam L
What's happening in 5 Scott?
"The Lego Mates activity was a fun thing to do and a great way to improve your teamwork skills." Archie M
"Wow, what a fantastic learning experience. I can't believe that our group was so cooperative. By the end of the session we had completed two Nexo Knight vehicles, which our whole group was very proud of." Jules F
"I absolutely loved Lego Mates. We had lots of laughs and I learnt lots about cooperation. We really worked well together and completed one whole car in one session."  Oliver D
"Lego Mates was probably one of the best experiences we've had in Year 5.  My group was building a Star Wars ship and it helped to improve our cooperation and teamwork."  Sam C
"I'm looking forward to the following two sessions. It was challenging working all together with one engineer, one supplier, one direction and two builders."  Charlie P
What's happening in Year 6?
"This week the Year 6 boys have been working really hard on are debates we want to do really well because it is our second last debate.  All teams have been working really hard and I know it will be some fantastic debates." Ethan 
"In Year 6 we are starting our billy carts, we can't wait to build them and race them later on in the year."  Ben E
"I believe that the transition day was a valuable experience to see the reality of what we are going to be experiencing next year. I am really looking forward to meeting all my future teachers next year." Henry P
"Some of the boys in Year 6 have been starting to work on their ideas for Baraka Fair. The boys have come up with some creative ideas ranging from the most popular water bottle flip, to the new idea of hitting cans over with water balloons. Everyone is getting really excited because the boys love to have fun and raise money for Baraka." Ben C
What's Happening in Year 6 Investigator?
This term the Year 6 boys are building billy carts. Firstly, we build a scale model of what our billy cart will look like. We then construct a life size prototype and get the chance to race in the annual Year 6 Junior School, Billy Cart Cup. This is the highlight of the year for all Year 6 boys.
"I'm looking forward to building my Billy cart and then racing it when it is complete." Tom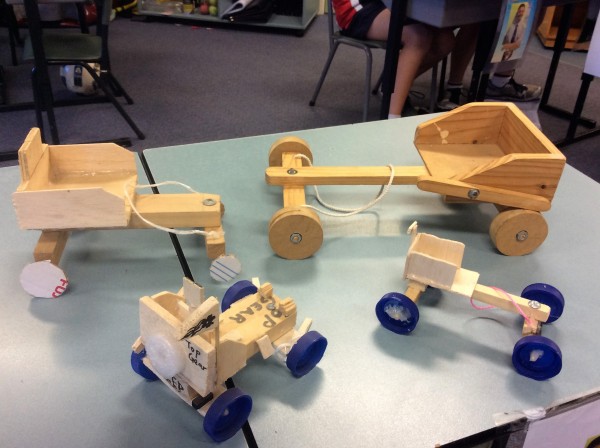 "I'm looking forward to testing my billy cart after many building stages." Jordan
"During our billy cart unit I am looking forward to working with my group and striving to win the Billy Cart Cup." Jackson
"I am looking forward to building our billy cart and making it on our own." Lenny
"I'm looking forward this term to see who will win the Billy Cart Cup." Freddie
"Our team is working really well, we've almost finished our scale model and we have already got our wheels." Henry
---
JPG news
Family Fun Night
The Junior School Family Fun Night is on Friday 25 November 2016.  It is going to be lots of fun for all the family, so make sure you save the date! Click here for the flyer. Further details to follow soon.
2016 Junior School Tea Towel or ELC Apron
The JPG is delighted to once again be running a BGS Junior School tea towel and ELC Apron fundraiser. 
BGS Swim towels: Get ready for the swim season – order your BGS swim towel by clicking here.
---
OSHClub news
This week we have had fun baking muffins in the ELC program. We made pancakes from scratch on Thursday for our pancake morning.  The primary room has been busy playing football and other fun sports.
Just a quick reminder to parents, please it is a $3 a day charge if you have not booked your child into care via your online account.
Please feel free to contact us with any feedback, questions or concerns.
Head Office: 8564 9000
Program Contact:  0422 193 377 (kinder), 0401 143 440 (primary)
Kinder Coordinator: Samantha Fry, Primary Coordinator: Emma Jean Callery
Assistants: Kate Rushen, Annabelle Russell 
All families must be enrolled to attend the program and/or Vacation Care, and remember it is free to enrol your children online. Please create an account online at www.oshclub.com.au.
All bookings and cancellations can also be managed via your online account. For on-the-day/emergency After School Care bookings please contact the School Office and the Coordinator direct at the program (text messages to the program mobile are preferred). Before School Care can be booked in the same fashion, or just come in.
---
Found items
Kathmandu black fleece size 10
Blue track pants size 10
JB Were bucket hat
St Kilda cap