Junior School Thursday 26 May 2016
Weekly eNews
Junior School
A word from the Headmaster, Ross Featherston
The 3 Rs: reconciliation, research and results
At last week's Middle and Senior School Chapel Services, I spoke about National Reconciliation Week (NRW), which starts tomorrow, Friday May 27. I highlighted how we already engage with issues around reconciliation: our Year 6 Milikapiti exchange program (8 boys have just departed); the Year 9 Sea Change visits (22 boys are currently in Kowanyama and Pormpuraaw); various classroom-based curriculum activities; and our relationship with the Melbourne Indigenous Transition School (MITS).
I challenged the Middle and Senior School boys to raise their understanding of issues that Aboriginal and Torres Straight Island peoples face: this should be their minimum commitment in this important aspect of our nation's story. The NRW website will help you initiate some important conversations at home, particularly during Reconciliation Week.
There were plenty of important conversations going on last Saturday, as BGS hosted the 2016 researchEd Conference. To have national and international thought-leaders at BGS, including 17 of our own staff, is another indicator of our commitment to making evidence-informed decisions regarding educating our boys.
This commitment to education excellence is seen right through the School, as evidenced by our Peter Toms Early Learning Centre (ELC). The Department of Education and Training recently assessed our ELC against seven National Quality Standards and we exceeded expectations on all seven Standards – the highest result possible. This reinforces the fact that our ELC is a tremendous place for learning, development and fun for our youngest BGS boys.
---
From the Head of Junior School, Peter Tellefson
When entering and exiting the Grosvenor Street car park, the safety of our boys is paramount. With winter approaching, please take care and drive with caution to ensure our boys are not at risk. To assist with the flow of traffic in the car park we ask all boys from the ELC and Junior School not to play on the adventure playground after school. I would ask all parents to support this request. A number of reminders when using the Grosvenor Street Carpark.
Keep to the left for drop-off and pick-up.
Parents should not leave their vehicle in the drop off or pick up zone to collect their son.
Please do not park at the Oval end of the driveway (marked No Parking).
To celebrate Maths Week, the boys have been engaged in a variety of mathematical activities themed 'Let's Investigate'. They have enjoyed the opportunity to play a variety of board games, Maths Investigations displays in the corridors, Design a Logo or Slogan competition, Year 3 – 6 House Maths competition, Year 3/4 Family Maths Night and Multi-age Maths rotations tomorrow.  These activities have enabled the boys to develop positive attitudes towards mathematics, improve their problem-solving skills, interact with their House buddies from Prep – Year 6 and engage in classroom activities together. Thanks to all staff involved in organising Maths Week activities.
As our boys travel on their educational journey, it is important that we provide them with a variety of leadership experiences. Leadership is not about popularity; nor is it a given. Some key qualities we expect, particularly of our Year 6 leaders, are: to be responsible and honest, to show respect, set a positive example in the classroom, on the playground and sporting field, to give their best, and be willing to give of their time to help others. Our Year 6 boys respond well to the formal and informal leadership opportunities: School Officers, Chapel Servers, Monitors – Library, Technology, Science, Sport, Music – and their role as a 'buddy'. Our Year 6 boys also do a fantastic job umpiring the various games of AFL and soccer played on the oval over recess and lunchtime.
---
Junior School happenings and reminders
Our Junior School Semester 1 Music Concert will be held on Tuesday 7 June, 7.30pm at St Andrew's Church. All Year 4 and Year 5 boys, Borwick House Choir, Wilson House Concert Band, Wilson House String Orchestra and the Guitar Ensemble will be performing. Boys are to wear their full winter uniform and need to be seated in St Andrew's by 7.20pm.
I will be visiting the Year 6 students in Milikapiti from Monday to Wednesday of next week. I will then head to Rutherford Park on Thursday afternoon to see our Year 4 – 6 musicians in action. While I am offsite, Mr Dean Bryan will be responsible for the Junior School.
Our Prep – Year 2 boys look forward to hosting their grandparents and special friends from 9.45am to 11am on the following dates:
Prep – Thursday 9 June
Year 1 – Friday 10 June
Year 2 – Thursday 16 June.
---
The rain won't stop us in the ELC
We can certainly feel the seasonal change coming this week, however that won't stop us learning. The boys continue to amaze us with their ideas and work outdoors and their focus and determination keeps growing. Keep the gumboots coming in so the boys can enjoy the delights of the mud patch and beyond!
Our boys enjoyed a special treat in the Junior School library this week with a storyteller. We listened to The Three Little Pigs, The Penguin Story, The Giant Turnip and The Pied Piper. We were then invited to join in with some rhyming chants and songs to keep the wriggles away. We would like to thank Mrs Anthony for arranging this for the ELC and lower primary boys.
Two letters have been sent out today in regards to our upcoming experiences in June – Pyjama Day and our Firbank get together. On Tuesday 7 June, the ELC4 boys will walk over to Firbank Grammar ELC and have a morning session with the girls. We require parent helpers for this exciting excursion and ask that you let your son's classroom teacher know if you are happy to help out. The ELC3 boys will host a visit from the ELC3 classes from Firbank. We look forward to showing the girls our amazing centre and involve them in our program for the morning session. Pyjama Day will be held on Thursday 9 June to welcome in winter. The boys are invited to wear their pyjamas to school, with slippers, dressing gown and a cuddly toy. We have planned cosy indoor activities for the boys for this special day.
Our whole centre focus this week in assembly is the importance of inclusion and celebrating our differences. As we continue to educate the boys on the importance of acceptance and inclusion, we included the wonderful story Our House by Michael Rousen in assembly today. The ELC staff acted out the story to share with the boys desired language and positive outcomes.
If you are doing a little winter clean out please think of us. We are looking for cooking utensils for the sandpit dramatic play such as wooden spoons, spatulas, pots and pans, metal or plastic cups, bowls and plates. We also would welcome clothing for dress ups – these can be adult size as the boys love trying on "dad's" shirts, ties jackets, and "mum's" tops, dresses and shoes. We will place boxes in the foyer area for you to donate next week and thank you in advance.
Pet vacations – yes it's that time of year again! We are looking for pet homes for our classroom pets and also our centre pet Rosie the rabbit. If you would like to help us out, please let us know ASAP so we can arrange delivery. 
Amelia Barrow
Director of the Early Learning Centre
---
This week's parenting tip
Please click here to view this week's parenting tip: 'Insights: When does fun flip into addiction?'
---
Year 6 outdoor education: Gippsland Lakes
The Year 6 Gippsland Lakes outdoor education journey is always a highlight for the boys and staff. This year was no different.
Over the two weeks, all boys and staff thoroughly enjoy every aspect of the program and undertook a personal journey.  The wonderful catering, care and attention shown to the boys, and homemade delights from Heather, the camp cook, was the overall highlight for the boys. I know from 15 years of experience that food (lots of it) is the key ingredient to a successful outdoor education program for boys!
The venue and setting allowed all boys and staff to extend themselves and reach their full potential in a beautiful part of Victoria. Throughout the week, all boys participated in a two-night camp out, which included an overnight hiking journey to 90 Mile Beach and Rottamah Island. For many of the boys this was a new experience, and the all handled it exceptionally well. During this journey, all boys carried their own backpack and all of their own camping gear.  This experience provided the boys with an insight into what outdoor education experiences await from 2017.
Some of the two-night base camp outdoor education activities included: canoeing, mountain bike riding, an Indigenous interpretation session, initiative activities and night games. The boys should be proud of their efforts, attitude and achievements over their time at Coola and the Gippsland Lakes. Mountain bike riding is a perfect example of an activity that requires boys to manage and mitigate their own risk. The benefits are tremendous. Too often these days we (as a society) are removing risk from our children, which leads to greater problems as they grow older. A prime example of this is boys and computer game addiction. Boys turn to gaming (as an example) to get their risk/reward. Through carefully structured outdoor education programs, the BGS boys will be exposed to risk, but importantly taught through experiences how to mitigate and safely manage their own and group risks. There are many valuable lessons for a young through this process.
Thanks to Mrs Le Couteur, Mrs Turek, Mr Cook and Mr Leahy for their role modelling, patience, positive attitudes and contributions over the fortnight. 
Cameron Barry
Head of Outdoor Education
---
Teaching and learning
What's happening in 5 Zachariah?
"Our maths investigation in Maths Week was great fun because it was something very different from what we usually do." Cooper B
"On Monday 23 May, 5 Zachariah finished their experiment that went for a week on whether a 100 cubic centimetre container could hold 100ml of water or a 100g of flour, sand or rice." Leon H
"At first one of the most challenging things was explaining what volume, capacity and mass were and what units are used to measure them." Blake P
"The making of our nets was so challenging but we did it!" Sam H
"The measuring and pouring of flour was great fun. It was messy too!" Oliver H
"Our measuring investigation certainly taught us a lot including that 100g of rice does not fit into a 100 cubic centimetre container."  Angus T
What's happening in Lower Primary Enrichment?
Prep – Bee-Bots
"'I like playing snakes and ladders with Bee-Bots." Lachlan Prep K
"If you press the green button, the Bee-Bot moves around." Harry Prep K
"You have to press the left or right buttons to turn the Bee-Bot. I enjoy the Bee-Bots." Jeremy Prep F
Year 1 – Message in a Bottle – A Maths Investigation
"We did maths subtraction equations to make a secret code." Owen 1H
"We had to make a number code to make a secret message and put it in a bottle." John 1B
"We did some maths, adding and subtracting. I was able to do them to solve the code." Ethan 1H
Year 2 – sizzling starts
"The gate creaked. What was that? I was in a dark gloomy graveyard. Birds were whistling in the trees. Footsteps were creeping beside me. I was feeling miserable. Nearby I saw a church. It was very old. I thought to myself that would be a safe place to go…" Sebastian 2W
"The gate creaked. What was that? I was in a graveyard. Surrounding me were birds whistling. Suddenly I heard a screaming noise. A dark crow was flying high in the sky circling me…" Alexander 2A
"Is that a giant branch? As I was running towards the window I saw a giant tree growing bigger and bigger by the minute. One of the branches was scratching my window. How did it get there? Who could have planted it?" Matvey 2W
"What was that? Looking out the window he was amazed. An evil lizard with a pet ghost dog was throwing silver swords at the window scratching the glass. The young man was scared…" Flynn 2A
'The Big Squeeze' – a maths investigation
The Year 2 boys created an orange stand. The investigation was to provide an orange juice for each boy in the class. They had to find out if it was cheaper to squeeze fresh oranges or buy orange juice in a bottle. The investigation required the boys to use skills in multiplication, division and money calculations. As a group, the boys concluded that freshly squeezed was the way to go.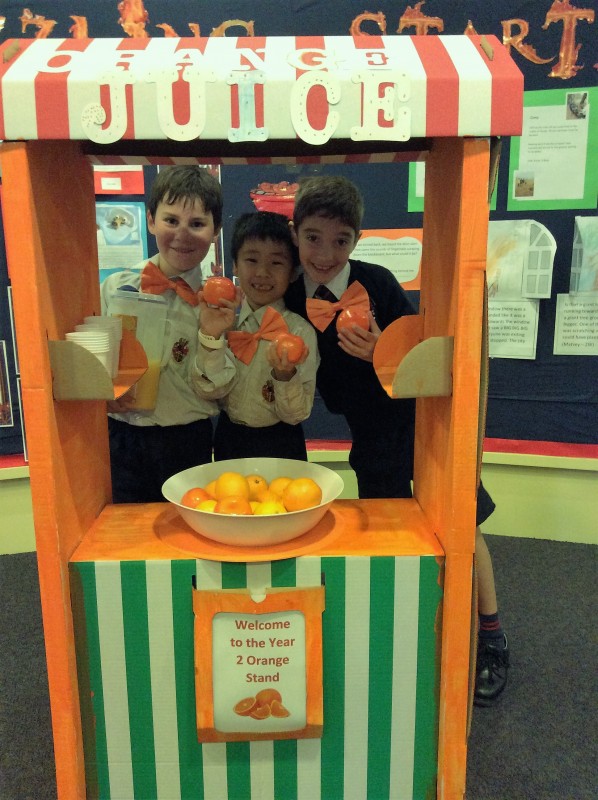 What's happening in Maths Week?
 This year some exciting events have been organised to celebrate Maths Week at Brighton Grammar School.  The theme this year is… Let's Investigate.
Please check below the list of activities organised for tomorrow.
Friday 27 May

Boys wear sports uniform to school with House coloured polo shirts.

Whole school multi-age maths rotations – 8.40 – 11.50am (House teams).

Years 3 – 6 (12.15pm) Junior School House Maths Competition in the GBR Hall.
---
JPG News
Junior School Gala Ball update
Finally, the time has arrived!  The Junior School Gala Ball is tomorrow. It is a sell-out and the excitement is now palpable! 
The proceeds raised will go towards the refurbishment of the Junior School Oval and cricket training facilities. The funds will be raised largely through the Live and Silent Auction at the Ball. There are some incredible prizes on offer at the live auction, from personalised football clinics with AFL stars to luxury hotel accommodation in Jamaica, and even the chance for your son to be Head of Junior School for a day.
The silent auction is open now and has already attracted some fierce bidding. The wonderful prizes range from exquisite diamond earrings to vouchers from Bayside's leading retailers, all either donated by generous school parents or sourced by our Junior School Gala Ball Committee. This year, the silent auction is more exciting than ever due to the fact that it is available via an easy and fun to use online platform optimised for smartphones.  So start bidding now via www.bgsball2016.com.  Bids close at 10.30pm on the night of the Gala Ball, and you can bid whether you are attending the Gala Ball or not. Please use your full name to register to assist us in tracking down the winning bidder. You can still bid anonymously if you choose, despite registering your full name. Your bid is then accepted and you will be notified on your phone via SMS if you are outbid.  You will only have to enter your details once. To make it even easier to access – once you have clicked onto the link you can add it to your home screen for easy retrieval.  The platform can also be viewed on a PC or tablet.
Please bring along your credit card and some money to the Gala Ball so that you can pay for items bid for at both the live and silent auctions, raffle tickets, and so you can purchase some Hollywood-themed cocktails.
Also, please remember to buy some raffle tickets to win the stunning diamond pendant. Tickets are still available via Trybooking or directly from Committee and Year level representatives before or on the night.
New 2016/2017 Entertainment Memberships are here
The new Entertainment™ Memberships are available now and are packed with thousands of up to 50% off and 2-for-1 offers that you can use until 1 June 2017. Flick through to preview the value here.
Choose between the popular Entertainment™ Book with Gold Card and Vouchers, or the Entertainment™ Digital Membership that puts the value of the Book on your smartphone. Click here to order.
We receive 20% from every Entertainment™ Membership we sell, which contributes to the JPG fundraising goals. The more Memberships we sell, the more we raise so please tell your family and friends.  Thank you for your support.
---
JPG meeting
The next JPG Meeting will be held on Tuesday 7 June at 8.45am in the G. B. Robertson Hall. Everyone is welcome.
---
Dalziel Club: 2016 Footy Fun Day, Years 4 to 6
Join us on the mighty Crowther Oval for a free skills session specifically aimed at BGS boys in Years 4, 5 and 6. The session will be led by our 1st XVIII players, local Zebbies VFL players and, if all goes to plan, some AFL players too (Saints and/or Melbourne).
Based on the success of last year's event, this session is loads of fun and a great opportunity to get up and personal with some of the greats.
Venue:    Crowther Oval  
When:     Friday 22 July, 3.35pm – 5.30pm
To help us with planning, please book via Trybooking.
---
Found property
White Football Star Academy tshirt size YM
BGS beanie
Sea to Summit plate/cutlery set
Black Helly Hansen thermal top size L
Jumpers sizes 7 and 14
Long sleeved striped shirt size 16
Black Nike runners size 5 ½
Blue long sleeved tshirt 'New York' size 12