Junior School Friday 4 December 2015
Weekly eNews
Junior School
News from the Headmaster
What a Year!
On the one hand 2015 has gone in the blink of an eye, yet on the other it does seem so long ago that we welcomed in the new school year.
In the final eNews for the year I wish to sincerely thank you for playing your part in what has been a tremendous year for our school. While it would be close to impossible to even try to capture everything that has been achieved this year, I sincerely hope your son/s have a had a year replete with success, joy, a little bit of healthy challenge as well as progress, growth and development.
Please have a safe, relaxing and refreshing Christmas and summer break.  I look forward to welcoming you all to a new school year in 2016.
Change to Term 2 2016 start dates
Please note, we have slightly adjusted the starting dates for Term 2, 2016.
The boys will return to BGS on Monday 11 April and will not be required at school on Friday 15 April. This switch is due to us securing a global leader to train the BGS Staff on a new BGS specific school-wide approach to teaching and learning on Friday 15 April, the only date this expert was available. More details of this exciting new classroom approach will come in 2016.
Ross Featherston
News from Head of Junior School
As I write the final Newsletter for 2015, the time between our first few weeks of settling into the new school year and next Wednesday seems so short. It only seems like yesterday that we were welcoming boys, families and staff to the start of the School year. It is hard to believe there are very few days of my 'good morning' routine, one that I thoroughly enjoy on a daily basis. The growth of our boys over the last 12 months is a celebration on so many levels. I take this opportunity to express my thanks and appreciation to all members of Wilson House for your support this year. Thank you to our boys for their wonderful contributions, to our staff for their commitment, encouragement and concern for the boys in their care, and to all parents for their continued support and generosity. We have every reason to be proud of our boys' progress and achievement this year and this is a result of our 3 cornered partnership at Brighton Grammar. May the blessings of Christmas bring joy in every house.
Best wishes to all our ELC3 to Year 2 boys and staff for our Christmas Pageants next week. I appreciate the excellent leadership provided by Mrs Clarke, Miss Barrow (ELC), Mrs Sofo, and Ms Taylor (Lower Primary). This is also a very busy time of the year for our Musicians, and I wish them well for their performances at Speech Night and Carols next week and thank Mr Furtado for his excellent leadership 'of all that is Music' in the Junior School.
Our End of Year Carol Service is next Monday, 7 December at 7.30pm at St Andrew's Church. I would encourage families and boys to attend; it is a superb night and a highlight of our preparation for Christmas. You will enjoy the quality of our talented musicians and the congregation certainly have the opportunity to join in the Christmas spirit.
The Year 6 boys thoroughly enjoyed their formal sit-down farewell lunch on Wednesday. A number of speeches were made in appreciation of the year to classmates, staff and parents. Thank you to Mrs Vanessa Catt for her co-ordination, to the many mums who assisted, and to Mr Darren Cook, Mr Paul Gurry, Mrs Shelly Turek, and Mrs Monica Le Couteur for their support – our boys certainly did BGS proud.
Our boys had great fun raising funds for Baraka on Tuesday.  The stalls, prizes and activities at the Baraka Mini-Fete were all organised and run by the boys. Their level of enjoyment, organisation and engagement was superb – we have some entrepreneurs in our midst! The boys raised $5840 which is a fantastic achievement. Thank you to all families for your support and generosity.
Congratulations to all finalists who competed in the House Chess Competition in recent weeks.
Year 3 Lachlan Kwong
Year 4 Lachlan Paino
Year 5 Matthew Hill
Year 6 Leo Yang
Music Update
As a result of some changes to the Middle School Instrumental program structure for 2016, there may some changes to your son's Music teacher in the Junior, Middle and Senior School for 2016. This does not impact on your son's academic Music program; nor his access to the many wonderful co-curricular Music opportunities on offer. Brighton Grammar is committed to a high quality Music program and we look forward to seeing this continue to develop in the years ahead. Further details regarding staffing changes for next year will be communicated once finalised.
At the end of the year we say farewell and extend our best wishes to a number of staff who are departing Wilson House, Ms Mady Bolch is relocating to London, Ms Cindy van Dijk is on 12 months Leave to travel the world and Mrs Raelene Plozza has been appointed to a Prep – Year 8 Literacy Coaching role working across the Junior and Middle Schools from the commencement of 2016.  We thank Mady, Cindy and Raelene for their continued commitment to the boys in their care.
Peter Tellefson
Wilson House Happenings and Reminders
Semester 2 Reports will be available on-line today from 1.00pm.
Thank you to Mrs Brigitte McGregor and Mrs Averil McDowell for organising, on behalf of The Junior Parents' Group, the Christmas tree in the main Reception area so that families can leave a gift for underprivileged children. These gifts will be donated to Mary MacKillop Family Services which I am sure will bring pleasure to many children in need. Mary MacKillop Family Services have asked that gifts not be wrapped.
Thank you to our Year 6 families who supported our Billy Cart Parade and Cup. The unit of work is a wonderful example of ensuring the design and delivery of our curriculum is boys friendly. The boys had worked hard this Term to design and build their carts with great success. The unit of work had so many key elements of boys' learning: visual, practical, challenging, hands-on, end product and linked to healthy competition. Congratulations to all involved. We look forward to our Year 6 Farewell Liturgy next Tuesday, 8 December, 7:30pm at St Andrew's. Boys are to arrive by 7:15pm and wear their Summer uniform with their blazer, no jumpers required.
A reminder ELC 3/4 finish classes at 11.00 am next Wednesday, 9 December, and our Prep to Year 6 boys at 12 noon.
Term 4 Dates
December
Friday 4
Junior School Speech Night 7.30pm
Ute Full of Food
Monday 7
ELC Family Picnic 5.00pm
Evening Festival of Lessons & Community Carols Service, St Andrew's Church, 7.30pm
Tuesday 8
Year 7 (2016) Transition Day
Lower Primary Christmas Pageant, 9.30am
Prep – Year 5 Carols Service, St Andrew's Church, 2.00pm
Year 6 Liturgy, St Andrew's Church, 7.30pm
Wednesday 9
Term 4 Ends 12.00pm
ELC Christmas Pageant 10.00am
And now, the end is near…in the Early Learning Centre
Reflection and gratitude are two key elements to Early Childhood Education, and with the last few days ahead of us we find ourselves reflecting on the year that has gone by. I must say that there is a sense of "Where did this year go?" when I keep reminding myself that we are about to farewell our ELC4 families and wish all of our boys a happy festive season.
2015 has definitely been a year full of learning with numerous experiences and celebrations of the boys' growth. A wonderful record of these has to be the boys' portfolios that are being sent home for families to keep. These records have been the basis of how we reflect, analyze and plan each activity for the classroom, and I would like to thank all staff for their hard work and dedication in making these incredible documents as evidence of your sons' learning this year. I am sure you will enjoy reading through these with your son and sharing with family members this record of his year. How lucky these boys are to have such a beautiful keep sake of their first years at BGS.
Christmas costumes were sent home this week and I ask that parents read the letter attached to the bag to help our preparation for the big concert on Wednesday morning. Boys are to arrive in their costumes, so I would recommend an early start to your day as rushing will only heighten anxieties and nerves. Staff will add the final touches on the boys' costumes once we have settled the boys on arrival. As it is quite an exciting morning, we encourage a quick drop off so we can get the performers ready. For ELC3 parents, I would advise that Bilby families sit at the right hand side when looking at the stage, and Wombat families sit on the left. This way you will have a great view across the stage at the groups. The hall will not be opened until 9.30am so please be patient as we prepare for the performance. A reminder that if your son is going to After School Care from 11.00am onwards, he will need his school uniform packed so we can change him ready for OSHClub. All other boys may have casual clothes to go home in after the performance.
On behalf of all of the ELC Staff I would like to thank all of our parents and friends for a wonderful year. We have valued your support and care, and appreciated the great partnership between home and school. We would like to wish you all a very Happy Christmas and safe New Year, and look forward to seeing you in 2016.
Miss Amelia Barrow
Director of the Early Learning Centre
2016 School Bus Routes
Port Melbourne School Bus Route
The School provides three bus services for the use of students. Click here for details on the approximate fares per term and the anticipated routes and departure times, with the exception of the Port Melbourne Bus route which is being amended as per the details below.
Please be advised that from Term 1, 2016, the Port Melbourne School bus route will be extended to start and finish at Southern Cross Station.  There will be some minor changes to the current route, however all existing stops will remain in their current vicinity.  Exact details will be made available on the School website later in the month. For all enquiries please call Mrs Fiona Kerr on 8591 2213.
This Week's Parenting Tip
Please click here to view this week's Parenting Tip entitled 'It's a (Christmas) WRAP!' Teaching & Learning
Tell Me About the Lower Primary Pageant
We are doing some singing for the Christmas Pageant. My favourite song is Away in a Manger." Angus Prep F  
"Two of us sit on chairs up on the stage. I'm Mary and Sam is Joseph." Luca Prep F "We are getting ready to sing some Christmas songs." Nicholas Prep F
"Mrs Sofo is teaching us songs to sing for our Christmas Pageant." Hakeem Prep F
"We stand and get ready to sing the Christmas Pageant songs." Jamie Prep F
Billy Cart Cup
On Tuesday the four teams representing each Year 6 class raced in the Annual Billycart Cup. The unit of work is always one of the highlights of the year and culminates in a parade of each trio's cart in front of parents and younger boys followed by the race. After a series of trials last week, the team with the fastest time was selected to be in the final.
The weather on the day provided superb conditions and the boys were pumped. A challenging racetrack had been designed and the three members of each team took turns to race three laps. The idea was to achieve the fastest time without hitting any cones as they made their way around the track. A time penalty was also added each time a cone was knocked. So the pressure was on! The winning team for the last four years had been 6 Discovery. So a challenge was set. 2015 delivered a different result. Persistence shone through with Brady Collins, Edward Greenslade and Charlie Schwerdt from 6 Resolution winning the cup despite losing a tyre along the way. An amazing result!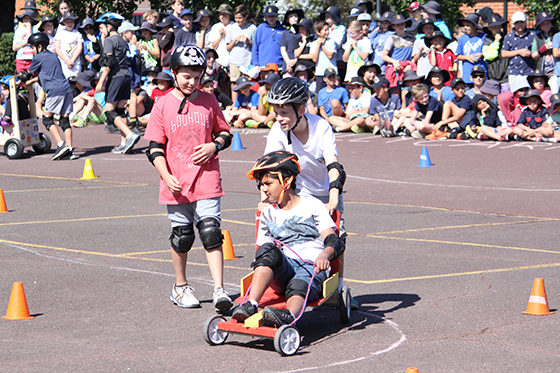 Baraka Fair
The Baraka Fair was held in the afternoon on the grounds of Wilson House on Tuesday. Activities were fun, varied and well supported by all of the boys. The amount raised was an incredible $5840. Thank you so much for supporting this wonderful cause. Below is a statement from Peter Toms giving some background information on the school for which the money raised on this day is directed. 
"In 2005 I was asked by a Junior School parent, Tamara Rees, if the boys of the Junior School could raise funds for the Baraka School in Kibera, a slum shanty town, on the outskirts of Nairobi, with over one million people housed in one-room shacks, with no running water, no sewerage or garbage disposal. Tamara belonged to a then fledgling organisation 'Women For Women In Africa' committed to assisting families in Kibera.  
The Baraka School, nearly 350 students, was a collection of broken down mud-brick 4m x 6m classrooms, dirt floors, no electricity, scant furniture and over 60 students crammed into each room. The whole School would easily fit on the Junior School oval with playing area, half the size of the Lower Primary area behind the GBR Hall.
Since 2005, funds raised by our boys have contributed to the rebuilding of the Baraka School as well as providing educational resources and food for the students, many of whom have only one meal a day, that provided by the School. For several years the Middle School boys sponsored a student who last year qualified for university entrance. The children of Kibera are amongst the poorest in the world yet so extraordinarily appreciative of any support we can give them."
Private Instrumental Tuition
Parents are reminded that if your son is continuing with his Private Instrumental Lessons in 2016, no correspondence is required; it is assumed that he is continuing. Anyone who wishes their son to commence private lessons in 2016, please contact the Music Department at music@brightongrammar.vic.edu.au for a Private Instrumental Form. If your son wants to cease Private Instrumental Lessons at the end of this year, please ensure written confirmation is received via email by Friday, 27 November.
Music Concerts/Events in Term 4
Monday 7 December – Community Carols Service @ St. Andrew's 7:30pm (JS/MS/SS)
Tuesday 8 December – Junior School Carols Service @ St. Andrew's at 2.00pm (JS)
Wednesday 9 December MS/SS Carols Service @ St. Andrew's 8:30am (MS/SS)
Please place these dates in your diary and come along and experience some of the fantastic music making from our boys and music staff. Mr Jamie Ransome Director of Music
JPG News
Dear BGS Families and Friends,
The end of the school year is upon us and there is much to celebrate and be grateful for in 2015.  On behalf of the JPG I would like to take this opportunity to thank the BGS community for your support of JPG events, the Class Representatives for helping enhance the community spirit amongst year levels and the volunteers who have lent a hand throughout the year.  Your enthusiasm and assistance is appreciated in further deepening the connectedness we have had with our boys and Wilson House.
Through your kind contributions at JPG fundraiser events, the Committee this week had the pleasure of handing to Peter Tellefson a cheque for $100 000.  We are all very proud of this total, knowing we have played a significant role in the further development of the Junior School in the construction of the new Science rooms, which all our boys will benefit from.
American author, political activist, and lecturer Helen Keller was spot on when she said "Alone we can do so little; together we can do so much."  This rings true when I think about the commitment and gusto of the JPG committee members.  I thank Julie Torrance, Louise Pearson, Cindee Heath, Brandy Lyons, Rowan Findley, Brigitte McGregor, Averil McDowell and Amanda Field sincerely for all their hard work, coordination and smooth running of all this year's events.  
I would also like to thank and wish well two of our members who are leaving us; Emily Ianuali for your wonderful and invaluable accounting skills and keeping us on track, and also Judy Reddell for your great organisational skills in coordinating hospitality events. I would also like to take this opportunity to genuinely thank Peter Tellefson for his complete support of the committee we are grateful for his enthusiasm, openness and wish him all the best in his new role as Deputy Headmaster. I am also very excited to let you all know that preparations have started for the Junior School Ball, so please save the date, Friday, 27 May 2016.  More information will be revealed at the start of the new school year.
Finally, we would like to wish all BGS families and friends a joyous Christmas and a safe holiday break.
Basia Quill
JPG Parent Liaison
BGS Swim Towels
Avoid the last minute rush and get ready for the 2016 swim season! BGS swim towels are still available for order over the holiday period!  Towels may be named or unnamed by clicking here. (Booking window has closed. Please contact the event organizer directly).
Tea Towels
A limited quantity of our fabulous tea towels are still available for purchase! 
A wonderful keepsake or meaningful gift for parents, relatives or special friends!  Cash order forms and a collection box are at the Junior School Office or email brigitte.mcgregor@bigpond.com
OSHCLUB News
Bookings are now open for the December Holidays! Please book in to ensure a place! See details on our website.
Come join us on Friday mornings for PANCAKE MORNING!
Please feel free to contact us with any feedback, questions or concerns.
Head Office: 85649000, Program Contact:  0422193377 (KINDER),  0401143440 (PRIMARY)
Kinder Coordinator: Lindsay Wilkins, Primary Coordinator: Emma Jean Callery Assistant: Vanessa O'Connor
**All families must be enrolled to attend the program AND/OR Vacation Care, and remember it is FREE to enrol your children online!! Please create an account online at www.oshclub.com.au
*All bookings and cancellations can also be managed via your online account. For on-the-day/emergency After School Care bookings please contact the School Office and the Coordinator direct at the program (text messages to the program mobile are preferred). Before School Care can be booked in the same fashion, or just come on in!
Many thanks, from the OSHClub Team at Brighton Grammar!
Found Items
This is a list of all items currently held.  Anything not claimed by end of Tuesday, 8 December will be suitably recycled.
Blue towel
Fleecy track pants sizes 6 & 4
Blue polar fleece hoodie size s
Black shorts size 14
Black Kathmandu polar fleece size 12
Black polar fleece sizes 10 & 12
Sports shorts sizes 14 & 8
Long sleeved striped shirt size 12
Green GAP hoodie size 8
Carlton vest no. 5 size m
Various umbrellas Silver whistle
Head Novak 25 tennis racquet
Red Buffalo tennis racquet
Blue Quiksilver camp
Various balls, toys, waterbottles, etc.
Holidays
These holidays we have opportunities to do so many things – building, gaming, programming, crafting, assembling, mining, automating, coding, socializing, breaking and fixing, acting, singing, performing, batting, bowling, shooting, kicking, hitting and fencing. If there are any other "ings" we haven't covered for children these holidays, please let us know!
Holiday programs run from 10 December to 28 January and cater to all interests.  All our holiday program information is on the website www.share.vic.edu.au or in the attached flyer, click here