Middle School Thursday 19 May 2016
Weekly eNews
Middle School
A word from the Headmaster, Ross Featherston
My commitment to the wellbeing of our boys
Much has been written this week about BGS and how it handles bullying. I have written my fair share, including rightly apologising for the upset and distress that has been caused. I take this opportunity to make two final points on this topic.
Firstly, the BGS staff and I have an unwavering commitment to ensuring the boys' mental health and wellbeing needs are met. Bullying, and all that is associated with it, falls into the broader category of mental health and wellbeing. We do not tolerate bullying at BGS. We care for those who are subject to bullying with the utmost care and compassion. To say otherwise is simply incorrect.
Secondly, the BGS staff and I have an unwavering commitment to assisting our parents, through thought leadership, in raising their sons. We will not retreat from this commitment. As such, the Understanding Boys blog, parent seminars and open, honest and transparent two-way communication will continue.
Finally, I wish the cast and crew of our joint senior production with Firbank of Copacabana all the best as they take to the stage tonight, tomorrow and Saturday. Everyone involved has worked so hard and I can't wait to see the results. I look forward to seeing you all there.
---
From the Head of Middle School, Jeremy Martin
Winter sport is well underway and I have been impressed by the excellent sportsmanship and team spirit displayed by the boys. I am also proud of the boys for the manner in which they conduct themselves at Saturday sport. Players and spectators alike set a high standard of sportsmanship and are great role models for younger participants. At BGS, sporting participation is encouraged as a means of building up community, teaching physical skills, and encouraging a sense of pride and belonging. I would like to acknowledge and thank all the staff, coaches, enthusiastic players and supportive parents for making BGS sport so enjoyable.
In the last two assemblies the messages have been about the small things; character, and making good choices. The following story was told to the boys and highlighted the importance of the choices we make:
An old Cherokee is teaching his grandson about life. "A fight is going on inside me," he said to the boy.
"It is a terrible fight and it is between two wolves. One is evil – he is anger, envy, sorrow, regret, greed, arrogance, self-pity, guilt, resentment, inferiority, lies, false pride, superiority, and ego." He continued, "The other is good – he is joy, peace, love, hope, serenity, humility, kindness, benevolence, empathy, generosity, truth, compassion, and faith. The same fight is going on inside you – and inside every other person, too."
The grandson thought about it for a minute and then asked his grandfather, "Which wolf will win?"
The old Cherokee simply replied, "The one you feed."
---
Teaching and learning
Creative Design and Technology report, Simone Lewis. 
Today I overheard a Year 8 student comment, 'Argh, I can't draw, this is going to be terrible.' I watched for a few seconds as he sat back, puzzled by the task at hand. He was hoping to draw a face, something he sees hundreds of each day but when expected to transfer this to paper, it all became too much. He looked around at his peers, some equally challenged, others already having found their flow or giving it a go. He caught my eye and realised I had acknowledged his pain. As he asked me for help, I wondered if he was hoping that would take this challenging task off his hands, or maybe do it for him. I didn't. Instead, I showed him a few 'drawing tricks.' I noticed he started to relax and focus and before I knew it, he took over. Clearly, within seconds he had outgrown the need for my assistance. I left him to it. I do not think that he found the rest of the lesson easy, but I watched as he put his new knowledge to use, trying, reviewing and improving as he went. His peers commented on his improvements almost immediately and he left at the end of the lesson smiling, having achieved what he set out to. I do not expect this has changed his world but I think he had a win today.
What is the point to my story?
Important lessons come from places you least expect. In CDT we learn:
to take the time to see what is around us
to try
to make mistakes, sit with them and then overcome them
to accept that sometimes there is not one correct answer
to enjoy the process of learning
to find beauty in the everyday things.
How do we do this?
The CDT curriculum is designed to ensure each student nurtures their ability to develop a creative thinking process, problem solve and evaluate their own work. Units start with a theoretical understanding. The boys are then encouraged to generate a broad range of ideas and then develop their chosen concept into a final product using a range of relevant skills and techniques. A focus is also placed on evaluating the process and the final product, this is an opportunity to reflect on their work and their learning. This approach is designed to assist in all areas of learning and in developing independent learning and working skills.
Year 7
Indigenous Art and Culture
Throughout this integrated unit, boys study the history of Aboriginal art and research particular Indigenous artists, techniques and art forms. From here the boys write a personal story based on an important milestone from their past and this story is then turned into an Aboriginal-inspired artwork. They develop their understanding of Indigenous art history and use specific techniques when producing their own symbolic artwork. This final design adorns their own hand made boomerang. This boomerang is constructed in the woodcraft area and introduces boys to basic cutting and shaping techniques. They learn safe work practices while working with hand tools. Boys evaluate the performance of their finished boomerang by testing its flight performance.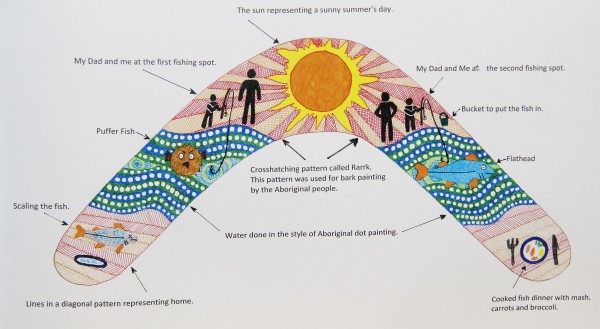 James Semenov
Self Portraits
Throughout this unit, students study colour theory, art movements and artists such as Vincent van Gogh, Matisse and Andy Warhol. They develop observational drawing skills using estimation and plotting methods and have used Photoshop to manipulate their own photographs. Their final artwork is a drawn self-portrait, a self-directed piece using their own choice of media and artistic influences.
Josh Hudghton    
Sam Wyss
Sam Stewart
Year 8
Pencil box
Year 8 boys continue the longstanding tradition of making a pencil box. During this project they develop basic joinery skills as well as design techniques. Boys focus on the accuracy of their cutting and assembly to ensure a clean finish to their work.
Picasso Inspired Portraits
Throughout this unit, boys study the life and work of Pablo Picasso. The boys complete collages and drawings inspired by his portraits. The unit culminates in a painting of their chosen piece. They develop their understanding of art elements and principles, colour mixing and technical painting approaches.
Harry Fisher
Flynn Chan
Poster Design
Throughout this unit, boys study the history of poster art and design, researching particular poster artists, styles and techniques. They complete a design brief and usePhotoshop techniques when producing their own retro inspired posters. Each boy completes posters in Photoshop that will be used around the school to promote the Ute Full of Food initiative.
Wei Yee Hall
---
Chapel
The Week of Prayer for Reconciliation coincides with the Reconciliation Week: 27 May to 3 June. The theme for this year is 'Our History, Our Story, Our Future'. Because of other School activities, we observed Reconciliation in Chapel a week early.
Mr Featherston spoke, offering the boys a positive way to take up the challenge of reconciliation: identifying the connection between this Chapel observance and the reading and discussion in many classes at all Year levels.
Reconciliation with the Indigenous people of Australia is not an abstract notion: there are many parts of Australian society that are permeated with the concerns and interests of the Indigenous peoples. The book ends of Reconciliation Week – the recognition of the Aboriginal people as Australian citizens and the High Court Mabo decision –are only the tip of the 'iceberg' with regard to our relationships as one people in Australia.
To quote Professor Mick Dobson: "Reconciling is about always taking the next step …Each little success creates a platform for more success – a little more self-esteem, a little more sense of what's possible. It's not grand policy half as much as attention to detail. And persistence – making sure it works."
The boys were challenged in Chapel by the idea that faith is an essential human experience and the expression of meaning in life, but faith without action has no reality, it lacks substance. As a Christian faith calls me to be aware of and committed to reconciliation, to act for it not just pray for it.
This same faith does not lead to blindness about the realities of the task.
Blessings to all.
Fr Tony Poole
---
Sport news
The BGS sport fixtures, reports and teams can be found on the Sports page of the BGS website.
---
Middle School notices
Science extension trip to the Gene Technology Access Centre (GTAC)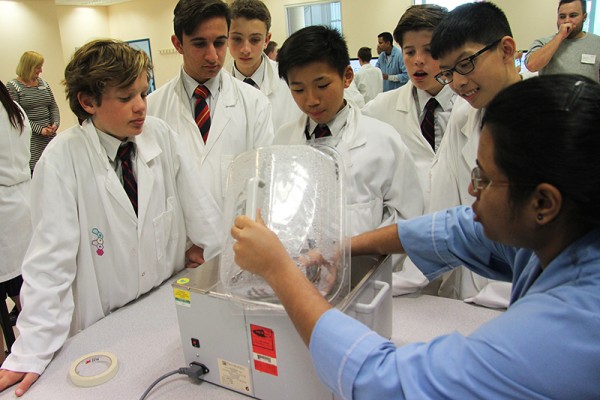 On Tuesday 17 May, ten Year 8 boys tool a Science Extension trip to the Gene Technology Access Centre (GTAC) next to Melbourne University. GTAC is Victoria's leading source of Life Sciences learning and education; it provides an innovative and collaborative educational environment in which Victorian students and educators access life science expertise through engagement with practicing scientists, contemporary knowledge and technology. Students are able to immerse themselves in a life sciences journey of learning and discovery.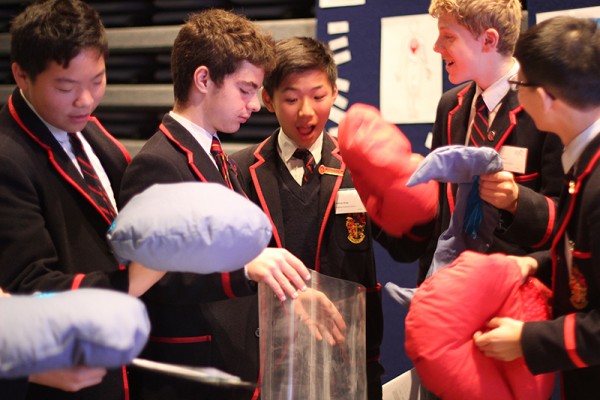 The boys were keen to discover future career pathways in the science field. They explored the role of biotechnology in the study of life science. Workshops featured the use of cutting-edge technologies and collaboration with practicing scientists who mentored students as they conducted research in small groups.
Workshop 1 – students explored the use of light, fluorescence and scanning electron microscopes to answer questions related to stem cells, blood disease, diabetes and food webs.
Workshop 2 – allowed students to use biochemical technologies to separate different components of milk, including  centrifugation, column chromatography and spectrophotometry.
Workshop 3 – explored the use of DNA technologies including restriction enzymes and gel electrophoresis to identify genetic mutations.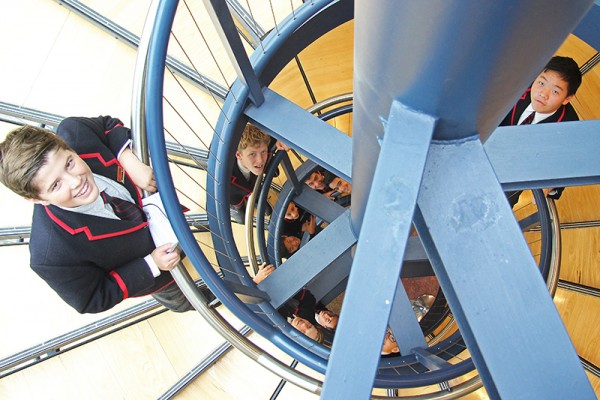 The boys also had the opportunity to spend their lunch break in the university food hall, which allowed them to experience the buzz and atmosphere of university life. Overall it was a wonderful experience that certainly inspired this group of aspiring young scientists.
Jamie Watson and Tyla Bracken
---
Student achievements: sport
It has been a big week for student achievement in the sporting world, with several of our boys performing very well at representative level.
Caden Arnold, Sam Flockart, Josh Hudghton (Year 7) and Sam Banfield (Year 8) smashed records on their way to winning the Victorian All Schools' Road Relays at Albert Park on Saturday (by over a minute). Their outstanding performance saw all four boys run within seven seconds of one another on their way to claiming gold. Congratulations also to Year 7 boys Henry Kerr and Lucas Williamson who ran well above their age group as part of our U16 team.
Year 8's Luca Jarvis also made a splash over the weekend when competing in both the All School's Diving Championships and the School Sport Victoria Trials. Luca claimed silver in the Year 7/8 division of the All Schools, before going on to win the springboard event and coming second on the platform to secure his place in the Victorian team in NSW in August. We wish Luca well for later in the year.
Thomas Smith (Year 8) spent his weekend in Adelaide competing in the latest round of national karting. After rocketing into the top ten, braking issues saw him lose a few positions before finishing an impressive thirteenth overall.
Tim Marshall
Head of Sport & Activities
---
Charity
Will Murray Bayside schools' casual clothes day
A massive thank you to everyone who supported the whole Bayside schools' casual clothes day last Friday 13 May.
The Middle School raised $577.15 and the Senior School $460.35. A full update will follow in next week's newsletter.
Jack Clarkson and Lukas Galanopoulos
---
Staff vs student AFL match
The students won the game, after the enforcement of the last goal wins rule!
---
Middle School dates for the diary
Thursday 19 May, Friday 20 May, Saturday 21 May
BGS/Firbank Copacabana production 7.30pm, Rosstrevor Hall
Copacabana has sold out. However, a few walk-up seats are still available for tonight (Thursday) and Saturday's show (no walk ups on Friday night). Click here for details. 
Monday 30 May
Visible Learning information night for parents, 7pm-8pm – Robertson Sanderson
---
Found property
Sports shorts size 14
Long sleeved striped shirt size 16 (37cm)
Long grey trousers size 18
Black fleece women's top size 6
2 x black belts
1 x pair of black shows size 44
1 x left Ascent black shoe size 9.