Middle School Thursday 3 November 2016
Weekly eNews
Middle School
A word from the Headmaster, Ross Featherston
Finish as a you start
For me, the Melbourne Cup long weekend is an indicator that the finish line for another school year is in sight. The weather may not have shown it (until today), but summer is only just over four weeks away and, if my calculations are correct, we have 25 days of school left.
Growing up in Ballarat, I had a fairly tough but fair football coach whose favourite form of getting us into shape was to have us run 400-metre repeat 'sprints'. I can still vividly recall his mantra of ensuring that we finished each 400-metre lap as we started it. After all, he would remind us, if you can run 390 metres, why can't you run the full 400?
2016 has been a good year: it's important we finish it off well.
---
From the Head of Middle School, Jeremy Martin
Last week, two staff members and I took the opportunity to visit a number of schools interstate, primarily to look at their Middle School programs and facilities. Speaking with my counterparts at these schools about the challenges and rewards inherent to middle schooling was inspiring and, with our state-of-the-art facilities and programs, re-affirmed for me that we are on the right track with what we have planned for our Middle School.
I also spoke with many boys at each of the schools, all of whom displayed great pride in showing guests around their school. This was reflected not only in their attitude and approach, but also in the way they presented themselves. Their hats were on, shirts tucked in, socks pulled up. I am sure our boys at times wonder why we are so persistent with uniform standards and grooming, however we strongly advocate that boys presenting themselves in the correct manner indicates the pride and respect they have for themselves and their school, and it is this pride and respect that is transferred to the classroom.
---
Programs and activities
Combined BGS/FGS Bookclub
Nine BGS boys and 12 Firbank girls spoke passionately about their favourite books for 2016 at our final Combined Book Club meeting last Wednesday.
Students brought along a great variety of fiction stories, ranging in genre from science fiction to fantasy to murder mystery to stories about growing up.
Each table voted for the best book described and then we heard about each of those books. Students were then invited to vote for the book they would most likely choose to read next from this list. Science fiction and fantasy continue to be most popular genres for adolescents, and it was wonderful to hear our students describe their enjoyment when reading stories that engage their imagination, enhance their vocabulary and broaden their understanding of the world.
Ms Tabone would like to thank Eric Stone, Mack McGrath, Matthew Ross, Matthew Warrell, Graeme Gouws, Oscar Zhu, Christopher Lam and Sven Steward for their attendance.
---
Chapel
As far as I know, St Andrew's was quiet on Tuesday morning this week, reflecting the Cup Day holiday and the consequence absence of Middle School Chapel.
Next week will more than compensate as the Middle and Senior School combine, on Wednesday at 9.30am, to observe Remembrance Day. Parents are more than welcome to attend that service if they so desire.
In the absence of Chapel I spent a sizeable part of the day reading: Post God Nation? by Roy Williams. Williams is a successful author and journalist, who has actively defended the role of religion in Australian society and rebutted the writing of atheist such as Richard Dawkins.
To quote a review in the Sydney Morning Herald, 4 July 2015:
"Roy Williams has, in Post God Nation?, accumulated a substantial body of wide-ranging research to support his deeply felt conviction that Australia, and the world more broadly, has benefited from Christian teachings and action far more than is usually acknowledged. In Williams' view, the benefits radically outstrip past and current human errors. What's more, much of the good we take for granted in Australia is, he argues, a direct result of lived Christian values and endeavour."
I commend this book as something worthwhile reading if one is concerned about the apparent decline of religious observance in Australia. It should be no surprise to know that I am committed to the serious study of religious questions. Is it a surprise for me to say, that like Williams, I see such study as a cornerstone to the informed and intelligent participation with the digital scientific age, with its concomitant questions of cultural divergence, violence and the looming energy crisis.
With prayer for the wellbeing of all.
Fr Tony Poole
---
Middle School notices
Wilson Club Year 8 (Year 9 2017) Rowing  open session and parent information evening
All Wilson Club parents are invited to join their son's training session tomorrow afternoon, Friday 4 November, from 5pm. Come and meet the coaching staff and watch your son on the water. An information session will be held for parents by Richard Bartlett, Director of Rowing, and Boaterie president Mathew Wood, answering all of those questions you may have about rowing and your son's training schedule. Members of the 1st VIII Squad will also be in attendance to row in Wilson club crews.
The Boaterie (Rowing parents support group) will be in attendance to provide a sausage sizzle and drinks for the rowers and parents following their session. Please see the below map for the location of the Powerhouse rowing complex at the Southern end of the lake (parking is limited).
---
Parenting tip: earning the right
Earning the right and not assuming a sense of entitlement is a life lesson parents, teachers and coaches must instil in children. Please click here to read more about teaching your son responsibility and earning his rights.
---
Charity
Timothy and John Fundraiser update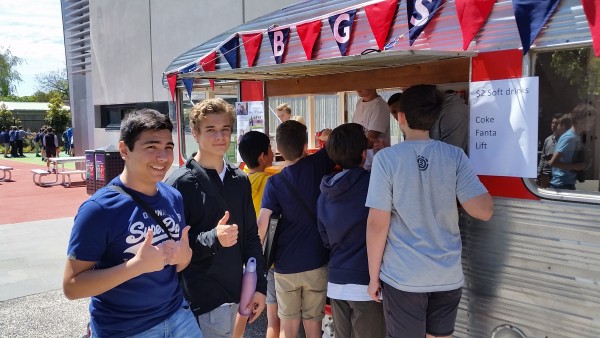 Middle School Students Chris Valcanis and Mitz Metaxas enjoying last Friday's Timothy and John Fundraiser, which raised $497.55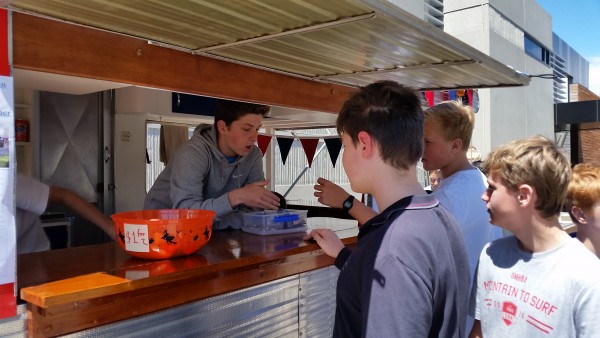 Ethan Furey working hard for the Charity Committee, selling soft drinks from Harry Barden's Supervan. Thank you to everyone who contributed.
---
Middle School dates for the diary
For updates and events, see School Stream or click here for the online calendar.