School Wide Thursday 1 September 2016
Weekly eNews
School wide
A word from the Headmaster, Ross Featherston
The Fathering Project
It has been a real pleasure to attend the Father's Day Chapel services this week (both as a father and as the Headmaster) and to hear various reflections on fatherhood.
In the lead up to Father's Day, there have also been some interesting articles in the press about the changing role of fathers and what 'fathering' means in different countries. One thing I'm sure we all agree on is that a father or a father figure is important for our boys, no matter what their age or stage.
There is a great free resources that, as a dad, I'd highly recommend. The website The Fathering Project aims to inspire and equip fathers and father figures to engage with their kids. Whilst there are some excellent resources on their website, I would suggest signing up to receive their weekly fathering tips. And of course, don't forget to sign up to BGS's very own parenting resource, Understanding Boys.
Happy Father's Day to all the BGS dads! I hope you have a wonderful day on Sunday.
Finally, congratulations to our BGS Snowsports Team who achieved our best ever results at the Victorian InterSchools over the weekend. Thanks also to the staff and parents and further best wishes to the 23 boys who qualified to compete at the National Championships.
---
Student achievements: APS Athletics State Relays
The APS Athletics State Relays were held on Wednesday 31 August, with BGS winning one gold, three silver and one bronze. Out of ten teams competing, five medal performances represents a terrific result. Congratulations boys!
Gold: U16 4x400m Relay. (L-R above) Jack Saunders, Oscar Lewis, Aaron Leferink and Tom Banfield. 
Silver: Aaron and Oscar also won silver in the U16 4x100m with Chris Valcanis (Year 8) and Alec Ciciulla (Year 8).
Our other two silver medals were with our U14 teams.
U14 4×100: Connor Marriot, Jackson Sweet, Tom Howard, and Cam Hathway.
U14 Medley (200/200/400/800): (L-R below) Jackson Sweet, Ben Sullivan, Sam Banfield, Connor Marriot.
Bronze: Our U18 4x400m team qualified fourth fastest for the 4x400m relay and then fought for third place in the final – a spectacular effort. The U18 team was (L-R below) Jack Summerfield, Finn Campigli, Anthony Evans and Will Middlemiss.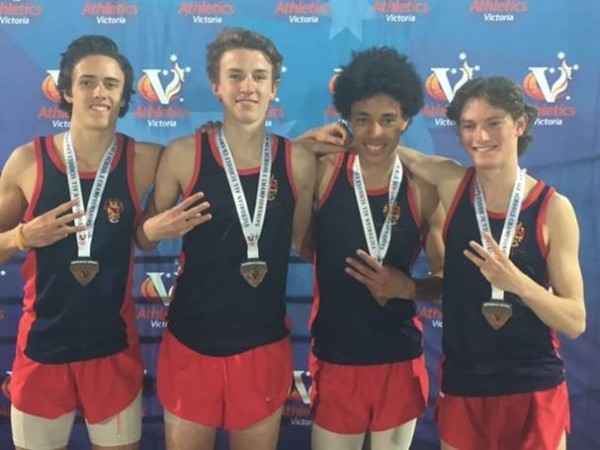 Special mentions:
Most Inspirational Performance Award (Athletics Victoria):
Our U16 4×800 team won their timed final convincingly but lost out on a medal through time (there were three timed finals).
However, the AV Judges selected our BGS team for this award as the boys led every leg of the race (significant over this distance). The team included Sam Flockart, Jack Clarkson, Jakub Williams and Ben Fisher.
School Spirit
Charlie Hicks and Tommy Kenny stepped in at the last minute to compete in the U20 4×800 race, with Kayne Davies and Rhys Martin. This event was a timed final with our boys finishing third in their race and seventh fastest overall in the state (out of 14 schools). All boys recorded PBs.
---
Student achievements: 2016 Victorian All-School Snowsports Championships
In a spectacular week at Mt Buller, BGS experienced our most successful Interschools week ever. The snowsports team, made up of 60 boys from Prep to Year 11, showed determination, audacity and skill. A record 23 boys will head to the National Championships at Perisher next week, more than doubling our previous record.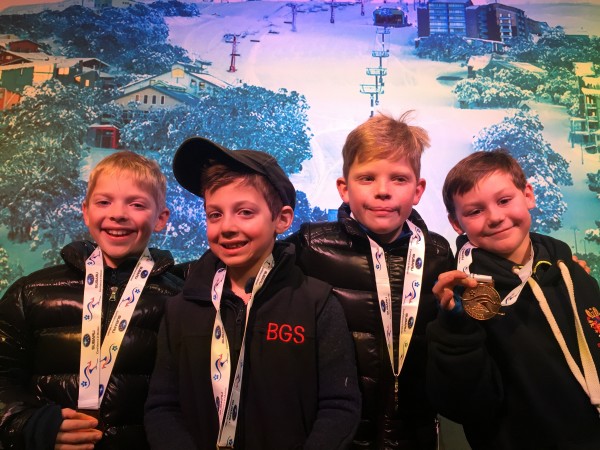 Here are a few highlights:
Daniel Abbott medalled in every ski discipline: giant slalom, skier cross, moguls, slopestyle, and cross country a few weeks earlier – an extremely impressive accomplishment.
The Junior School presented some astonishing results, winning the inaugural Division 6 Alpine State Championship – congratulations to Toby Jones, Christian Field, and Archer and Hudson Hallinan. Ethan Gendala qualified for Nationals in skier cross, and his older brother Corey qualified in moguls.
Our Division 3 snowboard team consisting of Flynn Cooper, Harry Wright and Harry Thom, placed third in snowboard giant slalom and border cross. Our snowboard B-team of Max Mitchell-Adams, Pearson Grant and Sam Stewart also qualified for border cross, placing fifth. Both teams will be heading to Nationals in the coming weeks.
Our Senior School Division 2 boys, Noah Jones, Daniel Abbott and Will Middlemiss, came second in skier cross.
Division 2 continued their assault into the giant slalom event, with a team of Martin Kulesza, Daniel Abbott and Will Middlemiss taking out a silver, with Martin placing bronze individually. BGS dominated this discipline, with four boys finishing in the top 10.
Division 1 had an impressive moguls run from Senior School Co-Captain Mattieu Speirs, placing 12th and qualifying for Nationals.
Co-Captain Mattieu Speirs narrowly missed out on Nationals by one spot in skier cross, and our Division 2 Snowboard team missed out although placing 7th in the division.
Daniel Abbott took out a bronze in the first-ever slopestyle event at Victorian Interschools. Joining up with Trent Mailing, the BGS team took gold.
The Division 2 A team qualified for nationals, with Jack Wright and Chas Rechner also qualifying individually.
Mattieu Speirs came a respectable 23rd in a hotly contested alpine event.
Our hard-working and passionate organiser Jane Abbott perfectly summarised the week:
"For me the biggest highlight of the week has been seeing the boys smiling, having a ball, cheering on their teammates, supporting their captains at the ceremonies… the team spirit was wonderful to witness."
Good luck at Nationals boys!
Simon Farrow
Co-Captain Snowsports
---
BGS Facebook 

– follow us today!
Want to 'Brighton' up your Facebook feed? Visit and like the BGS Facebook page to see more student achievement stories, updates and photos. 
---
Tracking reviews reminder: Years 6, 8 and 12 parents
If you haven't already, please make you have your say in the BGS 2016 tracking reviews, which are being conducted by MMG Education. Your responses are confidential.
Please refer to the email MMG Education has sent to current Year 6, 8 and 12 parents, which includes a link to an online questionnaire. Your open and frank input will help us further improve the quality education BGS provides your son/s.
---
Upcoming BGS music events and concerts
Thurs 1 Sept  Bands Showcase Concert in St Andrew's @ 7.30pm 
Wed 7 and Thurs 8 Sept  Year 6 BGS/Firbank musical  
---
Special St Andrew's Choir events
Saturday 10 September: 2016 St Andrew's Choir Dinner at St Andrew's Hall.  All welcome at this special evening featuring musical performances.  For more information and to book click here. 
---
Connor's Run update
Now in its 4th year we are proud that, with Brighton Grammar School's support, Connor's Run is now the largest event for paediatric and young adult brain cancer in all of Australia. If you'd like to find out more about how you can support Connor's Run, please click here.
One of our key focuses this year will be supporting will be supporting the creation of a brain tumour molecular subtyping service – a first for Australia at Monash Children's new Cancer Centre. This is led by BGS Old Boy and Hall of Fame recipient Peter Downie.